Our Favourite Fender Custom Shop Stratocasters!
Published on 19 July 2023
Would you like to see some beautiful Custom Shop Stratocasters today? Would you also like to learn about some of the cool features they have? Good! We're pleased to hear that, because we've currently got a very nice selection and we want to showcase them a little today!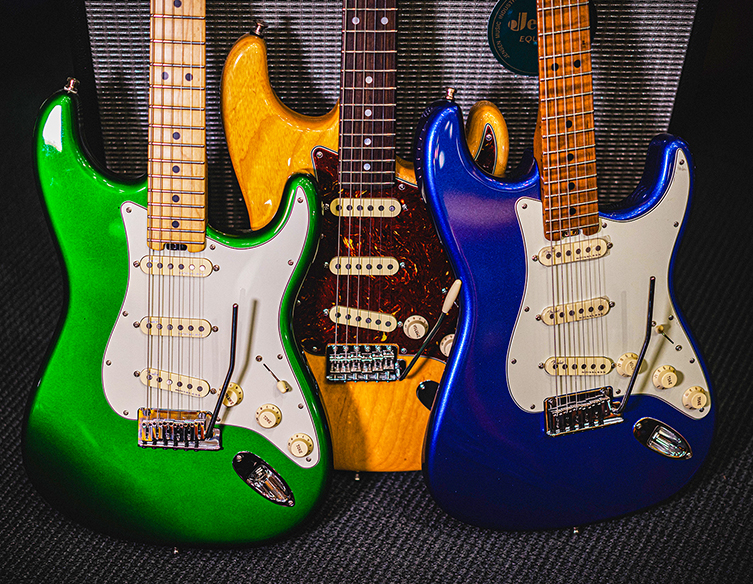 As you know, the Fender Stratocaster is arguably the most versatile electric guitar design in existence. Between it's timeless-yet-straightforward beauty and clever modular design, the Strat is able to be a great many things to a great many players. Vintage, modern, somewhere in between: the Stratocaster - maybe more than any other instrument - acts as a mirror of its owner, adapting to the myriad ways in which players use it. Despite being enormously distinctive sounding, there's always a sort of incentive to carve your own path out when you play one. Your personality shines through, basically.
For these reasons, Strats are the most popular guitars that we sell.
Fender Custom Shop Strats
Indeed, Fender Strats are the number one selling guitar in the world, and Fender's Custom Shop - who have made all of the guitars we see today in this blog - have waiting lists that currently stretch into years. Luckily, since we are Fender Custom Shop dealers, we are constantly putting in orders for carefully considered guitars. We too have to wait like everyone else, but the benefit is that there will usually be available stock from us arriving throughout the year, so some interesting selections of guitars can sometimes accumulate.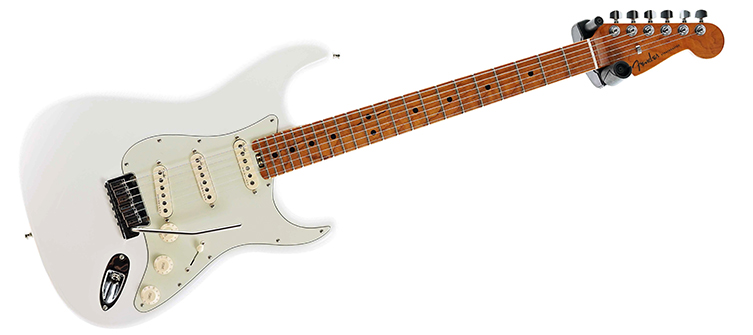 Right now is a particularly good time to choose a new Fender Custom Shop guitar since we've got a diverse selection masterpieces available to sell!
We love Telecasters as much as the next Fender obsessive, but today's blog is about highlighting some of our favourite - and currently available - Custom Shop Strats. We've picked from a few of their subranges, and we'll explain what makes them special as we commence our showcase for you today!
Fender Custom Shop Elite Strat
First up is a real head-turner: the Custom Shop Elite Strat. We wanted a guitar that delivered a supercharged performance, without necessarily giving up any of those characteristic Strat attributes. The answer here was to add a mid-boost circuit to a set of Noiseless pickups! We feel that the 4th generation Noiseless Strat pickups on here sound the most like 'proper' strat pickups, whilst being the most practically suitable for any styles that use higher gain levels and amounts of processing.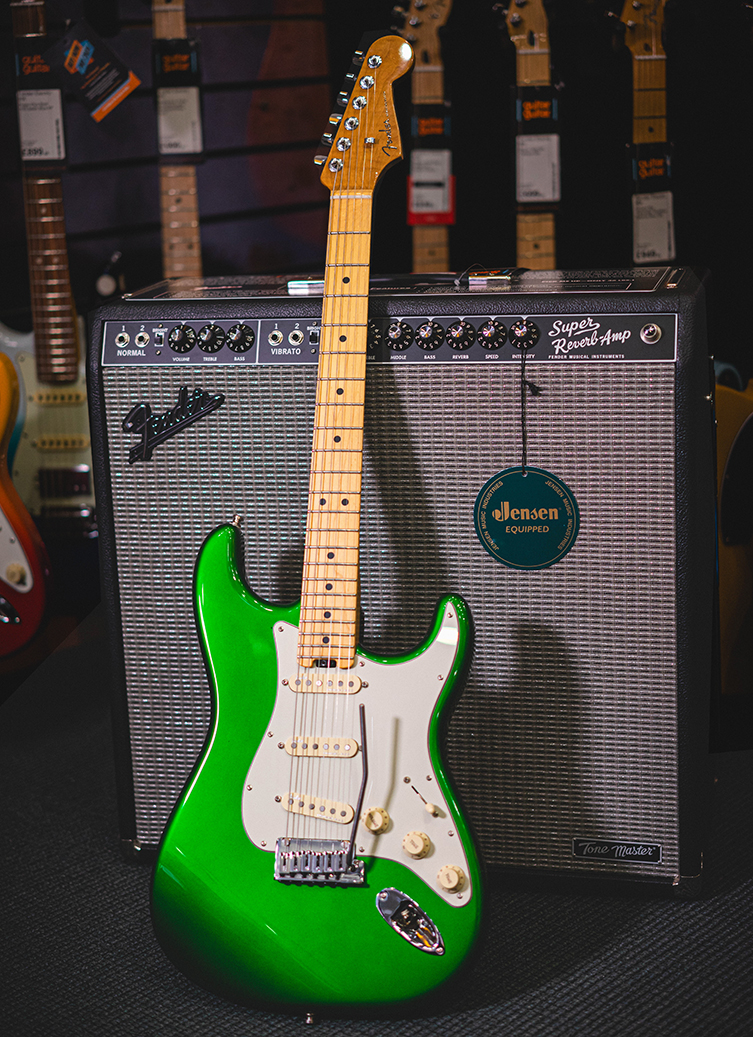 The mid boost is something we first encountered on the Eric Clapton signature model, and it's an excellent way of adding heft and body to a typical Strat tone. It's built into one of the tone knobs and you can be selective about how much boost you employ, up to a total of 25dB. Whilst it won't exactly turn your silky Strat tone into a fire-breathing SG, it will place the sound in the same ballpark, whilst not completely losing that special Strat 'thing' in the process. We love it!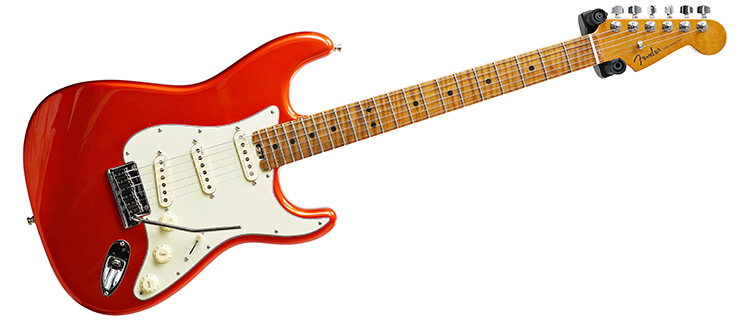 This Elite model was ordered in a selection of attention-grabbing finishes, including Candy Green and Cobra Blue (since when were Cobras blue?), for some extra stage presence. Aside from the bold looks, we're very into the neck on this one: the profile goes from C to D and there's a compound radius board that starts as a very standard 9.5" and flattens out to an ultra modern 14". One for the gigging showponies!
Fender Custom Shop Dealer Select Flash Coat Strats
These particular Dealer Select Strats have a very cool feature to them. They've all been sprayed with cool faded finishes (such as Fiesta Red, Sonic Blue and so on) and then very lightly coated with thin skins of nitrocellulose lacquer. We call these 'flash coats' because the finishes are lovely and thin, allowing the timber to breathe and move, but also facilitating quicker dinging and scratching. You'll make your very own relic as you go about your business of playing the guitar, and it'll be genuine distressing from hours of playing.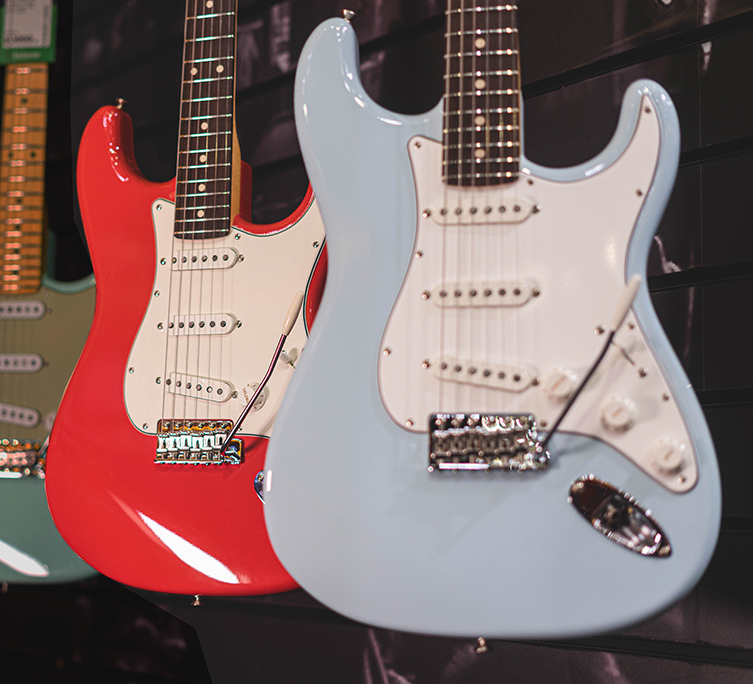 In addition to the finishes, these Strats bring some features that we love: a 'D' profile neck and a compound radius fingerboard that shifts from ultra vintage (7.25") to Fender's more standard 9.5". This guitar is great for players who handle both lead and rhythm duties, but spend a lot of time chording. The handwound 60s pickups add a tiny touch a grit to that inimitable Fender sound.

If you love the look of relic guitars but feel like it's somehow cheating to not ding up the guitar yourself, then this guitar is one you'll highly appreciate as you commence your own 'distressing' journey!
Fender Custom Shop American Custom Stratocaster
A little of the old, a little of the new: that's the thinking behind these American Custom Strats. Understanding that guitar fans like vintage vibes, but conceding that some modern specs just work better, the Custom Shop team have put together a number of lovely Strats that balance the historic with the contemporary.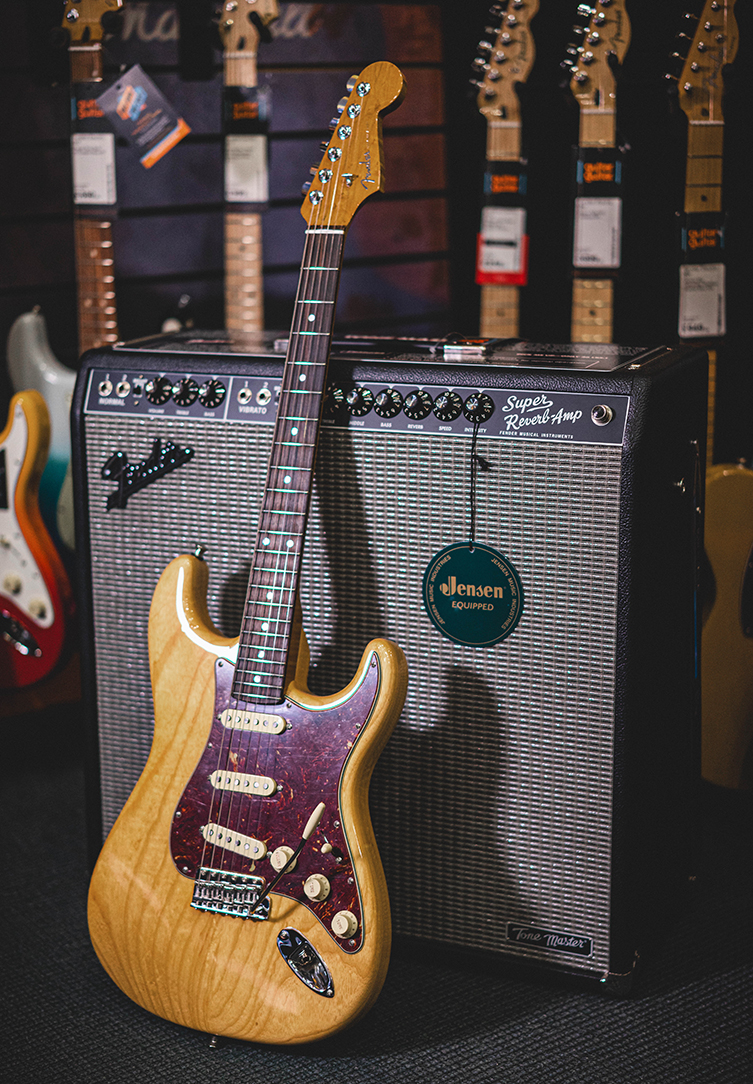 The main focus here is on comfort and craftsmanship, and to that end we have a roasted maple neck, shaped to Fender's lovely 10/56 V profile and topped with narrow tall frets. This gives us a feel that hints towards 'vintage' but isn't strictly based on any given historic Strat neck. We feel like it's quite 'in-between', which is great place for a Strat to live! Fender's modern standard radius of 9.5" is also employed here, so it's comfortable all round.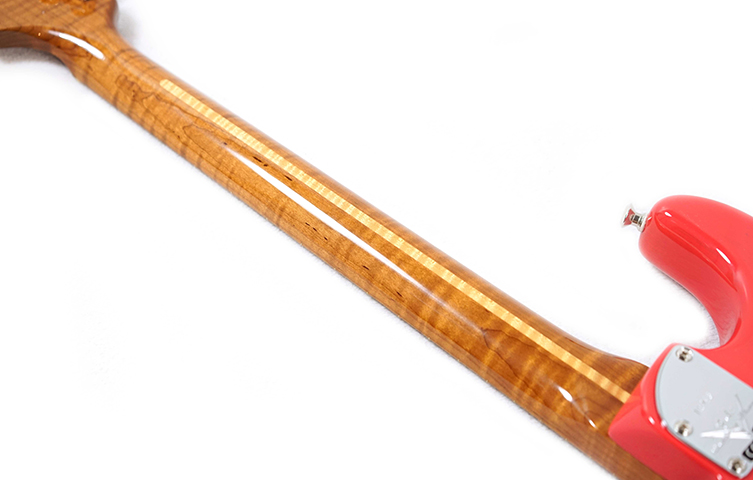 Continuing the 'in-between' ethos, the pickups here are a set of hand wound Fat 60s single coils. In general Fender parlance, pickups from the 60s were wound a little hotter than those from the 50s, so Hot 60s pickups have even more heat! The great thing about these pickups, though, are that they still sound very dynamic, and with a slight adjustment of the guitar's volume control, you can reduce the heat quite nicely and bring back that 50s chime!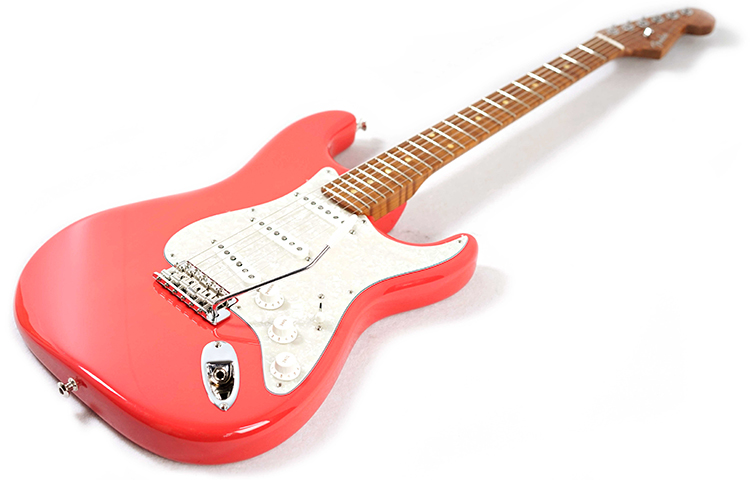 Outstanding Choice
Right now is possibly the best time ever to buy a Custom Shop Strat. This is the most diverse - and most plentiful - selection we've ever had here, and that means more choice for you. No matter what you are looking for in a Stratocaster in terms of spec, feel, relic work and so on, you're likely to find a number of particularly attractive pieces in our selection. Not only there, you won't have to wait years to get your hands on it! Plus, you can compare individual guitars against each other to really zero in on your choice.

In short, the guitar of your dreams may well be hanging on our shelves! Browse our full selection online and pay us a visit to try your favourites!
Click to View our Selection of Fender Custom Shop Stratocasters