10 Artists Who Play JACKSON Guitars
Published on 13 November 2023
Pointy headstocks and shark fin fretboard inlays: Jackson are as metal as a guitar brand can be! Coming out of Wayne Charvel's custom shop business of the late 70s, Grover Jackson (a Charvel employee) set off on his own mission to revitalise the 80s guitar market with aggressive and fun new guitar designs. Jackson are one of those brands that are both historical and timeless, and for fans of metal, these are one of the true lynch pins to hang one's personal guitar style upon.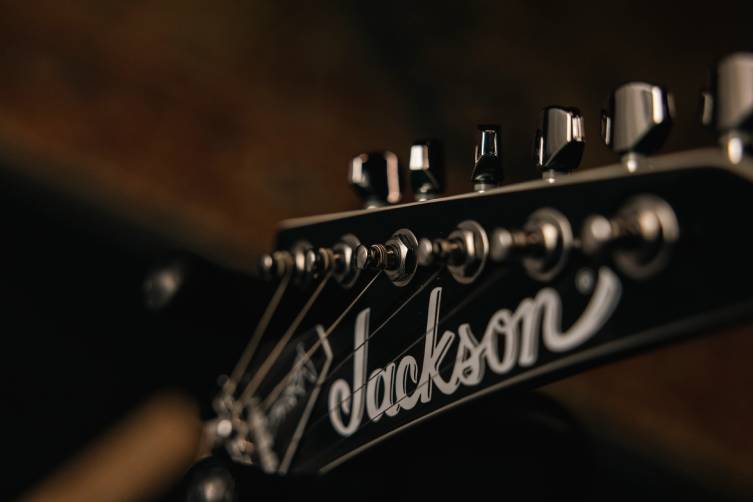 Ever since Randy Rhoads donned his first V-model, metallers have been lining up to align themselves with this iconic guitar brand. Here is my pick of the best…
Randy Rhoads - Ozzy Osbourne
It all started with the immortal Randy Rhoads. Indeed, his was the first guitar to sport Grover Jackson's surname on the headstock, so he's the true originator! Rhoads and Jackson took this initial 'Concorde' design and developed it further into the Jackson Rhoads RR shape we all know and love. Randy was a one-off, and so is his guitar. Randy Rhoads made Jackson guitars famous, so he is justifiably the first person on this list today.
Marty Friedman - Megadeth
Megadeth never sounded better than when Marty Friedman played lead guitar for them. His work on records like Rust in Peace and Countdown to Extinction still sit at the apex of exotic shredding.
Friedman's playing is adventurous, lyrical and very colourful, adding all kinds of twists to his unpredictable and beautiful lead playing. In the early days, he sported a succession of Jackson Kelly guitars but these days he plays his own LP-inspired signature Monarckh guitar.
Scott Ian - Anthrax
Only just behind James Hetfiedl in the 'Most Valuable Player' stakes, Anthrax's riffmeister has been an influential figure to generations of players. His commitment to the mosh is long-since assured, and his personal brand of riffing and lead work (when it occasionally happens) is ferocious and full of character, just like the man himself.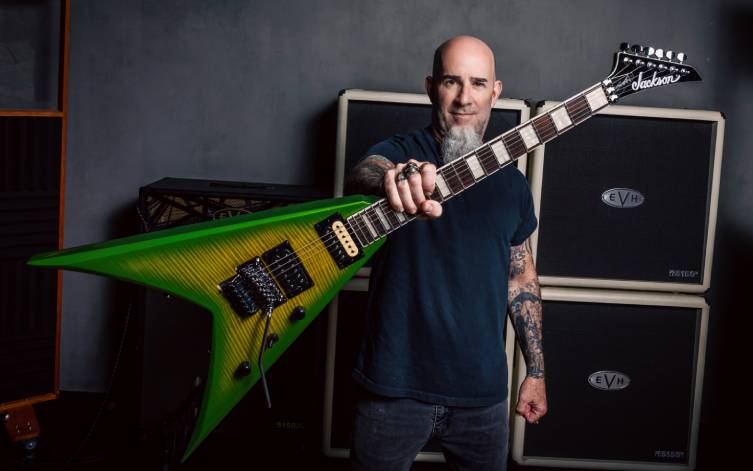 Scott plays in both Anthrax and Mr Bungle (click those links for exclusive interviews!) and his signature guitar is a badass Jackson Scott Ian Flying V. Bow down!
Andreas Kisser - Sepultura
When you think 'Brazilian Metal', there is most certainly one name that shoots to mind: Sepultura. For over 30 years, Sepultura have conquered the world with their politically-fuelled, gloriously hostile brand of metal, and it's a sound that's instantly theirs.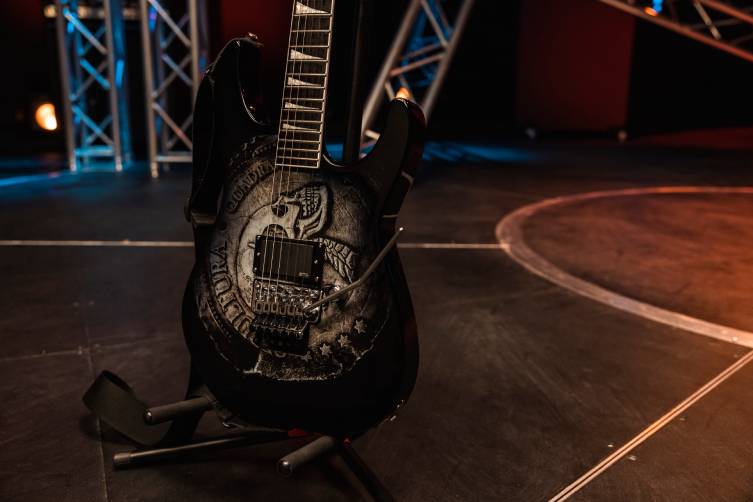 Guitarist Andreas Kisser has been there from the start, blending furious drop-tuned riffs with decidedly off-kilter solos that blend the speed of Malmsteen with the atonal shrieking of Kerry King at his best.
Jackson have recently honoured Kisser with his own signature Jackson Quadra and I say it's about time!
Misha Mansoor - Periphery
Periphery are one of the preeminent Djent bands, and Misha Mansoor is largely the architect of that sound. Progressive, relentless and rhythmically adventurous, Mansoor's a team player where the team are all spectacular players.
He's actually had a large number of signature models from Jackson over the years, most of them being distinctive looking superstrat 6 and 7 string models with aggressive-looking extended horns.
Phil Collen - Def Leppard
Standing somewhat apart from the modern chug of Djent bands would be Phil Collen from Def Leppard. The frighteningly buff guitarist from this super-band has always had an eye for debonair-looking superstrats, and his signature Jackson PC1 guitars boast the most striking woods in Jackson's catalogue. Collen often pairs these with high-performance hardware choices to make his guitars the Lamborghinis of the Jackson world.
Adrian Smith - Iron Maiden
Continuing Jackson's association with enormous British bands, Iron Maiden's Adrian Smith is another long-time user of Jackson superstrats.
As part of a three-guitar assault - all of whom seem to play very similar S-types - Adrian prefers the slightly more Fender-looking vibe for his Jackson Adrian Smith signature guitars over any modernist revisions. It still squeals and roars like a, well…like something off an Iron Maiden front cover!
Wes Borland - Limp Bizkit
Visually creative and outstandingly innovative, history will look back kindly on the immense vibe and attitude of Wes Borland. Providing the Nu Metal generations with a legit guitar hero whilst astutely dodging the ever-present guitar Olympics, Borland and his upside-down Jackson King V are a sight and sound to behold. Why on earth does this man not have a signature model?
Jeff Loomis - Arch Enemy
Arch Enemy's Jeff Loomis, on the other hand, is not one to pass up an opportunity for fretboard pyrotechnics! This impossibly capable player looks mean and moody in promo pics but he's reputed to be an absolute gentleman in person. People maybe don't talk enough about how incredible Loomis' playing can be, but Jackson obviously understand, having rewarded him with a number of cool Loomis signature Kelly and Soloist guitars over the years.
Trivia! Jeff Loomis actually auditioned for Megadeth aged 16 years old. Dave Mustaine was impressed but deemed him too young, so gave the job to Marty Friedman instead!
Rob Caggiano - Volbeat
Volbeat's riffmonger Rob Caggiano is as well known for his skillful production duties as he is for his six-string prowess. This ex-Anthrax member based his signature Jackson model on the old Outcaster offset from the 90s: "I fell in love with a quirky little guitar myself called the Jackson Outcaster in the mid 1990s. It quickly became my main guitar for a few years".
Jackson for Rock
Nobody out-rocks Jackson. You don't even need to have a pointy headstock these days, but then, if you could, why wouldn't you?
If you love playing heavy music and have yet to try a Jackson guitar, mosh your way down to your nearest guitarguitar and see what you've been missing out on!