Ernie Ball 2223 Super Slinky 9-42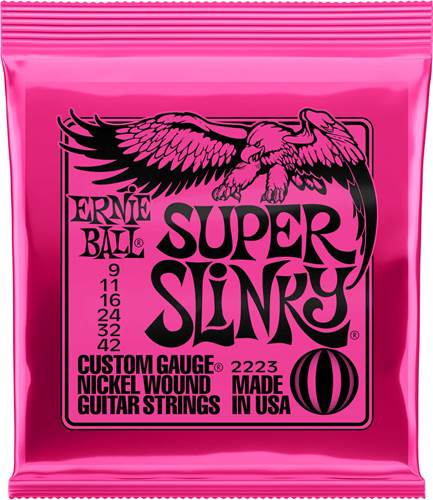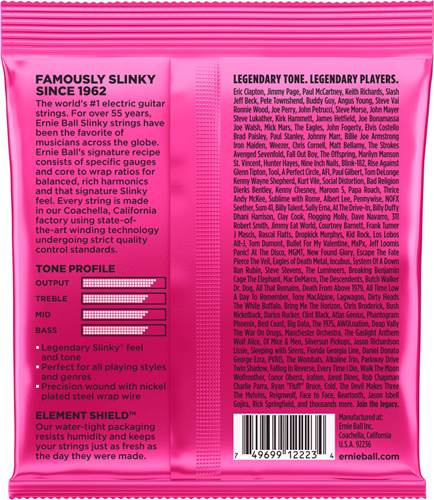 Image Gallery


£6.99
Order before 1PM for Delivery Tomorrow
Delivery Tomorrow
With 1 hour Delivery slot
---
Click & Collect
Live Stock levels from all our stores.
Store
Availability
Edinburgh
In Stock, Collect Today
Glasgow
In Stock, Collect Today
Newcastle
In Stock, Collect Today
Birmingham
In Stock, Collect Today
Epsom
In Stock, Collect Today
Camden
In Stock, Collect Today
Frequently Bought Together
Recommended Bundles
Manufacturer's ID: 2223
Ernie Ball Nickel Wound Electric Guitar Strings are made from nickel plated steel wire wrapped around tin plated hex shaped steel core wire. The plain strings are made of specially tempered tin plated high carbon steel producing a well balanced tone for your guitar.
Specification
Gauges .009 .011 .016 .024w .032 .042
Customer reviews
Overall Rating 4.9 (

43

reviews)
Great strings, would be tempted to go 8s next time, if available.
the purchases are perfect, they never did a mistake!!!!
Got these strings for my mom's guitar as she was struggling with thicker gauges. Bright sound, great tone, and they can take a beating. I always go Ernie Ball
Used these strings for years love em !!
Not rusted in the pack......for the best
Good strings and a good sound
Excellent quality and service
Strings are good and always have been.
Good value for money would recommend.
My favourite strings since I began playing.
Coz guitar r good and yay
Love the guitar, stays in tune, sounds great, a joy to play.
Love the guitar, stays in tune, sounds great, a joy to play.
The guitar sounds amazing so strings must be amazing!
Great strings, been using them for donkey's years
Great strings, the best imho
Does the job well at a reasonable price.
Nowt to say ... they're Ernie Ball strings and are just right :)
Great service from very knowledgeable, honest and friendly staff
Nice tone to the strings and a slick feel when playing
Great string's which sound great & last longer than other brand's.
I always trust ernie ball and i've been using it for quite some time. Love how it's capable to sustain a note for quite a long time and really good for shredding :D
Show more reviews
You might also be interested in...
Keep up with our latest offers, news & events