Roland SPD-30 Octapad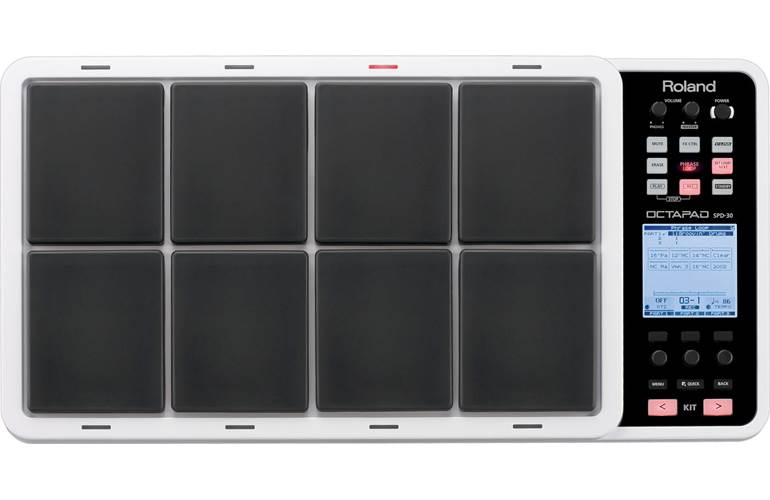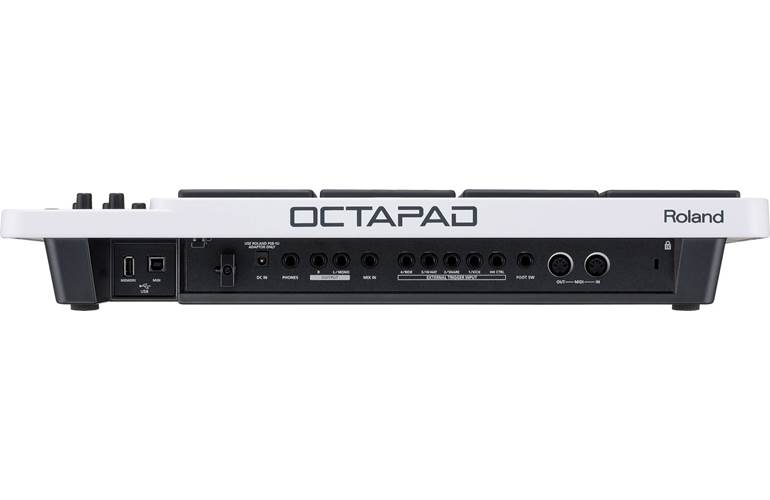 £649.00
Order now for Delivery on Sunday
Make 3 payments of £216.33

No fees.
Learn more
Frequently Bought Together
Manufacturer's ID: SPD30
Roland's original Octapad profoundly changed the landscape of electronic percussion. The size of a briefcase, the Octapad offered drummers and percussionists the equivalent of an entire electronic rig in one self-contained unit — a new level of convenience and expression.
Specification
THE REINVENTION OF THE LEGENDARY OCTAPAD
Percussion Pad with two unique modes: play and perform or use the phrase loop mode
PHRASE LOOP: Record your performance in real time and layer up to three loops to create melodic, percussive patterns. Add effects to the loop, quantize your performance, and start your loops at the hit of a pad
PERCUSSION PAD: Perform with a choice of 99 kits and 670 sounds including drums, percussion, eletronic sounds and melodic notes. Edit instruments including tuning, muffling and add even ambience
8 built-in, velocity sensitive pads and four dual-trigger inputs plus hi-hat controller input for expansion with external pads and triggers
USB connectivity to back up your loops and kits to USB flash drive and USB-MIDI connectivity
ACOUSTIC DRUMS + ROLAND ELECTRONICS. YOUR SOUND, NO LIMITS.
Hybrid drums: take the raw power of acoustic drums, add the potential of electronics and start playing a drum kit that gives you the best of both worlds.
By connecting Roland Acoustic Drum Triggers or trigger pads to Roland Sound Modules such as the TM-2 and SPD-SX, a world of extra acoustic and electronic sounds are available. When you combine with them with your acoustic drum and cymbal sound, things get really exciting.
1. ENHANCE YOUR SOUND. You can enhance your sound by triggering an electronic sound and mixing it with your acoustic sounds for greater dynamic range, increased clarity and performance. Even the fastest double-bass drum rolls sound clear and pronounced.
2. LAYER YOUR SOUNDS. You can add extra electronic sounds, such as tambourine, hand claps or even your own sounds, which play along with your acoustic drum sound.
3. EXPAND YOUR SOUND. Expand the sounds available within your kit. Play instruments that you can't take to the gig (such as gongs) or that you don't have in your original drum kit (such as second snares or sub-drops).
Today, decades later, an exciting new chapter in Octapad history begins. The SPD-30 blends the world's most essential sounds with the latest triggering technology in a road-tough package that's ready for the most demanding performers.
Packed with new percussion sounds from around the world, plus 30 types of multi-effects
The latest pad-sensing technology developed for V-Drums provides even and accurate pad triggering with excellent isolation between pads
Four dual-trigger inputs plus hi-hat controller for adding pads to create a mini kit, or for accepting triggers from acoustic drums
Phrase Loop function inspires your creativity; record your playing in real time and overdub up to three layers
USB connectivity for MIDI and memory storage
Large backlit LCD and pad indicator lights for easy operation onstage or in any environment
Rugged, road-worthy design
Sound Bank
Unlike the original Octapad PAD-8, which was strictly a MIDI controller, the Octapad SPD-30 is a controller that's packed with its own internal bank of sounds. Fifty kits are built into the SPD-30 — essential sounds that span a musical universe of styles. You can customize the sounds with the onboard controls for tuning, muffling, attack, pitch sweep, and more. It's like having a truckload of customizable drum and percussion instruments in one portable package.
Multi-Effects
Based on Roland's world-leading effects technology, the SPD-30's multi-effects engine will take your performances to another level. There are 30 types of internal multi-effects onboard, plus EQ, limiter, and seven Ambience types.
Phrase Loop Function
The onboard Phrase Loop function lets you instantly create layered loops and phrases. You can record and store 50 phrases internally, with each containing up to three layers. You can also save your phrase data on your USB Memory.
Advanced Triggering Technology
The SPD-30 benefits from Roland's most advanced V-Drum triggering technology. Each pad is a separate, isolated unit, providing the ultimate in sensitivity with complete crosstalk rejection. In addition, you can connect four dual-trigger inputs plus a hi-hat controller (compatible with Roland FD-8, VH-11) to create a mini drum set with external pads (Roland KD / PD / PDX / CY series), as well as to accept triggers from acoustic drums through Roland's RT series.
Specifications
Pads: Built-in Pads: 8
Four external trigger inputs are provided, allowing you to connect Pads.
Instruments: 670
Kits: 50
Kit Chain: 8 chains (20 steps per chain)
Instrument Parameters: Tuning, Muffling, Soft Attack, Tone Color, Pitch Sweep, Volume, Pan, Reverse
Effect Types: Ambience (7 Types), Equalizer, Limiter, Multi Effect (30 Types)
Phrase Loop: Phrases: 50, Parts: 3, Tempo: 40 to 260, Resolution: 480 ticks per quarter note, Recording Method: Real-time, Maximum Note Storage: approx. 10,000 Notes
Display: 160 x 160 dots Graphic Type LCD (Backlit LCD)
Pad Status Illumination x 8 (LED)
Connectors: PHONES Jack (Stereo 1/4 inch phone type), OUTPUT Jacks (L (MONO), R) (1/4 inch phone type), MIX IN Jack (Stereo 1/4 inch phone type), EXTERNAL TRIGGER INPUT Jacks x 4, HH CTRL Jack, FOOT SW Jack (1/4 inch TRS phone type), MIDI Connectors (IN, OUT), USB MEMORY Connector (for USB Memory), USB MIDI Connector (for USB MIDI)
Output Impedance: 1.0 k ohms
Power Supply: AC Adaptor (DC 9 V)
Current Draw: 600 mA
Accessories: Owner's Manual, AC Adaptor (PSB-1U), Screws (M5 x 12 mm) x 4
Options: Pads (PD series, PDX series), Cymbals (CY series), Kick Triggers (KD series), Hi-Hats (VH-11), Hi-Hat Control Pedal (FD series), Pad Stand (PDS-10), All-Purpose Clamp (APC-33), Acoustic Drum Trigger (RT-10K, RT-10S, RT-10T), Pedal Switch (DP-2), Foot Switch (FS-5U, FS-6), Personal Drum Monitor: PM-10, PM-30, V-Drums Accessory Package: DAP-3, V-Drums Mat: TDM-10,
USB memory
* Use USB memory sold by Roland. We cannot guarantee operation if other
products are used.
Size and Weight (Dimensions)
Width: 541 mm
Depth: 272 mm
Height: 88 mm
Weight: 3.8 kg