IK Multimedia iRing - White Ve ...
£18.00 In Stock
Delivery on Wednesday
Click and Collect available
IK Multimedia iRing - White Version
Image Gallery


Manufacturer's ID: iRing White
Advanced motion detection and positioning technology that gives you control over your music apps on your iPhone, iPad and iPod touch.
Specification
Take Control
Now control your music apps and effects without touching your device with the iRing™ touchless controller for iPhone, iPad and iPod touch. The new iRing uses hand gestures to control parameters of effects and other items in your music apps, allowing you to create stunning and dramatic music in an incredibly fun way by simply moving your hands in front of your device.
iRing uses patented advanced image-recognition, motion control and precise geometric positioning technology to give you control of assignable parameters within your apps. It uses the front-facing camera on your device to determine the exact position of the wearable rings, and recognizes and tracks the movement of the linear or triangular patterned iRing "rings" allowing you to control up to six parameters at a time.
Making music and creating killer real time effects for nonstop dance music and grooves is now easy and as simple as moving your hands… something you probably already do. So get the groove going and take control with your hands and iRing.
| | |
| --- | --- |
| | The ABCs of XYZ Okay, so how does this thing work? iRing is a simple double sided ring that fits comfortably between your fingers. On one side is an engraved linear pattern of three dots, on the other is an engraved triangular pattern of dots. iRing uses the front-facing camera on your device and advanced volumetric positioning algorithms to recognize and determine the exact physical location of the ring in relation to the device camera. This precise reading of the physical location of the ring is converted into MIDI control messages that are easily read by your music apps over time, thus allowing you to move your hands to control certain parameters within your apps. So in essence, iRing and the iRing control app track your movements and convert them into useful info your apps use to change things. |
Pretty slick, huh? iRing is the first control system available for iPhone, iPad and iPod touch devices and the list of apps compatible with iRing technology is growing rapidly.
Okay, but in practical terms…
Let's say for instance you want to control an audio effect. Many of the effects in GrooveMaker 2 and VocaLive allow you to control parameters in real time by utilizing an "XY" grid and dragging your finger across the screen. For an effect like a "Delay" effect, when you slide you finger across the grid on the touchscreen, you change the Delay Time and the amount of repeats (feedback) of the effect.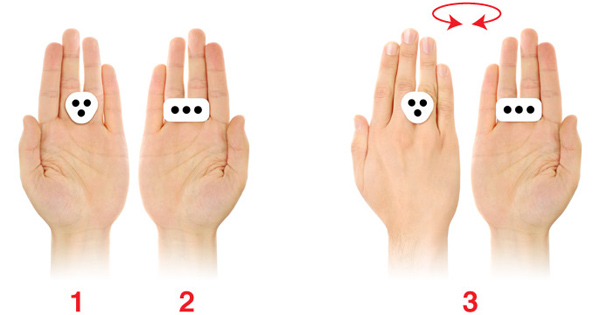 Music Judo
iRing is the first controller for iPhone, iPad and iPod touch that uses motion to control parameters within your favorite apps. But iRing can also be used to create real-time, non-stop dance grooves and scores with the included iRing Music Maker app. Imagine DJ'ing a party and using your hand movements to create the mood and groove! With iRing and iRing Music Maker, you can do just that.
iRing Music Maker is very similar to our popular GrooveMaker app that allows you to create non-stop grooves and complete compositions utilizing music "loops" that always sound good together. Music Maker is based upon the same concept, but is designed from the ground up to be used with iRing… switch loops, change effects and create the mood all without touching your screen. You have to hear it to believe it, but trust us, this is the future of mobile music making control. iRing is also compatible with new versions of our most popular apps for musicians: AmpliTube, SampleTank, GrooveMaker 2 and more, giving you a whole new approach to sound design and control.
What you get
iRing is available from musical instrument and consumer electronics retailers worldwide and includes two iRing rings and two apps from the App Store.
For music app developers, we have an SDK and a FREE licensing program available upon request for developers who want to take advantage of this breakthrough technology to integrate motion control into their apps.
iRing™ technology can easily be utilized beyond music apps, so we encourage game, health & fitness, utility and other app developers to contact us to take advantage of the technology and improve the functionality and control of apps with iRing™.
Specifications
Package includes
2 thermoplastic rings (same color)
Dimensions
Size: 42mm/1.65" x 30mm/1.18" x 27mm/1.06"
Weight: ~10g/0.35oz each ring
Requirements

iOS Devices

Compatible with iPhone 5s, iPhone 5c, iPhone 5, iPod touch (5th, and 4th generation), iPad Air, iPad 4th generation, iPad 3rd generation, iPad mini 2nd generation and iPad mini. iOS 6.0 or later is required.

Computers

Mac®: Mac OS X 10.6 or later. iOS device is required.
Windows®: Windows® XP, Windows® Vista, Windows® 7, or Windows® 8. MIDI over LAN/Wi-Fi driver is required. iOS device is required.



£18.00
Order now for Delivery on Wednesday
Includes extended exchange
Buy with confidence: Items bought 1st October 2019 to 24th December 2019 are eligible for our Extended Christmas Exchange and can be exchanged until Friday 31st January 2020. Learn More