Electro Harmonix B9 Organ Machine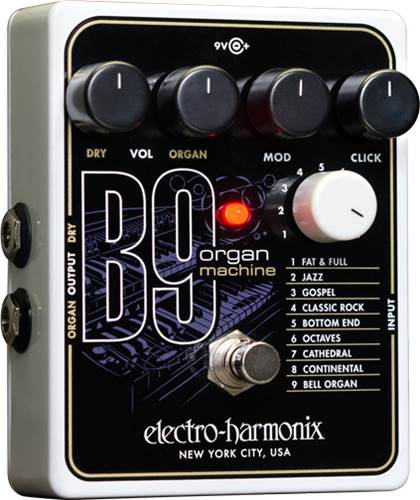 £179.00
Order now for Delivery on Sunday
Make 3 payments of £59.67

No fees.
Learn more
Frequently Bought Together
Manufacturer's ID: EHX-B9
What we say:
Electro-Harmonix are kings of the eccentric FX pedal and this is another delightfully unusual idea: the pedal turns your electric guitar into an old vintage 60s organ!
Beginning with 9 presets, whose names will hopefully fill you in on what to expect tonally (Classic Rock, Continental, Cathedral etc) your guitar (or other instrument of course) turns into a dynamic and authentic sounding retro organ! Doors cover bands can now get by with two guitarists instead of a keyboard player! All joking aside, this pedal does a spookily uncanny job of transforming your guitar: if you think like a keyboard player in terms of chord voicings you'll get extremely close to the desired effect, especially if you play with your fingers instead of a pick. It tracks your notes extremely well and we couldn't detect any latency when using this which is great because that is the only way you can really use this pedal in a practical situation!
A Mod knob controls the rotary speaker emulation on each preset and the Click knob simulates the natural percussive by-product these instruments originally had. This is a most impressive and also totally fun pedal to use!
Specification
Transform the tone of a guitar or keyboard into that of a convincing full body, electric organ
9 presets that were finely tuned to emulate some of the most popular and classic electric organ tones
Control over percussive attack level, modulation speed, organ and dry volume
Rugged and easy to use
Use together with the C9 for dual keyboard possibilities!
EHX 9.6DC200 PSU included
Dimensions in inches: 4.0 (w) x 4.75 (l) x 2.25 (h)
Dimensions in mm: 102 (w) x 121 (l) x 89 (h)