Korg Nanokey Studio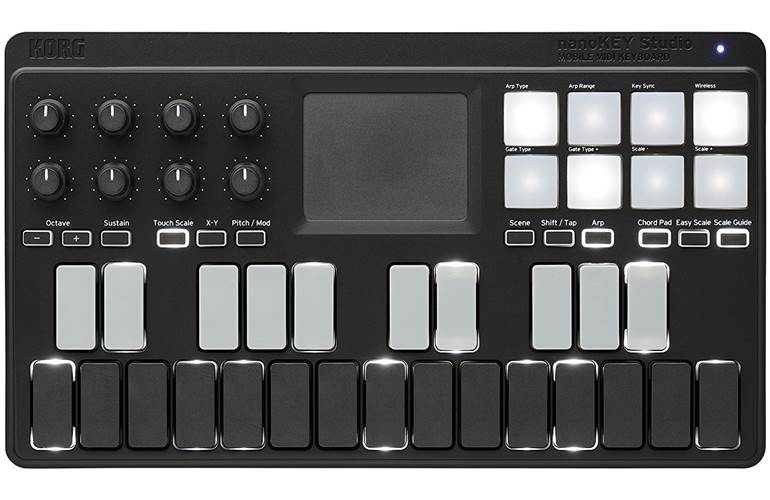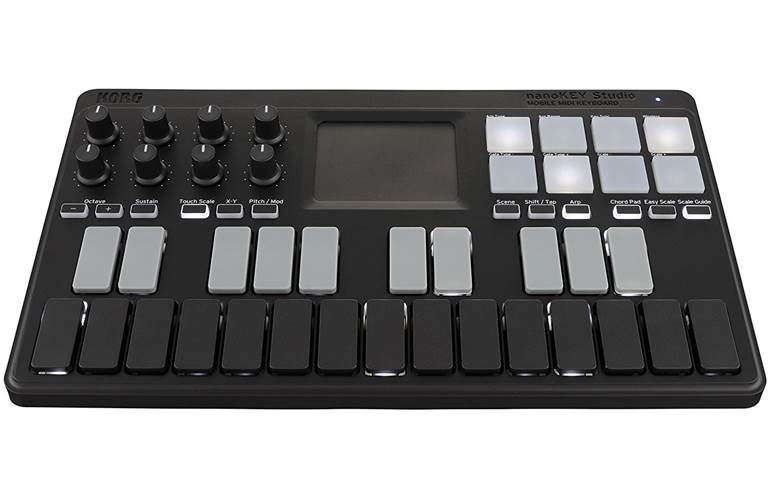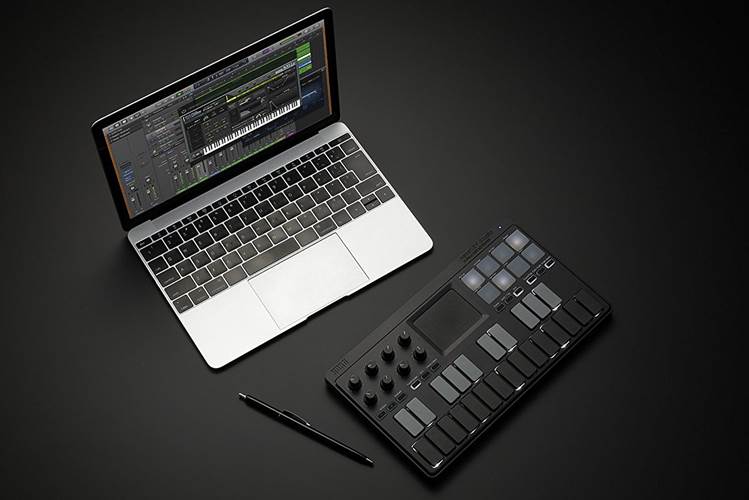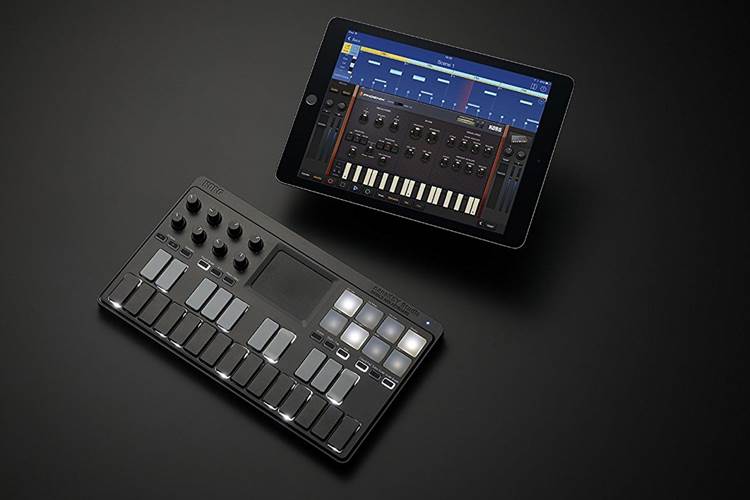 £129.00
Order before 1PM for Delivery Tomorrow
Make 3 payments of £43.00

No fees.
Learn more
Manufacturer's ID: KRNANOKST
What we say:
At A Glance:
The Nanokey Studio from Korg manages to cram a ton of great features and controls into a super compact package. It features 25 backlit velocity sensitive keys, a kaoss style touch pad, drum pads, an arpeggiator and so much more. There's also bluetooth on board for wireless connectivity to your computer or mobile device. All of this makes the Nanokey Studio ideal for making music on the go, or in a home setup where space is limited.
Features We Love:
Backlit 25-note keyboard
We had to do a double take when we heard the Nanokey Studio has 25 velocity sensitive keys. We can't believe they managed to fit so many on a device this size, all thanks to the clever space-saving design. Let's not forget the keys are backlit, making them easy to see on a dark stage too!
Wireless
The Nanokey Studio features Bluetooth, which makes connecting to a mobile phone or tablet easier than ever. This is handy for putting ideas into Garageband, using Korg Gadget apps and more!
Compact Design
Thanks to the inspired design of the Nanokey Studio, it is incredibly compact. Weighing less than half a kilogram, and a pocket-size footprint it's easy to take anywhere. This also makes it a great choice if you have limited desk space in your home studio.
Highlights:
Compact design
25 velocity sensitive keys
Pads and Rotary knobs
Kaoss style touch Pad
Scale guide
What's Included:
Nanokey Studio
USB cable
KORG Software Bundle code
two AAA Batteries
Specification
Step-record as easily as typing. A keyboard with 25 backlit keys that illuminate.
Even if you're not the most skilled keyboardist, the 25 velocity-sensitive keys allows you to step-record easily. The Scale Guide function illuminates the keys to show recommended notes in the scale, making it easier to play. This is a smart keyboard with a variety of performance modes, such as the Easy Scale function, that lets you produce musical phrases using any keys.
More freedom to produce music, via USB or wirelessly.
The nanoKEY Studio can connect not only via USB but also wirelessly. It's easy to connect to an iPad/iPhone music app such as KORG Gadget or Apple GarageBand, or to your Mac/Windows music production software. Liberated from annoying cables, you'll be free to set up your system much easier than some other products. Thanks to careful tuning, you'll enjoy low latency and high stability.
Lightweight and compact design can be placed anywhere and easily transported.
Smaller than a sheet of letter-sized paper, you can put the nanoKEY Studio in your bag and take it anywhere. With a simple, refined, and stylish design, along with beautiful lighting with white LEDs, you won't get tired of using it every day. With its modern design, the nanoKEY Studio is ideal for use with new devices such as your laptop, tablet, or smartphone.
Create the ultimate mobile music production system with your iPad/iPhone and the nanoKEY Studio.
The combination of the nanoKEY Studio with KORG Gadget is the ultimate combination for mobile performance. With the nanoKEY Studio that supports wireless connection via Bluetooth MIDI, your iPhone can instantly transform into a music production tool. In your room, in a coffee shop, in transit, or outdoors, you can immerse yourself in music with minimal requirements of space and time.
Eight high-sensitivity trigger pads that you can use for drum input or playing chords.
The eight velocity-sensitive trigger pads will convey every dynamic nuance of your drum performance. In chord-playing mode, the Chord Scale function automatically assigns the best chords for the key and scale you've selected, so your song will take shape at amazing speed. You can also assign the pads to trigger audio clips. These pads are not limited by musical genre; they deliver all-purpose music production power.
Touch pad inherited from the KAOSS series provides one-finger control of software synthesizers.
You can use a single finger to control a software synthesizer just like you can with a Kaossilator, or control a plug-in effect the same way as a KAOSS PAD. The nanoKEY Studio features an arpeggiator with rhythm patterns, letting you generate a succession of new phrases simply by touching the pad.
Eight assignable knobs for controlling your DAW and plug-ins.
The eight knobs provide versatile control of your software synthesizers, plug-in effects, and DAW mixer.
A lavish and powerful bundle of music software is included free of charge.
The nano Studio series comes with an extravagant bundle of powerful mobile and desktop music software that includes iPad / iPhone apps, a special edition of KORG Gadget, and the KORG Legacy Collection M1 Le which includes plug-in versions of classic KORG instruments. If you have the nanoKEY Studio, there is no need to buy any additional software.
The sounds and functionality of "iPad / iPhone apps" can be expanded by connecting them to a nano Studio series unit.
Apps for iPad/iPhone
KORG Gadget Le for iPhone (music production studio DAW app) KORG Gadget Le for iPad (music production studio DAW app) KORG Module Le for iPad (piano/keyboard sound module app) KORG Module Le for iPhone (piano/keyboard sound module app)
Software for Mac/Windows
KORG Legacy Collection - M1 Le (synthesizer sound module) with a special upgrade pass to the KORG Legacy Collection - Special Bundle
UVI Digital Synsations (synthesizer sound module)
AAS Ultra Analog Session (synthesizer sound module)
AAS Strum Acoustic Session (acoustic guitar sound module)
AAS Lounge Lizard Session (electric piano sound module) Propellerhead Reason Limited (DAW music production software)
Customize using dedicated "KORG KONTROL Editor" software.
We provide "KORG KONTROL Editor" software that lets you freely customize the settings of the nanoKEY Studio. You can adjust the velocity curve of the keyboard, and customize the MIDI messages that are assigned to the pads and knobs to meet your needs.