Fender Mustang GT40 Combo Modelling Amp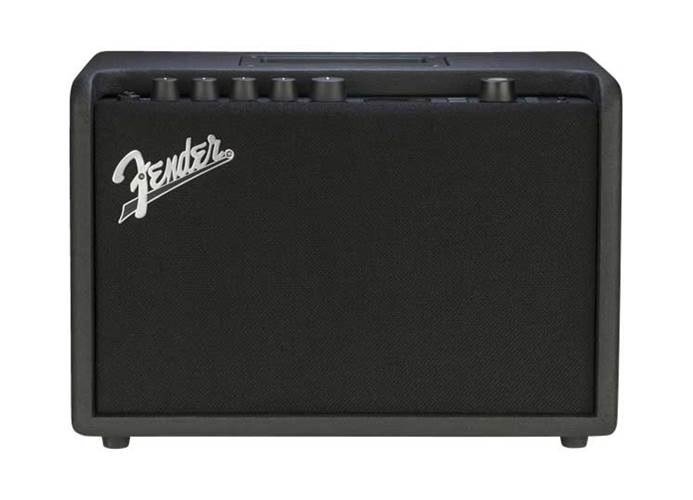 Image Gallery

This product is currently not available.
Customer reviews
Overall Rating 4.9 (

29

reviews)
Perfect as I'm a beginner
Best little amp on the market in my opinion. This is a gift to a son-in-law who has drooled over the one I have.
I don?t have to mess about with settings. I can just search on my phone. Love it so much I?ve ordered the optional pedal so I can add the loop function.
Perfect practice amp. Small but loud enough and good range of preloaded sounds
Well featured amp for a beginner/intermediate who wants to find their own sound.
Great amp for the home, if you can?t make the amp sound good, chances are it?s the playing ? nothing but good sounds and tones from this little beauty
Nice and compact but still easily loud enough. Lots of features and to be honest its pretty easy to work all the in depth settings and extra effects. Its not a heavy metal amp but it give it a good go, any other style its got covered no problem
Great little amp, very pleased with it
Can't complain great practice amp lots of features and easy to use.
Perfect practice amp. The Fender tone app is also really easy to use and pairs easily with the amp. Lots of tones available to download from the cloud. Great sound.
Much better than I expected. My other two guitar amps are a Fender Superchamp X2 and a Boss Katana 100 (this sounds much nicer now that the speaker is aged with 12 months use amazingly so). I bought the Mustang as a practice amp, primarily for the integrated looper, and fender sims at low volume. What surprised me is 1) How great some of the voices sound (the basic Princeton is superb) 2) How easy it is to use. I'm a plug and ply kind of guy. I like playing guitar, I don't like faffing with computer parametres. So I was delighted by how easy this amp is to use. This is a superb amp for home practice, it sounds 10x better than I expected, and clearly I was expecting it to sound fine, otherwise I would not have bought it. Another bonus is that it is really light and easy to carry around. I was looking for something to replace my THR10, and this does that very well indeed.
Ideal for me as my 1st purchase of an amp I could not be happier. Great sound and loads of different options and recommend the Fender App
Fantastic amplifier, wide variety of tones and settings, perfect for beginners or those unfamiliar with pedal setups.
Just a fantastic bit of kit
Amazing for that price. It?s an amp and a speaker
GREAT, the amount of different sounds is amazing, the quality is top notch.
Very pleased with the amp I bought
Great amp. I use this for home studio and practicing. I have other bigger amps that can't go past 1.5 without it being far to loud. This is great as it has the right amount of volume. Easy set up and can be controlled by my iPhone. Make it really easy to play along and nail those solos you have been trying to copy.
So much fun with all the effects.
perfect easy to use modeling amp great sounds
I have Mesa Boogie amp but this wee Fender WiFi amp is superb
Show more reviews
You might also be interested in...
Keep up with our latest offers, news & events