Korg PA1000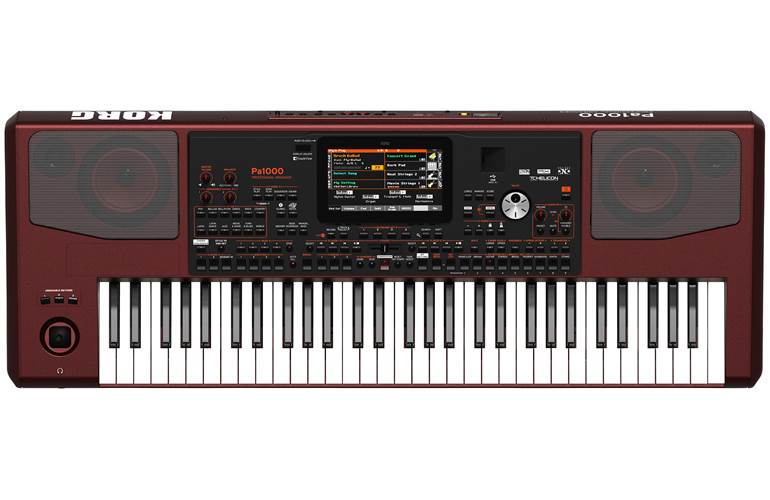 RRP
£1,945.00
Save £246.00
£1,699.00
Order before 3PM for Delivery Tomorrow
Recommended Bundles
Manufacturer's ID: PA1000
What we say:
At A Glance:
The PA1000 from Korg is a powerful arranger keyboard. It features a huge library of incredible sounds and styles, effects, a microphone input and much more. You'll also find the touchscreen interface is very user friendly and the controls are intuitive. There are tons of playback options, including Dual MP3 playback, MIDI files and more. Overall the PA1000 packs a ton of premium arranger features into a more affordable package.
Features We Love:
High Quality Sounds and Styles
The PA1000 has tons of great sounds on-board. Thanks to Korg's Enhanced EDS-X sound engine, the instruments sound expressive and realistic. There are over 430 factory styles built into the unit, which cover almost any genre and can always be expanded later too. There's also a huge amount of memory to store User styles, so you're never short-handed.
TC Helicon Vocal Harmoniser
On the PA1000, Korg have also managed to acquire industry-leading Vocal Harmoniser effects from TC Helicon. This is some of the best harmoniser technology on the market. It allows you to sing alongside professional-sounding harmonies all by yourself!
User Friendly Interface
The TouchView 7" TFT display makes selecting styles, making changes and viewing lyrics easier than ever. It provides excellent visual feedback on which instruments are being used in the Style, amongst other parameters. There are a ton of control buttons to hand, which allow for quick changes to be made as well!
Highlights:
Professional Arranger Keyboard
61 semi-weighted keys with aftertouch
High quality sounds and styles
TC Helicon Vocal harmoniser
User friendly touchscreen interface
Video Output
Plenty of playback options
Vocal remover feature for MP3s
What's Included:
PA1000 Professional Arranger
AC Power Cable
Music Stand
Quick Guide manual
Specification
The Pa1000 sound engine uses four times the PCM memory of the best-selling Pa900 and extends the amount of User PCM memory to 600MB using compression. The number of User Style locations has also expanded to a maximum of 1,152 which will cover almost every style imaginable. The improved built-in speaker system produces a strong, full-bodied sound that's enhanced by standard features such as the TC Helicon Vocal Harmonizer, a Dual MP3 player & recorder, and the Dual Crossfade Sequencer. Video output is standardized, so your audience can sing along to the onscreen lyrics. The Pa1000 packs all this in a high‐quality case with aluminium inserts in the side-panels of an elegant chassis to provide a prestigious look on any stage!
Totally new is the addition of KAOSS FX, which give you creative control on your performance. From subtle morphing between Variations and Drum Kit types, fine mixing between accompaniment Sounds, live reshaping of ongoing rhythms, to the most radical note-crunching effects used by countless DJs, tape delay and arpeggios, you can add 'liquid mixing' to any Style or MIDI Song with the aid of easy-to-use computer-assisted composition features. Push the boundaries of your musicality!
With more power than ever before and numerous long-awaited new features, the Pa1000 sets a new standard for arranger workstations. A massive leap forward from the legendary and best selling Pa900, KORG has raised the bar of excellence by offering newer, even more realistic sounds and powerful new features, delivered in a slim and professional looking design, at an even more affordable price.
Enhanced EDS-X (Enhanced Definition Synthesis-eXpanded) sound engine offers improved realism and vivid sound
Massive internal ROM – plus up to 600 MB of user PCM compressed data – provides a powerful wave memory, delivering the best sound quality possible
Three assignable switches, two assignable knobs and a four-way joystick ensure total control for the sound articulations (DNC – Defined Nuance Control)
61 key semi–weighted keyboard with velocity and aftertouch
Slim and compact lightweight cabinet
Big TouchView™ 7" TFT display with adjustable manual tilt
Easy layout and improved graphical interface with a Search function for quickly locating musical resources
The 2-way speaker system ensures a powerful and clear sound
Over 430 Factory Styles, each with 4 variations and 4 Fill Ins + Break, plus 12 banks in each of the User/Direct banks for unlimited storage of your favorite customized or user created Styles and settings
The Direct SongBook will extend your internal database on-the-fly
User and Direct banks can be renamed, to allow for a more personalized set of custom Styles, Pads and Keyboard Sets. Custom names appear in the Selection windows, and make finding items much faster
The Chord Sequencer function records any chord progression on-the-fly. Sequences can be stored in any Style and SongBook entry
Style Creator Bot automatically creates a Style from a MIDI Song, while also creating a Chord Sequence from the Song's chords
Multiple Effects processors:
- 2 Insert and 2 Master effects for the Accompaniment parts,
- 1 Insert and 2 Master effects for the Keyboard Sounds
- Final Limiter and Parametric EQ
TC-Helicon 3-voice Vocal Processor with 5 dedicated effects
Double MP3/MIDI file players with recording capability, X-Fader and Vocal Remover
Enhanced compatibility with lyrics in graphical format (+G) for MP3
Enhanced sound compatibility for GM and GS songs
The Detect Chord function scans the MIDI Song's tracks for chords, then saves them as Chords events to be read in the Lyrics or Score page
Fully programmable SongBook database based on Styles, SMF, Karaoke, MP3 with instant recall of any song setting. User-definable Set Lists. Filtering and ordering options. Direct access
Multi-language extended character set. Lyrics can be showed in their original languages (except the Oriental and Arabic Languages*)
Style and SongBook editing procedures has been made easier and more intuitive
KORG, WAV, AIFF and SoundFont™ sample formats import function
512 User Sound locations, 256 User Drum Kit locations
MIDI connection can now also be done through the USB HOST ports (in addition to the USB DEVICE and the MIDI ports). This allows for easy connection of controllers like digital pianos (for example, our HAVIAN 30), or the KORG nano and micro series, with no need of special adapters
MicroSD card slot (card not included) allows for mass storage and data protection
What's In The Box?
AC Power Cable
Music Stand
Quick Guide manual
Inputs + Outputs
2x TRS Left/Right Line Inputs
1x 1/4" Jack Mic/Guitar Input
Damper pedal (supports half-pedaling with the optional DS-1H pedal)
Assignable pedal/switch
2x 1/4" Jack Left/Right Outputs
1x Stereo 1/4" Jack Headphone Output
MIDI In/Out
2x USB Type A Ports for Memory Sticks and Controllers
1x USB Type B for Computers and Tablets
Physical Specifications
Dimensions (W x D x H): 1030 x 378.3 x 133 mm / 40.55" x 14.89" x 5.36" (without music stand; height with music rest: 355.8 mm / 14")
Weight: 10.75 kg / 23.7 lbs