Friedman Brown Eye BE-50 Deluxe Head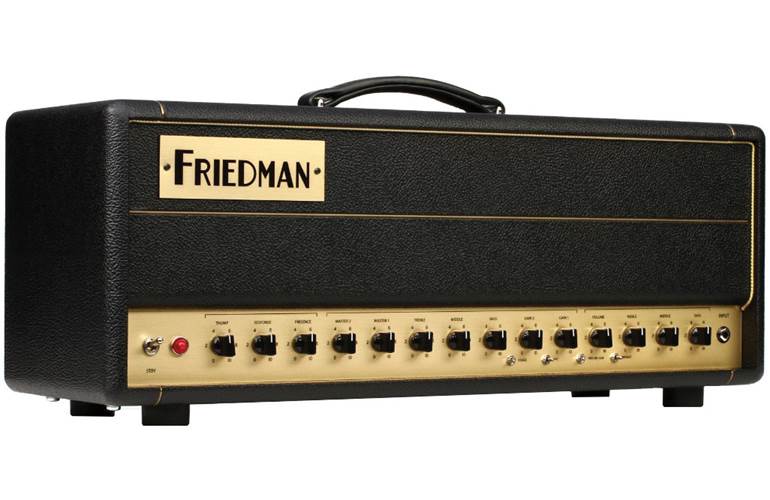 £3,099.00
Order before 3PM for FREE Delivery Tomorrow
Manufacturer's ID: BE-50 DELUXE HEAD
What we say:
Dave Friedman has been a recognised authority on all things 'tone' for a long time now: he has modded and built amps for players like Bill Kelliher and Jerry Cantrell so he's been collaborating with some master players. His own brand of amps have really taken off in a big way with players who want hardwired boutique amplifiers that sound 'more British than British': that classic range of sounds that sum up classic and hard rock are what Friedman are all about!
This Brown Eye Deluxe 50 head is something of a culmination of everything David has learned and loved about amp-making. That fantastic, touch-sensitive saturated crunch is here in spades of course but so are the wonderful pushed cleans from the Buxom Beauty! The clean channel has its own EQ controls and you can use the two-button footswitch for going between the three channels.
This amp sounds completely supersonic! There is a ton of harmonic information and resonance that comes through even the most nonchalant strum of an open position chord. Leads sustain for days and most importantly, when you're plugged into this head you just want to keep playing! There are switches on the extensive front panel (like Thump and Response') to allow greater flexibility in your tonal sculpting.
If you play Rock music, this amp will help you sound the best you've ever sounded!
Specification
Housed in the BE-50 Deluxe, Friedman's BE and HBE drive channels are industry standards for high-gain crunch, clarity, and nuance. And with independent volume and gain controls, as well as some of Friedman's most popular amp modifications, you'll be switching between these worlds of grit, on the fly.
Footswitchable BE and HBE channels
Independent volume and gain for each channel
3-position voice switch dictates the top-end response of the dirty channels
Fat switch adds low-end girth and warmth
3-way gain structure switch determines the channels' overall gain
The clean channel of the Friedman BE-50 Deluxe is directly inspired by the chime, glassy top end, and full body of the Friedman Buxom Beauty amplifier. Not only does it sing with massive headroom and detail, but it brings out the very best in your favorite pedals and effects as well.
Opulent clean tones, inspired by the Friedman Buxom Beauty
3-band EQ to shape your clean tone
3-position bright switch tailors the sheen of your sound
Thanks to an astoundingly flexible power section, the BE-50 Deluxe will be your go-to amp on any gig. From the front panel, you're able to tune the amp's overall character with a trio of variable master controls. Turn the amp around and you'll find a half-power switch as well as the most transparent effects loop in the business.
Presence knob attenuates high frequencies in the amp's power section
Thump adds or removes low-end rumble
Response control allows you to determine the amp's feel
Transparent series effects loop with bypass switch always maintains your core tone
Power toggle selects between 50-watt pentode operation and 25-watt triode mode
Dave Friedman has been building one of the most stellar reputations in the guitar, amplifier, and effects industry for decades. His clientele - which includes some of the biggest names in electric guitar - continue to rely on him to keep them sounding their best night after night. When he puts his name on a piece of gear, you know it will get the job done.
Dave Friedman's name is synonymous with high-quality electric guitar products
Crafted with the finest materials for flawless performance
Every unit is inspected and tested before shipping
Technical Specs
50/25-Watt all tube head
Three channels
Handwired in the USA
2 x EL34 power tubes
4 x 12AX7 preamp tubes
SAT, FAT, Bright, and Voice switches create a multitude of unique textures
Gain Structure switch lowers overall gain
Cln Ch - Volume, Bass, Middle, Treble
BE Ch - Gain 1, Master 1, Bass, Middle, Treble (shared with HBE Ch.)
HBE Ch. - Gain 2, Master 2, Bass, Middle, Treble (shared with ch BE Ch)
Ultra-transparent series FX loop
4, 8 and 16 ohm Impedance selector switch
Custom USA made transformers
Limited Lifetime Warranty
Dimensions: 10.5" (D) x 24" (W) x 10" (H)
Weight: 30.5 lbs.