BOSS Katana 50W MKII 1x12 Combo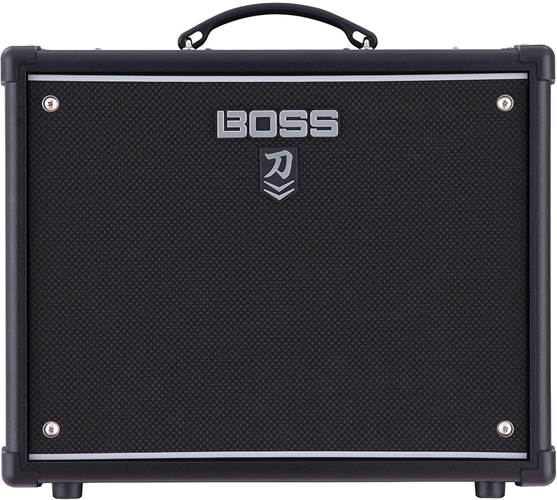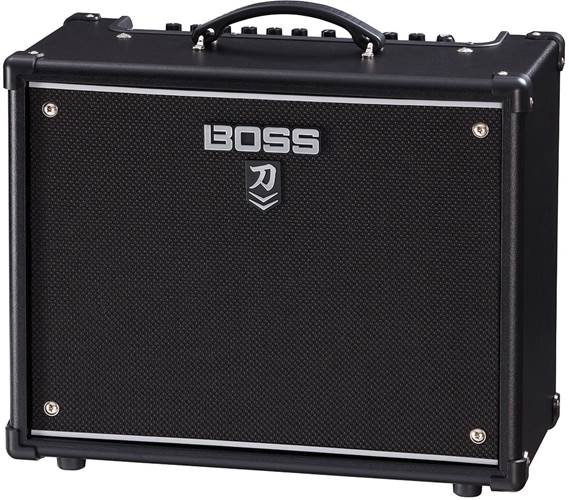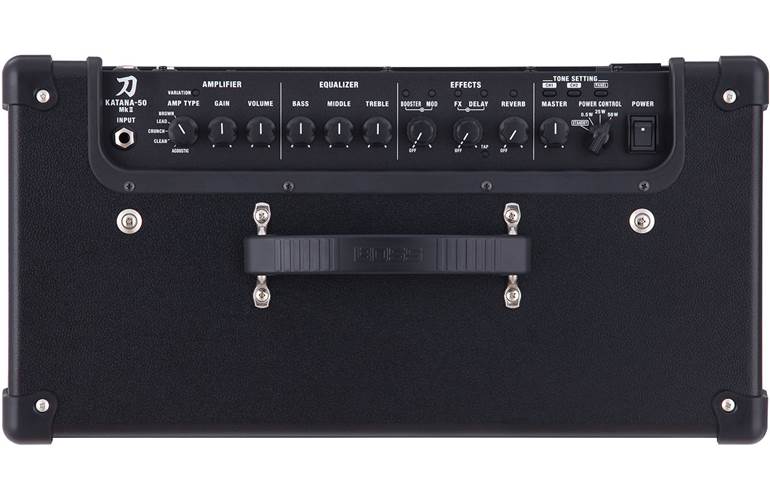 Image Gallery



£229.00
Order before 1PM for Delivery Tomorrow
Make 3 payments of £76.33

No fees.
Learn more
Buy Now, Pay 2022
No Deposit
Pay nothing for up to 12 months
Apply in minutes
Apply Now
---
Delivery Tomorrow
With 1 hour Delivery slot
---
Click & Collect
Live Stock levels from all our stores.
Store
Availability
Edinburgh
In Stock, Collect Today
Glasgow
In Stock, Collect Today
Newcastle
In Stock, Collect Today
Birmingham
In Stock, Collect Today
Epsom
In Stock, Collect Today
Camden
In Stock, Collect Today
Frequently Bought Together
Manufacturer's ID: KTN-50MKII
What we say:
At A Glance:
BOSS Katana 50W MKII 1x12 Combo is a feature-packed amp that'll win the heart of any player. With a huge selection of modelled amps and FX built-in, it's easy to find and tweak the selection of tones you're looking for, plus with 50 watts of power, it's loud enough to have you covered at any gig.
Whether you're a professional, casual player or complete beginner, you're going to love the Katana 50W MKII!
Features We Love:
Who the amp is for
As an all in one amp, the Katana 50W suits virtually any player, from jazz and blues, to rock and metal, the Katana does it all, it even caters to acoustic musicians. With a huge selection of quality amp sims and FX built-in, it's easy to create a selection of sounds for your full set, or even for use in different bands, this also makes the Katana a great tool for experimenting with and honing your own sound.
A key part behind the Katana's genius is its plug and play nature, all you need is a guitar, a cable and the Katana and you're good to go for virtually any gig or session. Plus, its 50 watts of power is loud enough for any gig, but it doesn't need to be cranked to feel lively, which will please your band mates and also makes the Katana ideal for practice at home. It's also fairly compact, meaning it's easy to travel with to gigs.
All of the above makes the Katana an ideal option for any player, it's got the features to please experienced players, yet it's affordable for the beginner to invest in and will grow with you as you develop.
Amplifier section
Boss have pioneered amp emulation technology for decades and inside the Katana you will find realistic amp sims that sound great and react naturally to your playing.
Multi-FX engine
Katana is host to over 60 different effects types, with the ability to run 5 effects at once in any order, the Katana is like having a huge pedalboard with you at all times.
Boss Tone Studio software.
The free Boss Tone Studio software is like a gateway inside the Katana. You'll love using the software to create custom patches with complicated FX chains and execute in-depth tweaking.
Audio interface with Re-Amping
The Katana can also work as an audio interface, recording over USB into your favourite DAW. Not only are you able to record your amp sounds straight into the DAW, it's also possible to record your dry signal and effectively "re-amp" your guitar using the Katana and refining your tone to perfectly fit in your mix.
Highlights:
All the amp sounds and FX you'll ever need
50 Watts is more than enough power for gigging
Record directly to your computer
Specification
Rated Power Output
50 W
Nominal Input Level
INPUT: -10 dBu (1 M ohm)
 
AUX IN: -10 dBu (20 k ohms)
Speaker
30 cm (12 inches) x 1
 
 
Controls
POWER switch
 
MASTER knob
 
POWER CONTROL switch (STANDBY, 0.5 W, 25 W, 50 W)
 
 
 
[AMPLIFIER]
 
VARIATION button
 
AMP TYPE switch (ACOUSTIC, CLEAN, CRUNCH, LEAD, BROWN)
 
GAIN knob
 
VOLUME knob
 
 
 
[EQUALIZER]
 
BASS knob
 
MIDDLE knob
 
TREBLE knob
 
 
 
[MULTI EFFECT]
 
BOOSTER button
 
MOD button
 
FX button
 
DELAY button
 
REVERB button
 
TAP button
 
BOOSTER knob
 
MOD knob
 
FX knob
 
DELAY knob
 
REVERB knob
 
 
 
[TONE SETTING]
 
CH1 button
 
CH2 button
 
PANEL button
 
 
Indicators
VARIATION
 
BOOSTER
 
MOD
 
FX
 
DELAY
 
REVERB
 
TAP
 
CH1
 
CH2
 
PANEL
Connectors
INPUT jack: 1/4-inch phone type
 
POWER AMP IN jack: 1/4-inch phone type
 
REC OUT/PHONES jack: Stereo 1/4-inch phone type
 
EXP PEDAL/CTL CH1/CH2 jack: 1/4-inch TRS phone type
 
AUX IN jack: Stereo miniature phone type
 
USB port: USB B type
 
AC IN jack
Power Consumption
47 W
Accessories
Owner's manual
 
Power cord
Options (sold separately)
Footswitch: BOSS FS-5L, BOSS FS-6, BOSS FS-7
 
Expression pedal: Roland EV-5, BOSS EV-30, BOSS FV-500L, BOSS FV-500H
Width
470 mm / 18-9/16 inches
Depth
238 mm / 9-3/8 inches
Height
398 mm / 15-11/16 inches
Weight
11.6 kg / 25 lbs 10 oz
Customer reviews
Overall Rating 5 (

102

reviews)
LOVE IT. Pondered over the 100w but the 50 is MORE than adequate.
Great amp sounds good, not too big.
Exactly what I wanted great
Great amp, great sound. There are a lot of options out there but the Boss Katana came recommended and is a great piece of equipment.
Just a great wee amp, loving it.
Just a great sounding amp with the bonus of all those boss pedals built in.
The sound quality is amazing. The added effects are a bonus and don?t detract from the quality of the sound.
A brilliant amp. So much more than I expected both in quality and value for money
Every think you could possibly want from a bedroom amp, I did research the katana before I bought it 100% happy with sound and extras
Excellent amp great value for money
Great amp with great sound and multiple effects.
Brilliant amp! The sound and features are exactly what we were looking for.
Just superb for L219.00 an amazing package
Very good practice amp. Deserves its reputation. Albe to achieve the tones I require at a modest volume.
Still getting accustomed to this amp, so far very impressed with quality of build and sound.
Just what I needed, looked around, did a bit of research and this was the one for me! Brilliant piece of kit.
Perfect item Super fast delivery
Very versatile amp. Sounds great both quiet or loud. Easy to use with pre-set sounds and settings on the cabinet. Massive scope for different sounds with computer downloads.
Excellent service & price would definitely use again.
Great quality and in my opinion its by far the best amp at this price range. The tone options and versatility of this amp is unmatched. Perfect for home use and small gigs.
Excellent!! Great Amp! And great service!!!
Great product sounds awesome
All you need for any level
Perfect for my needs. Makes practice fun.
Can be as loud or as quiet as you like and with the build in effects great for starters
Staff recommended. Excellent amp, with many really useful features.
Christine M. - 29/12/2020
Can't believe how much "stuff" is crammed into this superb sounding amp . . . and for such a great price.
Amazing little amp, such an array of sounds straight out of the box and using the software gives you another level of choice and modeling altogether. A very worthy purchase would even consider the 100W as a gigging unit with this versatility.
compact amp for the home; well suited to the guitar and size of room.
Brilliant amp for beginners like me. It has all sorts of effects to keep me entertained for hours and hours.
Great mid-range amp with a lot of features (effects, distortion/overdrive etc) and a powerful sound
Boss katana amps are awesome and offer such a wide range of tones and effects. As a middle aged beginner, I have just started to purchase a few pedals so the on-board fx in the katana are extremely handy as I build up my pedal board. I also like the fact that you can physically adjust the knobs without having to use apps etc.
Christopher P. - 2/12/2020
Excellent sound quality and fantastic effects
Good tones straight out the box
Believe the reviews. This is the only and last amp you'll ever need.
Bought the Katana to upgrade my Fender champ 20. Absolutely fantastic amp. Really opened up the tonal qualities of my guitars. Always wanted an LP Standard but Gibson is out of my price range so went for the Epiphone and it's fantastic! Build quality, fit and finish are excellent for the price! It fits nicely along with my Player Strat and it rocks!
Great shop. Very knowledgeable, helpful people!
That 0.5 watt setting is ideal for a household and teaching setup
Exactly what my son needed.
This little amp has everything you need for practicing, or gigging on a budget. Loads of boss effects loaded in. Great value for money. I have had nothing but fun with this since I purchased it from Guitar Guitar. Would highly recommend.
Great all round amplifier. Amazing tones for all types music. Plug in and play straight out the box and has a tone of tones and pedals on the boss tone studio. This amplifier can get loud so the 0.5w and the 25w setting comes in handy for bedroom practice.
Amazing sound and absolutely ideal for a home setup. Best amp to use at home I'd say.
Really enjoying this product.
Amp has plenty of effects and sounds really good. The PC application that works with the amp is amazing. I would recommend for all playing styles except modern heavy metal guitar as the heavier high gain sounds are a bit lacking IMHO.
I haven?t worked out all the settings yet but I?m pretty sure it will then prove to be a five star product. At the moment it?s probably too much amp for my electric guitar capabilities.
It is just what i needed for home practice and party time. just bursting with different settings.Brill.
Great little amp with lots of features.
Great guitar amp, very versatile as it works with electro-acoustic guitar. Lots of features, highly recommend
Very easy to use. Some excellent tones to be found in this amp. The power dial is a welcome feature if you've got sensitive neighbours.
Great value for manoey. Can't go wrong with the Katana 50
Ideal amp for home and home studio work.
The amp itself is top class. I?m surprised it?s not more expensive. The sound is great through the 12inch speaker and really user friendly. Could not recommend more. Everyone should face one.
Katana is a great mix between simplicity and complexity - however you want it - plays great out of the box, but if you want to get into detail via USB connection to a PC you can. The standard tones / variations are well voiced, and a i love the line in to hook my Helix direct to the power amp section if I am using IR's or cab simulations.
Sounds amazing compared to my old Marshall amp and has loads of tones and effects To play with.
Unlimited possibilities. Quality sounds.
It the best amp I have ever purchased and for the money the most bang for buck item ever
Can?t go wrong with this amp buy one.
The Boss Katana 50 Mkll is a first class amplifier. Comparatively light weight as well so, no more threats of a hernia - hopefully.
This amp is fantastic, really impressed!
Brilliant amp for the money, great sounds and so easy to use
It's the best amp I have had. Brilliant.
The Boss amp is perfect for my requirements, enthusiastic amateur trying to emulate my guitar heroes at home, and you never know, might be encouraged to get on the road again! ...it?s been a while!!
Amazing sound and features, especially for the price
Show more reviews
You might also be interested in...
Keep up with our latest offers, news & events