Just Announced: Gretsch G6131-MY Malcolm Young Artist Signature Jet
Published on 28 June 2018
Finally, AC/DC fans can know what it's like to strap on Malcolm Young's gloriously bashed up Gretsch! His longest-serving axe, the Jet, took Malcolm through more hits and gigs than any other guitar in his whole lifetime. Needless to say, it's a big deal for fans of 'akka-dakka' and anyone wanting to get their hands on this accurately battle-damaged replica, the G6131-MY, will go totally high voltage to learn that this edition is going to come from the Japanese factory! That means that not only is the quality extremely high, it will also be available at a price that is much more accessible that the previous (excellent) USA Custom Shop model! This is a move we most definitely salute! Hell's Bells indeed!
AC/DC, beholders of some of Rock music's mightiest and most inspirational songs, had a double-barrelled blast of attitude in the Young brothers. With Angus on lead and Malcolm on riffs, this Glaswegian duo were a potent engine room of powerful music. They wrote the rule book on gigantic rock riffs and became one of the biggest and most beloved bands in history. Angus, as we all know, loved his Gibson SGs and Malcolm did all his work on his Firebird Red Gretsch Jet.

Malcolm's Gretsch went through quite a few changes over the years including pickup changes, tremolo removal & re-attachment (and further removal!) and of course the stripping back of the red finish to leave the natural Maple top that we all recognise today.
This final condition is how Gretsch have chosen to make this tribute model. This new Signature Jet is made in the same way as the original with a semi-hollow Mahogany body topped with Maple for a sound that blends rigidity with a little jangle and air. This is as essential to the 'bigness' of Malcolm's sound as his wall of Marshall amps.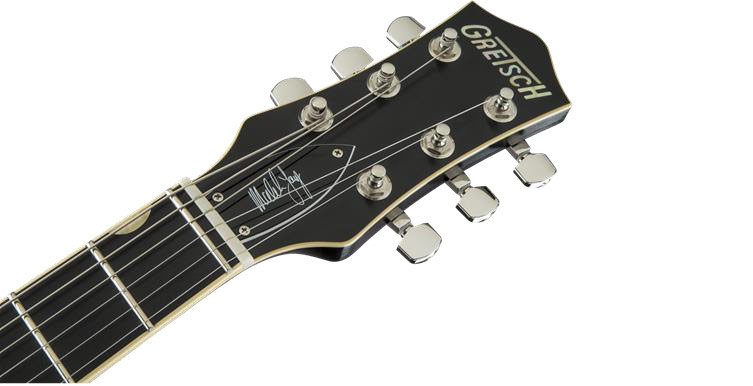 A single TV Jones Powertron humbucker resides in the bridge pickup position whilst the other two pickup cavities remain, as you'd expect, completely empty. A bound Ebony fingerboard with Gretsch's Art Deco thumbnail inlays provides a perfectly smooth surface to rock your filthiest riffs whilst all of the areas normally filled with switches have been plugged up with chrome, just like the original.
For those about to rock, we recommend getting your dirty deeds done on this fantastic tribute to a man who took the long way to the top and stayed there: the Gretsch G6131-MY Malcolm Young Artist Signature Jet.