A Closer Look: Gibson Custom Shop Hand-Picked Quilt Top Les Paul Customs
Published on 14 March 2019
Avid followers of our News blogs here at guitarguitar will no doubt recently have seen an article we posted on some rather swoon-worthy late 50s Les Paul Standards made at Gibson's Custom Shop. These had Flame Maple tops that were individually hand-picked by us during a visit to the Nashville Custom Shop from a pile of 1200 Maple blanks. This experience resulted in some pretty momentous instruments and were, as we said at the time, a thrill to receive and unbox! Have a read here if you missed that article.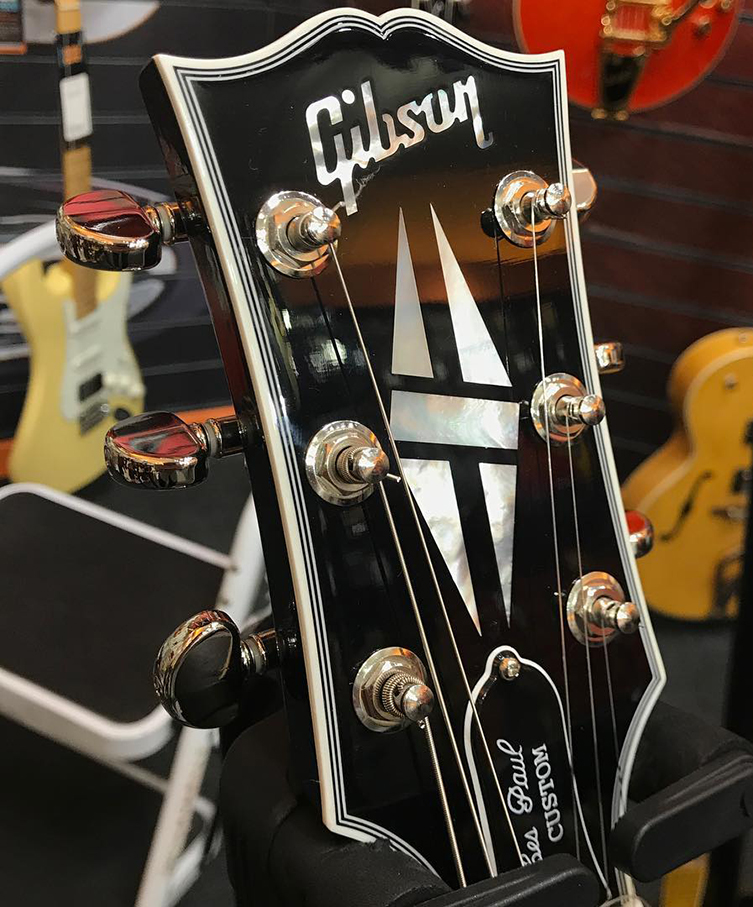 It's a good day at the office when those type of guitars show up for sure. We had been waiting literally for years so excitement was high! Thankfully, the guitars more than delivered and have proved to be a bit hit.
But that isn't the end of the story.
Far from it, in fact! The late 50s Standards all have incredible hand-picked Flame Maple tops, as you know. However, when viewing, handling and selected each Maple blank, we also came across some quite exceptional Quilted Maple blanks. Quilted Maple is ostensibly the same material as Flamed Maple: the only difference is the nature of the figuring. Quilted Maple has a very clear and dramatic look, like three-dimensional clouds floating inside the wood! Good Quilted Maple does, anyway, and the selections we discovered on this timber-picking trip blew us away.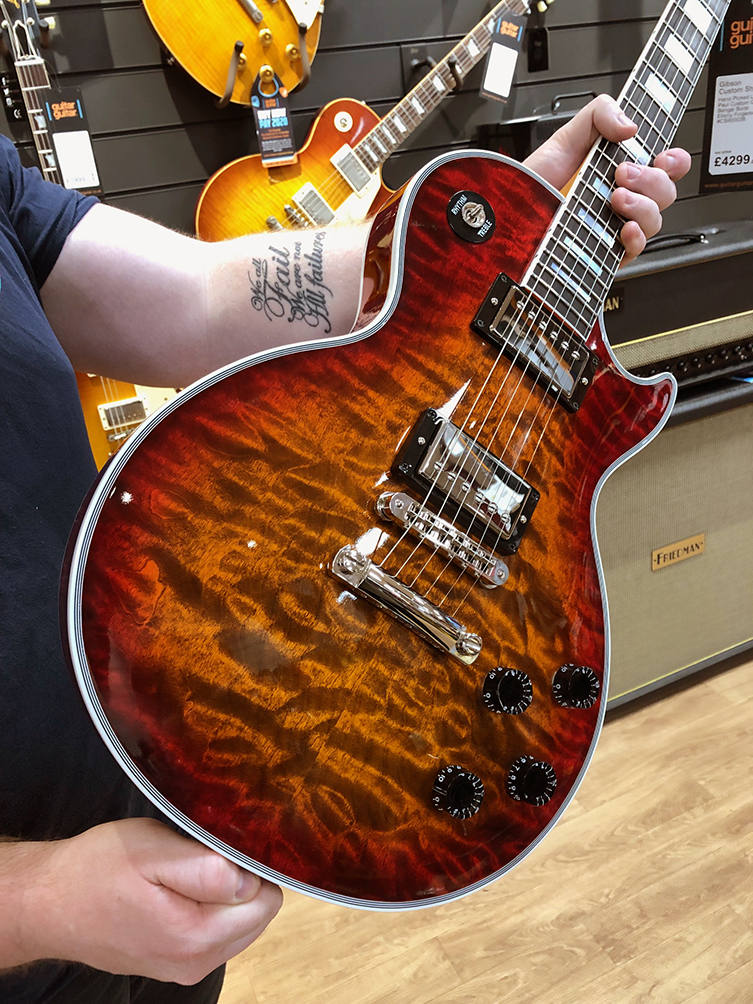 So why didn't we use them for the late 50s Les Paul Standards? It's pretty simple really: we've found that guitar players and fans much prefer their historical Les Pauls from the late fifties to have tops that reflect the era. That means plain tops and, more often, flame tops. That makes perfect sense to us: that special vintage likeness is what those models are all about, and Quilted tops don't really fit into that image.
Rather than just cast aside these incredible quilted blanks though, we've put them to good use! Wood of this calibre deserves to be a part of the most beautiful Gibson design of them all. That's right: we took this pile of eye-popping Quilted Maple and commissioned Gibson's Custom shop to build us a short run of the most badass Made to Measure Les Paul Customs ever!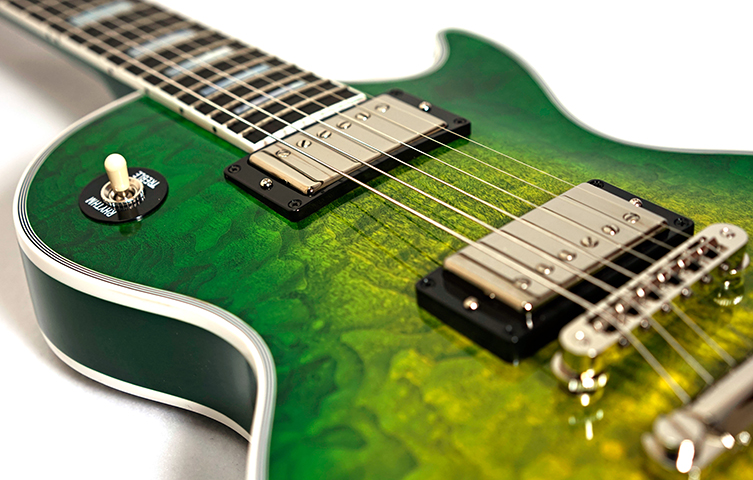 What an easy decision! Nothing has the allure, the charisma, the star power and the timeless beauty of a Gibson Les Paul Custom. It fits into any musical genre (more so than other Les Paul models when you think about it), is a thing of joy to play and is the only guitar that can beat the Les Paul Standard for thick, wide, cello-like tones. It is both Beauty and the Beast and we love it to bits. Ordering a short run of these with Quilted Maple tops is like the stars aligning!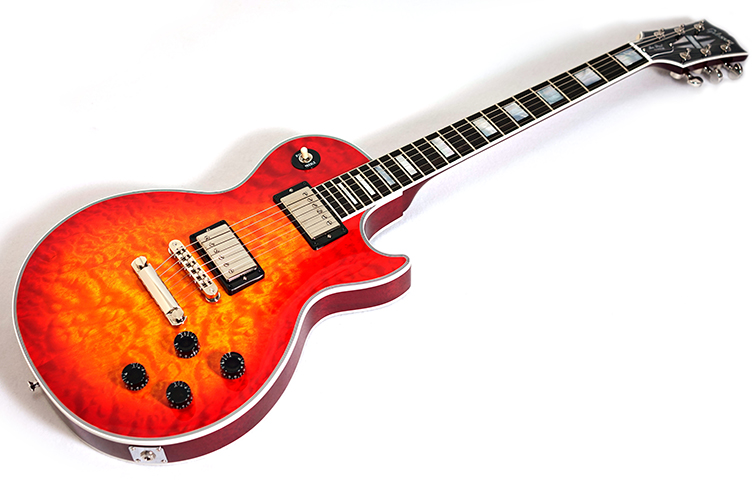 This run of just 16 guitars adds the Quilted Maple tops to Gibson Custom Shop's regular spec for their Les Paul Custom. This means, alongside the type of measurements you'd expect to get (24.75" scale length, 12" radius fingerboard etc), you get the beneficial upgrades of an Ebony fingerboard, true Mother of Pearl inlays, CTS pots and a Switchcraft toggle. The body is premium Mahogany with only the 9-hole weight relief: no tone chambers here!
All of the extra decorative appointments of a Les Paul Custom are present, too: the multiple ply binding, the 'Split-Diamond' logo on a slightly larger headstock...details that all add up to make these guitars absolutely prime examples of the Les Paul Custom in all its glory. The one difference with this batch is the decision to use Chrome hardware over Gold, something that we believe to be the correct aesthetic choice for these particular instruments.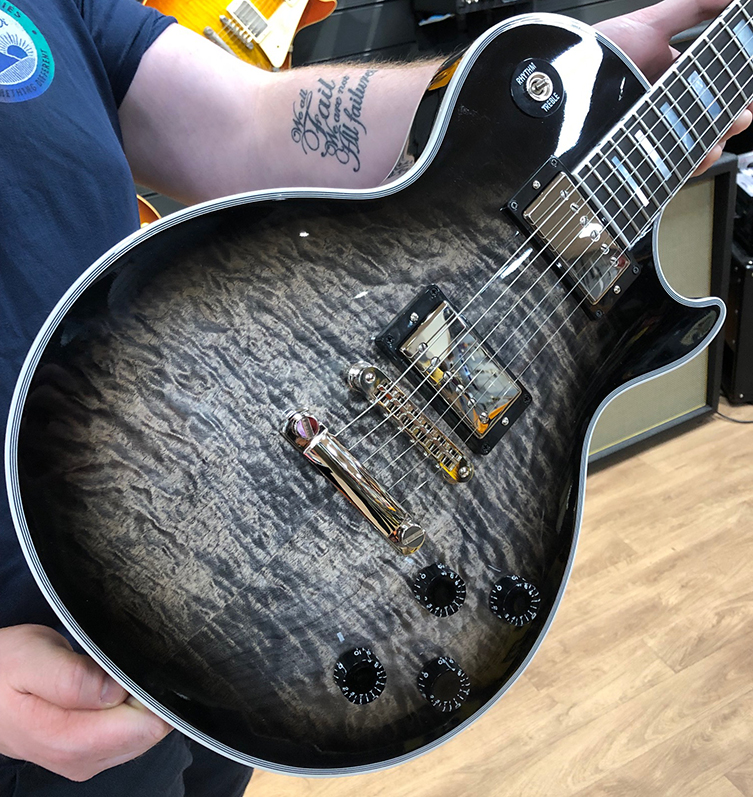 And then there are those tops! Goodness, gracious! These are an absurdly handsome gang of Les Pauls! Seriously, these are things of beauty, with that great mix of wild colour, unbelievable timber and the classic, iconic, evergreen beauty of the Les Paul design. Other single cuts can look beautiful but deep down we all know we like this one the best! And it's amazing to see how well these bold finishes refresh and enliven this time-honoured guitar. We picked five colours for this special run: Firemist, Cobraburst, Bengal Burst and the bolder Quicksilver and Iguana Burst. They all look completely stunning. The finishes highlight that special Quilted Maple but also harmonise and bring together the various elements of the Les Paul Custom's look to create a whole that is above the sum of its considerable parts!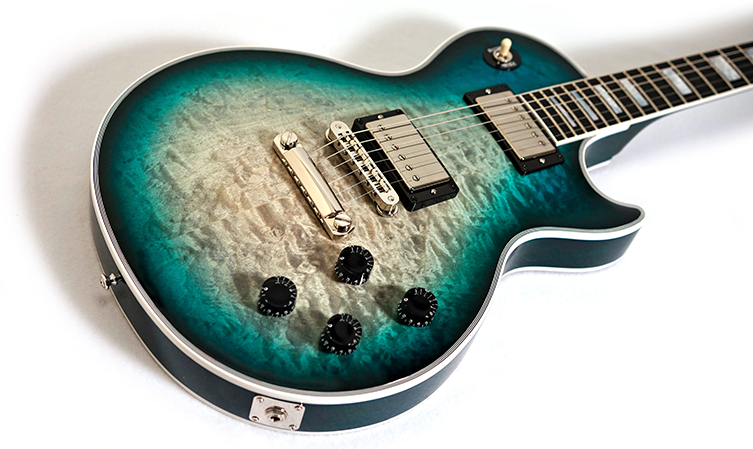 Which is our favourite? Hmmm, no, we can't decide. Ok, Quicksilver. But more importantly, which is YOUR favourite? Remember, these are hand-made, Custom Shop-built Les Paul Customs made with hand-picked tops of incredible Quilted Maple! With Ebony boards! And there are only 16 guitars in total for the entire run! These are special instruments indeed. Come and see them at your local guitarguitar store whilst we still have stock or simply click through on the site to buy your favourite Les Paul Custom today! Don't let these beautiful and rare creatures get away!