Best Electric Guitar for Beginners (Updated September 2023)
Published on 27 September 2023
Selecting the best electric guitar for beginners is a simultaneously easy and difficult task. The fact is, there has never been a better time to buy a guitar. You get more quality in the beginner's price range than ever before, for very low cost. Good news? Definitely!
What this does mean, though, is that the beginner's guitar market is flooded with choice, with every manufacturer wanting you to choose their model over everyone else's. Again, no bad thing for the buyer, but without a little bit of experience, it can be easy to feel daunted by the choice.
At guitarguitar, we want you to be confident, informed and excited about the notion of choosing that special first electric guitar. Whether that's for yourself, or as a gift for a partner or a child, buying your first electric guitar is something we want to help you get right!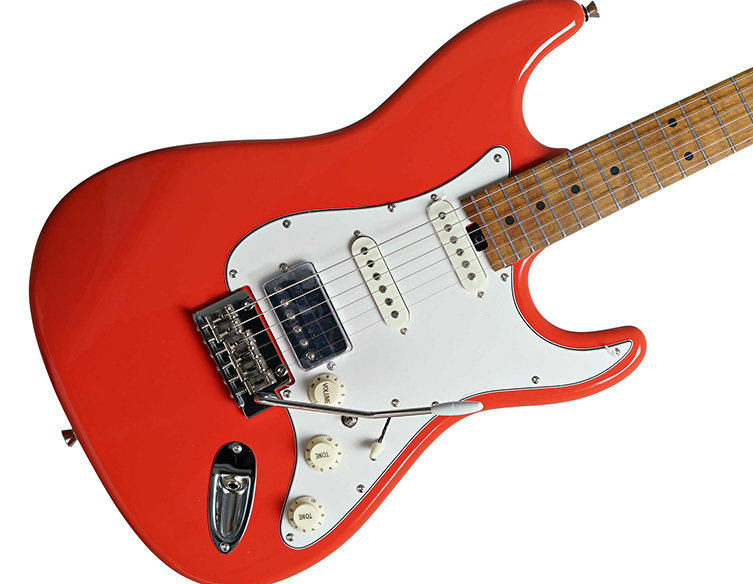 This blog is intended to take some of the heat out of this process and offer some reasoning and perspective. We've chosen some of our favourite beginner instruments here today, selected from the high numbers of beginners electric guitars that are out there.
Read on and see what you think of these choices for the best electric guitar for beginners!
Contents
EastCoast ST1 34 Three Quarter Sized Electric Guitar
First of all, let's begin with a beginner electric guitar that's suitable for younger and smaller players. As a general rule, most people aged 12 and over should be considering a full-sized guitar, but those younger than 12 might want to consider trying a guitar such as the EastCoast ST1 34. This is a three-quarter sized guitar, and that means that the length of the playable string area is around three-quarters the size of a regular electric guitar. The overall size of the guitar is smaller altogether, so smaller bodies with smaller hands will have an easier time using the instrument.
Aside from the smaller dimensions, this is a 'proper' electric guitar, through and through. Like it's full-sized cousin the EastCoast ST1 (which we are just about to look at), the ST1 34 comes fitted with a comfortable neck, three single coil pickups and a full complement of controls (volume, two tone controls and a 5-way lever to select pickups) to get the sound just as you like it. Single coil pickups give a pleasingly twangy sound which you'll quickly recognise from years of listening to guitar playing on records. They are very versatile, so you'll be able to play various styles from pop to blues to rock without any problems!
If you are on the smaller side (or indeed are buying for such a person) then it's worth considering if a slightly smaller guitar like this will be more conducive to playing actually happening, instead of the guitar being too big for the learner, putting them off altogether. This is a solidly built, reliable guitar that's heaps of fun to learn on!
EastCoast ST1 Pack
Our first choice for budding guitar legends is the EastCoast ST1 Pack. Within this convenient pack, you'll find everything required to begin having fun with electric guitar playing! We've chosen an EastCoast guitar for our entry-level pack after selling the brand for the last four or five years.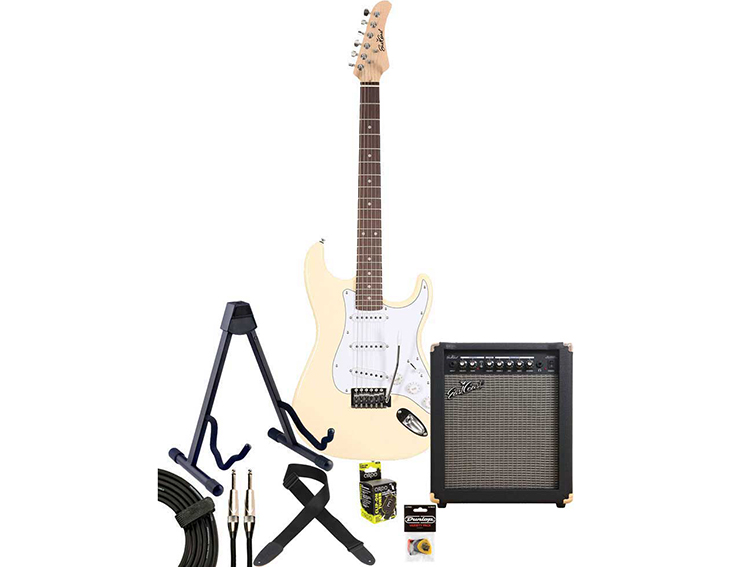 The value for money is, frankly, excellent: alongside the EastCoast ST1 guitar (more of which in a second), the pack contains the following goodies…
The amplifier we've added to this pack is extremely well featured, with 35 watts of power (more than enough for the house), a switch for overdrive ('rock' tone, basically) and reverb (add some almost echo-like atmosphere) making this a pretty comprehensive amp! There's a ¼" jack input for putting headphones in, so that you can practise at all hours of the day or night!
The other accessories are all items that we feel are essential for beginners to have. A good guitar strap, reliable cable and a handy clip-on tuner will all make your life easier as a new guitar player. A selection of plectrums (also known as picks) will allow you to try out a few different styles and thicknesses so that you can find the ones you prefer.
This bundle takes the hard work out of choosing what to get, as well as the mystery behind what you need and what you maybe don't need!
The only thing this pack doesn't contain is time! You'll need to spend that yourself as you progress and improve. So, the EastCoast ST1 guitar is probably a familiar shape to you. We've seen it in three-quarter-sized form already, so the ST1 is the full-sized instrument. This is a design originally created by Fender in the 1950s called the Stratocaster. Now, that term is a trademark so only Fender can rightfully use it, but this style is far and away the most popular electric guitar design in existence. When talking about guitars of this style, we use the term 'S-style'. This is a very nice, affordable S-type, and a wonderful all-rounder for beginners! Let's take a look.
The EastCoast ST1 follows the classic S-style silhouette closely, and includes all of the same features and controls of the old classic design too: there are three pickups with a 5-way selector blade to choose your sound, a volume control and two tone controls (play about with them if you're curious, or just leave them all on ten for the time being).

You will also have noticed the metal bar or arm sticking out from the bridge where the strings sprout out. This, you may already know, is a tremolo system and is more commonly called a 'whammy bar', for reasons that have never fully materialised. Anyway, you push the arm towards the body and it slackens the strings, which lower the pitch(es) of any note(s) playing. From 1954 until today, it's a fact that whammy bars wreak havoc on your guitar's tuning, so please exercise due discretion when making endless motorcycle noises with it, ok? This is as true of top ticket custom shop guitars as it is of beginner models like this. If you must 'divebomb' all day long, make sure you're acquainted with the included clip-on tuner, which attaches to any part of the headstock. Tremolos are tons of fun though, so it's worth it!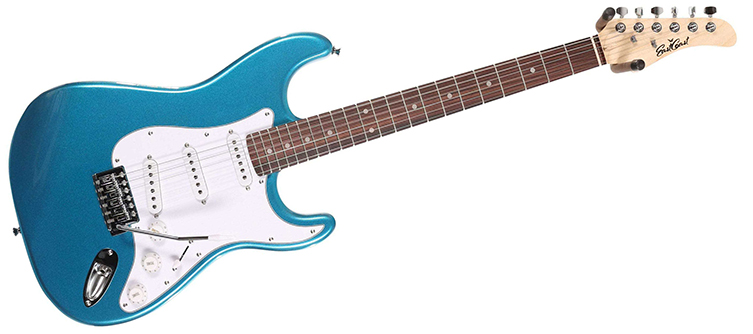 The EastCoast ST-1 is available on its own too - without the pack of accessories - in a myriad of lovely colours including the Lake Placid Blue model you can see above. Of course, as Christmas approaches, guitars like this sell very quickly, so the sooner you choose yours, the more likely we'll still have stock! The early bird here will get their pick of colours.
EastCoast ST1 for Left-Handers
If the prospective player happens to be a Southpaw, no problem! We have just the thing: the EastCoast ST-1 LH left-handed pack! This pack contains everything we mentioned in the previous section, but with the guitar itself swapped out in favour of a left-handed model model.

Again based on the ever-popular S-type, this EastCoast ST1 LH is easy to play and capable of a great selection of classic sounds from its three single coil pickups. We're offering this guitar in some cool olours, like this very 'Hendrix' Vintage White. Lefties needn't miss out on the fun, nor do they have to struggle with a right-handed guitar if it doesn't feel 'right' in their arms!
Bundle Without Guitar
We also offer everything that comes in the bundle as a pack without a guitar. If you have your heart set on a particular guitar that does not come in a bundle with an amp, strap, tuner and all the rest, then you can add this bundle pack and get it all without all the fuss and uncertainty of deciding what to choose.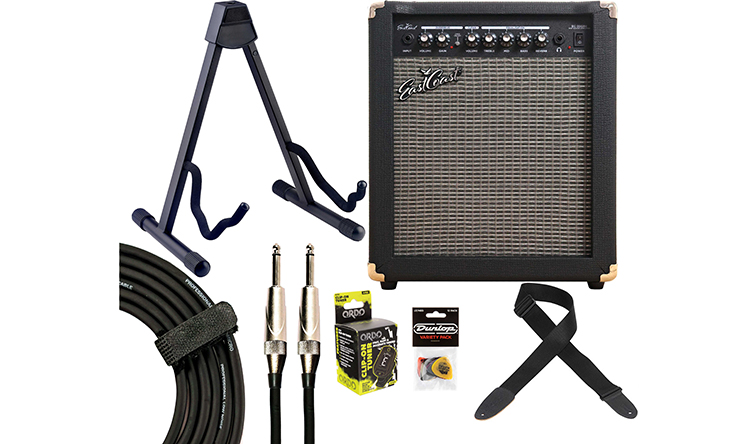 For example, if you like any of the guitars below, you can buy them and add this bundle to effectively make your very own guitar starter pack!
EastCoast ST2
It's often worth seeing what a slightly bigger spend can buy you in the beginner guitar arena. It's possible, now and then, to throw a little more cash towards an upgraded model and really benefit from genuine improvements, and the EastCoast ST2 is a prime example of this.
If you compare the ST1 that we've just checked out, with this ST2, there are some notable improvements that we wholeheartedly support!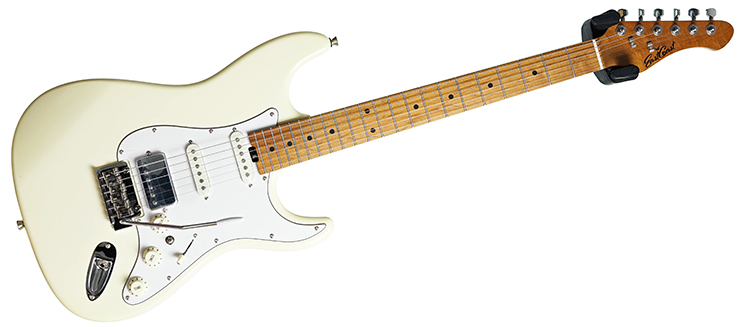 First off, you'll notice that one of the pickups looks different. The bridge pickup here is a humbucker pickup that has a metal cover. Humbuckers are bigger, more powerful sounding pickups that are used for thicker, larger sounds. Having a humbucker at the bridge like this means you can have most of the twangy, jangly sounds of the ST1, along with a hotter, more 'rock' sounding humbucker. You can have it all!
In fact, you really can have it all, because if you look, you'll notice a little switch fitted to where the guitar's other controls are. This is a coil split switch. Switch this on and the humbucker's circuitry cuts off half of the pickup's sound, making it sound like a single coil. This way, you can have both types of sound - single coil and humbucker - from the same pickup!
The other notable difference with this ST2 guitar is the 'roasted' maple neck. What does this mean? Well, it's a process whereby the maple timber is put into a room with high temperatures and no oxygen. You may come across a term 'torrefaction', and this is what that term means. The wood has all of its moisture sucked out of it and the end result is an extremely strong, stable piece of timber that is stronger against hot and cold room temperatures. It also takes on a lovely looking 'caramel' appearance, and you can see that in the photos of this model: it looks wonderful!

We think this model is a very worthwhile upgrade, and we'd actually suggest trying one of these when you're demoing the ST1 to see which you prefer: the slightly higher cost is, in our opinion, well worth it.
EastCoast T1
Another good choice is the EastCoast T1. This guitar is based on the famous Fender Telecaster (the world's first mass-produced electric guitar, believe it or not!), and proves that simplicity is often the key to an effective instrument.
We talk about this type of guitar as a 'T-style' or 'T-Type', and EastCoast's eminently affordable take on this well known guitar packs in the value. Following on from the EastCoast ST1 model we've already seen, the T1 is made with a poplar body and a maple neck. We have a very similar neck here, with 22 frets and a nice flat 12" radius across the fingerboard (a higher value indicates a less curved fingerboard, which is great for playing solos when you reach that stage!), which will itself be either maple (light coloured) or rosewood (dark coloured) depending on the finish you choose.

There are three finishes available: black, vintage white and butterscotch. This last one is a very historic colour for this type of guitar (especially with the black pickguard, like it is here) and you'll see butterscotch guitars in the hands of classic rock heroes like Bruce Springsteen and Keith Richards to this day.
With two pickups, simple controls and no tremolo, the EastCoast T1 is a very streamlined, no-nonsense instrument, and we think that is just the trick for a fledgling rock star.

Squier Sonic Telecaster
Now, this looks familiar, doesn't it? Indeed, both this guitar and the EastCoast T1 are based on the same Fender Telecaster design. The difference here with this Squier Sonic Tele is in its heritage. Squier are actually the sister brand of Fender, and they create affordable, beginner and student versions of Fender's world-famous designs. Squier guitars can be thought of as official in that sense: rather than a 'T-style' tribute, this is a 'proper' Telecaster.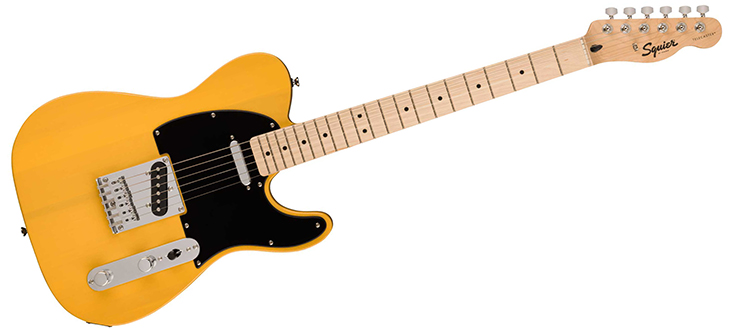 Squier are very well known within the industry as a quality value brand. It used to be that almost every player would own a Squier guitar at some stage of their lives, and whilst the beginner market is now saturated, Squier remain a dominant force.
This classic looking Telecaster comes from the Squier Sonic series. This is their most affordable range of instruments, and it is a perfect choice for the beginning player. It has that classic simple-yet-elegant shape, a pair of single coil pickups for a good twangy tone, and a bridge that has individual saddles for each string. This allows anyone performing maintenance on the guitar to be able to be more exact with their fine-tuning.

There's a selection of finishes available, including the super cool Torino Red model shown above. Again, it's great to see that famous Butterscotch available on such a reasonably-priced guitar!
Jackson JS12 Dinky
For those of a more overtly 'hard rock' persuasion, we'd love to point you (no pun intended) towards this sharp little animal! The Jackson JS12 Dinky is an entry level guitar for metalheads, complete with a pointed headstock and a set of powerful humbucking pickups.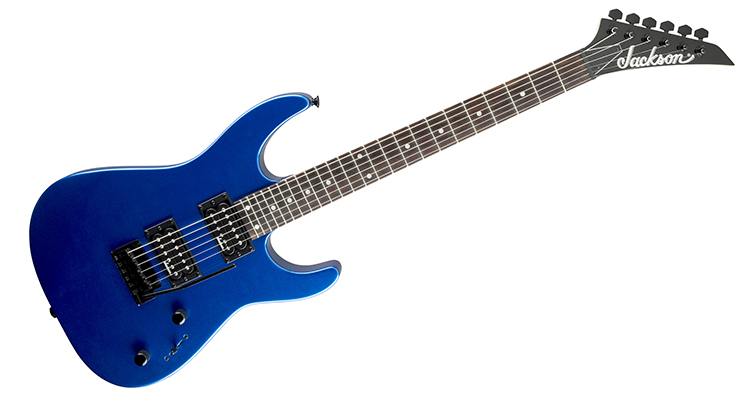 Jackson are one of the most noted 'heavy' guitar brands out there, and their JS range is the affordable entry point. This model is a Dinky, which is Jackson's brand term for what we'd call a 'Superstrat': an S-type guitar with certain changes made for faster, more aggressive playing. In this case, you may notice that this guitar has 24 frets, two (or three!) frets more than we've seen already. This is because lots of guitar solos in the metal genre make use of these higher pitches. To facilitate this, you'll also note the overall shape of the guitars' upper 'horns' are more distinctly carved in that today's other examples. This provides increased access to those upper frets, so your hands will have an easier time getting to those high notes.
For those looking to play heavier, hard rock styles, we think this wonderful Jackson is an inspired choice. It strikes just the right balance between looking the part and still being a versatile instrument. It has a powerful sound and it is particularly easy to play, with its thin neck and large frets. If you're primarily into hard rock and metal, this is the choice for you!
Best Electric Guitars for Beginners
Conclusion
Similar to the best acoustic guitars for beginners blog, we hope we've been able to give you a taste of the type of quality you can expect for your beginner electric guitar! There really are no badly made guitars any more, just more expensive and less expensive models. Today's choices are all entry level instruments but that doesn't mean that you need to begin here: if you are just starting to play but already know that you want a 1959 reissue Gibson Les Paul Standard, (and have the means!) we'd say go for it! Don't hold back!
This is all about being happy, letting off steam and remembering that everyone can be creative and have fun with a guitar. Which guitar can you see yourself getting started with? Let us know in the comments!
View our Full Selection of Beginner Electric Guitars
View our Full Selection of Cheap Electric Guitars