What is the Best Electric Guitar for Beginners? (Updated for November 2021)
Published on 19 November 2021
Selecting the best electric guitar for beginners is simultaneously an easy and difficult task. The fact is, there has never been a better time to get more quality in the beginner's price range for very low cost. This means that the market is pretty flooded with choice, with every manufacturer wanting you to choose their model over everyone else's. No bad thing, you say! Agreed, but without a little bit of experience, it's easy to feel daunted. We want you to be confident, informed and excited about the notion of choosing that special first guitar, be it for yourself, a partner or a child.
This blog is intended to take some of the heat out of this process and offer some reasoning and perspective. We've chosen four instruments here (with some additional variations) from the high numbers of beginner's electric guitars that are out there.
Read on and see what you think of these choices!
Chord guitarguitar CAL63 Guitar Pack
Our first choice for beginners provides you with everything you need to begin your guitar playing journey. This is the Chord guitarguitar CAL63 Guitar Pack, and front and centre is the Chord CAL63 electric guitar itself, available here in Surf Blue. This guitar, and many like it in the beginner category, take their design template from the world-famous Fender Stratocaster. It's so well-known that it's practically the immediate definition of 'electric guitar', and this Chord model is a great beginner's take on the theme.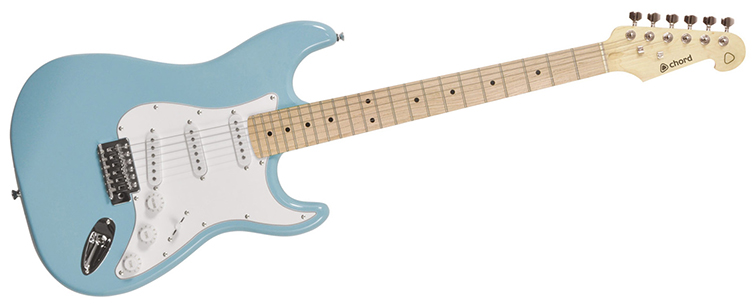 This entry-level CAL63 shows that Chord can really put together a good guitar for a great price! As tradition suggests, there are three single coil pickups onboard this handsome guitar. These provide the type of pleasant, twangy sounds that all guitar players love, and can 'turn rock' by applying overdrive from the accompanying amplifier. Select the pickup you want to hear with the 5-way switch and have plug into the EastCoast amplifier, which has built in overdrive for those cool rock tones and also a headphone input for when you want to practice more quietly.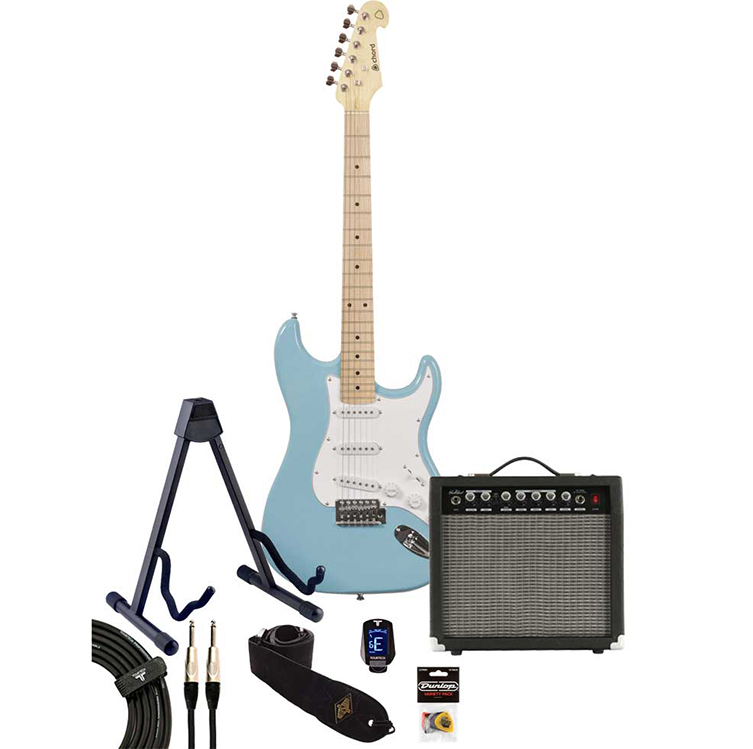 Also included in this beginner's package is a 10ft cable to use between guitar and amp, a nylon guitar strap, a selection of world famous Jim Dunlop plectrums (picks), a guitar stand and even a special tuner that clips onto the guitar's headstock and senses vibrations through the wood!
Now all you need is time and dedication: we know you've got it in you!
Chord CAL63 for Left-Handers
If the prospective player happens to be a Southpaw, no problem! We have just the thing: the Chord guitarguitar CAL63 Left Handed Beginners Pack. This pack contains everything we mentioned in the previous section, but with the guitar itself swapped out in favour of a left-handed model model.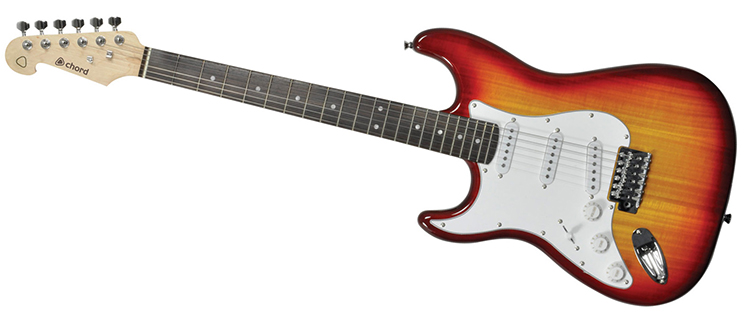 Again based on the ever-popular Stratocaster (also referred to as an S-type), this Chord CAL63 is easy to play and capable of a great selection of classic sounds from its three single coil pickups. We're offering this guitar in an eye-catching Cherry Burst. Lefties needn't miss out on the fun, nor do they have to struggle with a right-handed guitar if it doesn't feel 'right' in their arms!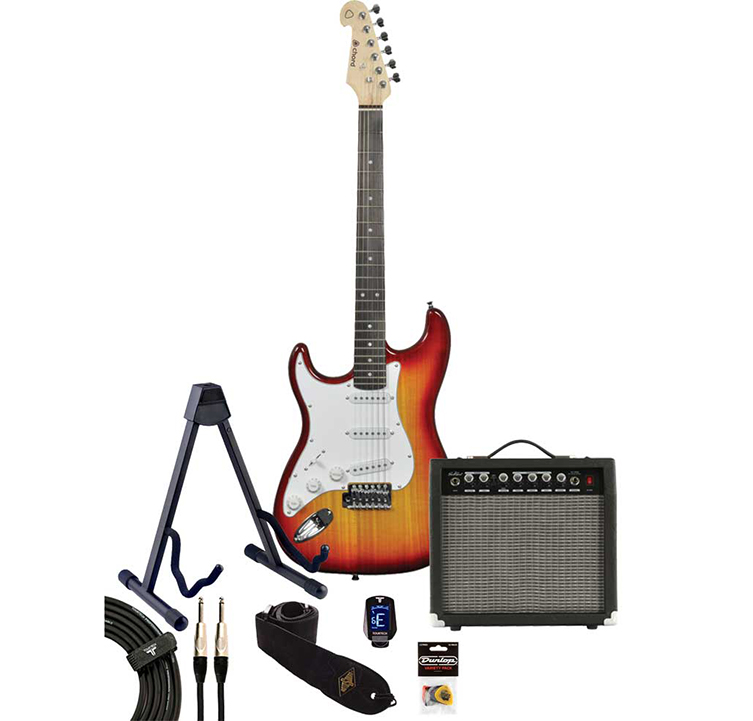 Chord CAL63 without Pack
The Chord CAL63 is also available on its own, if you don't need the full beginner's pack. We have it in Cherry Burst for left-handers, as mentioned, and in some other cool finishes for right handed guitarists. Pick of the bunch for us is this mean looking Matte Black model!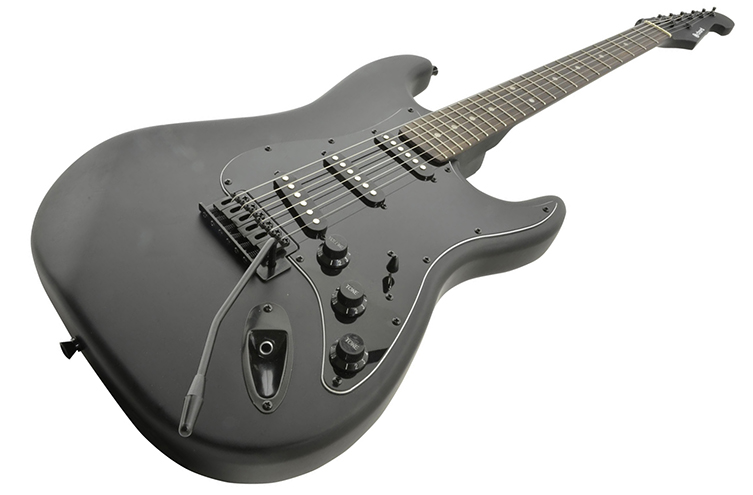 Cort G110 Scarlet
Cort make a huge numbers of excellent quality guitars in all price ranges. They are, in fact, one of the world's largest guitar companies and this model, the Cort G110, is a great example of how size and expertise can bring quality without price. This is a really solid, dependable guitar with a sleek look (again modelled on the famous S-type we say with the Chord guitars) and a good feel.

The Cort G110 offers a humbucking pickup (it looks like two pickups sitting together) at the bridge for thicker, more sizzling rock tones. This helps make the Cort a really versatile sounding guitar. The cool Scarlet finish helps you stand out, whether your stage is real or imaginery!
Yamaha Pacifica 012
Yamaha's Pacifica guitars have become near-legendary in their status as unbeatable beginners/student electrics. This Pacifica 012 is another S-type guitar and has its own variation on that most-famous of silhouettes to make the Pacifica design unique and recognisable to Yamaha. As with the Cort, the Pacifica adds a humbucking pickup to the two single coils, allowing you the same wide-ranging options from twangy jangle to muscular, crunchy power. It's fair to say that the overall feel of the Yamaha is superior to the Chord model, but then it's a bit more expensive so we'd hope this to be the case! Yamahas are known to be extremely robust and durable. This is true, even it their most affordable. This guitar will last!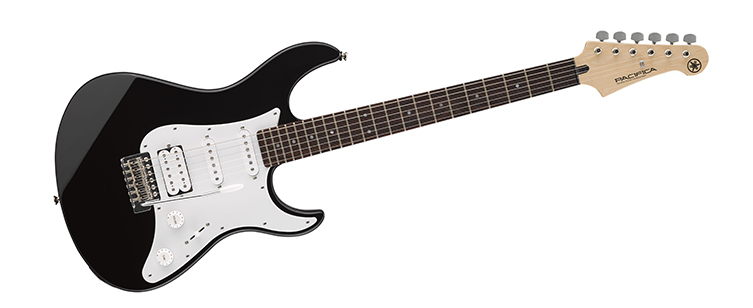 Epiphone SG Special Satin E1 Vintage Worn Walnut
Here's one for all aspiring hard-rockers! If you've been inspired to learn the guitar by way of riff-tastic players like AC/DC's Angus Young or Black Sabbath's Tony Iommi, then you'll already love this Epiphone!

Epiphone are the official sister-brand to Gibson, one of the most famous guitar makers in history. This excellent axe is an eminently affordable take on their legendary guitar, the SG. As well as sounding perfect for more rocky styles, this guitar offers a slim neck and an ever so slightly shorter neck, so it's incredibly easy to play. The Epiphone SG Special E1 is a full-size guitar for sure, it's just how Gibson and Epiphone do things, and the result feels great to practice on. If you like the idea of focusing on more rock and metal styles, we think this is the perfect first choice! You can play anything on it, of course, but it excels at triumphant rock riffs and solos!
Conclusion
We hope this brief blog has given you a taste of the type of quality you can expect for your first guitar! There really are no badly made guitars any more, just more expensive and less expensive models. Today's choices are all entry level instruments but that doesn't mean that you need to begin here: if you are just starting to play but already know that you want a 1959 reissue Gibson Les Paul Standard, (and have the means!) we'd say go for it! Don't hold back!
This is all about being happy, letting off steam and remembering that everyone can be creative and have fun with a guitar. Which guitar can you see yourself getting started with? Let us know in the comments!
Click to View our Full Selection of Beginner Electric Guitars