The Best Acoustic Guitar for Beginners
Published on 10 May 2019
Friends, welcome to our blog on the Best Acoustic Guitars for Beginners! When deciding to embark on the life-changing journey of becoming a guitarist, the question of whether to begin on an electric or an acoustic is the first big decision you'll need to make. It's not a simple choice either: both have pros and cons relative to your experience and expectations of guitars and guitar music.
We've said this before, but it bears repeating: there is no 'right' or 'wrong' on the subject of whether one should learn on acoustic or electric. What excites you more?
Choosing an acoustic guitar generally means you can be self-sufficient. You don't need to pay for an amplifier, cables and the rest of that. If you just want to grab a guitar, sit on your couch and strum some songs, an acoustic guitar sounds like a good shout for you!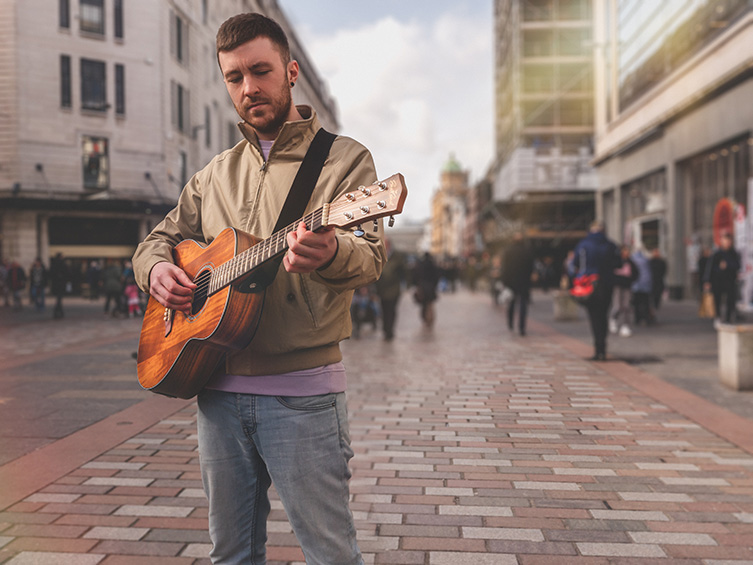 With that in mind, I've rounded up five suggestions from our large stock of instruments. This variety can sometimes prove to be a problem when you don't really know what to look for, so my selections will hopefully provide some clarity and context. Some of these are full size, others aren't. Most have steel strings, but others don't. That's another debate too but, in terms of popularity at least, it seems that most people want to begin playing with the percussive sound of a steel string guitar over the expressive pluck of a nylon string guitar.
You should make your decision based on what feels good and what you actually want to hear when you play: if you like Indie and Rock, a nylon string classical guitar is hardly going to inspire within you the dedication required to gain skills on the instrument. Bear that in mind! By the same token, steel strings definitely demand a higher 'pain' price on your fingertips, so if you want to ease into things, consider going nylon. There is no right and no wrong, only what you choose to do.
Anyway, here are five excellent acoustic guitars that will not cost the earth. These have been picked because they are both great to learn on and are fantastic value.
Yamaha F310
Yamaha, as we've noted on many occasions, do not make bad quality products. Whether it's a motorcycle, a piano, a lawnmower engine or a beginner's acoustic guitar, buying Yamaha is money well spent. Their entry level guitars and basses are the standard by which other guitars are set. It has been that way for years, meaning they are not only great for the money, they are consistent. These two factors do not always align!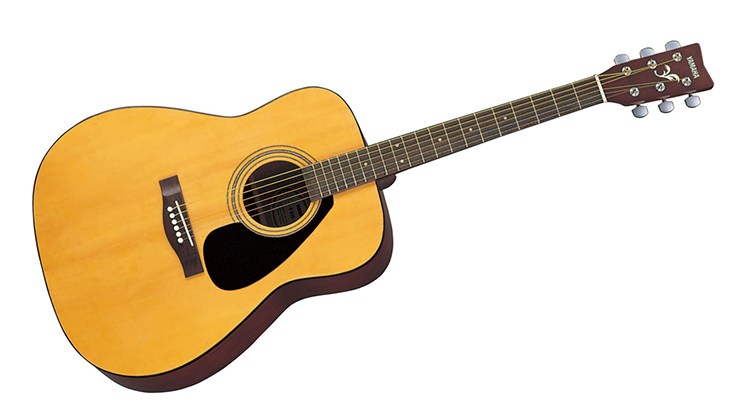 This acoustic guitar, the F310, is a fine example of this. It's a no-frills dreadnought style acoustic with a comfortable neck, easy action (string distance from fingerboard, essentially) and a good strong sound that satisfies. The dreadnought is the cost common acoustic guitar shape. It's relatively large and deep, with a loud sound that projects well. Dreadnoughts are considered equally good for both strumming and fingerpicking, so until you have particular preferences, a dreadnought like this is a solid first choice.
Yamaha being Yamaha, have acknowledged the fact that beginners may not know what other accessories they may need and so have offered the F310 as a pack, complete with a soft carry bag, a stand, tuner, plectrums, a strap and even an instructional DVD to get you started! This is an impressive and helpful way to begin your first foray into the world of guitar playing.
Fender CP-60S Sunburst
The world-famous Fender guitar brand produce the most iconic electric guitars in existence, but their acoustic guitars are also fantastic. For this blog, I've chosen the CP-60S in Sunburst. This stylish acoustic has a shape known as a 'parlour'. This is a full-size guitar in terms of its neck length but has a noticeably smaller body. Parlour guitars have become very popular in recent years, with more and more players becoming wise to the clear and defined sound of a good parlour. The size also makes them extremely comfortable to play and have a really 'pick up-able' quality!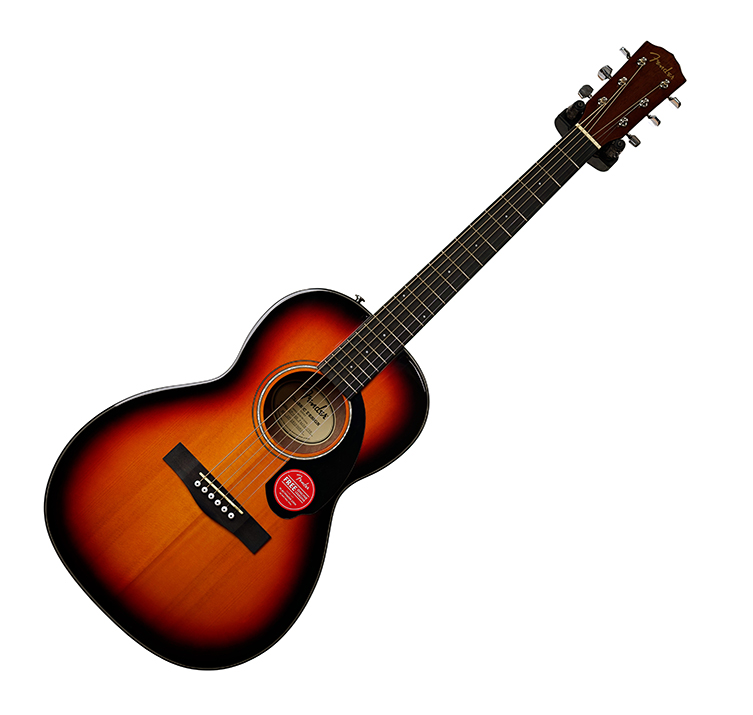 The Fender CP-60S features another major benefit: it has a solid top. A solid top means that the face of the guitar, otherwise known as the top or soundboard, is made from a piece of solid timber, rather than a piece of ply or layered wood. The difference to the tone is something you'll notice more and more, the longer you play. Solid tops vibrate far more than ply-tops, transferring more of that vibration out into the guitar's body and through the sound hole to your ears. This basically makes the guitar sound better. It will continue to improve too, as that solid piece of timber 'breaks in' and seasons. A solid top is definitely something to go for if it is within your budget, and with Fender providing this level of quality (and finishing, the Sunburst is gorgeous) for this low a price, it's well worth budgeting for.
Valencia ½ Size Classical VC202NA
Now for an altogether different tack: Valencia ½ Size Classical VC202NA is a guitar that is perfect for young people. It's a ½-sized nylon string classical guitar with a price tag that is incredibly low! ½ size refers to the length of the fingerboard's scale length (the distance from the nut to the 12th fret) and not the overall size, though Valencia have downsized the body accordingly.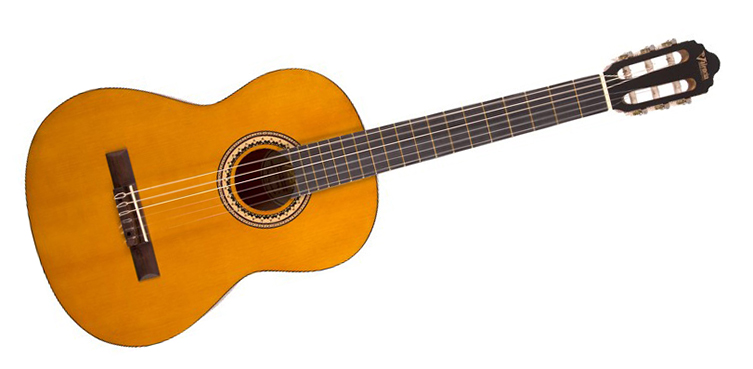 The small body and neck mean that even tiny guitarists-in-waiting with be able to sit down with this and play, problem-free. The nylon strings mean that holding down notes and chords will not be a big problem. If you are looking for a guitar for a beginner who is less than ten years old (or are just on the small side), then consider a ½ size guitar like this one. It's nice to play and is not expensive, so when the inevitable upgrade to a larger model happens, the expenditure will not have been considerable.
This guitar is available in other sizes too: there are ¼, ¾ and full-sized varieties available too, alongside this very agreeable and affordable half-size model.
Ibanez Talman TCY12E-OPN
Here's something slightly more off the beaten track: the Ibanez Talman TCY12E-OPN. The 'Talman' name refers to the shape more than anything else: you can get Talman electric guitars and basses with this same body and headstock style. The Ibanez Talman acoustics have always been a popular addition to Ibanez's comprehensive instrument offerings. They offer something different: a smaller body that is also slimmed down in depth, fitted to a neck that plays almost like an electric guitar. For a guitarist transitioning from electric to acoustic, the TCY12E-OPN is a perfect choice. It's also really good for smaller players or anybody who has a tough time getting a dreadnought or similar underneath their right arm. The Talman is easy to play and therefore is easy to quickly grab and noodle around on!

This particular model has an 'open pore' finish, something of a trend these last few years. The wood has a matte finish that deliberately gets the slight roughness and imperfection of the wood intact instead of glossing over it. This makes the guitar feel more tactile and utilitarian, something that guitar fans have really been enjoying.
Not only that, this instrument is also an electro-acoustic! Yes, you can plug this into an amp, laptop or mixing desk for recording of live performance purposes. An onboard panel gives you a tuner and an EQ for on-the-stage control. Cool looking, easy to play and priced very competitively, the Talman TCY12E-OPN from Ibanez is a versatile and satisfying choice for players of all tastes and sizes.
Adam Black O-2T Travel guitar
Lastly, I've chosen this Adam Black acoustic. Regular readers to the blogs on this site will recognise this guitar as one of my top picks last Christmas and I firmly believe that it's value as a beginner's guitar merits it a mention here.
The Adam Black O-2T is a slightly downsized acoustic guitar which is designed to be portable and easy to carry around with you. Travel guitars are extremely popular with players of all sizes and abilities. This Adam Black O-2T is a very tidy example, with black binding around the laminated Sapele body.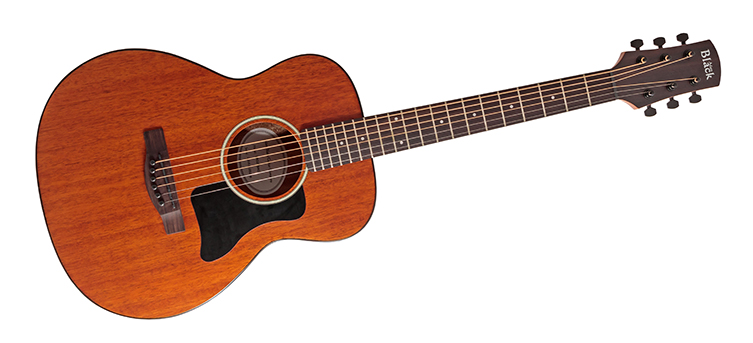 The scale length is 23.5", roughly 2 inches shorter than the typical neck length of an acoustic guitar. That means that the frets are all closer together, making this a great instrument for those with smaller hands. It sounds nice and loud, with a very pleasing, balanced tone. The Adam Black O-2T comes complete with a quality, custom-made padded bag for carrying it around with you wherever you go. It's a great price and comes highly recommended!
Conclusion
As with the beginner's electric guitar blog, I've aimed to give a broad overview of what is out there. We have a huge number of instruments available at low prices, so please take these recommendations as a starting point for your own explorations.
I've kept to a low price since that is perhaps indicative of most first-tine guitar purchases, but there is no reason why you cannot buy the best guitar within your means to learn on. Learning is all about having fun and enjoying yourself, nothing more. Whatever it takes to get you strumming away and learning is what you should do!
As always, our in-store guitarguitar team members are available to help you select, try out and buy your first guitar. If you aren't sure what to go for, just have a chat with them! Otherwise, please have fun browsing our wares on the site!
Ray McClelland