A Closer Look: Finlayson Guitars
Published on 14 May 2019
Finlayson guitars are an exciting new brand of quality acoustic guitars. It's always exciting to discover new ranges of instruments, and significantly more so when the quality is as high as it clearly is here. We've had the entire range in stock for a few months now and, judging by their instant popularity, it's high time we took a closer look at this brand! In this blog, we'll explore the origins of Finlayson guitars, the ethos behind the production, and we'll discover what sets Finlayson guitars apart from other acoustic ranges.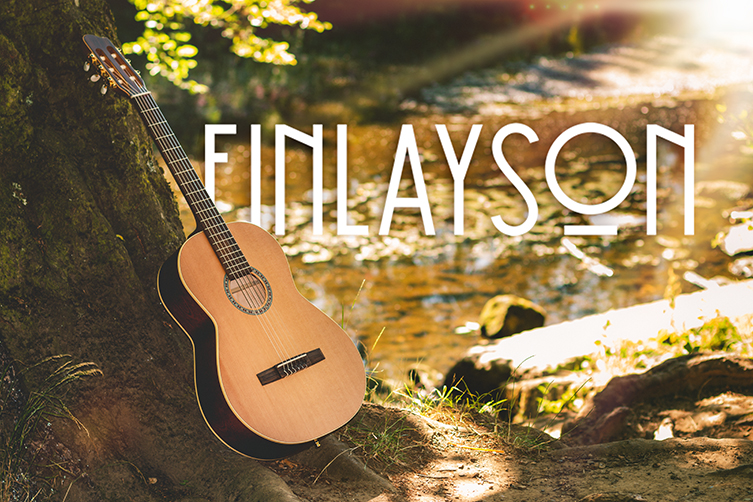 The Finlayson story begins with Scottish luthier Billy Finlayson. Expert guitar crafter, tech to the stars and a man with 22 years' worth of building and repairing experience to his name, Clydebank-born Finlayson is a man steeped in the world of guitars. A degree in Stringed Instrument Making from the prestigious Guild Hall in London, a European tour as a young punk guitarist and several professional US recording sessions as a skilled Blues player provides a somewhat condensed biography but serves to highlight Finlayson's enduring passion for all things six-string. Throughout all of this, Billy fixed, tinkered, experimented and repaired his own instruments as well as those of his friends.
For many years, Billy has been an established player in the bespoke guitar making and repairing business. A lifelong goal to create his own line of production guitars came firmly into focus whilst on a professional business trip to the Godin factories in Canada. After touring around the premises and surveying Godin's building facilities, Robert Godin and Billy would hang out, eat food and just chat. A friendship was struck, eventually resulting in Robert deciding to build a brand of guitars designed by Billy and sold under the name Finlayson. This is something Robert Godin has never done before and has no plans to do for anyone else!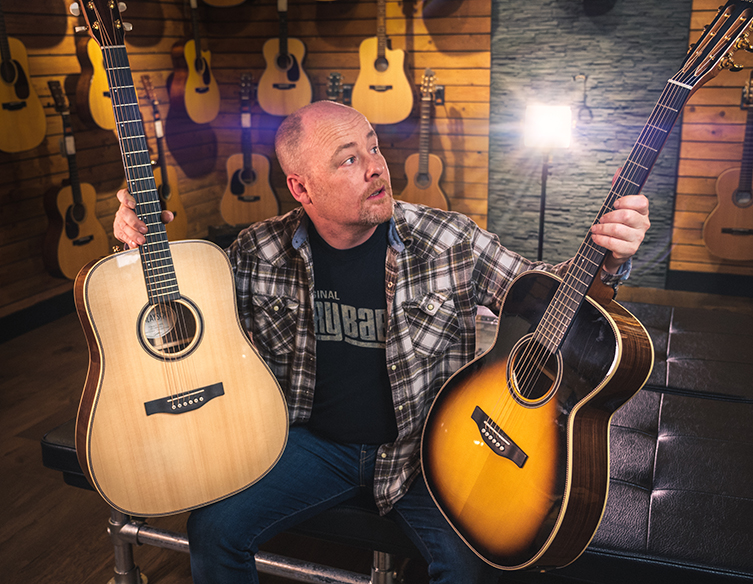 The designs were drawn, features spec'd up and the production of Finlayson guitars began. All of the Finlayson brand guitars are built in Canada to Billy's designs. Drawing on Billy's 22 years of repair experience, he determined from the beginning to make Finlayson guitars a range of instruments that fixed many of the mistakes he found again and again on the guitars that landed on his workbench for repair. This, in fact, is the very ethos that underpins the brand. Billy himself calls then 'guitars for the future', explaining the advantages inherent in removing problematic electronics present in lots of acoustic guitar designs.
The range currently consists of 13 models, and whilst all are different, they do share certain innovative characteristics, again based on inherent problems that Billy has encountered with repairs again and again over the years. Here are some of the key elements...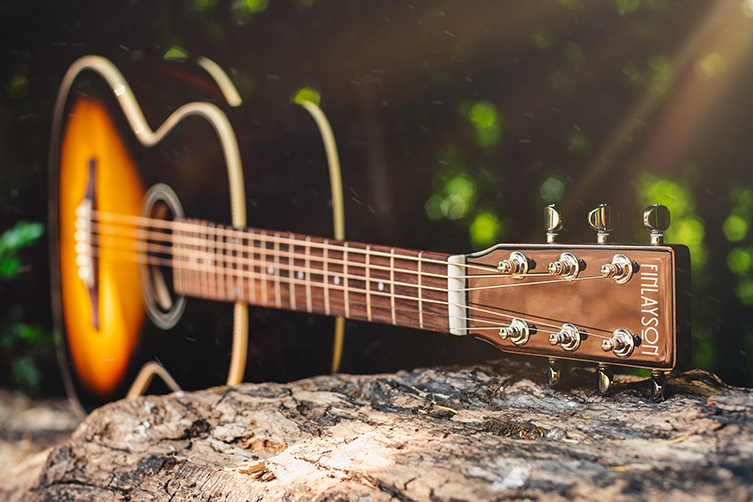 Neck joint: each Finlayson guitar is made with a longer than normal scarf-joint neck tenon. The tenon travels right along to the bracing at the soundhole, helping to counteract the problems caused by humidity such as the end of the fingerboard lifting. This also makes the neck stronger and increases vibration.
Bridge: the area of the guitar's top where the bridge is to be fitted is actually laser cut to remove the finish, leaving bare wood underneath. The bridge is then glued directly to the wood, not the finish, with a minimal amount of 'cuppage' in the space left by the finish creating a degree of suction that makes the bridge join even more stable and able to transfer tone. No more bridges being pulled away from the body!
Bracing: the inner bracing on ALL Finlayson guitars is made from premium Adirondack Spruce, the lightest and strongest species of Spruce. As well as making each instrument resonate better, the Adirondack Spruce strengthens the top, stopping that dreaded 'hump' to rise behind the bridge. All Finlayson steel string guitars incorporate X-bracing.
Truss Rod: the truss rod is a 2-way variety, offering extra protection against humidity issues and counteracting neck compression problems as the guitar ages. Strength, stability and functionality are built into each Finlayson guitar.
Machine heads: Finlayson guitars display quite an innovation here: the tuners for the bass strings have an 18:1 ratio whilst the tuners for the treble strings have a 26:1 ratio. Why? Well, the treble strings routinely slip a little more on most guitars, and require retuning more frequently, especially when breaking in fresh sets of strings. Using this hybrid tuner set up bridges the gap between the wound and the plain strings, making the whole issue of tuning up more precise and more of a pleasure.
TUSQ nut and bridge: each Finlayson guitar has a bridge and compensated nut made from TUSQ, a sustainable non-animal product that provides the same tone transfer and sustain as a bone nut. TUSQ is also self-lubricating, so you'll always be able to enjoy the best possible performance from your guitar.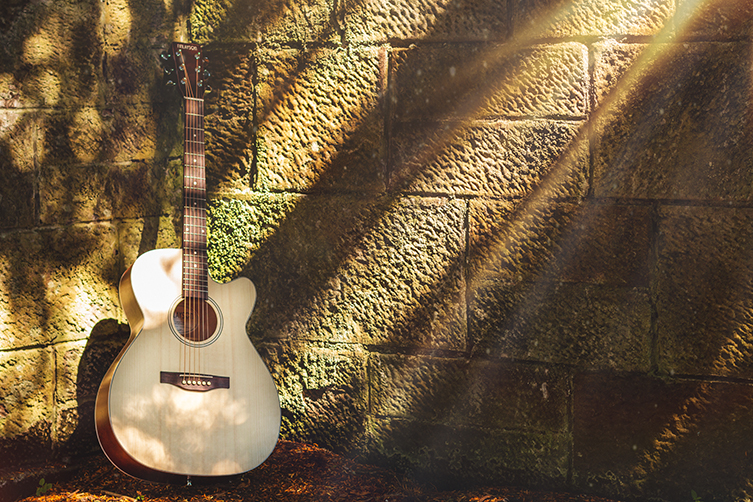 The timber used in all 50 & 100 series Finlayson guitar tops is 'pressure-tested'. For those who may have encountered this term but are unsure on it's meaning, pressure tested tops are tested with 240lbs of pressure – the same as a set of acoustic strings tuned to A440Hz – in order to ascertain a given piece of wood's behaviour and response. Rigidity is of course wanted in a guitar top, but so is movement otherwise string vibration will not be given the 'canvas' to transfer energy. Thus, the best timbers will all be slightly different thicknesses in order to accomplish this, since all wood is slightly different. Pressure-testing is the method to assess this and alter the top's thickness accordingly. Surprisingly few guitar makers-including some of the major companies- do not carry out these tests. Such are the benefits of collaborating with Robert Godin!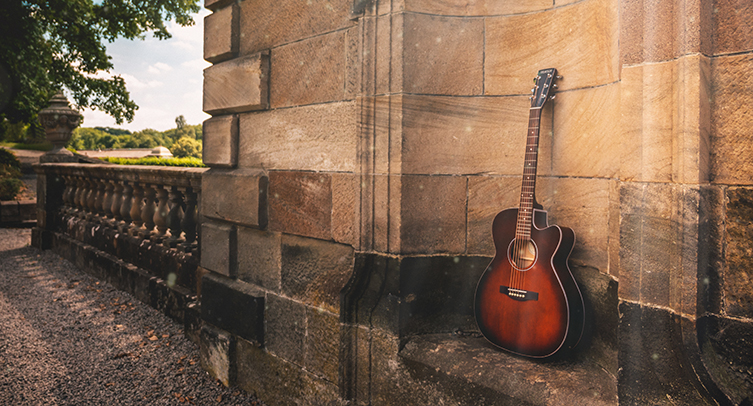 Additionally, the timber for all '5' series Finlayson guitars is taken from sustainable sources: mostly from trees that have naturally fallen over in the wild. These logs are recovered by Godin's team and used as source material for guitars. This works on many levels: deforestation is minimised, local wood doesn't accrue large levies the way imported timber does, meaning production costs are lower, meaning the guitars can be sold at a far more affordable price. Since Finlayson and all other Godin guitars are made in Canada (therefore making lots of good jobs for Canadian people), the Canadian government helps Godin locate and get first refusal on naturally fallen trees. This responsible way of doing business is typical of Godin and is a big part of Finlayson guitars.
So, to the range itself. Currently, as we mentioned, there are 13 different models, spread into three ranges: the 5, 50 and 100 Series. The 5 Series feature solid, pressure sensitive Spruce tops (apart from the nylon models which have Cedar) and quality Fishman pickup systems.
The 50 Series are entirely solid, with Spruce tops and Mahogany backs. Extra detailing includes special herringbone purfling (coloured to match the Rosewood fingerboard and bridge) and a Rosewood sound-hole rosette.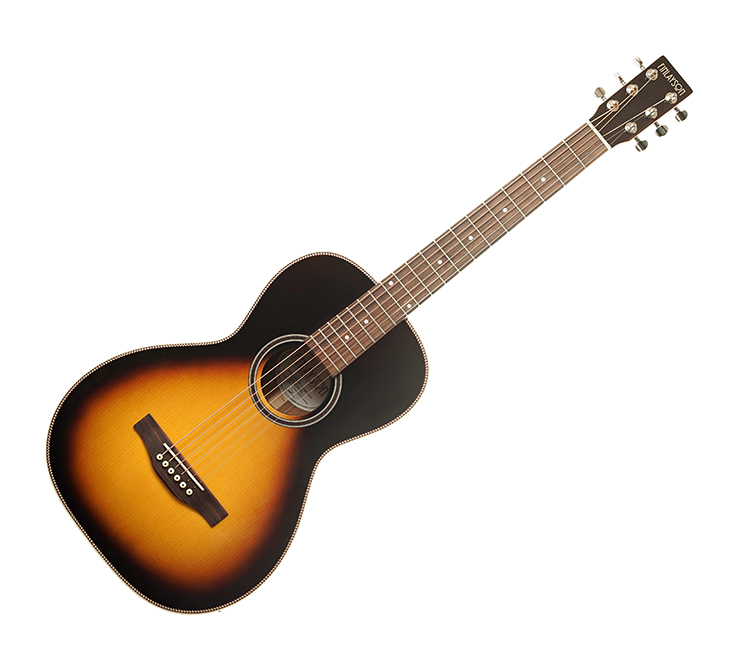 The 100 Series are the premium Finlayson models. Pressure-tested Spruce tops are combined with solid Rosewood for a sound that is bright and lively but has depth and body. Crisp chords ring out and single notes sparkle. Ebony fingerboards are used on the 100 Series for the best of playing surfaces.

There are various body sizes available throughout the full Finlayson range: you'll find Dreadnoughts, Mini Jumbos, Folk models, 00 and 000 guitars with traditional classicals and cutaway options of certain guitars. Truly, there is something for everyone.
Finlayson guitars are luthier designed, focussed on longevity and on fixing the problems relative to many acoustic guitars. Finlayson guitars are built to extremely high standards by artisans in Canada. They are made to be beautiful, play superbly and to sound exceptional. The quality on offer is extremely high, as is the value.
So, which models are Billy's own personal favourites? Whilst being keen to stress that he loves the entire range, his two favourites are the beautifully charismatic 00-50ME parlour guitar in Vintage Burst and the stunning D-100RCE Dreadnought in Natural. Both models are exemplary choices for displaying the breadth of choice available within the range, not to mention the level of build quality and design!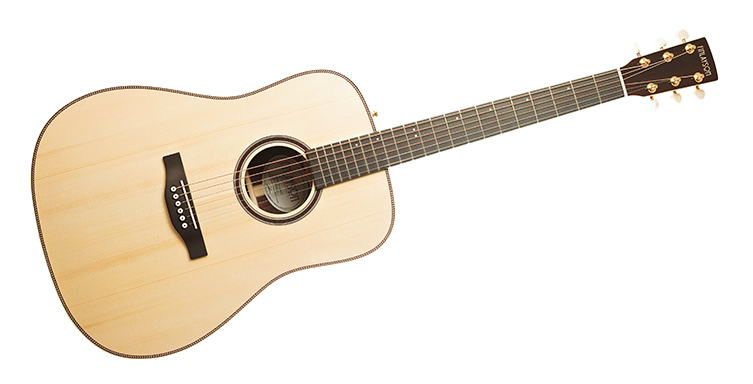 At the moment, guitarguitar is lucky enough to have the exclusive on these: you won't currently be able to find Finlayson guitars anywhere else! We believe in these instruments and think that you'll love them too. It's something to know that these are designed in Scotland and built in Canada, but it's quite another to play one and realise that they are all quite magnificent guitars. We invite you to visit us and try a selection of Finlayson guitars at your sooner convenience.