Amp Week: Our Favourite Guitar Sims
Published on 20 June 2019
As we celebrate amplifiers as part of our 15th birthday celebrations, it's hard to overlook the ultimate tributes to amps. Virtual amplifiers or amp sims have been around over the last couple of decades. Not only are they getting better all the time, they've become an essential part of recording guitars for many musicians.
Admittedly, the first amp sim plugins didn't sound too hot. They were similar to the horrible digital distortions on early 90s multi-effects pedals.
Today, guitar sims can sound extremely realistic. They can emulate not only the amplifier circuits and speakers, but also the microphones and studio equipment. This gives you a fully produced sound, without the need for further processing.
There's a lot to choose in the amp plugin market, so let's take a look at our personal favourite guitar amp sims.
1 – Universal Audio - Marshall Plexi Classic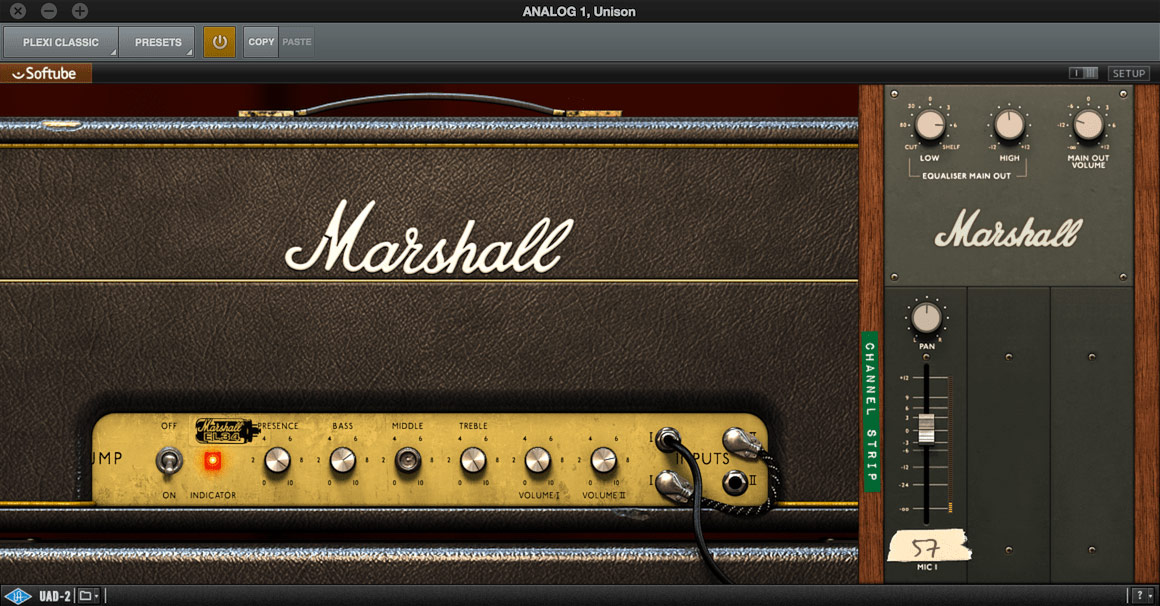 Universal Audio don't kid around with their plugins.
Their detailed emulations of iconic gear would be too CPU intensive for many computers.
So, they've opted to build processors into their audio interfaces and Satellites to take care of running their UAD plugins. This not only lightens the load on your computer, but allows you to track using multiple high-quality plugins with virtually no latency.
We love the Marshall Plexi Classic because it's one of the bundled plugins you get when you buy an Apollo or Arrow interface. It's a surprisingly premium plugin to be getting for free. It's a detailed emulation of the iconic JMP 1959 Super Lead head that was used by Jimi Hendrix, Jimmy Page and Eric Clapton to name but a few.
A lot of research goes into UAD plugins. With this Plexi, each circuit is meticulously recreated in code. In addition, the EL34 power tubes, a broken-in Marshall 1960BHW 4x12 cabinet and a Shure SM57 are accurately captured. In fact, the placement of that SM57 is in the hands of Tony Platt, the engineer behind AC/DC's Highway to Hell and Back in Black albums.
Are we setting the tone that there are no half measures here?.
As if the coding alone wasn't pushing the realism, one of the clever things about UA interfaces is their HiZ input and Unison slot.
Unison takes the first insert position in the Console software. Console is essentially a digital mixer interface that allows you to add the UA effects before the signal reaches your recording software. This signal can either be wet, so you print the effects to "tape", or purely for monitoring, allowing you to hear the effects but record the dry signal to add the effects or re-amp afterwards.
With Unison, the impedance of the HiZ input is matched to that of the original amp. So the gain-staging within the plugin is exactly the same as the real world amp.
It's not all about classic rock with the Plexi Classic, there's an awesome selection of presets that cater for funk, pop, indie and metal tones. This is a really intuitive plugin that looks and operates just like an amp. So it's very easy to dial in the exact tone you're looking for.
We've been blown away by the quality of this plugin, it really adds a lot of value to the UA Arrow and Apollo interfaces. Every UA plugin is world-class, in fact they're now a feature of most top recording studios. So we can't recommend them and the Marshall Plexi Classic high enough.
Pros
Sounds Amazing
Great Presets
Cons
Will only work with a Universal Audio Interface or Satellite
2 – Native Instruments Guitar Rig 5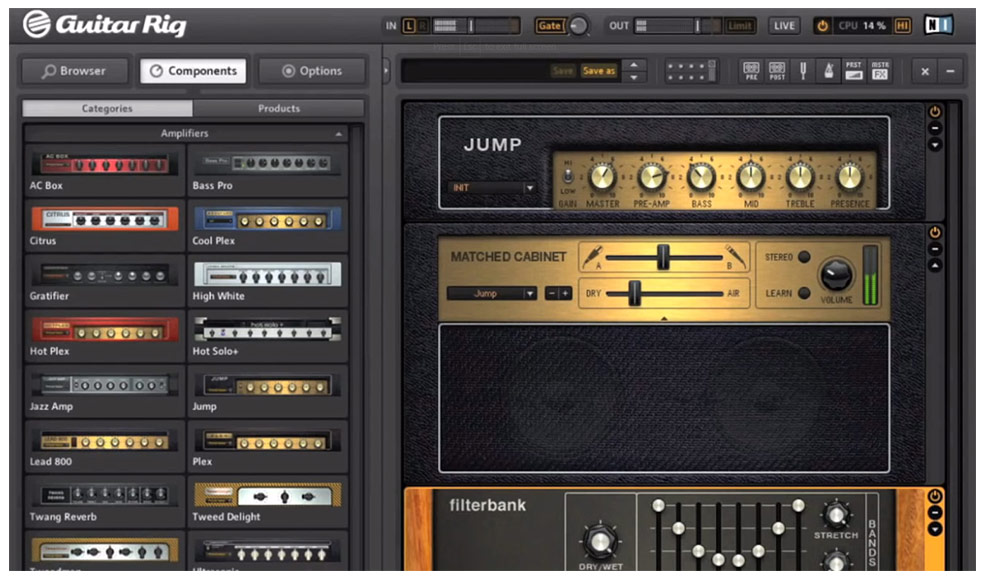 The original version of Guitar Rig dates back to 2004. Now in its 5th incarnation, Native Instruments have learned from over a decade and a half of amp emulation experience. They are now offering one of the largest selections of virtual guitar goodies.
Guitar Rig 5 comes as part of NI's Komplete bundles. Our first impression of the plugin was that it's like walking into a guitar store. Obviously excluding the guitars, but everything else is in there! That means dozens of amps (including bass), cabs, stomp boxes and even microphones and studio outboard gear.
Pretty much any style is catered to. It's easy to find what you need thanks to the intuitive menu and search system. The large preset library is broken down into songs, styles and artists. Even if you can't quickly find a suitable preset, there's an online user library where people have made their own tones available to download. So if you're after a Vai Ballerina or a Pink Floyd Comfortably Numb tone, there's a high chance it's available.
Even creating tones from scratch is a breeze. Although nothing is branded, it all feels very familiar. There are obvious nods to the originators. For example, the 5150 clone is called a "Jump" and there are the "Bigg Fuzz" and "Cat" distortion pedals....you get the idea.
Chains of amps and effects can easily be completed with a drag and drop system. This makes chopping and changing your set up simple. The fact that Native have kept everything very visual has been key to Guitar Rig's success.
It's actually not that often you hear professional guitarists talk about favourite amp sims, but this isn't the case with Guitar Rig. It's an industry standard that many people use. This includes Vernon Reid of Living Colour, Stephen Carpenter of Deftones and Kirk Hammett from Metallica (we're guessing Kirk was drawn in by the 4 different Wah pedals).
One of the things we absolutely love about Guitar Rig is the automation possibilities. Simple changes like turning an effect on and off, or even complex changes like blending halfway between 2 amps while simultaniously activating a delay and reverb, can be assigned to a single MIDI note.
Assigning changes is made easy by using the "Learn" button in the automation menu. Simply select what you want to automate, click "Learn", then tap the note on your keyboard or piano roll you want to make the change. What's cool here is that you can assign all kinds of changes to the piano roll and draw them in as you would on any other Instrument track. Everything happens automatically when you record, leaving you free to concentrate on your playing.
It's easy to put Guitar Rig down as a case of quantity over quality. Admittedly, the tones may not be as accurate as the likes of Universal Audio. However, if you're looking to experiment with a wide range of sounds for different styles, Guitar Rig can be a really valuable part of your recording setup.
Pros
Huge amount of options
Intuitive visual interface
MIDI Automation
Cons
Starting to sound a little dated
3 - Audient Sono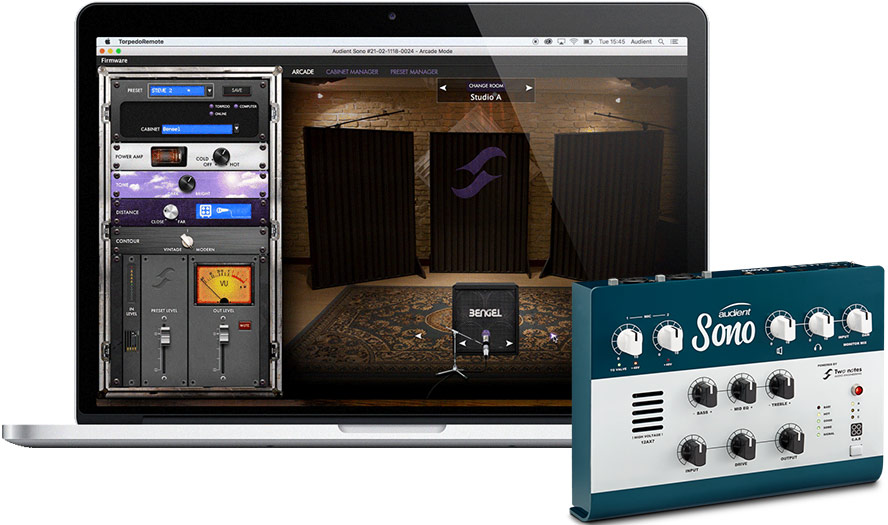 Sono by Audient is one of the newest options on this list.
It's a high quality audio interface that's geared towards guitarists. With several guitar amp and cab tones built in, a valve preamp and a re-amp output, Sono makes a well thought out option for tracking guitars.
Audient are notable for making large studio desks, but they've also made several awards winning entry-level audio interfaces. We regularly recommend Audient for those looking to buy their first audio interface. This is because they omit the things you won't need in favour of high quality components.
Sono features quality components, including the HiZ input, two Amphenol XLR/TRS combi inputs and the silky valve circuit. The unit has a distinct guitar pedal flavour to it, simplicity is key and even the Some/Good/Hot/Bad! labelling on the input level suggests that this is an interface made for everyone, not just boffins.
So there's an output for "re-amping", what's that for?
Re-amping essentially means you record the dry signal into your recording software, with the sound of your guitar plugged straight into the interface, no effects. Then play that recording into your preferred amp and record that with a microphone. This means you can record a golden performance anywhere, then refine the right tone for that performance in the ideal recording settings.
You'd be surprised at how many modern albums have been recorded this way. The "Amp" output essentially gives out the same level as your guitar, so it's the correct impedance for your amp.
As an interface alone, Sono is an excellent audio interface, but it really starts to excel when you try the amp sims. Audient have teamed up with pedal manufacturer Two Notes to build their Torpedo Power Amp Modelling and Cab Simulation straight into Sono. This gives you access to realistic recreations of a huge range of amps, all with studio quality sound.
The software allows you to tweak the tone of each amp, change cabs, change mics, change the mic placement...you can even change the virtual room the amp is in! All changes are made via an intuitive graphic interface, with some fun visuals for each space and piece of equipment.
As you'd expect, there is a great selection of preset tones to suit all styles. This can be a great starting point to refining to your own sound. Even creating your own tones is effortless.
And this leads us to our absolute favourite part of the Sono. You can assign your 3 favourite presets to the interfaces front panel. Not only does this give you easy access to your go-to tones, but the Sono doesn't even need to be connected to your computer. This means you could bring just your guitar and the Sono to a gig or session and you're good to go. Cool!
We've seen a couple of guitar orientated audio interfaces over the years. Nothing has managed to combine high-quality features and software that is understandable to technophobes in the way Audient has.
Pros
Good quality audio interface
The 3 tones you can play without your computer
Valve preamp
Cons
4 – Presonus Studio One Ampire XT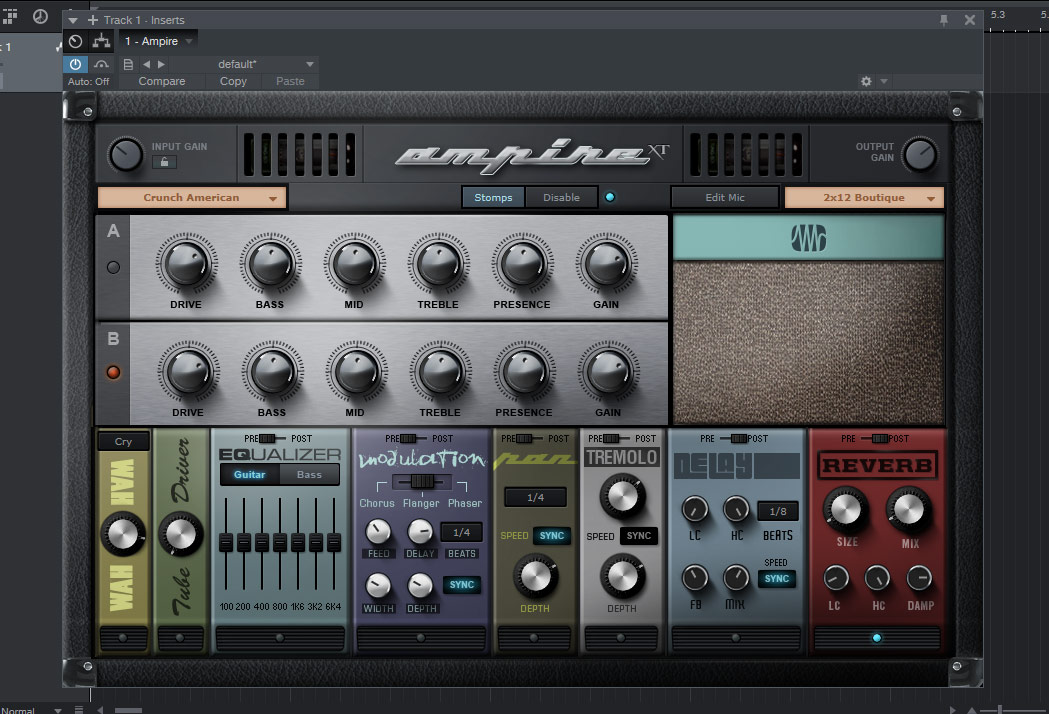 Ampire is one of the stock plugins included with Presonus' Studio One studio software. Studio One is gaining many converts. One of the many reasons growing numbers of people love this DAW is the quality of the plugins.
Generally the plugins that are bundled with a DAW are there to get you by until you can afford something better. This doesn't seem to be the case with Studio One. Everything sounds top notch, including Ampire.
Ampire features selection of amps, cabs and stomp boxes.
A simple user interface with a drop-down menu allows you to select amps with titles like "Clean British" and "Crunch American".
The same style menu allows you to pick from a selection of cabinets with names like "1x12 American" and "4x12 British".
A button titled "Stomps" drops the bottom of the GUI down to reveal 8 stomp boxes. These include a Wah Wah, a tube overdrive, EQ and a handful of modulation and time based effects. With the exception of the Wah Wah and Tube Driver (which would typically go between your guitar and the the amp in your signal chain), all the effects give you the option of being "pre" or "post". The latter shifts the specified effects into the FX loop.
There is a great range of sounds achievable with Ampire, especially when you consider that it's part of the Studio One DAW, so you can add in other plugins to the mix. Obviously it's not going to be as authentic sounding as the Audient and Universal Audio amp sims. But considering this comes free with both Studio One Artist and Professional editions, it's an excellent option.
That means that all you need to get recording or playing guitar via your computer is to buy a Presonus audio interface. Studio One Artist comes free with the Presonus interfaces. It is a stripped back version of their Professional level software, but is still feature packed and high quality.
The one thing we would like to see more of in Ampire is preset tones. However, considering you can get this plugin and a full recording studio with an audio interface for under £80, it's pretty hard to complain!
Pros
Cons
Will only work within Studio One
Thanks for reading. Have a look through our software and let us know if you have any questions about getting into recording guitar to your computer.