Busking Week: Battery Busking
Published on 18 July 2019
Buskers today can be more ambitious than ever. It's true that all you need is a voice and a guitar – sometimes even one of those is enough – but most street performers do tend to plug into amps and pedals these days. This blog serves as a brief point of reference and maybe even source of inspiration as to what possibilities lie outside the accepted idea of 'person plus acoustic guitar'. We are going to look at amps, effects, even keys and further afield!
We won't delve into massive detail about any of this: think about this blog as being a tasty hors d'eourve or tapas meal! We'll also assume that you've made your own decisions about which guitar you'll use, since there is really no such thing as a busker's guitar! It's whichever guitar you want to take out with you! If that means a travel sized acoustic, you're on point! If that means a Gibson Hummingbird, we're impressed! Be careful!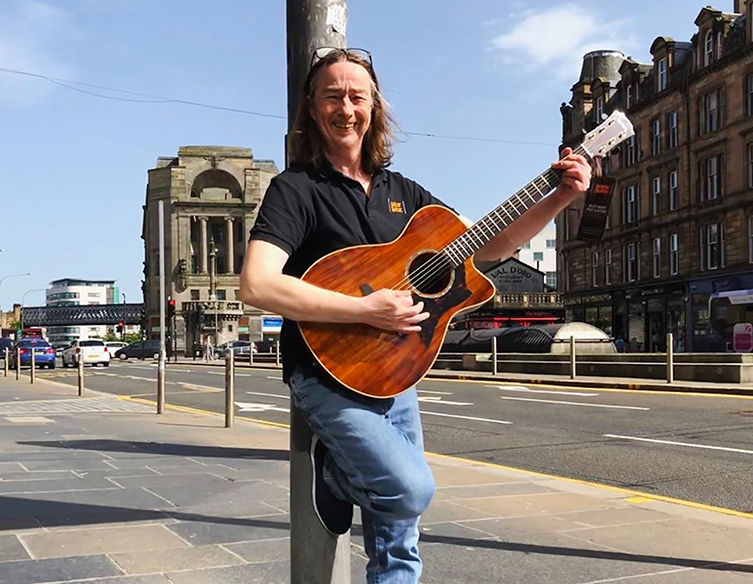 Everything in this blog can be powered by batteries, making them truly portable. Some use AA batteries, others 9v PP3 types, and others still have inbuilt batteries that require previous charging, just like your phone. If the gear accepts rechargeable batteries, try to use them. Each product's manual should inform you of that. Rechargeable batteries are better for the environment and work out a better deal for your wallet too.
With this in mind, let's set off...
Amps & PA
When it comes to busking amps, you need to tick the boxes for the following attributes: clean sound, light weight and multiple inputs. There are, surprisingly, only a few products on the market that support these needs, especially if you also require battery power like we do!
We've included PA in this category because, in the world of busking, these terms tend to blur a bit more than usual. Busking amps have inputs for both mics and instruments, just like PA. The main difference is that amps have tone-shaping features such as amp modelling and FX. Let's look at some.
Roland Cube Street
This is by far the most popular 'street' amp out there. It's more than likely that you've already heard these a few hundred times as you've walked down your local high street!
The Cube Street, and its larger sibling the Cube Street EX, make amplified busking easy. The wedge-shaped Cube Street has inputs for a ¼ jack (it'll do electric guitar, acoustic guitar, bass, keyboard or mic) and a balanced XLR for a mic. The jack channel has amp models, whilst both have delay and reverb.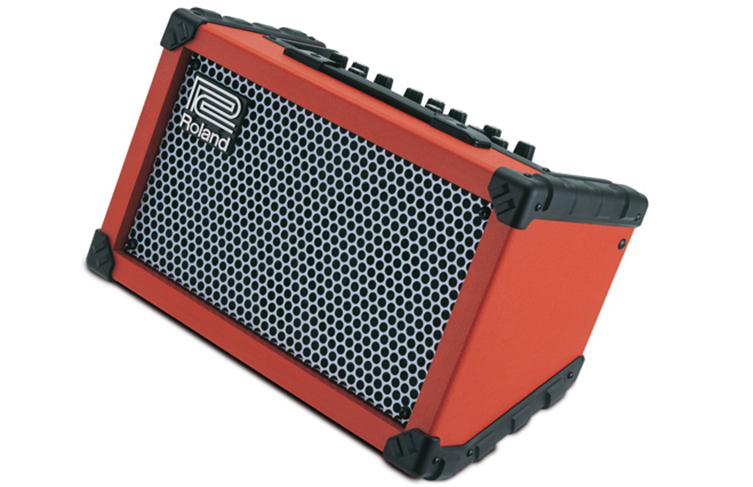 It's definitely loud enough for playing in city streets, runs on AA batteries and is easy to carry. It's a no-brainer.
It you feel like you need more power, the Cube Street EX model is the one to check out. It's more like a small PA and has 50 watts of power. Most buskers won't need more than that!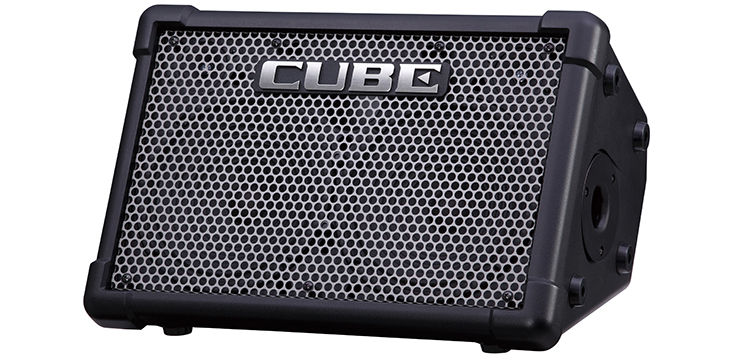 Bose S1
Audio powerhouses Bose have built on the technology used in their famed L1 systems to provide the S1 system, a small yet powerful mini PA speaker.
The Bose S1 has three inputs, a rechargeable battery pack, an onboard mixer (reverb on all channels) and Bluetooth connectivity. You can get 6 hours of performance from this bad boy, and as it's Bose, it sounds fantastic. It also weighs only 15lbs, which, on the scheme of things, is nothing for a PA!
The Bose S1 is available with and without the rechargeable battery pack so do make sure you buy the one 'with'.
Effects
Playing the mean streets of your local town or city does not mean you have to go without some fun effects! Anything that will make people stop and listen is a win. These three options all run on batteries and sound amazing.
Zoom G1ON
We looked at the Zoom G1ON recently in another blog and feel that it's worth mentioning again here. In one battery powered box, you get all your guitar tones (endless FX, in all the usual denominations), a tuner, a rhythm machine and a looper! Set up your sounds before you leave your home and you can simply step through each patch as you progress through your set.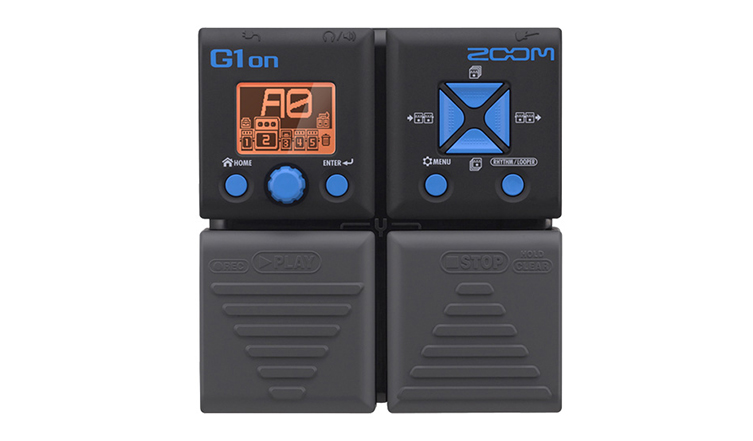 Bassists can get in on the fun too: go for the B1XON version and you're all set!
Boss GT-1
Boss's most modest multi-FX is a bargain that sounds like a million bucks. Truly, the tones on the Boss GT-1 sound pretty wonderful, plus the build quality is definitely rugged enough for pulling out of your gig bag whenever you head out for a session. Great sounds, a tuner, a looper and even a treadle pedal for wah and other expression effects make this an indecently good buy.

Again, bassists can have their cake with the GT-1B! These units will run on AA batteries.
Line 6 Pocket Pod
The Line 6 Pocket Pod is a little secret agent of tone that's a perfect choice for busking. Truly pocket-sized, the Pocket Pod with attach to your guitar strap, belt or other clippy surface and grant you a pandora's box of power tones! It's inexpensive, reliable, and most importantly sounds epic. It has lots of extra potential through its USB and 1/8" stereo inputs, so you can use this little guy all over the place.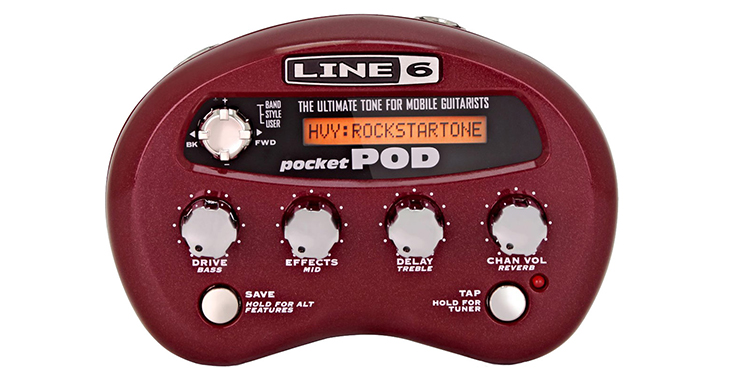 If space is an issue - and of course it is, right? You need to carry all this, remember! -, then the Line 6 Pocket Pod is a very smart purchase indeed.
Keys
So far, we've looked at what performing guitarists and bassists may need. Let's now see what keys players can use to perform out in public using only batteries. We'd recommend using the same amps and PA outlined earlier, since they have been designed for this exact cross-purpose.
Roland GO Piano & Go Keys
Roland seem to have figured out the portable busking instrument subject more than any other company, judging by what they offer to street performers. We think their two GO keyboards – the GO Piano and the GO Keys – are very worthy of mention. Both run on AA batteries, both have 61 full size, velocity-sensitive keys, and both are stuffed full of great sounds. They weigh less than 4 kg all in, which is fantastic considering you're getting five octaves' worth of full-sized keys to play on. Go for the red GO Keys model if you want the most variety of sounds and use the Bluetooth connectivity to stream backing tracks or whatever else from your phone!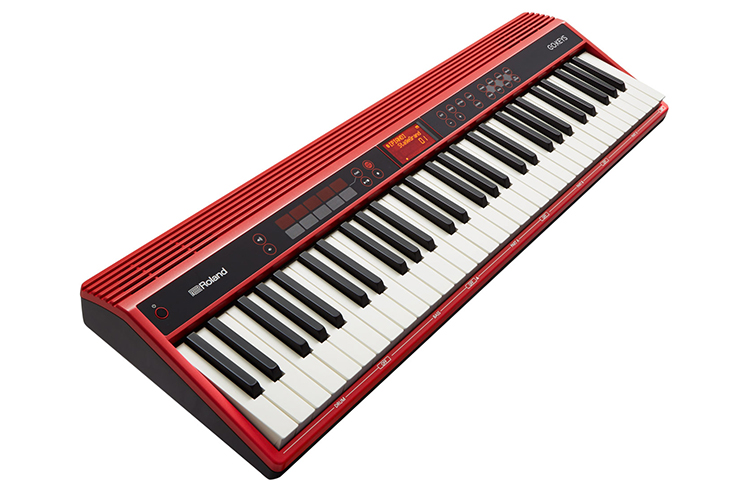 There are output connections for using with an amp or PA, but these GO keyboards also have built-in speakers, meaning that you could conceivably play on quiet streets without the need of another amp. Bonus!
Yamaha NP-12
Yamaha offer their own take on this theme with the NP-12. Built-in speakers, 61 keys, good quality sounds and hardly any weight at all mean that this is an easy keyboard to recommend to the musician on the move. The piano sounds are sampled from Yamaha's top end grand pianos. There is also USB connectivity, opening the scope of NP12 further.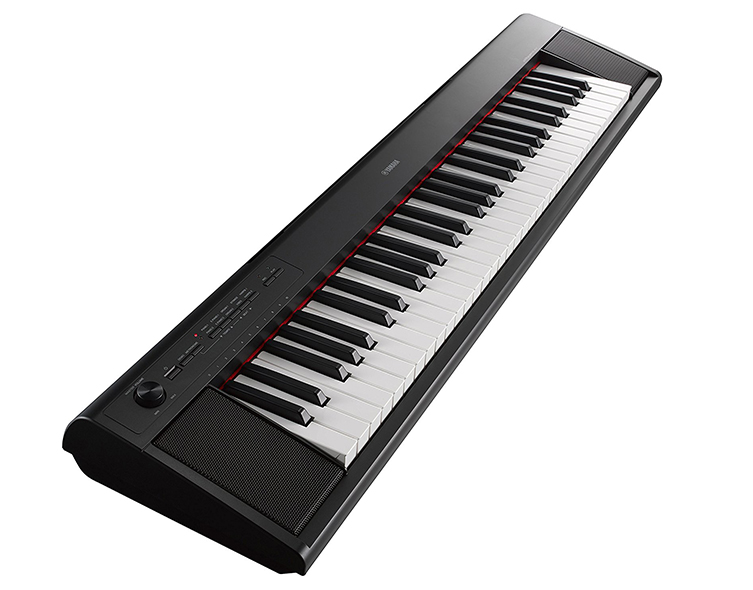 Laptop and controller
We're going to assume you already have a laptop. Why not add a MIDI controller and take your electronic music out on to the streets? Why does it always have to be strummy acoustic guitars?
It doesn't! And we'd love to hear more variety out there! Your laptop has its own battery of course, and pretty much all MIDI controllers will run off USB bus power, so you do not need further batteries to make this set up work.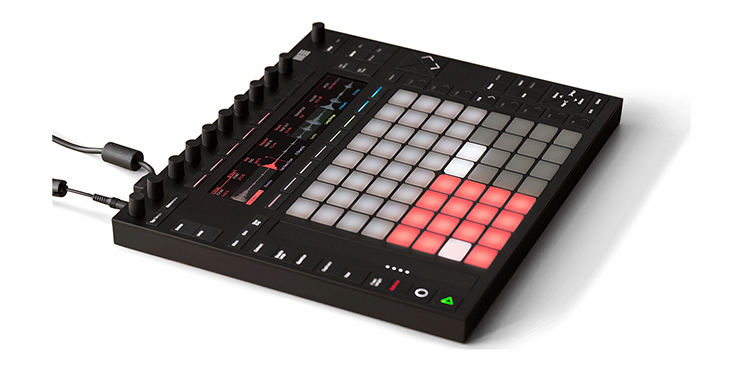 But what to use? Well, what software do you use? If it's Ableton, the obvious one is the Push controller. It's absurdly powerful and it's large enough for the light up pads to be a visual feature for passing crowds.
Other options include the various Launchpads from Novation. Outside of Ableton, other great MIDI controllers include the Native Instruments Maschine Mikro Mk3, the Maschine Jam and the Akai MPD218.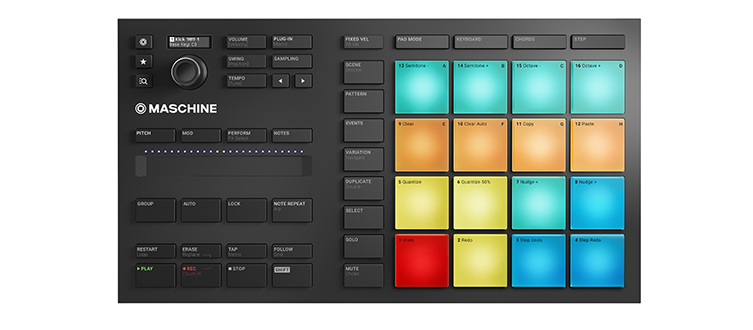 Taking your laptop out is a risk of course, but it would be fresh, different and it would give people something they don't often see! You can use the computer's headphone output to connect to an amp or PA. Simple!
Batteries Not Included
For our one last piece of gear-reveal today, we've sourced something that will at some point apply to most musicians, whether they are buskers or not. Check this out:
Pedaltrain Volto Power Supply 3
Like one of those portable battery packs you keep in your bag to charge your phone (you don't? Oh...), the Volto is a power supply that can let you power any of your 9v devices (most musical things, to be frank) that won't take batteries.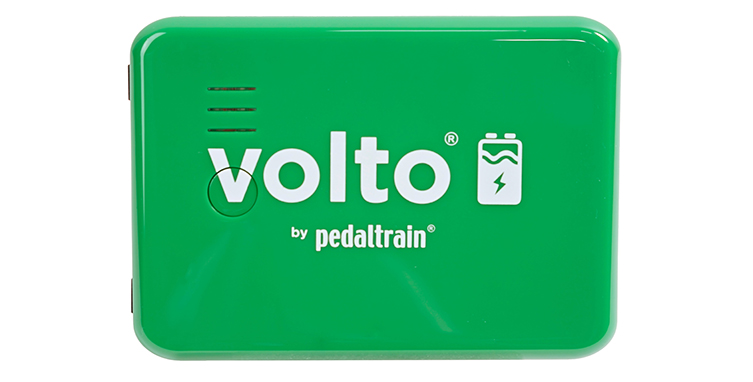 Charge it up via USB and then connect your gear via the included daisy chain cables. It's that straightforward. Obviously, the more devices you connect, the less time you'll get playing them before the Volto runs out of juice and needs recharged, but you may be surprised at just how much mileage this gives you! It's a great idea, a great product and really fills a gap in the market. Think of the possibilities! You're already nodding your head and grinning manically, aren't you?
Final Thoughts
If you are heading out busking, some of these ideas for equipment could help you to stand out from the crowd. It's all about giving people something fresh and making a name for yourself! It's also all about having fun and expressing yourself. We think this gear will help you do just that.
Be careful with your equipment, keep an eye out for undesirables and have a great time! Smiles and happy vibes go as far as skill and passion. Get out there and show us what you're made of!
Ray McCelland