Offers: 0% finance on Taylor Guitars
Published on 01 October 2019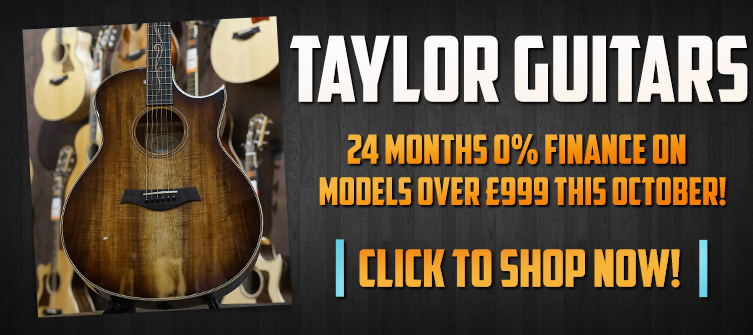 There is nothing quite like the feeling of taking home a brand new Taylor Guitar. They are a definite 'Try Before You Die' type of acoustic and when you find the right one for you - you just know. Like a noble steed, these trusty guitars have a glowing reputation as some of the most playable, well-crafted acoustics on the market and that's a pretty hard thing to beat! We've all sorts of love for Taylor, which is why we're so excited about our latest promotion...

For a limited time, we are offering 24 months 0% finance on any new model of Taylor acoustic over £999.
So, if you've been lusting after a Taylor (or staring into our windows every time you pass) - do not miss this opportunity! This is your chance to take your dream guitar home and pay for it with hassle-free-fixed monthly payments!
Offer available from 01/10/19 to 31/10/19.
Never tried Taylor before? No need to fret! Join us at one of our Taylor events across our stores this month, where you'll have the opportunity to chat to Taylor experts and try out some for yourself. Find out more about our Taylor Find Your Fit events here.

Not sure where to start? Check out the awesome 424ce Koa below!