Masterpiece: EVH 1979 Bumblebee Tribute Replica
Published on 16 December 2019
We all have our favourite Striped Van Halen guitar.
Those stripes represent a seismic shift in the musical landscape. That shift was caused almost entirely by one man in one bright new band. We are talking, of course, about legendary Dutch-American Master Pyrotechnician, Eddie Van Halen. Nobody apart from Jimi Hendrix and Les Paul have done so much to change the way people hear-and see-music. From tapping to harmonics to whammy bar acrobatics, Eddie brought it all! He is also one of Rock's great Riff Men, with a sense of style, swing and groove that most players back in '78 completely missed out on as they struggled to learn 'Eruption'. Guitar fans and Rock fans in general all know Eddie Van Halen's instantly recognisable guitars almost as much as they know his instantly recognisable sound.
Those Stripes represent the sound of fireworks.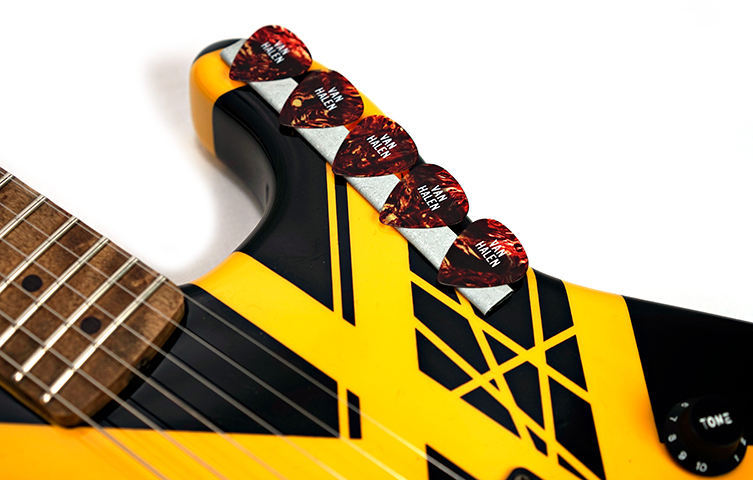 Which one do you like best?

Is it the 'Frankenstein'? The 1974 black and white one from the debut album's cover that later became red, black and white and covered in bike reflectors?

Do you like the 'Shark' Ibanez Destroyer from 1977, chainsawed to bits and striped up red and white?

What about the Danelectro/Charvel 'Star', with its angular body and 'coke bottle' headstock?
None of those?
How about the 'Unchained' guitar from 1981, with its black and white 'crop circles' and 'Bye, Later, See ya' scrawled on the back?
No? Ahhh, then you must be like me: your favourite is the 'Bumblebee' guitar from the VHII era.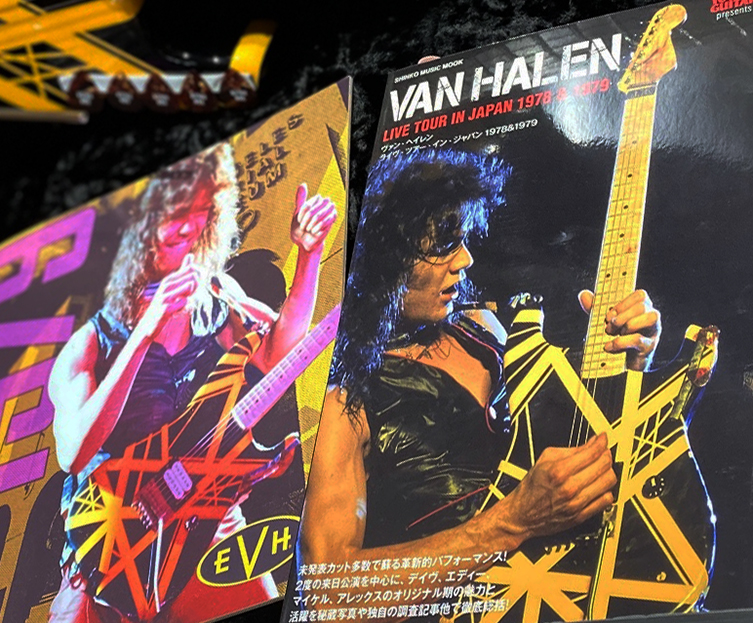 To be fair, I do tend to like most of Ed's guitars, since I see them as all being like members of the same eccentric gang. But, taken separately, it's always been the black and yellow colour scheme of the 'VHII' that's done it for me. It's just bolder and brighter, which is what Van Halen are really all about!

EVH have recently released a quite spectacular Tribute to the Bumblebee, but before we get there, it's worth checking out the history of the original instrument, since it's quite a story!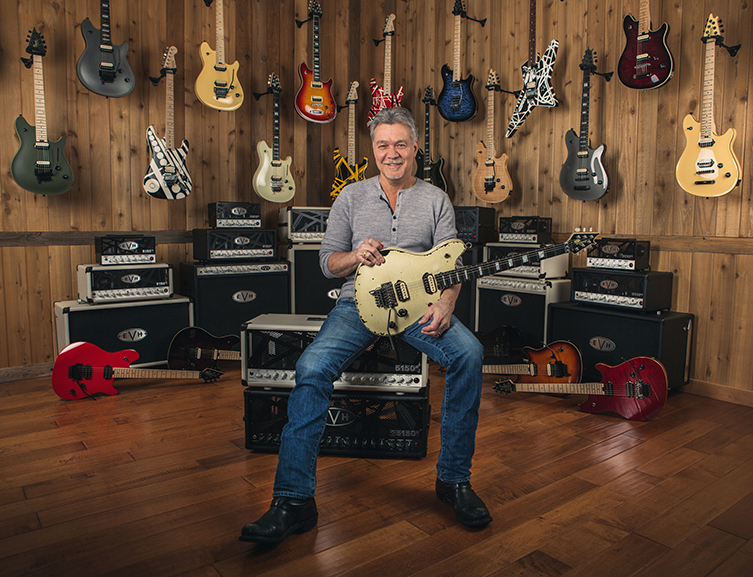 (Photo: Kevin Baldes)
1979
It's 1979. Van Halen's debut record has been out for less than a year, and already it has created a phenomenon. People are going especially crazy for Eddie's dextrous, inventive and entirely off-the-wall lead guitar playing. All of it was performed on a home-built guitar, bashed together with parts and finished with a DIY stripe paintjob. It sounds like it has been beamed in from another world.
It's easy to forget, but the whole notion of a 'Superstrat' didn't even exist until Eddie put his Gibson ES-335 pickup into his DIY guitar made from a locally sourced 'Boogie Bodies' guitar body and neck. The single-humbucker-and-tremolo combination was quickly picked up on by the industry, who followed suit and issued an endless stream of copycat guitars to feed the hungry new legion of Van Halen-inspired 'gunslingers' who showed up almost immediately after Van Halen burst on to the scene.
Imitation is the sincerest form of flattery.
By 1979, the band were ready to record the follow up to their mega-successful debut, and Eddie was ready for a new guitar. Known even back then as a tinkerer and inventor, Ed was always switching necks, pickups and other elements, searching and hunting for the perfect combination. Also, he wanted something fresh.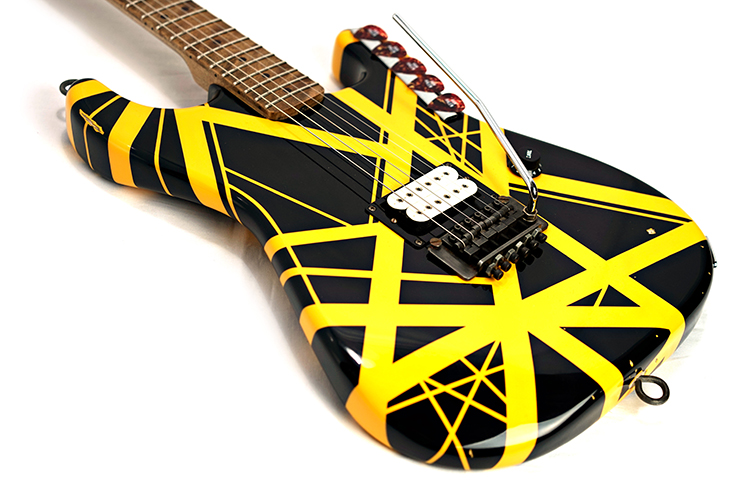 For the guitar referred to as 'Bumblebee', Ed ordered a body and neck from local custom builder Wayne Charvel, who obviously we know all about! An Ash body was selected, and Ed had already decided on the Black and Yellow colourway. Again, Ed preferred to stick to one humbucker, but he wanted the guitar to go without a pickguard. To facilitate this, he asked for all of the control and circuit cavities to be routed out from the rear of the body, leaving the front intact. Wayne Charvel put the guitar together and did the 'Striping', as well as installing a Mighty Mite humbucker and his own design tremolo.
Problems
The pickup didn't last long. Ed was down with the look, but the sound wasn't happening. Bringing the guitar to his own workbench, Ed fitted a DiMarzio Super Distortion (which he'd modded with a Gibson alnico magnet, replacing the DiMarzio's ceramic magnet) and also swapped out the neck for a Maple 12-inch radius one he already had. This, VH-fans, explains why you'll find some early 1979 pictures of the Bumblebee with a black headstock: this was the Charvel neck, which was rejected. He also wasn't getting on with the Charvel tremolo unit. Happily, he had other ideas in mind...
Another first from Ed to the world was the Floyd Rose tremolo. To be more specific, Ed was the first guitarist to publicly use a Floyd Rose tremolo, or indeed ANY tremolo with a locking nut! Such a device seems like it could have been invented for Ed, but it was merely good timing on his part.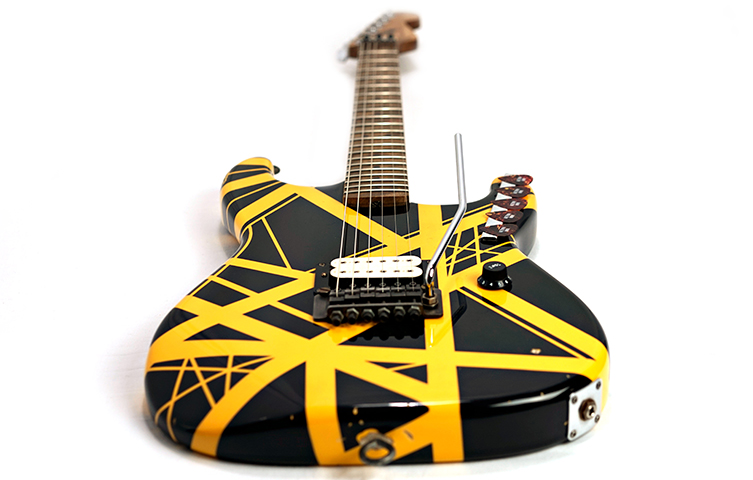 Floyd, a jewellery maker by trade, invented the Floyd Rose tremolo after getting fed up with his vintage Strat going out of tune constantly. His first prototype was built in 1976, with the patent awarded in 1979. By that point, Ed had already gotten hold of a prototype and introduced it to the world. Players like Neal Schon and Steve Vai were not far in following him.
Other post-purchase Ed-mods to the Bumblebee included his customary steel screw-eye loops for strap buttons, the substitution of the metal volume knob for a skirted plastic knob with 'tone' inscribed on it ("volume is tone" is a phrase oft-quoted by the man himself) and Schaller tuners pilfered from the original neck.
The Bumblebee, as it was affectionately nicknamed, saw extensive use during Van Halen tours of 1979 and 1980. To many fans, it is one of the definitive instruments in the Van Halen mythos. Like the 'Frankenstein' model, the Bumblebee's colourway has been adopted into a myriad of merchandise: from phone covers to sneakers, you can proudly display your allegiance to Ed with the era that you prefer!
Honour
One guitarist who loved Eddie Van Halen and his Bumblebee guitar was Pantera's "Dimebag" Darrell Abbott. Supremely talented and eminently fun-loving, Dimebag was like a Texan, Groove Metal version of Ed himself! Dimebag's music and attitude won over the entire heavy music fraternity, earning him status as something of a living legend.
Dimebag, a lifelong Van-Halen fan, finally met his hero in 2004. The two men hit it off, displaying mutual respect for each other's abilities and musicality. Disastrously, a few short weeks later, Dimebag was murdered onstage by a crazed fan who blamed him for splitting up Pantera. The world was shocked: another hero, killed in his prime.
In the approach to Dimebag's funeral, Ed called to ask how he could help out. The notion of making a custom Striped guitar for Dime came up in conversation. It was to be something that would be buried with him, a talismanic object that would have meant the world to him. Abbott's partner Rita mentioned that the Yellow and Black livery was by far Darrell's favourite, before the conversation moved on elsewhere.
When the day came, both Eddie and Zakk Wylde made speeches in honour of their fallen friend, toasting him with shots and sharing stories with Dime's friends and family. Ed then surprised everyone by pulling a guitar case of out his car containing not a newly made guitar, but the original, VHII-era Bumblebee guitar! This was the guitar Dimebag would have loved the most, and this is one he was to be buried with. As Ed said himself: "Dime was an original, he deserves the original".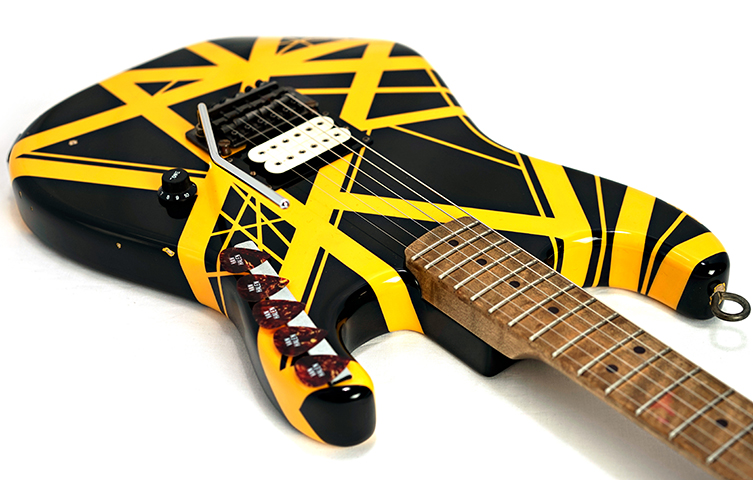 Today: The Tribute
The original Bumblebee is now and forever in the arms of Dimebag Darrell, but the story of the Bumblebee continues. To mark the 40th anniversary of the guitar, EVH, Eddie's own guitar brand, have created a meticulously detailed replica. All of the pictures from this article are from this special guitar. Take a look at the detail! These days, we expect high-end tributes to be exhaustively studied, and this Bumblebee Tribute excels. Indeed, it had to pass the quality control levels of a certain Mr Van Halen, who is known for his uncompromisingly high standards on all gear that goes out into the world bearing his name!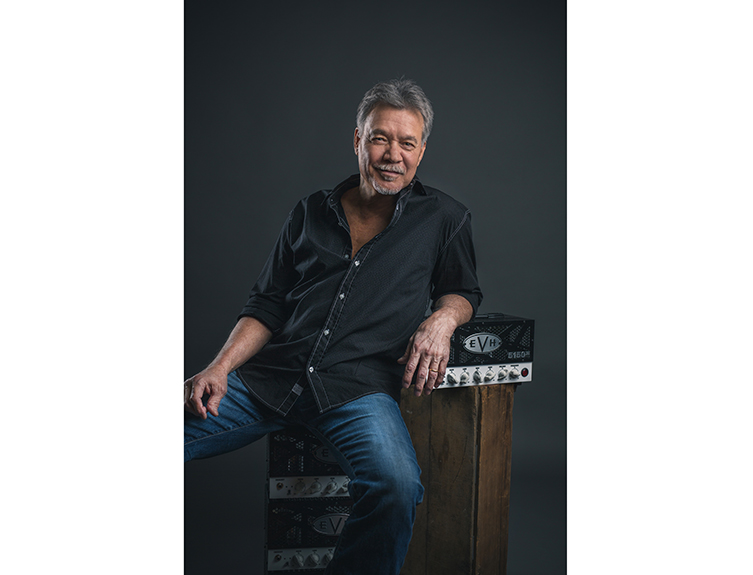 (Photo: Kevin Baldes)
This model brings us the most famous 'version' of the guitar: as we've learned, there was only ever one Bumblebee, but Ed's relentless tinkering meant that several necks, pickups and bridges were fitted in succession. This Tribute has the 12" radius Maple neck with paint-free headstock (and lots of minutely researched battle-damage), a recreation of the modded pickup and an accurate recreation of the prototype tremolo! The 'tone' knob is there, the eye-screw hooks are there and the finish has PERFECTLY recreated stripes. The finish has also been aged and relic'd authentically. It's a spectacular recreation of the iconic, beloved Bumblebee and a masterpiece in its own right.
Best of all, each guitar in this limited run of 50 guitars has been HAND-SIGNED by Eddie Van Halen himself! The mark of the maestro!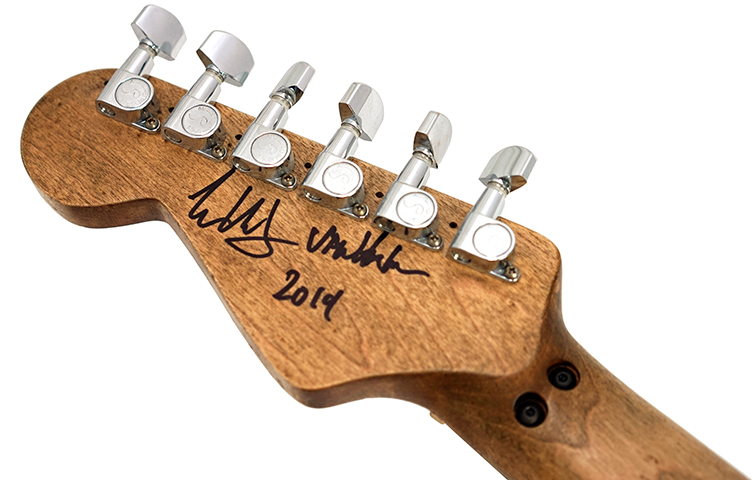 But even that's not all! EVH know how important case-candy is, especially on these high-end, limited-edition guitars. People want the goods: extra content that deepens the story and makes everything more special. Thus, the EVH Bumblebee comes with a treasure trove of extra goodies, including the following: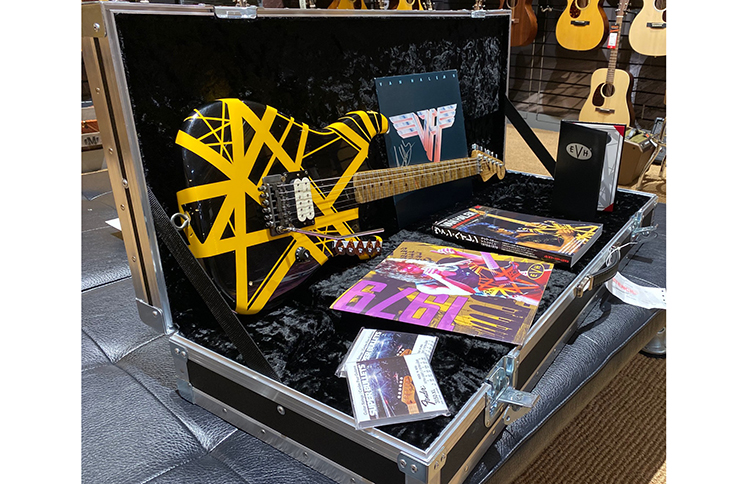 A heavy-duty Anvil Hard Case, stencilled with 'Edward Van Halen' on the side
A SIGNED Certificate of Authenticity
A SIGNED vinyl copy of Van Halen II
Two sets of vintage-correct Fender Super Bullet strings
A set of Van Halen tortoiseshell plectrums
Van Halen Live Tour in Japan 1978 & 1979 book
Van Halen Bumblebee collector's booklet
SIGNED 8x10" photo of Ed playing his original Bumblebee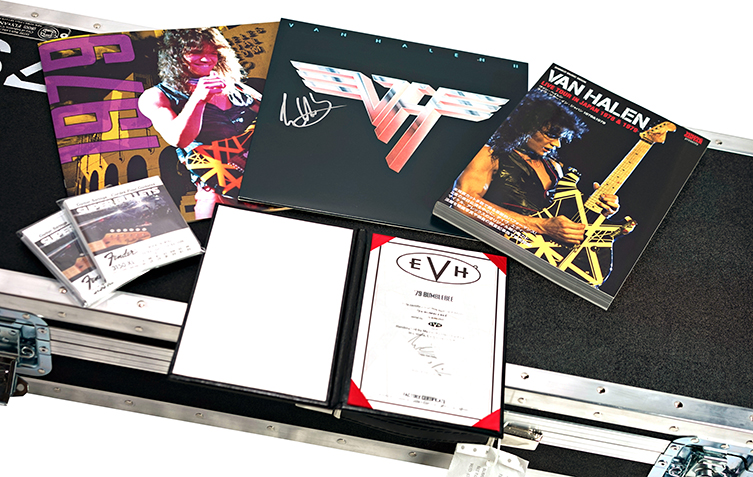 What a haul! As if the idea of a Bumblebee guitar signed by Ed himself wasn't enough!
We love the level of research and detail that EVH have taken to get all of these additional pieces correct. The picks are period correct, the strings have vintage packaging...each element of this Replica package is its own piece of art. They all contribute to tell the story of the Bumblebbe.
As for the guitar itself, this is as close as any Van Halen fan can possibly get to the immortal original. Limited edition guitars are fairly common occurrence, but not to this level, and not with this amount of quality extra material included! This is a Van Halen fan's dream!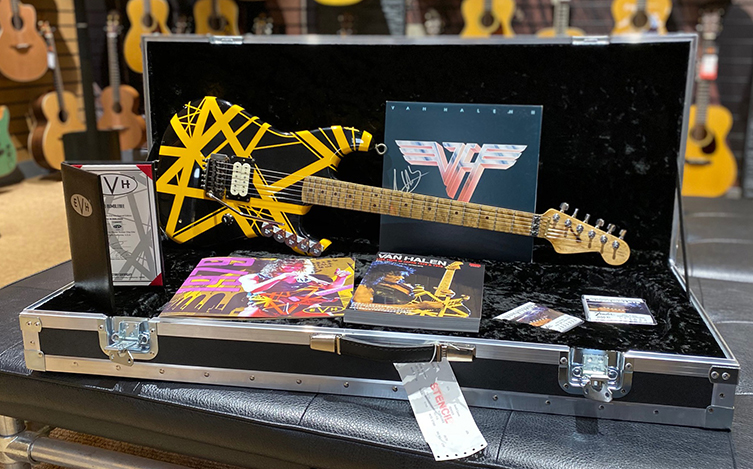 As Ed continues to forge ahead with his 5150 amps, Wolfgang guitars and other inventions, it's awesome that he also looks back on occasion to assess and take stock of his unbelievable career and legacy. The Bumblebee is an important part of that legacy, one that is synonymous with genuinely game-changing Rock history. Guitars like this Bumblebee Tribute only come about because the music – and indeed the tools used to make that music - matter so much to so many people.
This guitar stands as a small monument to not one, but two titanic musicians.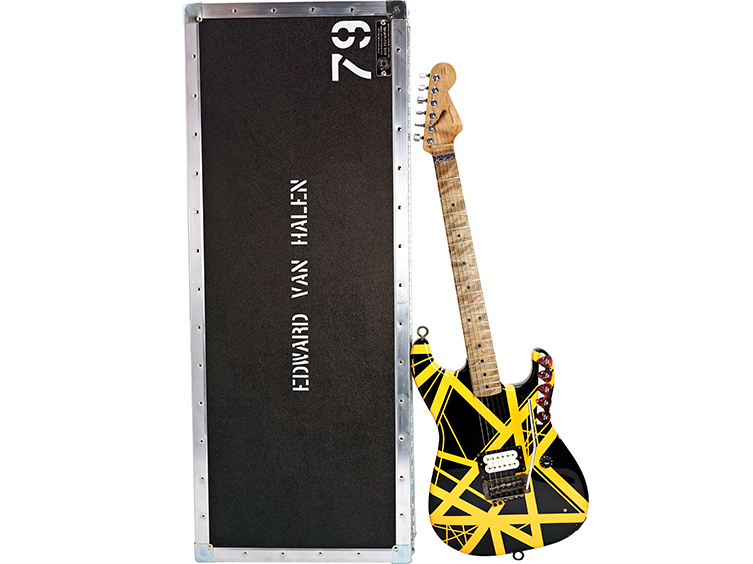 See our EVH Striped Series.
Thanks for reading.
Until next time,
Ray McClelland