A Closer Look: Martin 16 Series
Published on 14 February 2020
Martin & Co guitars have a heritage like no other acoustic brand. Guitar history can easily be viewed through the lens of this esteemed company from Nazareth, since they have created and innovated from the days of the Wild West right through the dawn of Rock 'n' Roll, the Hippie movement, Classic Rock, Grunge and into the modern day. Martin guitars tell the story of popular music, and their heritage is in the DNA of every instrument they make.
Many Martin models are direct recreations of historical favourites. Models like the D-28 and the 000-15 are remain largely unchanged from their debut many, many decades ago.
Other models, though, keep an eye of modernity. They bring that unmistakable Martin experience and knowhow to bear, pouring over a century's expertise into a new line of guitars for today's player.
Today, we're going to look at such a range. The 16 Series by Martin is a collection of four instruments designed for the contemporary gigging guitarist. The 16 series is tied together with many featured shared from model to model, along with some interesting differences from model to model. Let's take a closer look!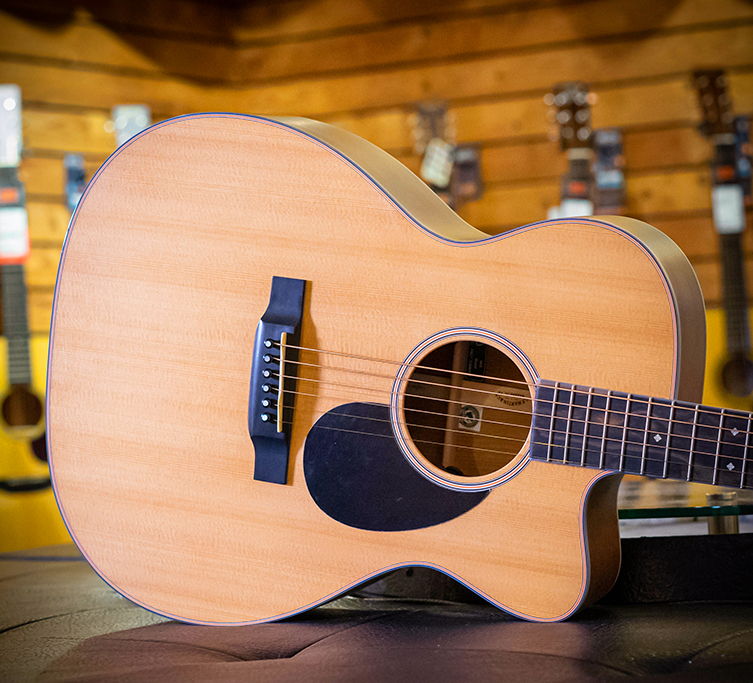 16 Series – For the Modern Player
The Martin 16 Series has, as we've noted, but designed for a modern gigging guitarist. The range is designed to be adaptable, effective and versatile in a gigging situation. The most obvious thing you'll notice about the range in general is that they have a slightly slimmed body depth (they are the same depth as a typical Martin 000). This makes them much easier to handle, for musicians of all sizes. Sonically, this is compensated by using forward shifted X Bracing. This helps to shift more air around and produce a bigger sound than the body sizes may suggest. A shallower body also helps to counteract potential live feedback problems.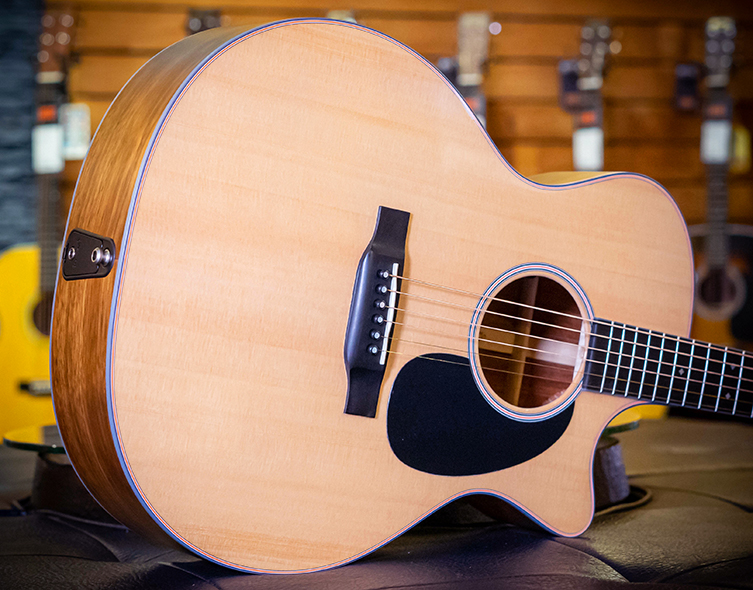 Each Martin 16 Series guitar has a 'Low Oval' neck carve and an Ebony fingerboard, for a playing experience that's easy and encouraging. You won't have a fight on your hands with these! The scale length of all is 25.4", a typical measurement for Martin guitars. The neck joins the body of each at the 14th fret, encouraging greater note access and simultaneously achieving a 'tighter', more modern feel. Strumming and single notes will both feel strong.
Each model is equipped with a Fishman Matrix VT pickup system. This is part of the 16 Series' modus operandi: to be effective gigging instruments straight out of the included hard case. Fishman have long since been the industry standard for quality 'electro' tones, and the Matrix VT keeps things subtle with no large control panels on the side: unobtrusive volume and tone sliders are found nestles within each guitar's soundhole. What you need, where you need it!
In typical Martin fashion, these guitars are not overtly glammed up: that has never been the company's house-style, after all! However, there is a touch of uniqueness at play here. Each 16 Series Martin has silver and red binding! It's relatively subtle, but at the same time, you won't miss it! This adds a little bit of pizzazz to proceedings, especially when stage lights shone down on that silver! This is carried over to the soundhole rosette too, adding a clean, fresh look to what is a modern guitar.
The top of each guitar is choice Sitka Spruce, the most often used timber for soundboards. The 16 Series are made from all-solid timbers. These tonewoods have been chosen specifically for each body shape, in order to accentuate each guitar's voicing. Let's look at each in turn...

D-16E and DC-16E
The Martin D-16E and DC-16E are effectively the same instrument with and without the venetian cutaway on the guitar's treble-side shoulder. For these two models, Martin have chosen solid Sycamore as the back & side timber. Most often found of quality Flamenco guitars, Sycamore has sonic properties that lie somewhere in between Mahogany and Maple. Since these are quite different sounding woods, let us go further.

Sycamore, in this context, provides lots of midrange tone with a crisp attack and top end power. This, when combined with the natural boom of a dreadnought body shape, provide an overall tone this is balanced, relatively loud and very percussive.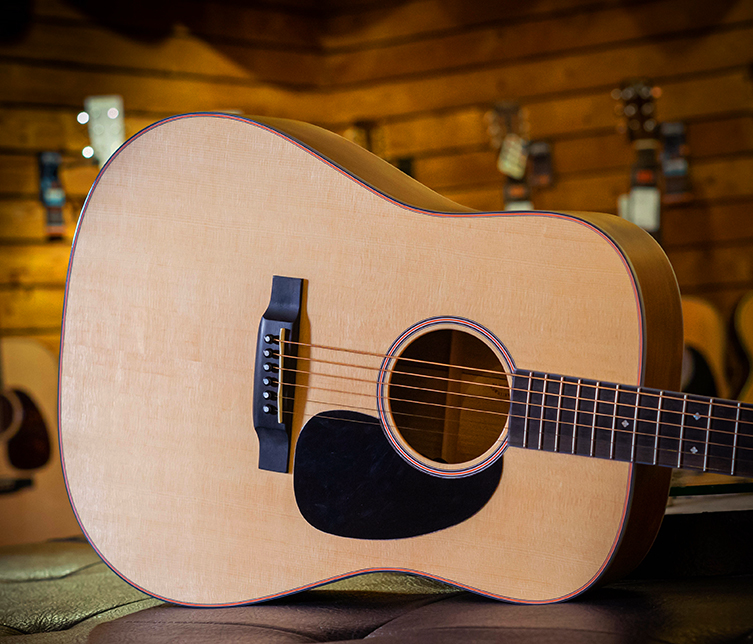 We think rhythm players will adore the D-16E! The story is the same for the DC-16E, of course, with the addition of the cutaway. This doesn't affect the tone in any real way at all, so pick this model if you have upper fret ambitions!

GPC-16E
The Martin GPC-16E is a Grand Concert model. This more contemporary body style has proven to be massively popular, giving as it does a sound that allows the best of the dreadnought's projection with the precision of a folk guitar. What started off as a hybrid shape has become something of a modern standard.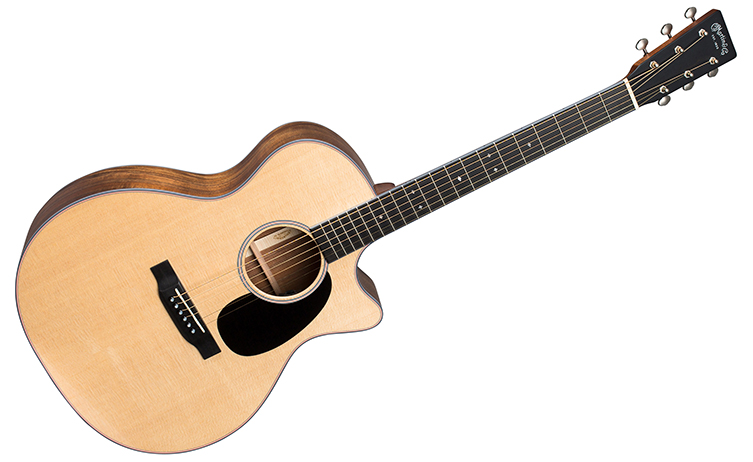 On this model, Martin have selected solid Koa for the back and sides. Koa sounds similar to Mahogany, with plenty of warm resonance. It's a little more cutting than Mahogany though, and this helps the GPC-16E centre its voice. The slimmer body has lots of note separation and definition, making fingerpicked parts particularly rewarding. It's a versatile beast without doubt and has a sound that applies well to many genres.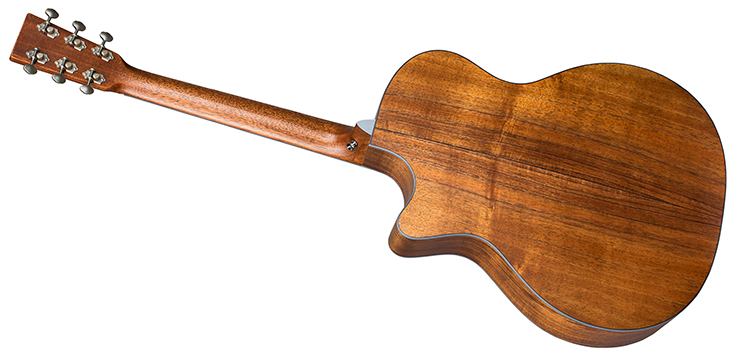 OMC-16E
The lovely Martin OMC-16E is an Orchestral Model, or an OM. This is essentially the same as Martin's 000 body size, so where the other guitars in the 16 Series have been slimmed down in depth, this one remains as it is. This is, by a fraction, the smallest body in the series and is built using Cherry for the back and sides.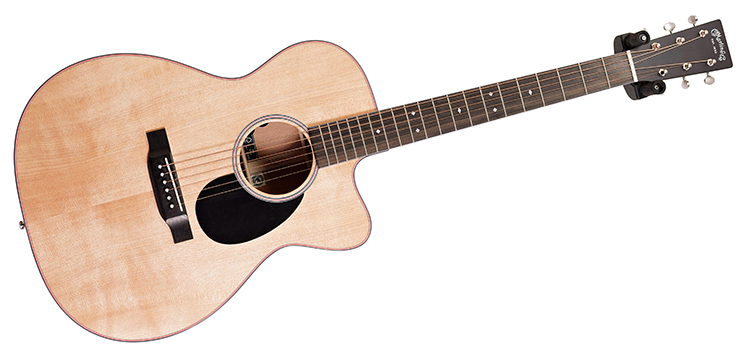 Cherry is a very balanced sounding tonewood and tends to enhance what's already there (tonally speaking) rather than overtly adding any of its own characteristics. In this case, that's a great idea, since the OMC-16E has a focus and life that's well worth accentuating! The Cherry does, however add to the clarity a little and increase note sustain. Overall, this guitar is very 'alive' sounding and rewarding to play.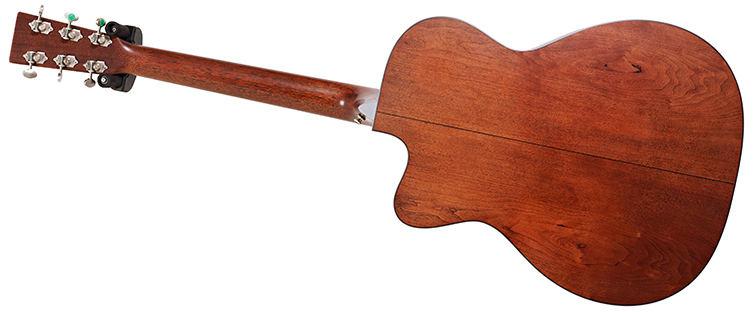 As an additional note, the Cherry used in the production of this particular model have earned the Martin OMC-16E a certificate from the FSC and the Rainforest Alliance for sustainability. You'll see two little labels inside the soundhole to prove this. Not only does this guitar sound great, it's responsible too, which we wholeheartedly support!
Final Thoughts
Martin's 16 Series acoustic guitars are modern instruments, sure, but they crucially don't stray too far from the general Martin blueprint. They are different to set themselves apart from their Martin stablemates, but in the grand scheme of things, these are still pretty traditional Martin acoustics, which is what most people want from them anyway! We love them, and would definitely point serious gigging players in their direction for personal perusal. Whilst we don't quite have a favourite model (though it's hard to argue against a dreadnought a lot of the time...) we did find ourselves coming back to the OMC-16E more often than the others, so that may be telling!
If you are in the market for a quality gigging and recording acoustic guitar, these contemporary workhorses bring a fresh vibe to the USA-made Martin mythos in a way that is altogether inspiring.