A Closer Look: The Balaguer Select Series Hyperion
Published on 19 March 2020
Hyperion.
In Greek Mythology, one of the Titans: a race of giant demigods, fathered by Zeus himself.
Bring of heavenly light to all Mortals.
Also, Hyperion: scary sci-fi horror novel by Joe Simmons, featuring a ruthless, spiky killing machine that's half-alien and half-robot.
These are some lofty references point to associate with, if you build something and call it Hyperion. Forget the fact that it's also one of Jupiter's Moons!
Today, though, we're more interested in another Hyperion. This one has all the authority, danger and grandeur of those other Hyperions, but it's concentrated into wood, steel and strings.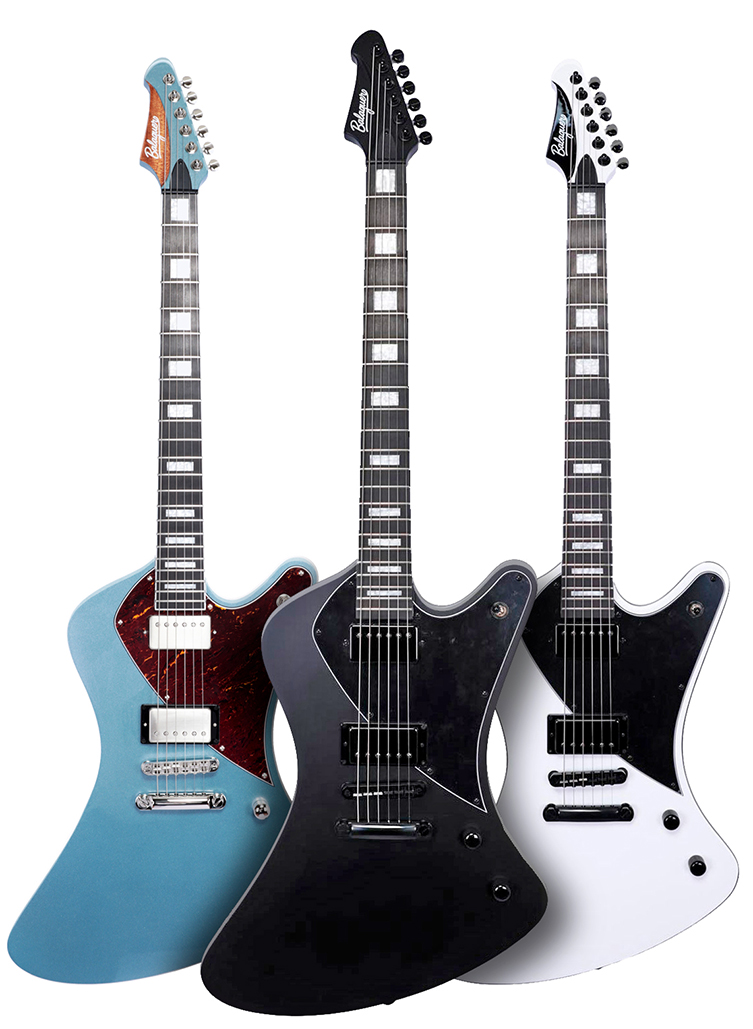 Balaguer Select Series
We first took on Balaguer guitars last year, intrigued by the promise of their artful, interesting designs and beautiful finishes. After our first delivery showed up, we were heavily impressed by the feel, balance, quality of workmanship and expansive sound they embodied, right across the range.
These are excellent guitars, and they look super cool! If you like classic lines and styles but want things a little more individual of off-centre, Balaguer are your guys. They have loads of very cool guitar models, such as the Espada and the Archetype, all available from us.
These Balaguer Hyperion guitars are from the company's Select Series. Designed in Pennsylvania by Joe Balaguer and his team, Balaguer Select guitars are custom made by a small team of luthiers in a workshop in South Korea before being returned to the US for a final check and set up. These guitars are made-to-order, in very small batches. They are a cut above the already excellent Standard series (made to exacting specs in China) and feature high quality specs to match the superior workmanship.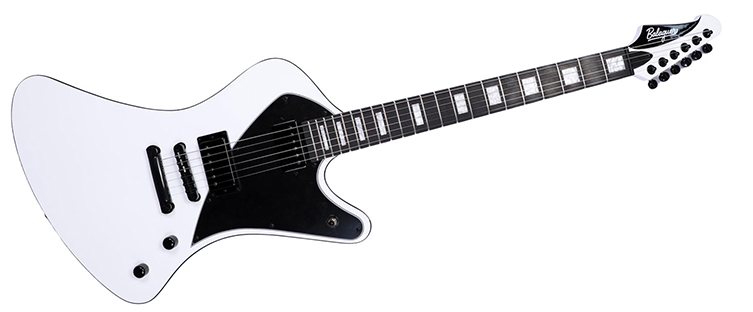 The Hyperion
We ordered these Select Series Hyperion guitars many moons ago, and we are very happy to say that they have arrived and are available now!
The shape of the Hyperion is total Rock Star stuff: large and well balanced, this axe wants to hang low on a strap as it throws out riff after riff in front of a huge audience. We're talking solid Mahogany here, for both the body and set neck. This thing can really carry sound!
The neck has a 25.5" scale length, a nice surprise for this style of guitar, since we'd normally expect a 24.75" scale. This design decision adds a more strident, epic quality to both the playing and the sound of the Hyperion. An Ebony fingerboard, with charismatic block inlays and binding, houses 22 stainless steel frets. That last feature is a pretty big deal, especially for a limited-edition guitar that is under a grand to buy new. This is about as high quality a neck experience as you can possibly have outside of actual bespoke one-off custom builds! The point is, these guitars very nearly are one-off custom builds! The value for money is scandalous!

Balaguer design their own pickups, too. For this Select Series Hyperion, Balaguer have chosen two humbuckers: a Feral in the bridge and an Evergreen in the neck. Both units use quality alnico 5 magnets, though have differing outputs, as you'd hope: the Evergreen has a PAF-like DC resistance of 7.9k, whilst the Feral ups the ante somewhat, measuring 12.5k. These pickups are exactly what you'd want here: there's plenty of character and body to be had, with more chunk and snarl from the bridge and liquid sustain from the neck.
Each Select Series Hyperion has locking tuners and a Graphtech nut, to ensure that your playing, intonation and general tuning requirements are met to the highest order. This is all part of what is means to have a Balaguer Select Series guitar.
Three finishes were made available for this limited run of build-to-order guitars, and we took stock of each colour! Choose from Gloss White, Satin Black or Gloss Metallic Crushed Blue. Each are equally gorgeous, but make sure you get in quickly: Balaguer guitars always sell fast, and these are available only in very limited numbers! For a gigging and recording companion of the highest order, your money could not be better spent than on one of these spectacular Balaguer Select Series Hyperion guitars.

Planet-sized tones. Heavenly value. Hyperion, indeed.
Click to See the Balaguer Select Series Hyperion