A Closer Look: ESP LTD '87 Reissues
Published on 06 April 2020
ESP make guitars for some of the biggest names in music.
If you like your Rock music on the slightly heavier side, ESP will be a household name to you. This is what happens when artists such as Metallica, Deftones, Slayer, Rammstein, Behemoth and many more collectively decide that ESP make the best type of sonic weapon for their music. Other manufacturers dream about having this level of association!
It's been this way since the mid 80s, when James Hetfield used an ESP Explorer-style guitar to help Metallica take over the world. Before then, ESP (it stands for Electronic Sound Products, which is definitely a bit dry and unromantic considering what they build...) were a top-quality Tokyo guitar workshop with an office in California. Now, they are rightfully considered to rank alongside Ibanez and Jackson in the 'performance' guitar stakes.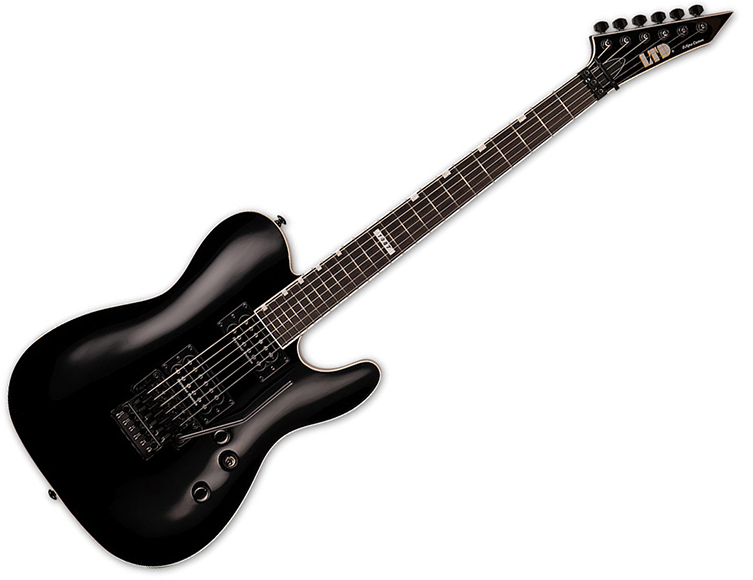 LTD are the slightly more affordable range of ESP guitars. Often, when people talk about ESP guitars, they really mean LTD: the latter are far more populous throughout the guitar world due to their impressively high quality and more affordable prices. Even pro players and ESP endorsees often take the LTD models out on tour with them, such is level of their performance. The guitars we will be looking at today all come from the LTD stable.
At this year's NAMM show, guitar makers seemed to all be in the consensus that the 80s Hair Metal scene is well and truly back! We saw, from many manufacturers, a host of bright-finished, pointy-headstocked, Floyd Rose-equipped axes bearing all the style and attitude of the Sunset Strip. It's fun to have this style back, and since ESP were there at that time making such guitars, it's appropriate that they have created a range, too.
There are a few lovely re-issues here from ESP, all under the '1987' collective term. Today, we will check out the Eclipse, the Mirage and the M-1 Custom. Rrrrrrrawk!
LTD Eclipse '87
You all know what an ESP Eclipse is, right?
It's their sleek, edgy take on the classic single-cut, right?
Well, yes and no.
The Eclipse that you associate with artists like Metallica and Rammstein is indeed the company's version of this most beloved of classics (though in reality it's really quite different...), but this has been the case only since 1995. Yes, before then, ESP had a different Eclipse model, and it came straight from the hard-rocking late 80s!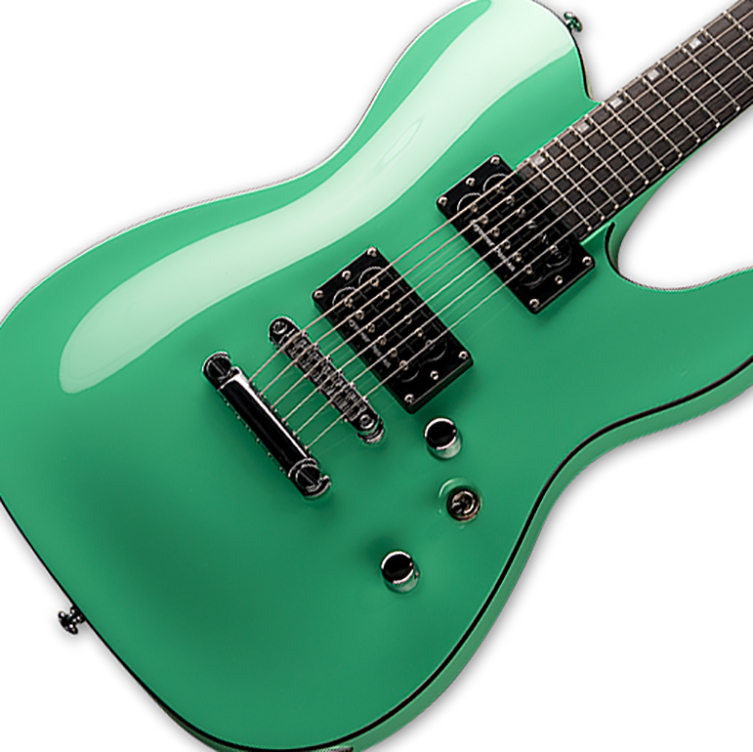 So, the shape is obviously T-inspired, but there's plenty of divergence. For one thing, the construction is neck-through (Maple neck and Mahogany body) which intrinsically changes the feel of the instrument, not to mention the sound! On top of that, the body itself has a carved, arched top with lots of delicious contouring.
The neck, which is topped off with a shred-tastic pointed headstock, has a thin U-shaped profile, a Gibson-style 24.75" scale length and a 24 fret Ebony fingerboard topped with XJ frets. Like all of today's guitars, the Eclipse '87 has a '1987' inlay on the 12th fret, just to make its reference absolutely clear! The fingerboard's radius is measured in mm, and at 350mm, works out as roughly 13.78 inches in the terms we are used to in Europe.

These specs all tell the tale of a high-performance instrument, and that's exactly what this Eclipse – and indeed the other LTD guitars today – all excel in. Pyrotechnical techniques and a priority for fast legato playing are things this guitar understands very well indeed.
High quality parts are the order of the day across the '87 range: we are talking Seymour Duncan pickups, 1000-series Floyd Rose bridges and Tonepros hard-tails for those who choose to decline the opportunity to indulge in a whammy frenzy. The '87 Eclipse has options for both, and is available in three colours, including Pearl White, Turquoise and Black. Is it just us, or is there something distinctly 'Sweet Child O' Mine video' about this guitar? Hmm...

LTD Mirage '87
Pretty much summing up the entire genre here is the LTD Mirage '87, a superstrat with exactly the right style and sound.
This model is trem only, but who would want this guitar to not carry a double locking Floyd Rose? The model on these '87 LTD's is a 1000-series Floyd. This means that it's genuine (not a licensed model) and is made in Korea rather than Germany ('original' Floyds are historically made by Schaller), so it's the real deal, just made overseas to bring the cost down. The body is recessed to, so you can make all of the wild, squealing up-bend animal noises that your heart desires!

The Mirage opts for a bolted on 25.5" scale neck, in true gunslinger fashion, and has 22 XJ frets and an Extra Thin U shape neck. This is clearly one for the speed freaks!
It's Seymour Duncan pickups again: this time we have a pretty full-on Duncan Distortion pickup in the bridge (with a coil split push/pull in the Tone pot) and a single coil sized Hot Rails humbucker in the neck position.
The LTD Mirage '87 is available in Pearl Pink and Turquoise. You don't get much more '80s' than that!

LTD M-1 Custom '87
Out last guitar today brings elements of the previous two together. Like the others, this is a reissue of circa 1987 ESP guitars, and this M-1 Custom is, in some circles, a bit of a classic.

So, you can tell it means business by the single bridge humbucker, Floyd whammy bar and pointed headstock. Like the Mirage, this is a Superstrat, but like the Eclipse, it has neck-through construction and 24 frets. For the M-1 Custom, ESP have retained the original spec of a 25.5" scale length, 350mm radius Ebony fingerboard with Extra Jumbo frets. The Floyd Rose tremolo is the same 1000 series model that we saw on the Mirage, though there is no recessing here: the bridge sits flush to the body with 'down only' functionality.

Pickup-wise, we have a passive Seymour Duncan Distortion (again seen on the Mirage), though this already-powerful pickup is aided and abetted here by the inclusion of an EMG PA-2 active boost circuit! Your solos will almost literally fireball their way out of the guitar with this thing! The boost is activated by a mini switch located near the volume knob.

The LTD M-1 Custom comes in three finishes: Black, Candy Apple Red and Dark Metallic Blue.
Final Thoughts
Each of these fantastic beasts harks back to the days when the guitarist was the real star of the band: when headbands were worn with cut-off denim and when bottles of whiskey and motorcycles were required for every photo shoot. These LTD guitars look, feel and sound very authentic indeed, delivering all the chugging rhythms and pyrotechnic leads that you could hope for. LTD's quality levels have never been less than stellar and they certainly don't drop the ball here.
If you yearn for a simpler, more fun time, these '87 era LTD guitars may just help you to travel there for a while.
Thanks for reading
Ray McClelland