A Closer Look: Fender American Performer Series
Published on 05 August 2020
Owning an American Fender guitar is a milestone for all guitarists.
We've all learned to play or guitars that are either copies of Fender designs or are Fender's own excellent Squier models. Strats, Teles and the rest are endemic parts of our guitar playing lifestyle and experience.
That means that, when it comes time to step up and own a California-made Fender guitar, it's a pretty big deal. You have plenty of options from Fender's large selection of different ranges. All of them offer variations on their most popular designs, and each range has it's own focus, allowing the company to offer a USA-made Fender model for pretty much every player out there.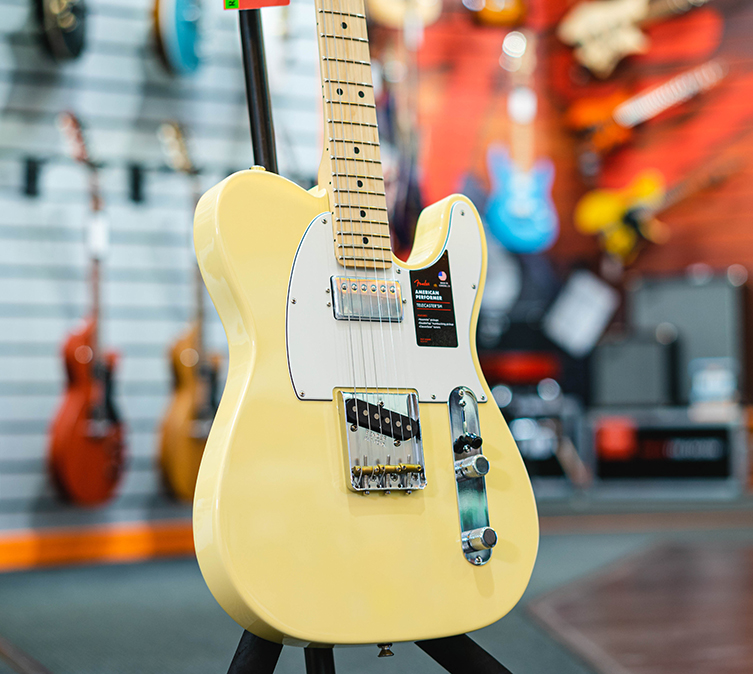 Today, we'd like to dive in and take a closer look at the relatively new American Performer Series. It's the most affordable all-American Fender range out there and so represents particularly good value. First off, we'll make a brief overview of the range at large, before picking out a couple of favourites.
The Range in Brief
So, Fender makes modern instruments like the Ultra Series, and vintage reissues under the American Original sub-brand. The American Performer Series, then, lies somewhere between these sensibilities, just as it sits in between the Mexican and American guitars in terms of price.
The Fender American Performer Series sits more in the vintage camp in terms of looks, with 70s-style logos and black pickguards on certain models. The finishes mainly harken back to classic-era Fender, though these are satin variants of Lake Placid Blue and Surf Green this time out. Spec-wise, the range favours several touches that are more contemporary in nature. For example, the necks all have 22 jumbo-sized frets and a 9.5" radius. This bears out the 'Performer' tag, since these specs favours the majority of modern players.

The American Performer range also sports a completely new set of pickups. For single coils, we have the new Yosemite units, which are individually calibrated for each different guitar in the range. Materials can differ from model to model, but all are designed to produce the clear, slightly compressed tone of a classic Fender single coil. These are neither generic nor contemporary: they are quite specifically vintage in character, in keeping with what most players actually want from a Fender guitar. The Strat Yosemite models, for example, make use of alnico IV magnets, and are not over-wound.
As for the humbuckers, these are Double Tap models, using proprietary new winding techniques to allow for more realistic coil-taping. Basically, a single coil is slightly higher in output than half of a humbucker, so coil tap (or split) circuits which half the power of a humbucker actually take away too much signal. The special construction of the Double Tap allows the power to be split in a far more convincing way, meaning that the single coil tones sound like single coil pickups and not split humbuckers!

American Performer Telecaster
It seems appropriate to give the Telecaster the first look, since it's Fender most enduring guitar model. In this series, you have the choice of the 'normal' Tele set up of two single coil pickups, or for a model with a humbucker at the neck. This was a popular mod in the past and has long been incorporated into Fender's own designs. The range of colours available will change depending on which specification you go for, and this is true of fingerboard woods, too. For example, the lovely Honeyburst option is available with the single coils Tele but not with the humbucker Tele, which has its own finish options.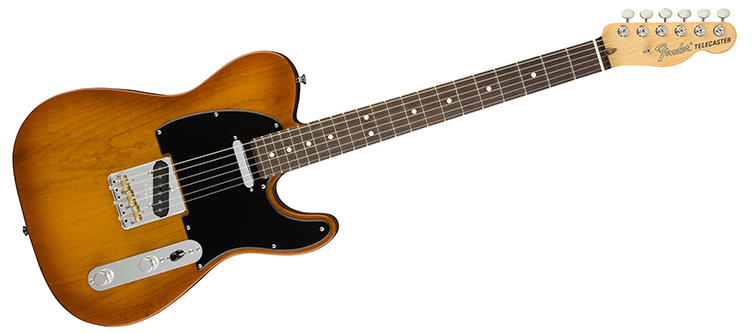 We love how Fender have gone for a black pickguard on the Honeyburst Tele, which allows it an individual look which still nods at the 'blonder' Blackguard Teles of the fifties. This option has a Rosewood fingerboard, and both styles of Tele have a vintage style bridge with three brass saddles. Tele fans prefer this option for both vintage authenticity and also the brightness and sustain that is added to the tone.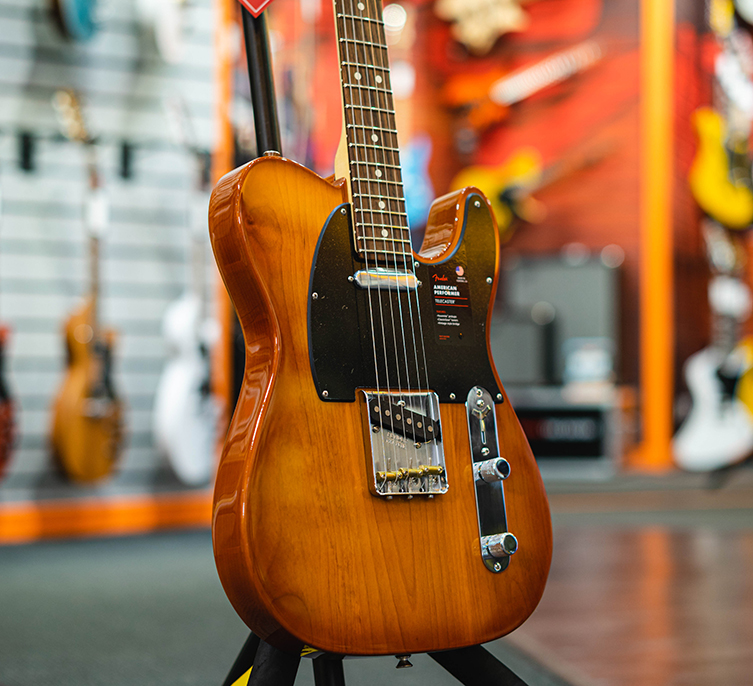 The humbucker model happily includes the new coil tap method we mentioned previously, allowing you to get more twang from the neck position when you need it! These American Performer Telecaster models are a perfect mix of vintage and modern.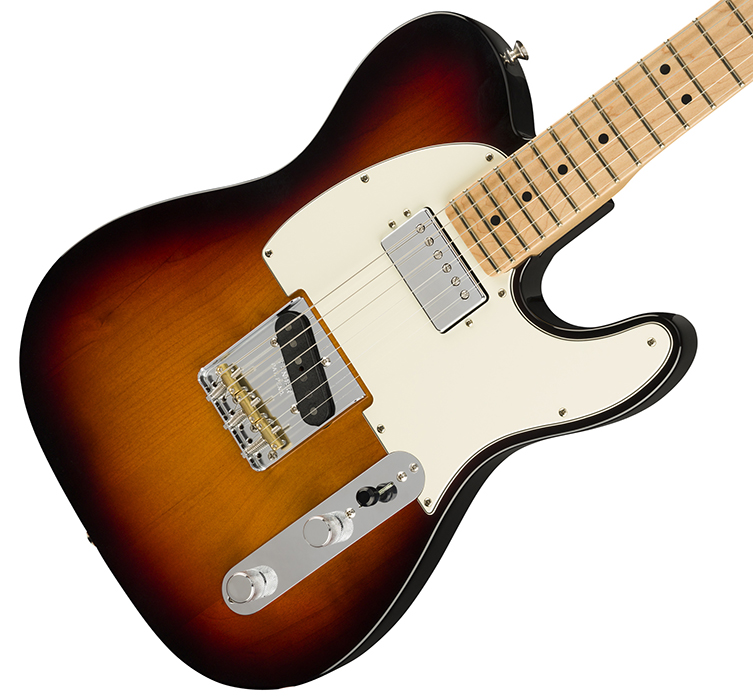 American Performer Stratocaster
Fender's most iconic instrument is available in two pickup variations here, too. We think Strat fans will really love the Yosemite pickups: they have all of the expected snap and clarity of vintage Strat pickups, along with that juicy natural compression that helps make notes really gel together.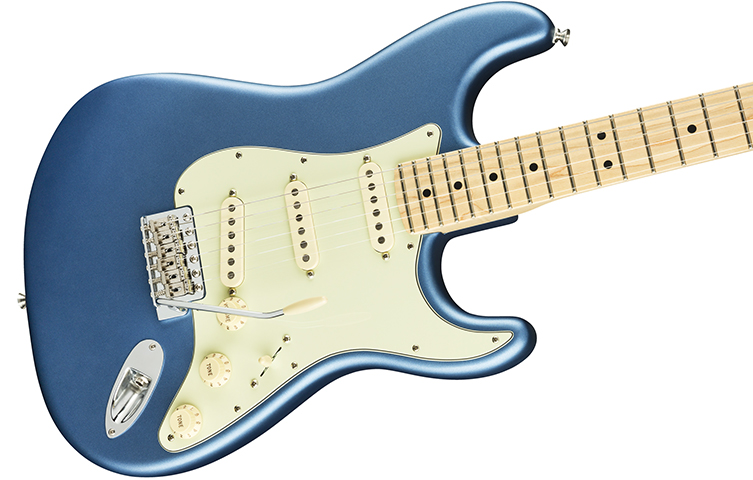 In its regular three single pickup iteration, the American Performer Strat has a cool feature built into one of the tone knobs. Simply pull it up and it'll engage the neck pickup alongside whichever pickup selection you've made via the 5-way selector blade. It's interesting to note how useful this extra body and girth can be for your sound!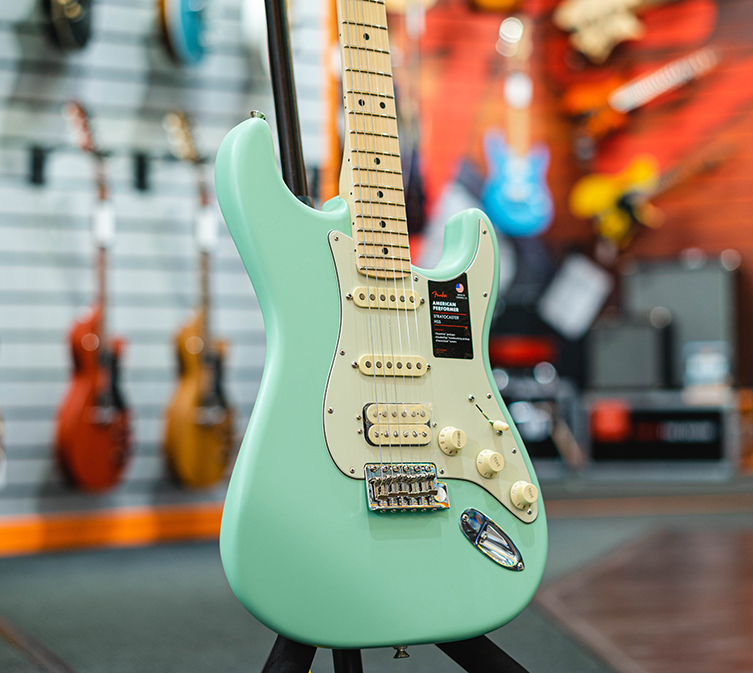 The humbucker-equipped HSS model comes equipped with a Double Tap pickup in the bridge. This can be tapped via a push pull Tone control, making this particular configuration one of the most versatile of all. From delicate cleans to Hard Rock gain, this Strat is ready to meet all challenges. Available in a range of finishes, we particularly love the Gilmour-referencing Black with a black pickguard and cream hardware! The Maple neck has a large 'CBS-style' headstock, lending this Stratocaster a touch on Indie cool to boot.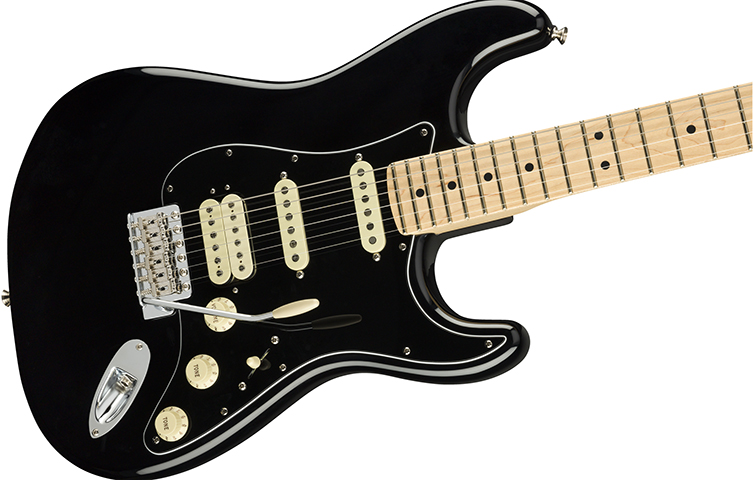 American Performer Jazzmaster
Nothing says 'counterculture like a Fender Jazzmaster. This American Performer model follows the original outline and features (Yosemite model versions of) the distinctive large pickups, but otherwise it's relatively separate from typical Jazzmaster models. The clearest changes are with the bridge and the circuits. Ever the idiosyncrasy, the Jazzmaster is noted for it's large tremolo baseplate and long arm. It's an unusual invention, certainly, but it's visual dominance over the instrument is significant. On this model, that bridge and tailpiece is entirely done away with in favour of a stratocaster-style vintage tremolo bridge. In terms of practicality, this is a win. Jazzmaster bridges are tempestuous, moody inventions, prone to tunings and intonation issues. A Strat bridge has it's own ups and downs (sorry) but it's a design that has probably been copied and used more than any other tremolo in the business. Most players know where they are with a Strat trem, and in terms of playability, it really opens the Jazzmaster up.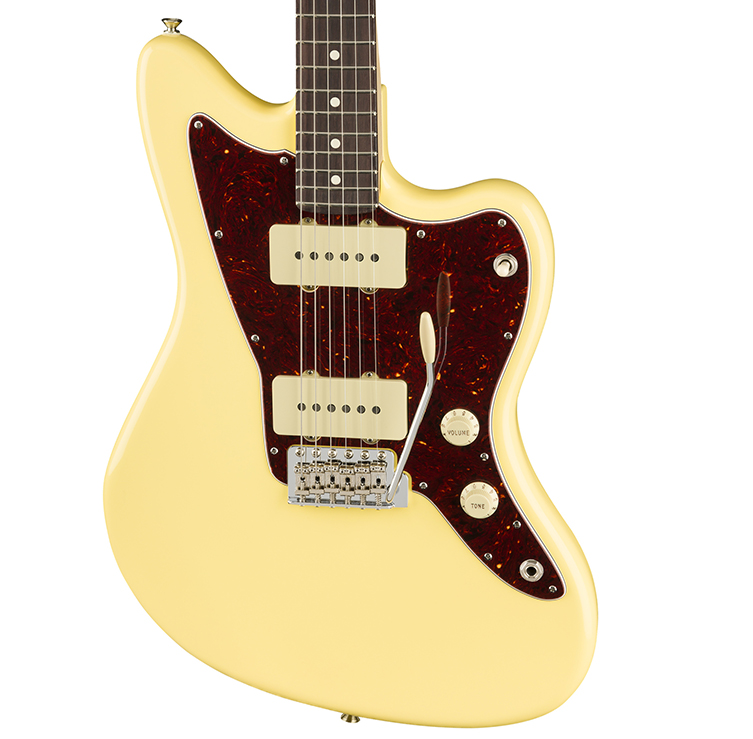 The circuitry of old has also been jettisoned in favour of a more streamlined, performance-friendly set of controls. Originally, the Jazzmaster boasted a dual circuit, with rhythm and lead designations. It was rather arcane, but results could be had if you took the time out to properly learn the labyrinthine ways of navigating each control. It was harder on the sister model, the Jaguar, which is notable by its exclusion from this range, but Jazzmaster owners often gaffer-taped their preferred settings and left the controls alone.
The American Performer Jazzmaster has a single circuit, with a master volume, master tone and a three-way selector. This makes sense, given the design brief of the range, given that these guitars are made for busy performers. We think this is a classy update of an old classic, and sits well within Fender's range at large. Again, some great finishes are available, including Vintage White.

Final Thoughts
These are just some of our favourite models in the range. There is also a Mustang guitar, a Mustang bass, a Jazz bass and a P-Bass, too, all available with similar specs and finishes.
Being able to buy a brand-new, American made Fender for under a grand (as most of these are) is well worth writing home about. The updates to the pickups and bridges, not to mention the more hands-on building, make these guitars well worth the extra spend over their Mexican-made counterparts. Fender are making some of their very best value instruments right now, so there is no 'wrong choice, but if you want to own a genuine American Fender, and play an instrument that has been designed specifically to meet the requirements of today's gigging player, then we think the Fender American Performer Series hits the bullseye better than Robin Hood. Check them out as soon as you can!