Beginners: PreSonus Recording Bundles (Updated for March 2021)
Published on 12 October 2020
One of the most exciting things about playing an instrument is writing and recording your own music. The feeling of making what's in your head a reality is one of the most rewarding aspects of your musical journey. Got a tasty riff you want to record? Awesome acoustic melodies? Soaring vocals? Well, let's hear them!
Today, we are looking at handy and convenient recording packages from PreSonus. PreSonus are among the most highly regarded brands when it comes to recording and live sound solutions, and here at guitarguitar, we are huge fans! The recording bundles we will take a closer look at today are ideal if you're looking to set up your own studio at home. PreSonus will see you through from being a recording newbie to seasoned pro!
Sound good? Okay, let's have a look...
Presonus Audio USB 96 Studio 25th Anniversary Bundle
One of the best feelings in the world is when you're super vibed up to record some tunes and everything is set up and ready to go. You have all your gear ready and everything is running and talking to each other. Delightful. That's exactly what to expect with PreSonus!
The world of audio recording doesn't have to be mind-bloggling, nor do you need a degree in Rocket Science to figure out how to use recording equipment. The Audiobox USB 96 Studio Anniversary bundle will set you up with everything you need in one easy, no-messing bundle. It's a super handy and convenient way to create a recording set up at home. Whether you've got an at-home studio or you've hijacked your dining room table, the awesome USB 96 Studio package can really be set up anywhere to record your tracks - ready when inspiration hits.
The package comes with an AudioBox USB 96 interface, which is extremely versatile and fuss-free; simply, plug in, play and record! There's also no need to worry about forking out the cash for a DAW either. The package comes with the award-winning Studio One recording and production software, which provides you with an easy-to-use platform with all the features you'll need to get started on making some sweet, sweet tunes. This intuitive DAW has quickly become one of our favourite pieces of studio software and we're not the only ones. Building a loyal following of producers all over the world, Studio One is the real deal and a must-try for anyone serious about recording. Check out the video below to dive in and see what Studio One has to offer.
Prefer to use a different DAW? No worries! PreSonus Interfaces are compatible with any DAW, not just Studio One.
The recording bundle comes complete with an M7 large-diaphragm condenser microphone (with stand) and HD7 professional headphones, and the package is Mac, PC, and even iPad friendly. What more could you want?
This bundle is a real gem and a great way to see you off on your adventure into the recording world. No other entry-level recording software is as easy to learn or use, yet is capable of producing high-quality output. Win, win! You'll have it mastered in no time, trust us! We'd recommend this convenient bundle to anyone who's looking for a cost-effective way to turn their ideas into studio-quality recordings.
Audiobox 96 Studio Ultimate 25th Anniversary Edition
Get ready to take your ideas to the next level and record like a pro! PreSonus are celebrating their 25th Anniversary with the awesome 96 Studio Ultimate bundle that has everything you need to set up, record, and produce at home, with some added extra features and upgrades. Let's take a look at what is featured in this bundle.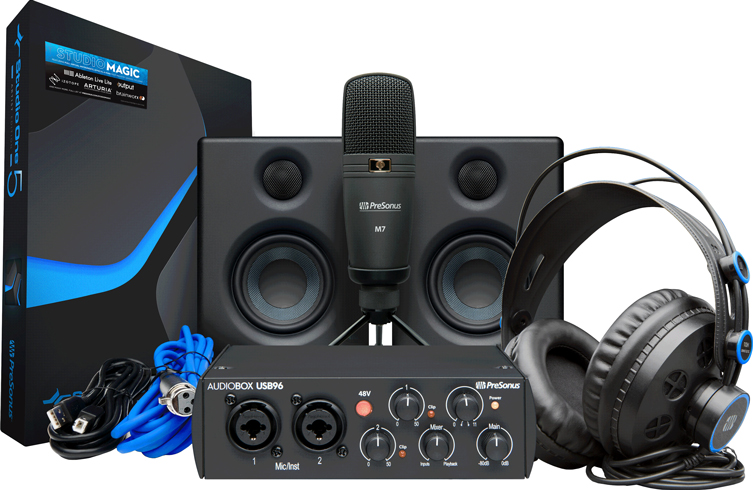 The AudioBox USB 96 is the heart of the Ultimate Bundle and has all the features you need for capturing recordings, including two combo mic/instrument inputs and zero-latency monitoring, so you can simply plug in and start recording right away! It's bus-powered, built to travel, and compatible with most recording software.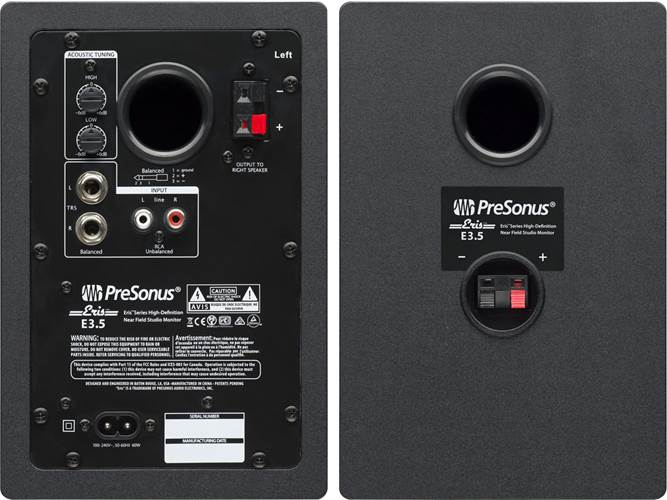 Also, with the added extra bonus of PreSonus® Eris-series studio monitors, you'll be able to hear every little detail of your recording crystal clear. Eris E3.5 studio monitors are used worldwide by audio engineers who need to hear every detail of their recordings and offer consistent, accurate listening. The studio monitors themselves are compact, so they are small enough to fit almost anywhere in your at-home studio... or in your make-shift kitchen studio. Woohoo!
This package comes complete with Studio One Artist, M7 large-diaphragm condenser mic, HD7 professional headphones, a desktop tripod mic stand, and cables.
Final thoughts
The world really is your oyster when it comes to recording, and with the PreSonus recording bundles, you'll be able to set up and record studio-quality tracks with ease. Capturing your ideas and turning them into recording shouldn't feel daunting - it should be an enjoyable experience and a fun milestone in your guitar playing journey. With PreSonus Recording Packages, it really couldn't be any easier to plug in and play.