Just Announced: BRAND NEW Fender American Professional II Series!
Published on 13 October 2020
They're here...
This is the new standard in American guitar building: Fender's BRAND NEW American Professional II Series.
Classic without being retro.
Contemporary without losing heritage.
These are guitars for players of today who want a quality, American-built instrument from the most famous of all guitar makers. There's nothing like owning a real American Fender and this brand-new series is pretty spectacular.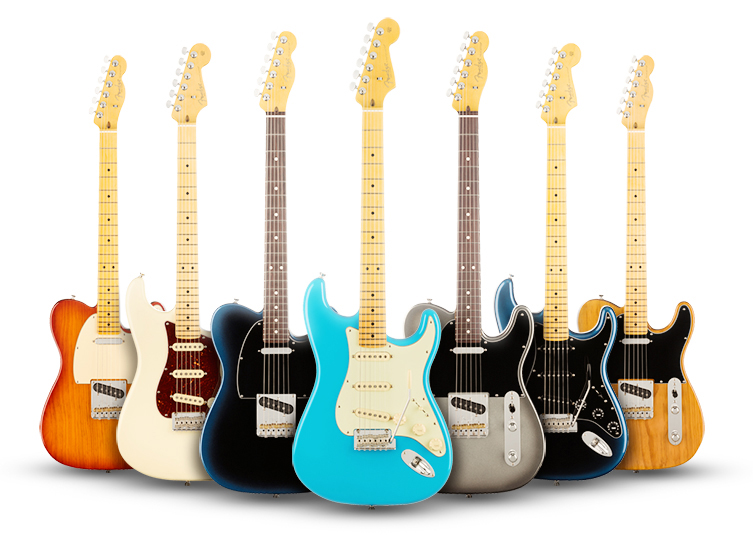 Every element of the American Professional II Series has been carefully considered, blended and refined by Fender's craftspeople in California. These instruments successfully negotiate that delicate tightrope that lies between traditional style and up-to-the-minute performance.
New Features
We are really excited by this new range! Fender has really delivered here, bringing us one of the best guitar ranges we've ever seen! We think fans of 'traditional Fender' will be won over as much as players who want some modern touches in there, too.
Generally speaking, the range shares much of the same specs in terms of neck dimensions and pickups etc. Briefly, the new features include freshly designed V-Mod II pickups across the board, a Deep-C neck carve with rolled edges and a host of new finishes. Some models have Pine bodies, others have improved bridges or tremolos. Upgraded circuitry featuring treble bleeds and coil taps (depending on model) abound also.
There's more to report within the realms of each individual instrument, of course! We'll look more specifically at the new details in forthcoming blog articles, so for today, let's take in the range at large and marvel at these exciting new instruments!
The Range
So, you'll be able to guess at some of the models included here, since Fender make 3 or 4 of the most famous guitar and bass designs in history! First up, this quite gorgeous Stratocaster:
The other one that instantly grabbed our attention was this particular Telecaster...
These videos hopefully illustrate the diverse, rich tones available with the new V-Mod II pickups! More on these soon, as we delve deeper into each model in the near future.
Now, in addition to the expected Strats, Teles and P-Basses, there are some inspired further selections in the range too, which perhaps are more reflective of recent trends in player choices. The Jazzmaster for example, is here in full force, with it's famous lead-rhythm circuitry included! The Jazzmaster has become one of Fender's most popular guitars in the last decade, and is now seen as a legitimate alternative to a Strat or Tele.

We just saw a clip of the new American Professional II Stratocaster in it's classic three-single-coil configuration, being ably put through it's paces by Keiran. In addition to that classic model, the Strat also comes in an HSS configuration, which you can see right here...
More on these superb finishes a bit later...
The Telecaster is joined by a Deluxe model, for similar reasons to the inclusion of the Jazzmaster. A whole new generation of players see the double-humbuckered Tele Deluxe as a 'standard' choice, not a 70s reissue, and so Fender are happy to comply. We're happy too, because it's an ace guitar!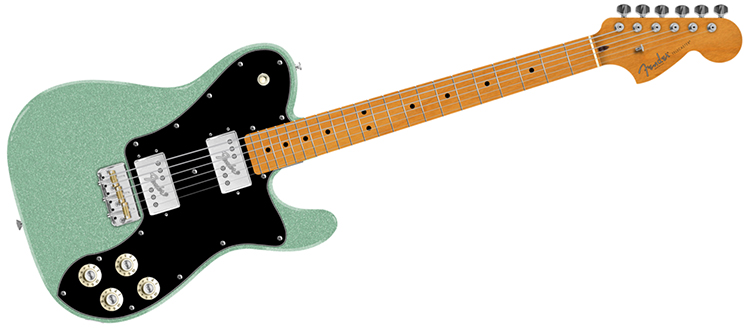 On the low-end spectrum, our bass playing bass are well-served, too! Check it out: Fender have included the Precision bass in 4 and 5-string versions, and the Jazz bass in 4-string, 5-string and fretless editions! Yes indeed! Nice move, Fender!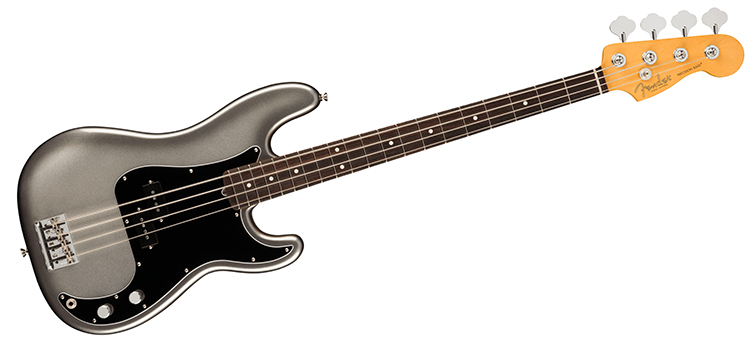 We think that's a pretty fantastic choice of bass models, and each is similarly spec'd in terms of relative hardware, depending again on each design. Choose your preferred style, number of strings and finish, then enjoy the benefits of the Deep 'C' neck with rolled fingebroard edges, newly designed V-Mod II pickups and much more.
These new Fenders are a careful balance of the styles we all love and the performance that we all need.
Finishes
Ah, the finishes!
We expect your eye has scanned across the screen already and taken in some of these lovely finishes, so there's not too much more to say except 'wow'!

That gorgeous new blue you've seen on the American Pro II Strat and P-Bass is Miami Blue, and it looks like a lost classic from the fifties! It's a stunning new colour, as is the new metallic - and very 'fender' – Mystical Surf Green. Have a gander at these handsome basses!

Our two favourite finishes, so far at least, are Mercury and Dark Night. You've already seen them in the videos above, but indulge us! Mercury is a kind of silver burst finish, with an uncanny sheen that would make the Terminator proud. How awesome is that American Professional II Telecaster, below?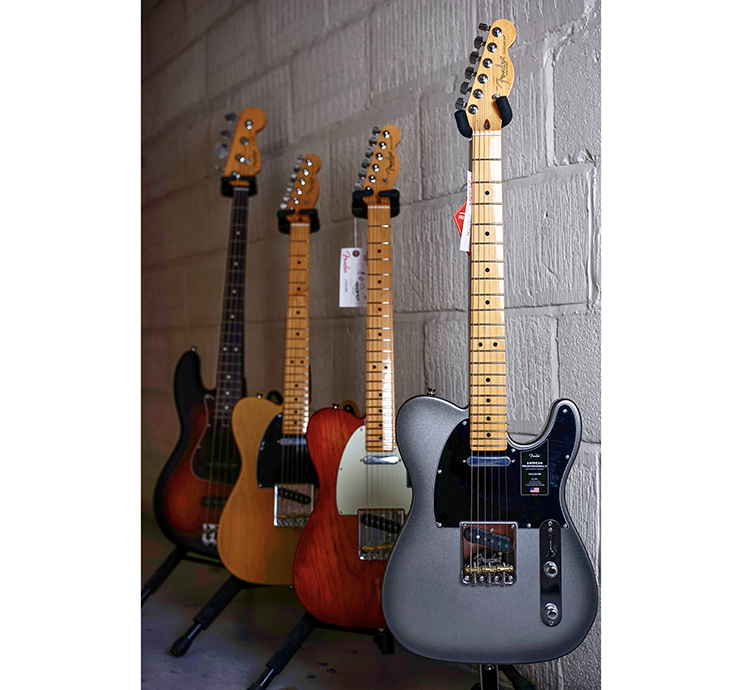 Dark Night, on the other hand, is like some sort of 80s electric dream: a dramatic burst that is mainly black but segues out into a gorgeous metallic blue. We saw this on the American Pro II Telecaster and just knew it was going to turn into a modern classic!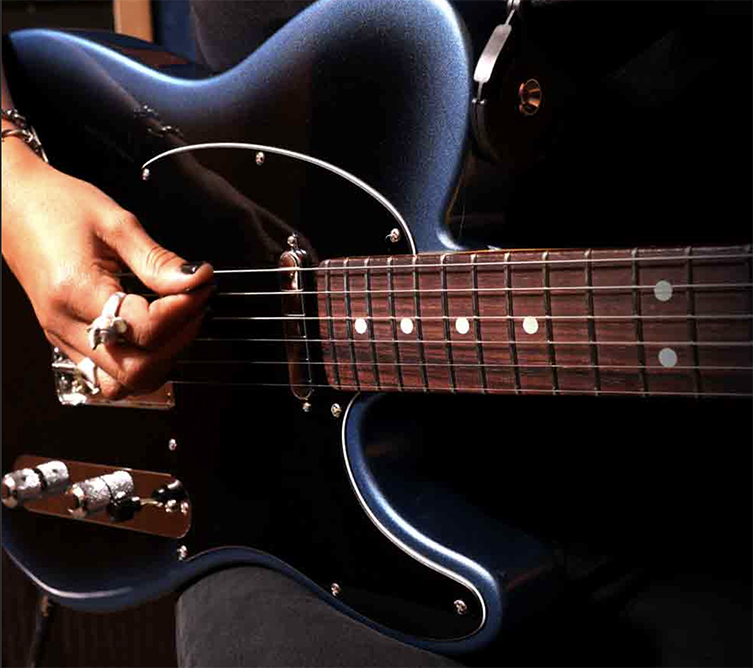 Here's a back view, because we simply can't contain ourselves! Look at that glow!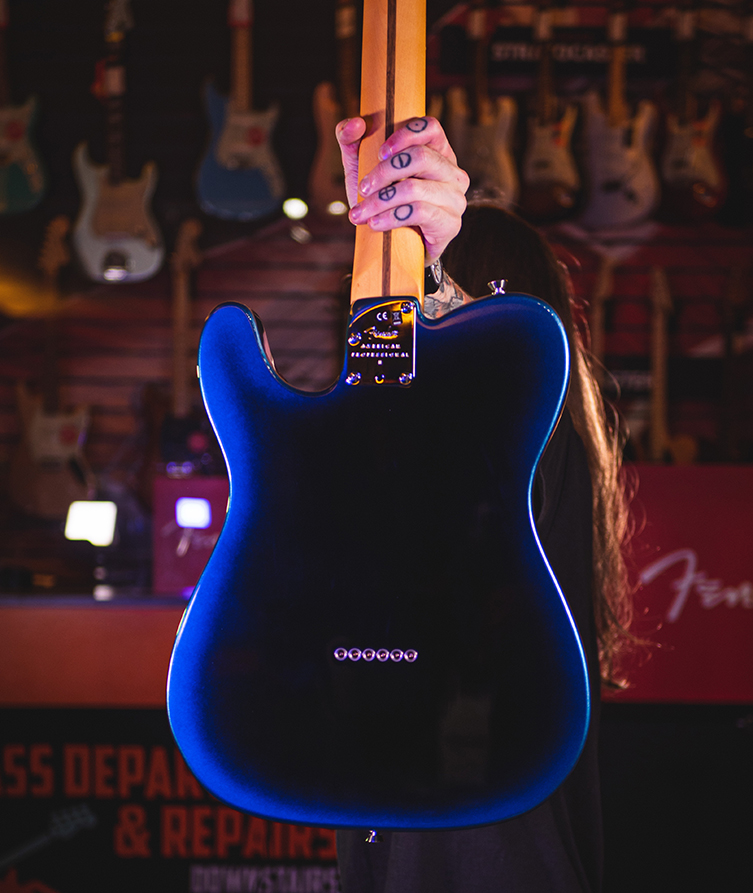 Spectacular! As usual with Fender, not all finishes are shared on every model, so do make sure you check out the options for whichever guitar or bass from the range you have your eye on! The Natural finish, usually used with Ash bodies, now proudly shows off a glorious Roasted Pine body! Pine is an original fifties choice for Fender bodies, and the roasting process (otherwise known as torrefaction) dries out the body, making it lighter and tougher. And more gorgeous! You get Pine with translucent finishes, and Alder with solid and metallic colours. Choices!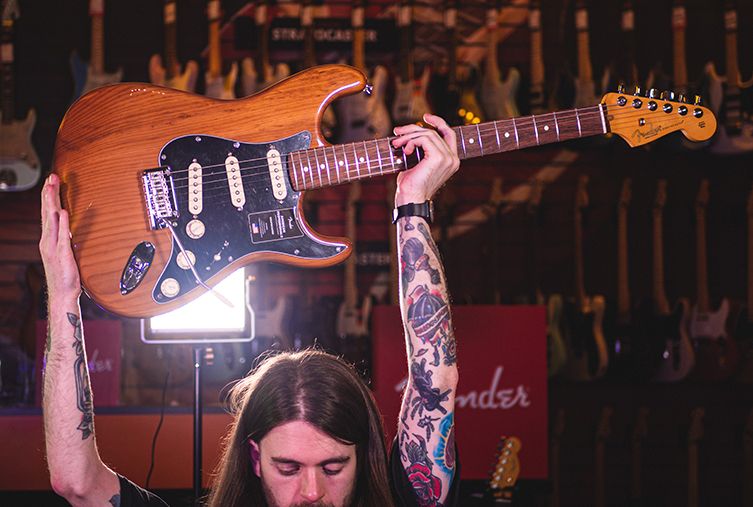 A New Standard of Excellence
American Fenders have always been the instruments to set the bar for quality and performance. That bar just got significantly raised. These new Fenders are pitched perfectly for today's guitarist. They are neither off-puttingly futuristic nor anachronistically old-fashioned; they are a careful balance of the styles we all love and the performance that we all need. Armed with one of these new Fender American Professional II Series instruments, you'll be able to play anything.