A Closer Look: BRAND NEW Epiphone 'Inspired by Gibson' Acoustic Guitars!
Published on 17 November 2020
Acoustic guitars with all-solid wood construction: that's the goal.
We all know it! Acoustics built with a solid top and solid back 'n' sides just resonate better. They sing out louder, clearer and 'season' just like fine wines.
A solid top is a must for tone, but all-solid is where it's really at.
Trouble is, all-solid is generally accompanied by a steep price ticket. Generally.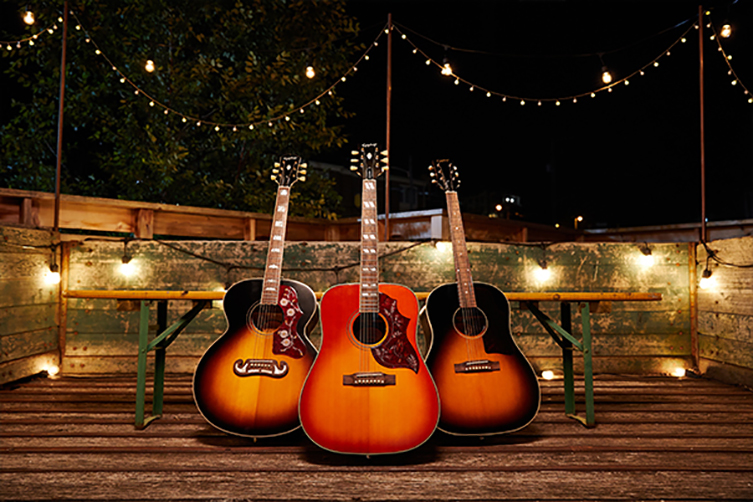 Now, if you wanted that all-solid timber acoustic guitar to also bear the stylistic hallmarks of some of the most beloved acoustics of all time – like, say, the Gibson Hummingbird or J-200 – then we are talking top dollar.
Well, we were talking top dollar...until now!
Yes, friends, Epiphone have performed an acoustic guitar equivalent of a slam dunk with their brand new 'Inspired by Gibson' range! What are we talking about? We are talking about authentically styled, ALL-SOLID acoustic guitars, made under the prized Epiphone banner, of favourites like the aforementioned Hummingbird, J-200 and also the J-45! These are Gibson's best-loved acoustic models and Epiphone have never before offered them as entirely solid-timber guitars! Rejoice!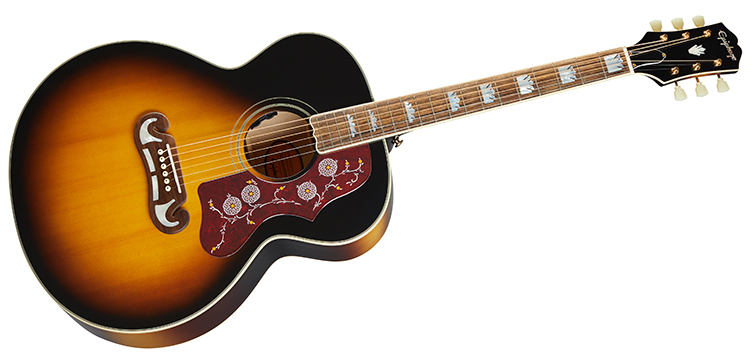 The Solid Wood Difference
Solid timbers make acoustic guitars sound better. But how? Well, it's really down to vibration. Solid timbers have a consistent level of grain and wood density when compared with laminated wood. Laminated wood is as much glue as wood, and even then, the 'wood' can by more plywood than that of a tree! Proper wood resonates well and carries tone and volume excellently, so using it to fashion a guitar's body means that the tension and vibration from a plucked string is brought through the wood by vibrations and into the open space of the soundhole, where it's projected out. This is also why different types of wood have an influence on the resulting tone of the guitar. Laminated wood just doesn't do this anything like as effectively.
The guitar's top is where most of the energy created from a plucked string resides, so that's the most important part to have as solid wood. This is why many guitars feature a 'solid top'. Better still is when the whole body resonates with solid wood, transmitting that energy more effectively and with more tone and volume. It's just better all round! You'll get more of your fundamental note, more harmonic overtones, more richness and more flavour of sound when the entire instrument is buzzing with vibration.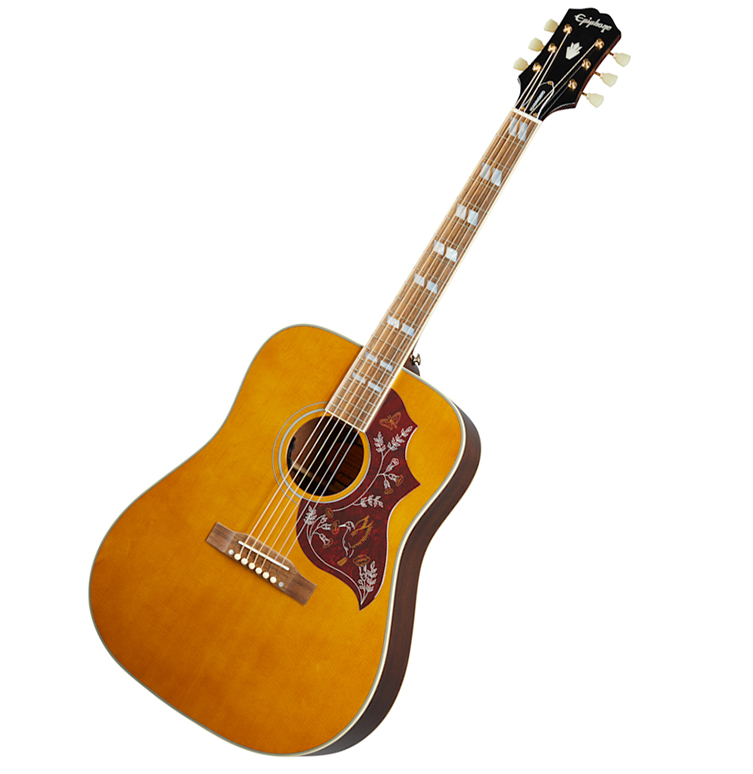 Not only that, the timbers will 'season' as they age. The more a guitar is played, the more the woods will resonate and begin the seasoning process. This is because, over time, the moisture levels of the wood will dry out, making the timber lighter and more resonant, but without changing the wood's stiffness. A more effective and efficiently vibration-friendly instrument is the result! In a few years' time, a well played-in all-solid acoustic will sound vastly superior to when it was first purchased. That's a great feature to bear in mind as you pick your next acoustic guitar!
This whole new 'Inspired by Gibson' range features all-solid wood entirely.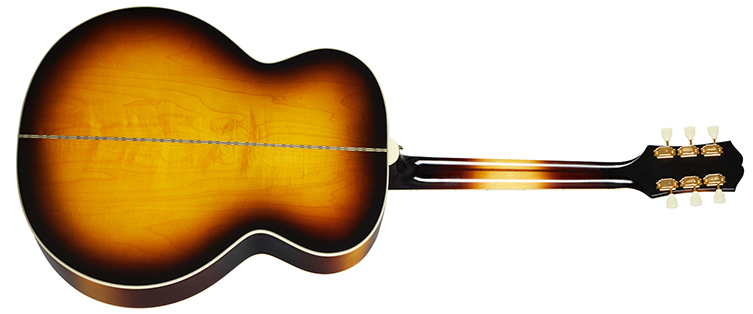 Vintage Models Recreated
Epiphone, as part of the Gibson family of brands, has full licence to produce authorised versions of classic Gibson guitar designs. Thus, you'll see beautiful iterations of the J-45, Hummingbird and J-200 here, as authentic as they can be without a Gibson logo on the headstock! These Epiphones take their shared heritage seriously, with exacting outlines and detailing on each model matching up to their famous inspiration.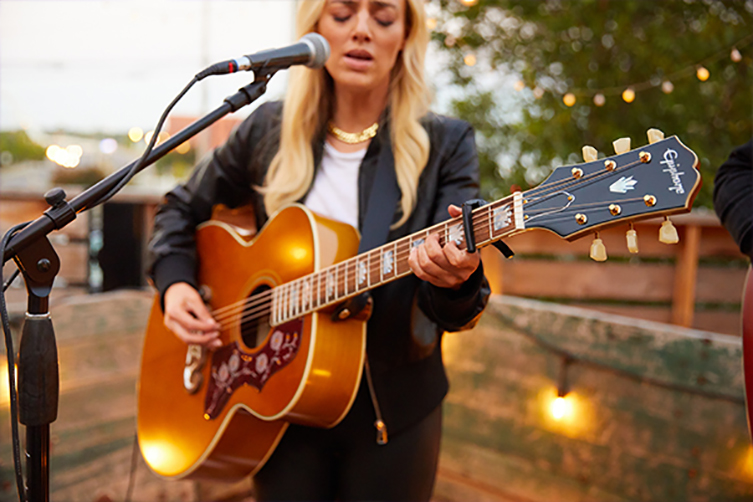 The Hummingbird is available as a wonderful 12-string model as well as a standard 6 string.
You'll see the famous Hummingbird pickguard, the requisite multi-ply binding and the correct Aged Cherry Sunburst or Aged Antique Natural finishes (Sunburst only for the 12-string). The Hummingbird models are built using solid mahogany for the back and sides and solid Sitka spruce for the top.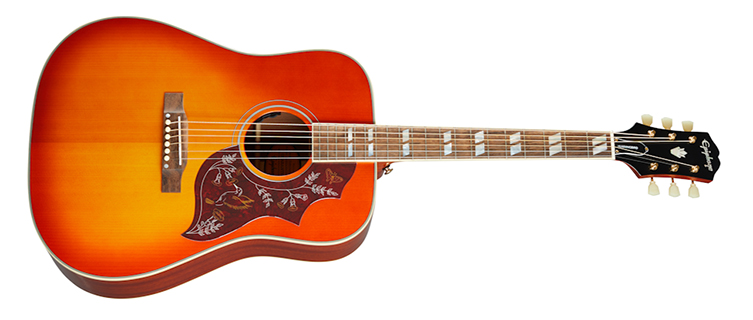 The J-200's 'moustache' bridge, decorative pickguard and multi-bound body is present and beautifully correct, as are the Mother of Pearl 'Graduated Crown' inlays, making the Epiphone Inspired by Gibson J-200 a real belle of the ball! Notably, the use of solid figured maple for the back and sides is also retained here, which is an impressive factor we hadn't banked on seeing! Solid Sitka spruce comprises the top and all of that bright maple goes some way to balancing out the boom of the Super Jumbo - sized body. This thing positively shakes with projection and sounds wonderful doing it!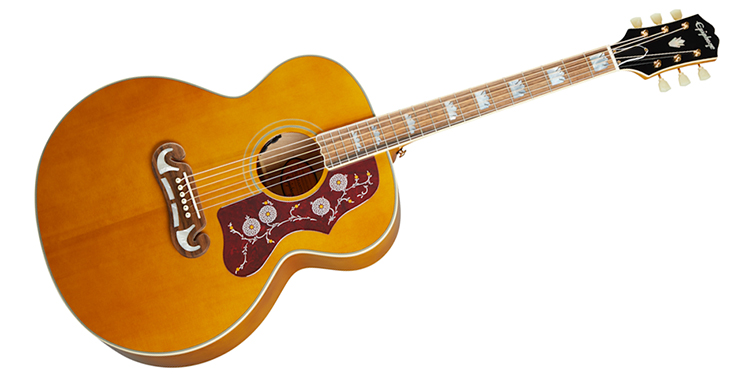 Lastly, the J-45 models keep things as relatively toned-back as the Gibson models do, whilst keeping their inimitably understated style intact. As with the Hummingbird, it's Spruce and Mahogany for the construction here, and the J-45 is available – whether with or without the cutaway – in Aged Vintage Sunburst. If there's only going to be one choice of finish for this guitar, it has to be this one, right?

Additionally, the finishes all have a special 'antique' tint to them, making them look 'older and wiser' than previous Epiphone acoustics! This collection of guitars is absolutely stunning.
Traditional Construction
That attention to tradition applies to the build ethic, too. These instruments not only have all-solid wood construction, they are also made with hand-shaped scalloped inner bracing for authentic tone and a dovetail neck join, just as their namesakes are. These details are important to fans of the acoustic guitar, and Epiphone are wise to understand this.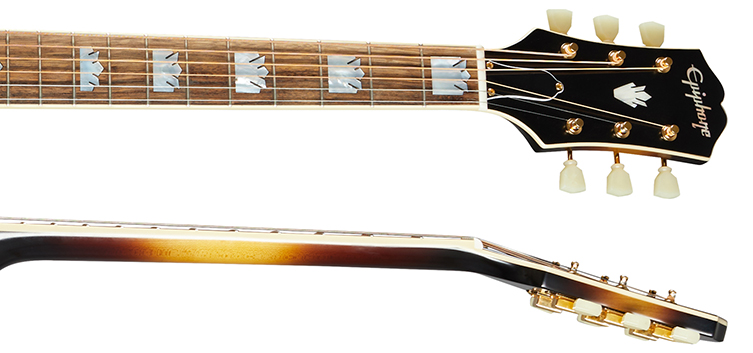 Rounded C-shaped necks bring that easy playing feel, and the headstock bears Epiphone's new 'Kalamazoo' shape. We think this is a real improvement over the previous design and really ties the look of each model together convincingly.
Finally, in terms of traditional detailing, each guitar has a bone nut, bone saddle and period-correct tuners!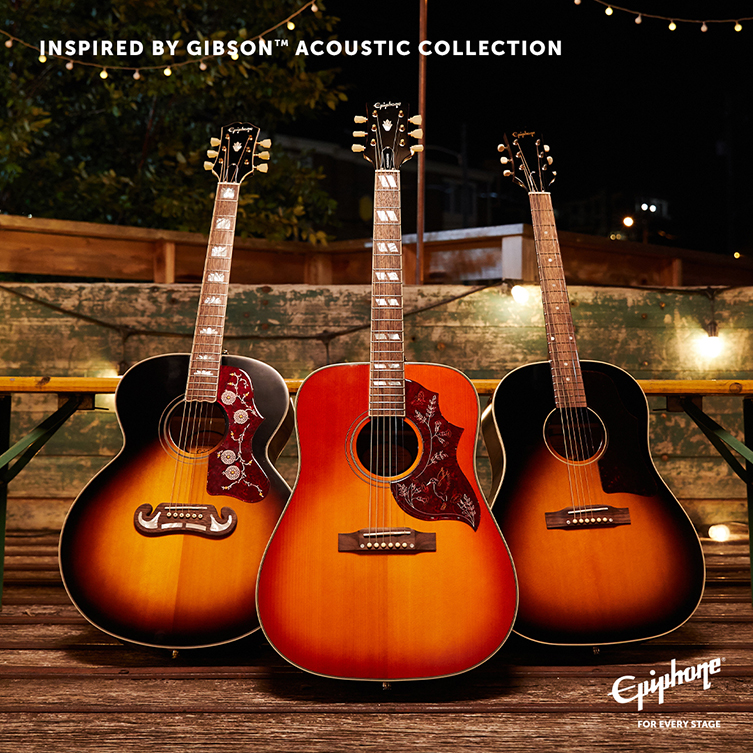 Fishman Built In
Understanding that such obviously beautiful guitars require to be seen on stages, Epiphone have thankfully chosen to fit each of these instruments with a Fishman Sonitone pickup system. Simple, discreet and exceedingly effective, the Sonitone allows you to plug in and play to a large audience quickly and easily. Fishman are, as we're sure you'll already know, one of the biggest names in the pickup business, so it's a match made in heaven as far as we are concerned!

Final Thoughts
You'll see by clicking through to each guitar that the attached prices are pretty amazing for what are high quality, all-solid acoustic guitars from a top manufacturer. We expect these to almost literally fly out of our stores, such is the attractiveness of the proposition!
We'd agree that these are not 'the same' as USA-made Gibson acoustics, but they were never intended to be that. These are fantastic, professional sounding instruments that carry much of that wonderful - and much-desired - Gibson heritage into the homes and stages of guitarists who otherwise cannot stretch to the considerable prices of the American guitars. They play superbly, look like a million bucks and sound beautiful. These Epiphone 'Inspired By' Gibson acoustics can be your songwriting companions, inspiring you for many years and continuing to sound better and better as the years go by. Check them out as soon as you can, you'll not be disappointed.