A Closer Look: Shure MV7 Podcasting Mic
Published on 11 November 2020
Say hello to the Shure MV7, your new buddy for all your podcast audio recording needs.
Shure are one of the biggest names in the game. Known for their pioneering audio technology, reliability and high-quality products, the brand has made their stamp on the recording world and are a holy grail for many professionals in the industry. Their highly regarded condenser and dynamic microphones can be seen used in recording studios, on stages and in television and film. And of course, we know you like them too!
Let us introduce to you the Shure MV7 dynamic microphone. Taking inspiration from its sibling, the legendary SM7B which has been a staple microphone for many, the MV7 is the new kid on the block and your new go-to mic for achieving professional audio recordings in the comfort of your own home for ventures such as podcasting, gaming and live streaming.
What's so special about this microphone you ask? Well, the answer is, lots of things! Let's dive in and take a closer look at this new arrival.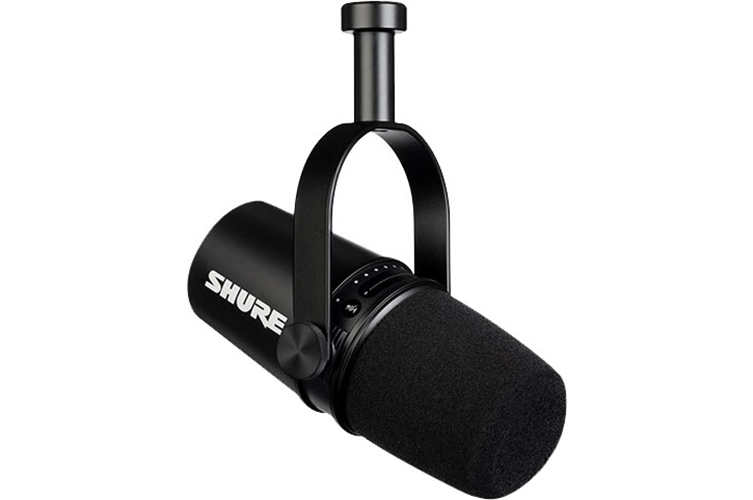 Voice Isolation Technology
Not everyone has access to a fancy, sound-treated studio to record in and quite frankly you don't need to. The SM7B has been specially designed to give you "perfect recording in imperfect rooms".
Just like the next person, we love listening to podcasts and watching live streams. However, one thing that takes a podcast or stream to the next level is sound quality. No one wants to listen to poor quality audio with clipping, echoing and just general excess background noise.
With built-in voice isolation technology, your voice is brought to the forefront of the recording, making you loud and clear, cutting out any unwanted background noise or room noise. The MV7 has the ability to capture crystal clear audio in less-than-ideal environments. There will be no refrigerator hum here or swooshing of cars going past, no sir! The mic is laser-focused on your voice to give you a super professional recording. And the result? Happy listeners!
App Control
What we also love about this mic is that you can connect via USB or XLR, either via your computer or interface.
When connected via USB, you can hook it up to the free ShurePlus Motiv app which gives you tonnes of additional features. The Auto Level Mode is fantastic - it adjusts your level in real-time and keeps your sound consistent while recording meaning you can spend more time creating and less time editing. Winning!
You can also select Manual Mode to have full control over your sound to adjust gain, monitor mix, EQ and more. Always wanted that classic "radio voice" sound? Using the ShurePlus MOTIV app, you can also choose your sound and pick your voice tone from 'dark', 'natural', or bright to alter your voice for easy listening.
And of course, just like every Shure microphone, the MV7 is built like an absolute tank with a full metal body and metal microphone mount.
Final Thoughts
There you have it, folks. The new Shure MV7 dynamic microphone, perfect for all your podcasting, gaming and live streaming needs and suitable to use in the comfort of your own home.