Outstanding Practice Amplifiers
Published on 01 December 2020
Home is where the practice is, and with that, we're going to take a look at the best practice amps for you to try out at home!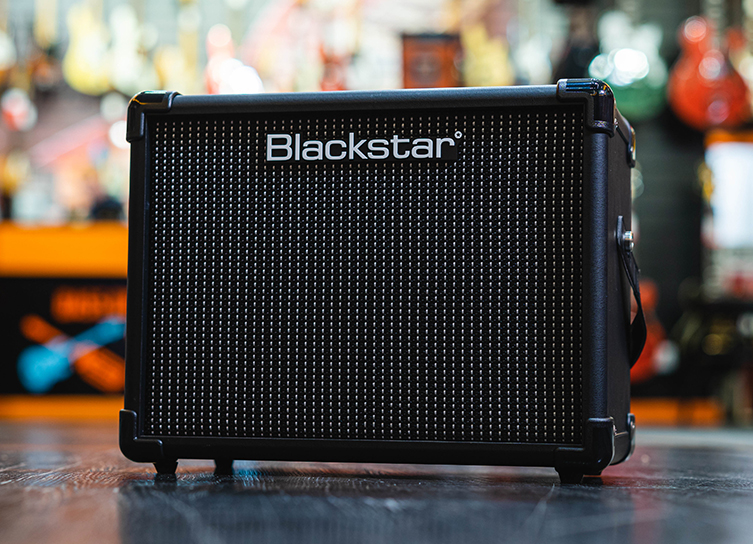 Practice Amps – The Significant Factor
None of us really talk enough about how important it is to get a good sound at home. We like to think big, about the rehearsal room and the gig, when we're playing live in front of an audience. This is when we want to sound our best, sure, but think about how often that actually is, compared to the amount of time you spend playing at home?
Home is where you do your writing, your practising, your playing for fun and probably also your recording. It's important to get the right gear to make this area of life as fun and rewarding as possible.
Computer software amp modelling for guitars is immense these days, but let's be honest with each other: waiting to boot up your laptop and then load some software, to then control it all with clicks of a trackpad, can really kill your vibe. Software is fantastic for when you're going in to record your songs, but for everyday use, all that faffing about and waiting around could put you off bothering to play at all!
That is the exact opposite of our goal here! Us guitar players need to be playing now more than ever, and a great little house amp can make all the difference. Guitar playing is a creative release, a fun, satisfying pursuit and a wonderful means of expression.
Restore the Fun
Just like how a good blast of rock music is like medicine for the soul, playing a good satisfying session on your electric guitar can really lower your stress levels, elevate your sense of fun and help alleviate the mental strains of this current pandemic existence. Crunching out a few righteous power chords can sort out all of the world's problems, at least for a while. There's nothing like the feeling of having fun playing the guitar.
In addition to that, nothing is quite the same as just plugging into an amplifier and going for it. Not a smartphone, not an interface, and not anything else: we are talking about a little box with one job to do: bringing you great tones at low volumes. In these technocratic times, it's almost a retro move to go for an amp, but believe us when we say that nothing else is as immediately satisfying.
To beginner players reading this article, we'd say that it's very important to cultivate your technique and tone through a dedicated guitar amplifier, be that analogue or digital, be it simple or full of features and flashing lights. Amps make a big difference, and we know this through experience. Learning to dial in tones is something all guitar players need to know, and more importantly, to understand! Presets on phone apps are fine in a pinch, but is that really how you want to live your life? Come on now!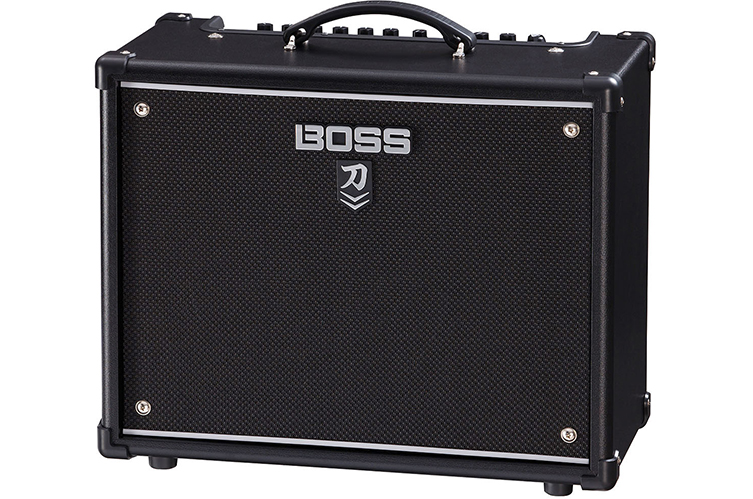 So, with that in mind, we've collected together a small rundown of guitar amps that are priced from a very reasonable £219 right down to the flabbergastingly cost-effective £59! If you are thinking of buying an amp to play through at home, have yourself a good read at this blog and check out what we think will work really well for you.
Kinsman KGX15R
This potent lil' box of rock is aimed squarely at the beginner who wants a simple, effective and extremely affordable option for a home amp. The Kinsman KGX15R is straightforward indeed, with a simple control panel that will take less than a minute to understand. Still, there is a switchable Overdrive in order to bring the Rock, and a dedicated reverb control to add atmosphere and dimension to your playing.
15 watts is more than enough power for bringing the house down, so there's a headphone input there too for those times when your lovely neighbours really aren't up for hearing Enter Sandman at 3am. We know, we know. Some people are strange and just don't get it.
Seriously though, there's plenty of volume on this little beast, and it's bang-for-buck properties make the Kinsman score big.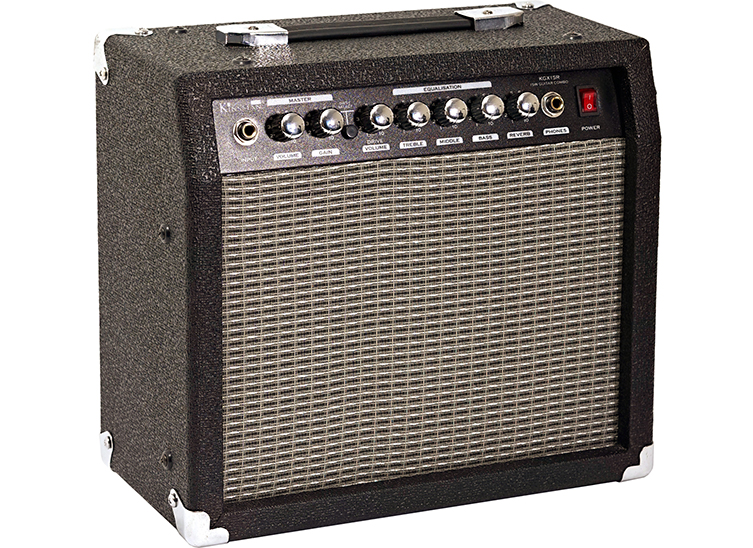 Blackstar ID Core 10 V2
This box has ended up on the radar of many players of all abilities, for the simple reason that it sounds ace! For the past decade, Blackstar have dominated this region of the amplifier market with their ID Core series, and from a few short minutes' playing around with this one, it's not hard to understand why.
Blackstar have packed a lot into this small and affordable package, without it seeming to be too much to learn. The top panel is straightforward, and the tones are easy to get at. We're off to a good start!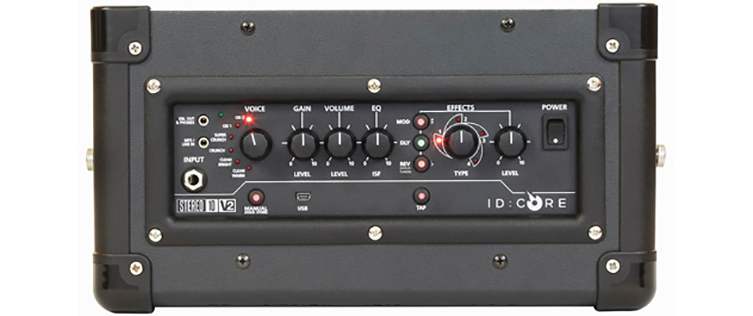 The ID Core 10 V2 is a little ten-watt combo, and interestingly, it has two 5w speakers, making for some cool stereo sounds! There are 6 overall amp voices which will take you from pristine clean, through a selection of ever-crunchier tones, to finish up on some really rather filthy overdrive tones. Add some FX easily via an intuitive knob (there's 12 FX in total including chorus, delay etc, unlockable by simply turning the one knob) and you're in for all manner of fun times. The great thing here is that it's really quite hard to dial in a bad tone! For the beginner, this is really encouraging, and for the experienced player, it aids workflow. The clean tones have depth and dimension (especially if you add a little special sauce with the FX) and the distorted tones sound impressively large, considering the source!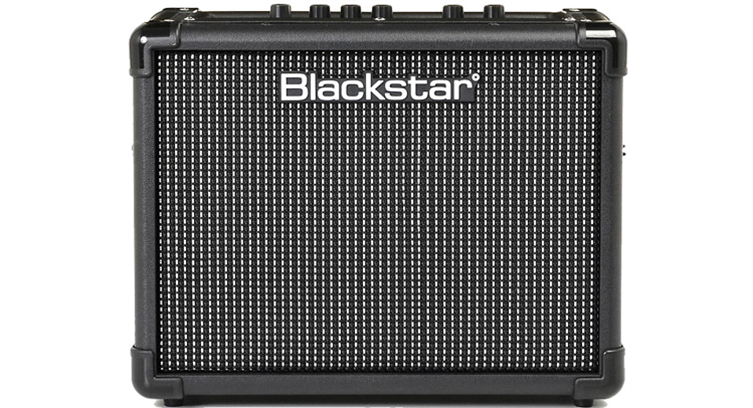 Additionally, there's a USB out for using these tones in your recordings, and there's a line in for attaching a device for playing backing tracks. Considering what you pay for one of these, it's really quite an exceptional buy.
Here's One for the Bassists
It's not all guitar players here: we've considered bassists too! Now, whilst you technically could use a regular guitar amp to play your bass through, it isn't recommended. Bass uses a whole other set of frequencies, and this area of the amp market uses really quite targeted circuits and components to build these amps. Put simply, playing bass through a guitar amp is unlikely to blow the amp, but it's very likely to sound boring and flat. Why not choose a dedicated little bass amp that's made for the purpose and enjoy those countless hours of practice to the full? Start as you mean to go on!
In that case, you might like the Ashdown Studio Junior. Ashdown are one of the top two or three bass amp brands in the world, and this dedicated bass practice amp holds its own in terms of tone. It's a simple affair here, with a 3-band EQ, a single channel, and ins & outs for headphones and devices. A special design 8" speaker represents the low-end with aplomb, and the cool styling makes you feel like you are interfacing with a proper piece of gear, instead of some sort of goofy toy. Ashdown know that many bassists want it simple & direct and have smartly obliged them. 15 watts of attitude and solid tone is all you need!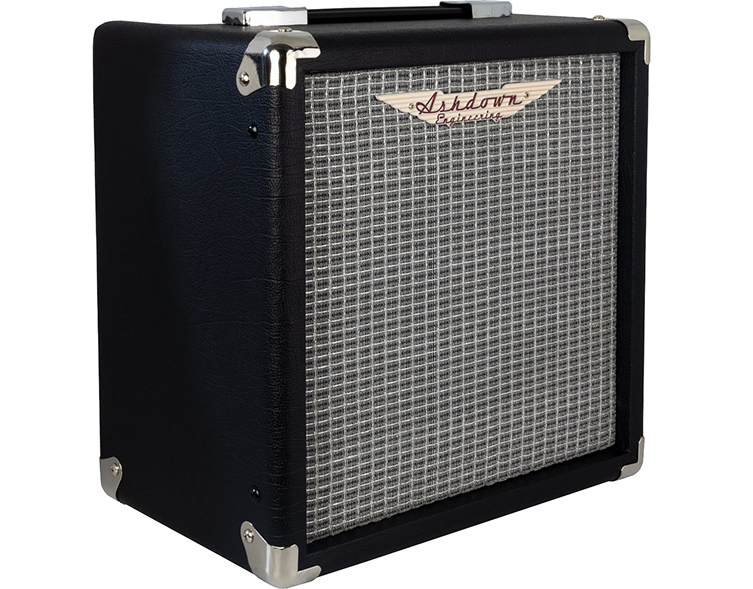 Back to Guitars Already
We have two more choices today, and these are both guitar amps. We think the Kinsman and Blackstar choices have covered the entry level of the marketplace, so we've opted to choose a pair of amps from ever-so-slightly higher up the money scale. We'll see just what the extra cash gets you (hint: lots!) and whether you need or want the options that come with the slightly loftier tag. Onwards!
Fender Mustang GT40
It's instrument-giant Fender's time for the spotlight here, and they weigh in with the fantastically featured GT40 from their Mustang range. There's lots under the hood here, like 21 amp models and 47 effects, but the front panel is relatively bereft of controls, meaning there will be navigation to do on the LCD screen. Whether that's a problem for you or not depends on your own preferences, but it's a great way of packing in tons of details without the amps' visuals becoming a mess.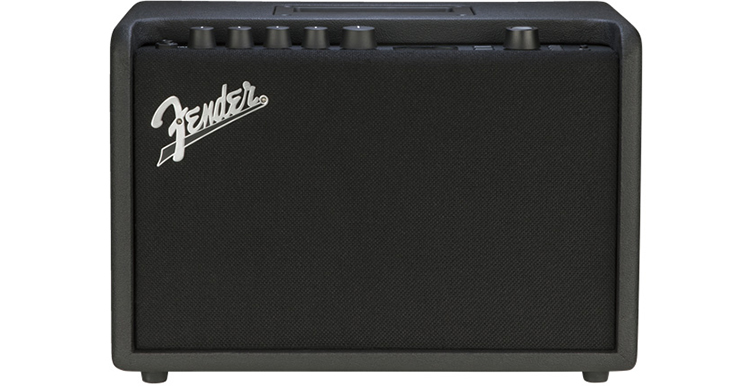 You can dive in deep here in terms of editing sounds, but it's worth pointing out that Fender have loaded the Mustang up with dozens of high quality – and, more importantly, useable – presets, so you aren't obliged to get the kettle on straight away and begin labouring through the manual. If you want to switch on and dive in, you totally can. If you want to get the lab coat out and start tweaking settings forever, then you can do that too!
The main point to make here is that the Mustang GT40 sounds uniformly excellent. We defy any guitarist, regardless of perceived ability, to plug into this and not have a great time coaxing out impressive tones. This amp also has two speakers, so chorus effects and other such onboard sounds have a real presence. Put simply, this amp is huge amount of fun and sounds excellent.
BOSS Katana 50
Our last choice is from pedal-wizards BOSS. BOSS always prefer to have their name represented in capitals, and since we think it's funny, we're happy to oblige. BOSS have been finding their pedals appearing on very nearly every guitarist in the world's pedalboard since the 70s, so it's fair to assess that they know a thing or two about tone. This latest range of amps, the Katana (no capitals necessary) are their typically feature-rich offering to the home-player.
Our choice here is the 50-watt Katana, which has a single 12" speaker (the only one in our rundown that does), which is generally taken as being the standard for making great rock and blues sounds. BOSS have decided to avoid screens and menus with their amp design, instead laying out a comprehensive yet easy to navigate top panel with a plethora of knobs. We personally prefer this approach over the screen-and-multi-function-knobs way, but it's horses for courses.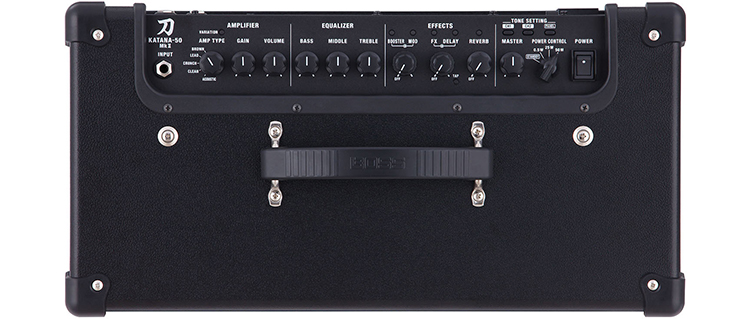 Sound-wise, BOSS have included quite comprehensive amp and FX sections, including a relatively cheeky 'Brown' setting which, for those less clued-up in classic rock guitar terms, is a reference to the Holy Grail distorted tone of the late, great Eddie Van Halen. Ed called his favourite tone his 'Brown Sound', presumably without smirking or irony being involved, and BOSS have taken that for the name of their high-gain amp model here.
Does it sound like Eddie Van Halen?
Don't be daft! Not unless you already play like Eddie Van Halen! It sounds great though, much like the rest of the models and settings on the Katana 50. There are some cool unique features, like having a dedicated channel for electro-acoustic guitars, and a power control that lets you cut the power from a full 50w to 25w and finally 0.5w, for full-fat tones at tiny volume settings. The Katana also has a USB out, a phones/recording out and has the ability to take a footswitch.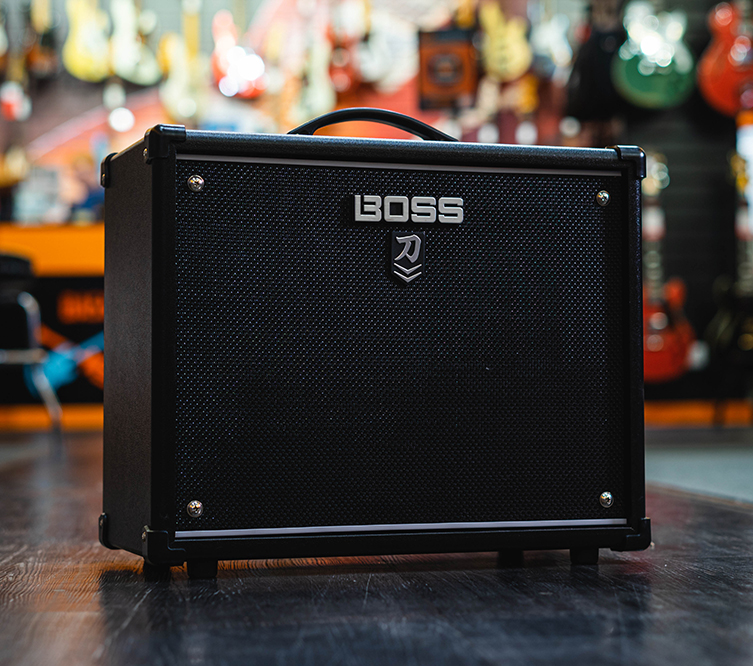 It's obvious that BOSS have poured a ton of their considerable expertise into the Katana range, since it functions so intuitively and sounds so good. Really, there is an argument to be made that you don't really need much more than this for almost all of your guitar applications. It's not a huge stack but then we aren't talking about playing at Wembley: the BOSS Katana 50 excels at its allotted task, which is to give guitarists a fantastic amp for the house, with a range of excellent sounds and features.
Summing It All Up Succinctly
Home-sized amps are far more than just 'practice amps' these days, and this small selection hopefully goes some way to prove what richness lies out there, ready to be used. Whether you need a whole palette of sounds of just a few is really your call, as is whether you require footswitch-ability. If you want a footswitch, make sure you get the right one for the amp and factor that into the overall cost.
Do the bigger amps sound nicer? Yeah, frankly, they do. Let's not beat around the bush. The bigger spend gets you more features, yes, but it also gets you better tones, certainly when it comes to these practice amps. Even the physical size plays a part in the creation of tone, as much as the sounds start off as digital models. What's significant is that the smaller amps sound really good, and far, far better than equivalent amplifiers from days gone by. But yes, the Fender Mustang GT40 and BOSS Katana 50 are clearly better sounding amps than the others, so if you have the coin, we recommend stretching. It's worth it.
Whichever practice amp or bass practice amp you end up going for, we hope it's the catalyst to endless hours of rewarding playing, practising and enjoying of your guitars and of music in general. You deserve to have a blast every time you plug in and play, and you deserve to sound as good as possible always. Look into it: we're here to help you.
Click to View our Selection of Practice Amps
Click to View our Selection of Bass Practice Amps