BRAND NEW Fender Releases for 2021!
Published on 12 January 2021
The lack of a Winter NAMM show this year has not stopped Fender from unleashing a torrent of new guitars and basses upon us! Rejoice! Fenders from the USA, Japan and Mexico, as well as Squiers, have been announced in a kaleidoscope of colours and designs.
There are a host of new collections, as well as some special anniversary models for Fender's 75th year in the game, so let's get down to it!
Fender 75th Anniversary
Yes, it's been that long! 1946 was when big Leonidas opened the doors of the Fender factory, and this year there are two distinct ranges of anniversary guitars available. Each group contains a Stratocaster, Telecaster, P-Bass and a Jazz bass. Here are the main differences!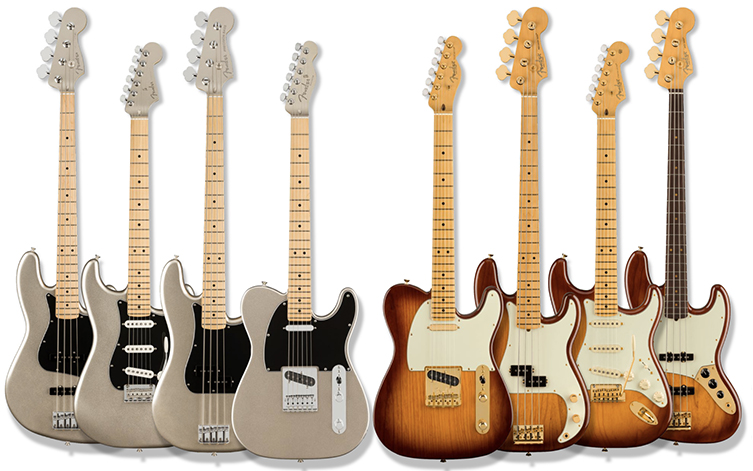 75th Commemorative Editions
First up are the Sunburst guitars. These are American, feature Ash bodies and have gold hardware. That burst is actually a specially mixed 2-colour Bourbon Burst, created just for this limited-edition range. These 75th Commemorative instruments feature Deep-C neck profiles, custom shop pickups and a special gold engraved neck plate. The back of the headstock also has a special inlaid gold ingot!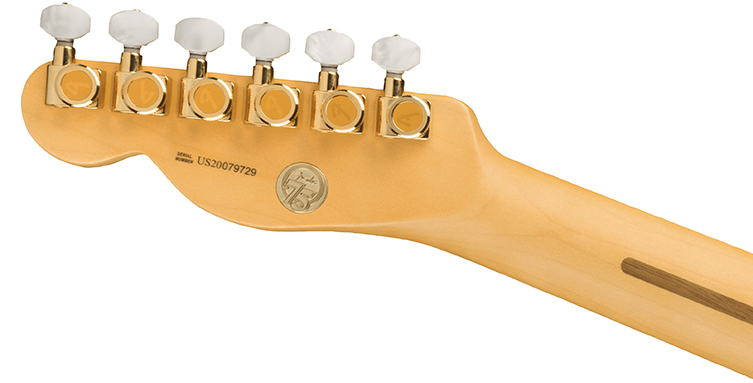 These also come in a very limited-edition silver hard case. Check out the Fender 75th Anniversary Commemorative P-Bass below, for a good idea on how these beautiful instruments look. The Custom Shop 61 P-Bass pickup provides an expressive thump, and that Deep-C neck profile lets you really grasp on and feel those notes!

75th Diamond Anniversary
The non-commemorative editions, which are still limited to production in 2021 only, are pretty different. Made in Mexico, these have a fantastic Diamond finish (with matching headstocks, a theme we'll be seeing a lot more of in this blog!), Vintera pickups, a modern C neck and Alder bodies. It's black pickguards across the board for these silver lovelies, as a nod to the company's first ever production instrument, the Blackguard 'Broadcaster'. These models also have an engraved neck plate, though the hardware is all chrome on these instruments. Gorgeous? Yup. Just take a look at this Fender 75th Diamond Anniversary Telecaster below...

These are pretty great, but let's keep moving, since there's loads more to go!
Click to View our Fender Anniversary and Special Edition guitars
Fender American Ultra Luxe
American-made Fenders with high-performance specs? Check! We're very excited by these new models, with their new hardware options (...Floyd Rose tremolo... on the Tele!) and new colours, along with player-centric refinements aplenty. These are gearing up to be some of the most comfortable, most playable instruments that Fender have ever made, and that's saying something!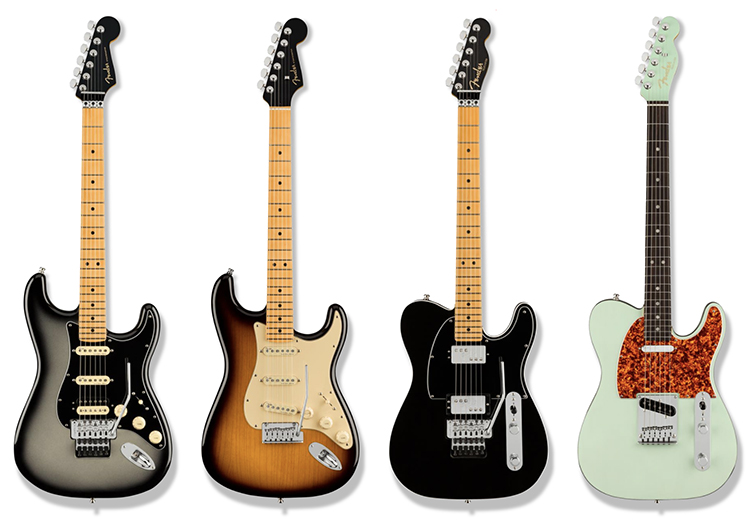 So, what are we looking at? Well, aside from the obvious, Fender are really talking up a new neck profile that they believe to be their best ever. This neck is an 'augmented D' profile, so it changes shape a little as it travels up toward the body. The fingerboard has rolled edges and a compound 10-14" radius, not to mention stainless steel frets! Yes, it does sound pretty excellent...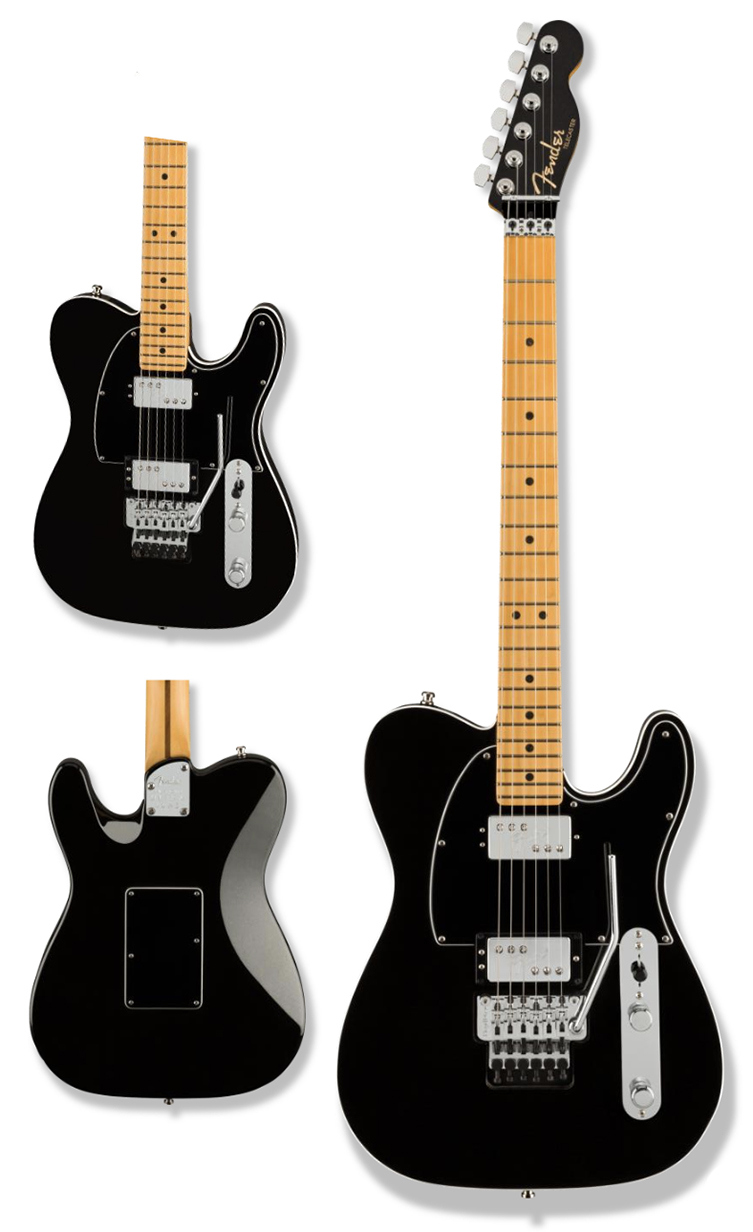 There are Noiseless pickups (and Double Tap humbuckers) onboard, Floyd Rose vibrato units on certain models (did we already mention that?) and stylish details like body binding on the Ultra Luxe Telecaster. The painted headstocks are here, too! For Fender, this is really rather a bold range of instruments, and we salute them for bringing us some new, exciting designs. Which is your favourite?

Click to View our Fender Ultra guitars
There's definitely a touch of the 1980s to this Ultra Luxe range, even if only in inspiration. Now, wouldn't it be great if Fender Japan got in on the fun and did some 80s reissues? Oh, wait...
Fender Japan Boxer Series
Now, these look familiar! Yes, the Boxer series is a reissue, by the superlative Fender Japan, of some late 80s, high-powered classics! You can tell by the open coil humbuckers and metallic colours that these are built for some seriously hard rocking. The range contains a Tele, the Boxer Stratocaster, shown directly below in Inca Silver, and a very cool P-Bass...

Black painted headstocks carry a white logo, just like you remember them, and the speed necks are back too, with 22 jumbo frets and a 12" radius. Those high-output humbuckers have a coil tap switch and a TBX tone control, which is something we love and haven't heard about in ages! TBX means Treble/Bass Expander and acts as a low pass filter from numbers 1-5 on the tone dial, and adds more treble from 6-10! Nice, and very useful in a myriad of contexts. You'll get used to it and need one in every guitar you play! Here's the Boxer Tele in Torino Red:

The Fender Boxer P-Bass model is pretty great: it has the body of a Precision bass but the neck (and decal, strangely) of a Jazz bass. A useful PJ pickup configuration and aforementioned TBX control make this one stand-out four stringer, in more ways than one. Plus, TOP marks for those finishes: Sherwood Green Metallic for the win!

Click to View our range of Fender Japan Guitars and Basses
Amplifiers
Let's briefly jump over to what's been happening with Fender's amps!
First off, the one that's gotten lots of chins wagging, is the new Mustang Micro. It's a personal headphone amp, containing a bevy of amps sounds and effects from the impressive Mustang amp modeler range. To say the Mustang Micro is 'compact' is funny: this thing is TINY!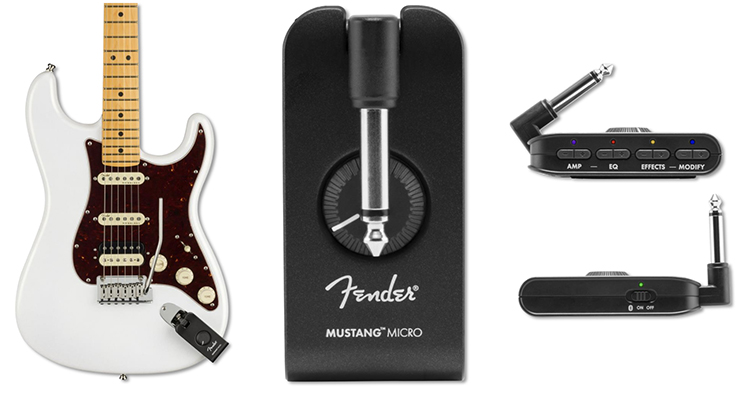 You plug it directly into your electric guitar, where it'll sit happily by your jack socket, and a few simple buttons are all that's needed to navigate the amps and effects. Connect any set of headphones and get rocking, safe in the knowledge that nobody outside of your inner-mind's imaginary festival audience will hear your playing!
You get USB and Bluetooth connectivity, plus the unit runs on a rechargeable Lithium Ion battery, which is presumably great news for us and the planet! Now, we actually managed to get our hands on one of these, so let's stop explaining ourselves and just show you our video instead...
On a more traditional vibe, Fender have also released two slightly tweaked reissues of a couple of classics. The Fender 68 Custom Pro Reverb is a cool silverface, 40-watt amp based on an original that now fetches daft money on the collector's market. Fender have brought the weight down, upgraded the speaker to a 12" Celestion, made it a single channel combo and added Mid & Bright controls. Phew! Quite a few changes, then! Sounds incredible though, so we're glad.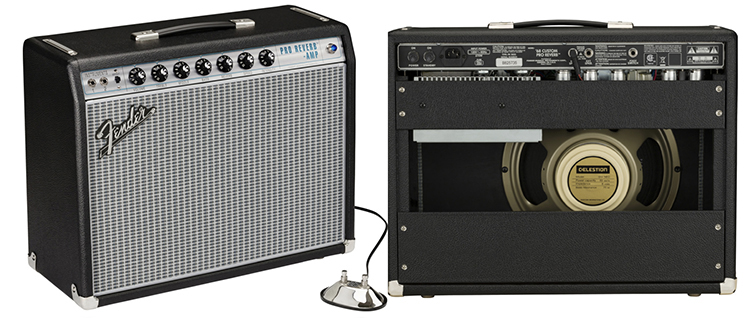 The other amp is the small, 5-watt Fender Vibro Champ Reverb. Another revered silverface amp, this time Fender have kept mostly to the blueprint, changing only the speaker (it's now a 10") and adding a lovely 'hall' reverb. Otherwise, it's the same all-tube, stunning Fender tone you've always wanted. This is a great one for the house, recording and perhaps slightly more. Tone for days...

Click to View all of our latest Fender Amplifiers
New Artist Models
Back to guitars! Here are a troop of awesome new artist signature models. The first thing we noticed are how refreshing the choices are: none of these players are typical 'guitar hero' people, but all of them more than deserve a dedicated signature model, without doubt! We have three electric guitars and one acoustic, and none of them are a Stratocaster...

Now this Chrissie Hynde Telecaster is a cool choice for our first pick of Fender's 2021 roster! A beautiful Faded Ice Blue Metallic Tele for the Pretenders frontwoman, with a gorgeous Road Worn finish, a chrome pickguard and vintage-style pickups. Further vintage authenticity is achieved with a 7.25" fretboard radius. We're looking forward to seeing this one arriving!

This cool 70's-looking Mustang is the new signature guitar for Death Cab for Cutie's Ben Gibbard. It's a low-key, understated guitar with some cool secrets under its hood: that's a chambered Ash body there, and the bridge is a special design hardtail, favoured by the man himself.

Next up is another Road Worn Tele, this time for a modern Americana legend. The Fender Jason Isbell Telecaster brings some retro class with double binding, a special Chocolate Sunburst finish and a modified bridge that uses brass saddles. Versatile? We think so, and we love the Road Worn distressing, on both this and the Chrissie Hynde model.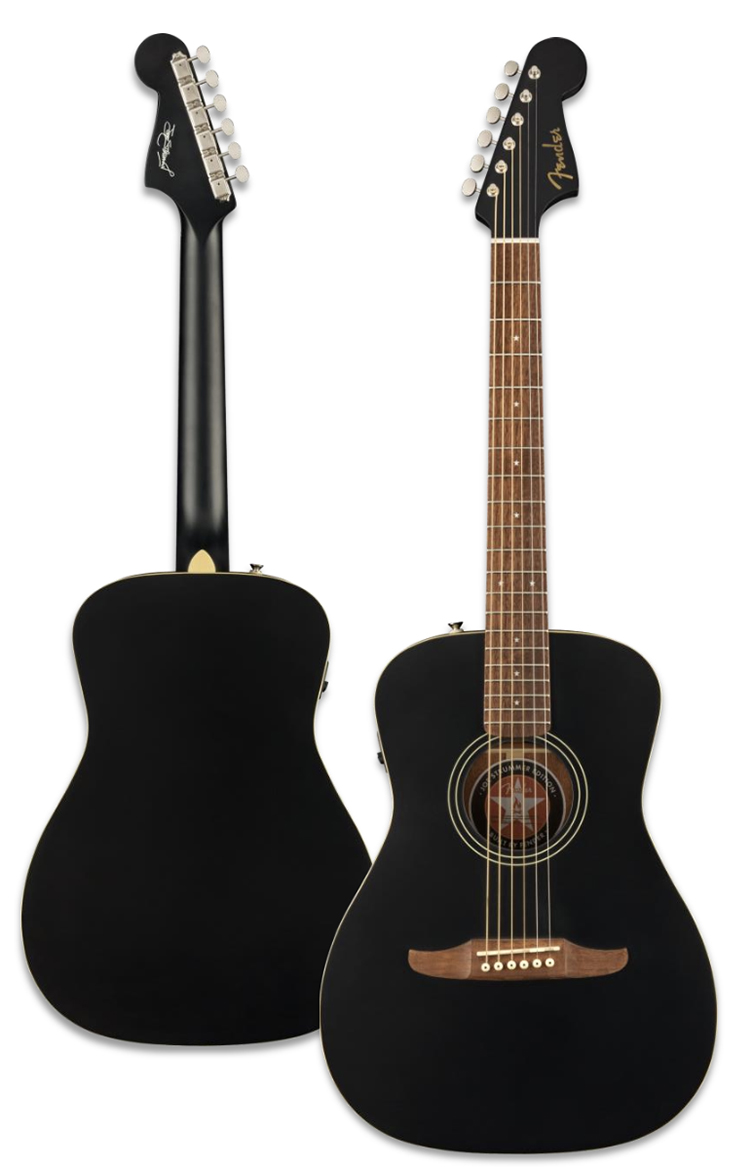 Last one for our artist instruments is the Fender Joe Strummer Campfire acoustic. Fans of the Clash frontman will know all about his increasingly large backstage campfires at Glastonbury, and the shared sense of appreciation and community they brought to performers. Fender have honoured the late, great Joe with this matte black parlour guitar, and brought some Strummer swagger to it by including star inlays and the man's signature on the back of the headstock. Fishman electronics mean you can move straight from the campfire to the stage without breaking a sweat, just like Joe.
Click to View all of our Fender Artist Guitars
Squier Contemporary Range
We've long since thought that Squier have been putting out some of the coolest guitars available, by any manufacturer. These new models provide further proof!
You'll see some inspiration has bled down from Fender's other new models (bound Teles, powerful pickups, interesting colours, painted headstocks...) but this range is actually a continuation of what Squier started a few years ago with the Contemporary series. That in itself was a tribute to guitars from late 80s Fender Japan (which are revisited in the Boxer series you saw earlier), so there is a lot of inter-contextuality going on here, to say the least!

Anyway, there's some special stuff here, from properly roasted maple necks (on Squier guitars? Wow!), specially designed SQR pickups (have a gander at that Shoreline Gold Squier Telecaster RH above!), chrome headstock logos on those painted headstocks, and some very cool new takes on time-honoured classics...

Like this fantastic Squier Contemporary Strat Special, for one example. Take a look at that! No, that isn't actually a humbucker at the bridge, it's the middle pickup shifted across, just like Robbie Robertson's Last Waltz guitar! You get some tones this way that are impossible otherwise! Not only that, look at the finish! Squier call that 'Sky Burst Metallic', which sounds perfect to us. We're sold.

We're also glad to see the Floyd Rose tremolo making its way to this range, given that there's normally a hefty upcharge for one. This Squier Contemporary HH Strat FR packs a real punch with two coil-splitable SQR Atomic humbuckers. Just think of all the noise – sensible and otherwise – you could make with this little beastie!

The Squier Contemporary Tele RH has an awesome 'rails' humbucker in the bridge and has binding on both the body and the neck. Too cool for school, by far. Who doesn't love a Tele with extra sass and firepower? Sign us up!

Last, but certainly not least, in the range is the Squier Contemporary Jaguar HH. Boasting an ineffably cool style that's a kind of retro-futuristic amalgam, this sublime axe brings coil tapping and series/parallel switching to the party, allowing you a vast palette of colours to wreak sonic mayhem with. Indulge yourself!
Click to View our Squier Contemporary Collection of Instruments
Fender Ultra Left-Handed Stratocasters
Finally, Fender have released left-handed versions of their highly successful Ultra Stratocasters! It's been a little while coming, but now Southpaw players can now join the ranks of guitarists who know and enjoy the sublime benefits of the Ultra! 4th Generation Noiseless pickups, a compound radius neck with a profile to die for, special switching, a carved neck heel and a host of colourways that cannot be had in any other range make these guitars some of the best modern Fenders around. We've always been partial to the Cobra Blue and Mocha Burst Strats, but there's a wide choice available!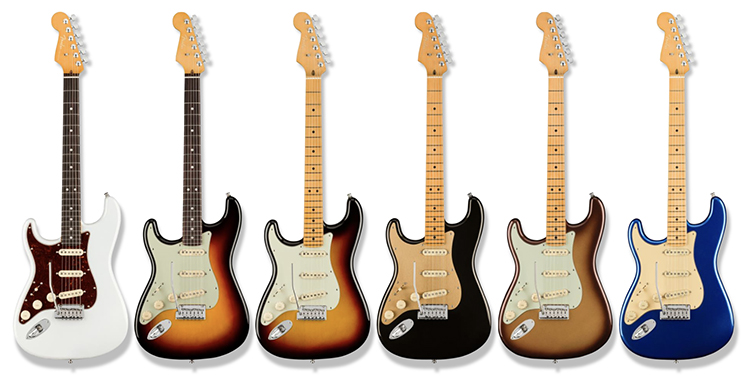 Noventa Range
Now these are some pretty far-out looking Fenders! What do they all have in common? Yes, P90 pickups. We love these! You don't often see P90s on Fenders, and this Noventa range is proof enough that we should be seeing more! There's a real 'Outlaw' vibe to this range. Don't ask us to explain that, (because we really can't) but there just is...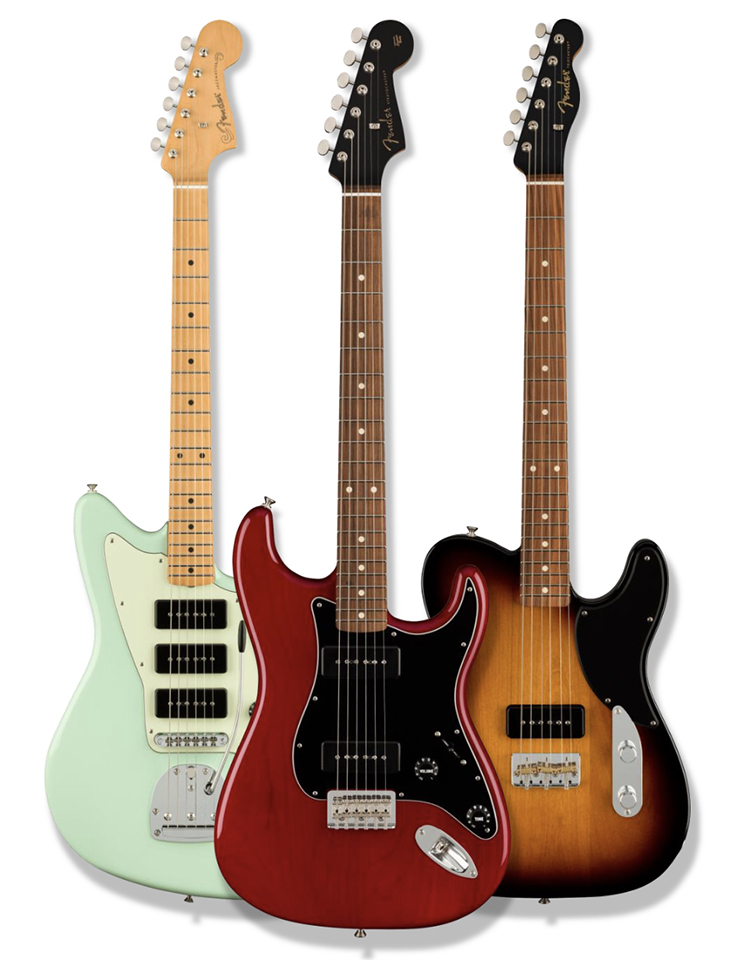 Fender have almost been wilfully contrary in their configuring of the pickups: the Jazzmaster model has three P90's (Jazzmasters normally have two pickups), the Telecaster (normally two) has one and the Strat (normally three) has two! Not only that, the Noventa Stratocaster has a hard tail bridge, distinguishing it further from standard Strats, and a 3-way pickup selector.

The Noventa Telecaster is just super-cool, with its 'half pickguard' and 'cut' bridge which features brass saddles. Judging by what little we've heard, these things sound supersonic!
The Noventa Jazzmaster has the most features, apart from its trio of pickups! Fender have wisely included an Adjustomatic (TOM-style) bridge and traditional Jazzmaster whammy bar, for a best-of-both-worlds scenario: you get to look the part but also keep your strings from popping out of their saddles! A 5-way blade selector gets you a ton of tonal variety, too. Given how similar the hardware is across this range, it's amazing how different the guitars are!

Click to View our Full Range of Fender Noventa Instruments
Good Times
Now, that was quite a rake of gear, wasn't it? We know, we know: which to buy first? Life can be difficult. Well, not really. It's not like you can make a wrong choice with any of this! Fender seem to be in a real purple patch right now, and everything they are releasing seems to be pitched just right for a very wide number of players.
We like how 'contemporary' a lot of this new stuff is, which is probably right, given how much attention is otherwise paid to Fender's heritage. Still, a lot of the 'contemporary' designs are actually 3-4 decades old, so 'new' is quite a relative term when it comes to guitars.
Either way, this is some mic drop in terms of new guitars. We love them. We can't wait to get them in stock, because we can't wait for you to get your hands on them.
Click to Visit our NAMM 2021 Page