BRAND NEW Fender Line Up for 2022!
Published on 26 January 2022
Here we are folks, the Fender 2022 collection has just been announced and with a whole range of stunning models from Squier that are really exciting us, along with some wicked new Fender's, we thought we'd give you a quick look at some of our favourite announcements:
Fender JV Modified 50's Stratocaster
The '80s was an explosive time for a lot of things. Everything was being pushed to the extreme: haircuts, fashion choices, music production, and guitars. It was the golden era for guitar modifying. The new JV range aims to replicate the sought after guitars that flew out of Japan during this period.
The Fender JV Modified 50's Stratocaster is an excellent example of one of these kitted out guitars. Vintage Voiced single-coil pickups give you a polite, welcoming tone in the upper pickup selector positions whilst the humbucker acts as the noisy neighbour in the street. Yeah, he might be throwing a house party every night, but at least everyone can enjoy the rock-ready tones he is blasting. Use the supplied coil-split to turn that rowdy house party humbucker into a single-coil tea party. Bright and cutting tones will make sure you are heard through the conversation, but a lower output will bring you more in line with your neighbouring single coils.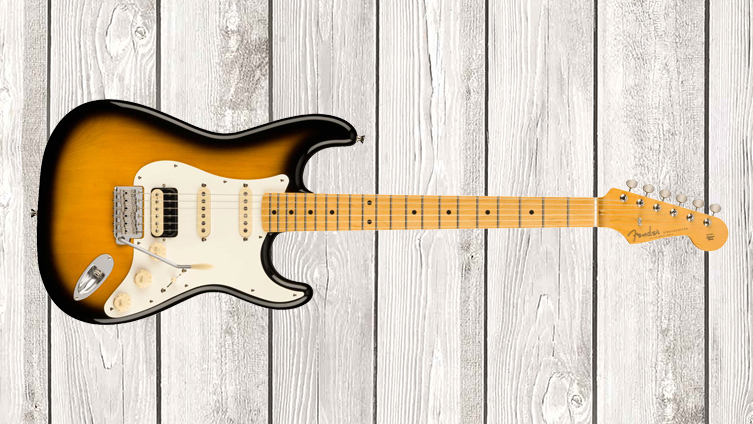 A smooth satin finish has been applied to the soft V-shaped neck resulting in a more intimate connection between you and the guitar. Jumbo frets take you the rest of the way to a familiar '80s modified Fender that will act as your sherpa through the endless array of genres these guitars helped to spawn.
Fender 60th Anniversary Jaguar
Fender is celebrating yet another momentous milestone with the 60th anniversary of the Fender Jaguar. Upon its release, the Jaguar was dubbed the brand's flagship guitar. Its unique attributes have helped inspire artists and even helped carve out new genres of music. Two limited-edition models have been announced to mark the occasion.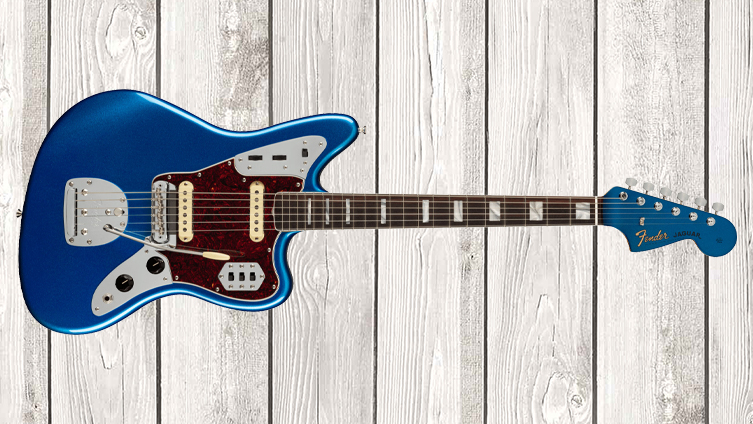 First is the Fender 60th Anniversary Jaguar, available in either Mystic Lake Placid Blue or Mystic Dakota Red. A matching headstock, 60th-anniversary pickups, and a 60's C profile neck are the components in this cocktail of vintage and modern spec.
Check out the 60th Anniversary Jaguars now
Fender 60th Anniversary Ultra Luxe Jaguar
Sharing in on the birthday celebrations is the second limited-edition Jaguar, the Fender 60th Anniversary Ultra Luxe. The Ultra Luxe line is the crème de la crème of factory run Fenders. It aims to give you the best specs in a package that crams your eyes full of visual goodies. The black painted headstock, dark ebony fingerboard, and Texas Tea finish deliver on this promise.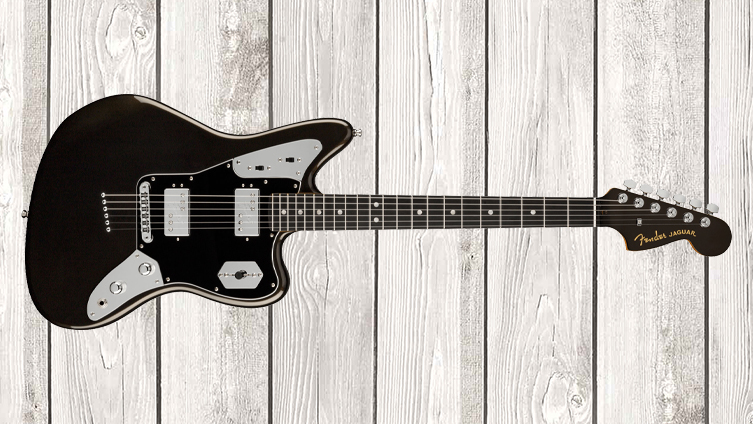 Something that might not be apparent until you have your hands wrapped around the neck of this model is the Augmented "D" Profile. Although this sounds like a chord that might get thrown in during a jazz jam sesh, it is actually a hybrid shape that is intuitively sculpted to improve performance.
Lastly, the humbuckers in this instrument use Double Tap technology to iron out the level changes usually present when splitting a humbucker into a single-coil. Versatility, playability, tone, and looks, the Limited Edition Ultra Luxe Jag appears to tick all the categories effortlessly.
Squier 40th Anniversary Jazzmaster Vintage Edition
The Squier 40th Anniversary Vintage Edition Jazzmaster is an adventure through vintage-spec, unlike any other Squier before it. The essential components of this new range boil down to a family of specifications. First, each model comes loaded with an anodised pickguard. These pickguards might look like they have been crafted from the debris of a spaceship, but they were actually used on a brief run of vintage Fenders in the '50s.
Satin urethane finishes can be found across the entirety of the Vintage Edition Range. The Jazzmaster comes available in either Lake Placid Blue or Desert Sand. Specific to the Jazzmaster is its classic lead and rhythm circuit, which has been separated by a slider switch. This circuit will come as no surprise to avid Jazzmaster fanatics. Still, for those new to the offset wonders of the Jazzmasters sultry tones, the lead circuit activates the master volume and tone pots on all pickup positions whilst the rhythm circuit engages the neck position with volume and tone thumbwheel controls.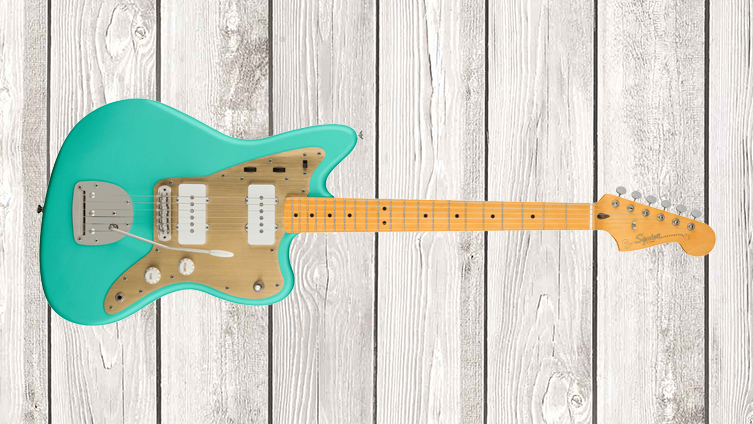 Whilst it might not look any different at first glance, if you take a closer look at the bridge, you will see it has received a simple yet effective update. The saddles of the Jazzmaster bridge have been swapped out for Mustang barrel saddles with deeper grooves for increased string stability. As a result, this guitar is gig-ready straight off the shelf.
The Squier 40th Anniversary Vintage Edition packs a fat wedge of vintage appeal into a budget-friendly musical companion.
Check out the 60th Anniversary Jazzmasters now
Squier Classic Vibe Baritone Custom Telecaster
This guitar might look like your run of the mill Tele at first glance, but that couldn't be further away from the truth. A 27-inch scale length gives the Squier Classic Vibe Baritone Custom the ability to retain a lower tuning without loss in string tension. If you can play the guitar, then you can play a baritone guitar. Although a baritone is traditionally strung from B to B, the intervals are the same.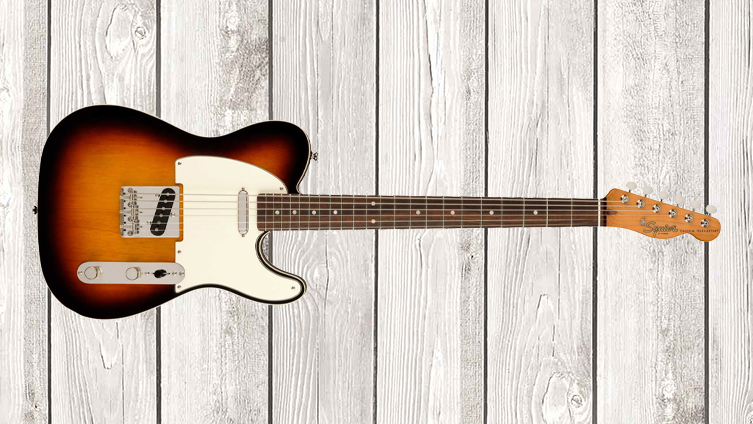 If you are looking to expand your sonic territory, start by looking down. The lower tuning obtainable with this instrument will open new musical terrain that you may not yet have encountered. Whether you are looking for an additional guitar part in the song you are recording or you are on a mission to sculpt the heftiest riff ever created, a baritone is a great source of inspiration.
Check out the new Baritone Telecaster models now
Squier 40th Anniversary Telecaster Gold Edition
Squier has started 2022 with a celebration, forty years of guitar manufacturing! So how do you celebrate your 40th guitariversary? Squier have decided to pool all of their hard-earned wisdom together and birth unto us two new limited edition ranges. The first line is the aptly named 40th Anniversary Vintage Editions. These guitars have been doused in vintage appointments and classic looks. The second limited lineup is the 40th Anniversary Gold edition which sports a more contemporary aesthetic and upgraded spec.
Each range will spew a new rendition of five popular Fender guitar models. These include the Stratocaster, Telecaster, Jazzmaster, Precision Bass, and Jazz Bass. Let's dive in and get up close and personal with some of the new arrivals.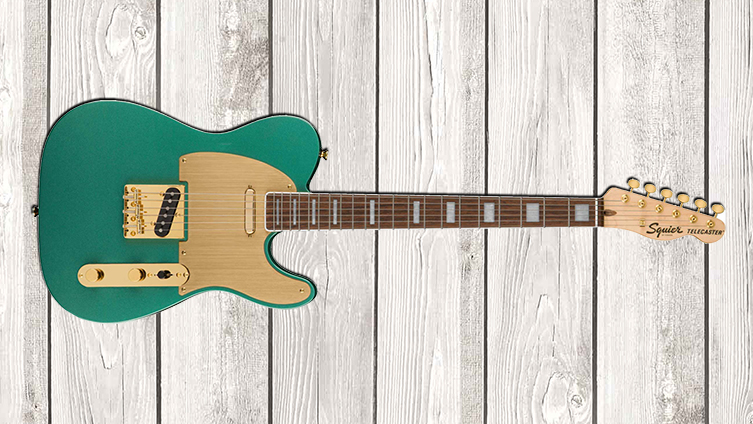 Next up is the Squier 40th Anniversary Gold Edition Telecaster. These guitars have really dressed up for the occasion. Their gold hardware and block inlays make this 40th celebration feel like a black-tie event. Like an added sprinkle of hot sauce to a salad, the anodised pickguard and Indian Laurel fingerboard bring everything together with a spicy kick that is sure to whet your appetite for looks.
You are sure to love listening to this instrument as much as you enjoy looking at it. Fender has supplied the design for the Alnico V driven pickups. When it comes to Tele pickups, Fender knows best.
It is always an exciting time when Fender drops a new range of guitars. There is truly something for everyone in this recent announcement. From the souped-up guitars of the JV Modded series to the vintage class perpetuated from Vintage Edition Squiers, Fender have truly kicked 2022 off to a thunderous start.