Shure GLX-D16 Beta - the ultimate wireless system?
Published on 15 January 2021
If you've never played guitar through a wireless system, you might not realise how much your lead restricts you. Yes, we know, Hendrix rolled all over the floor of stages around the world with his trusty curled cable but we're not all Jimi, are we? Firing on a wireless adapter not only takes away the constant fear of stepping on, or indeed tripping over your cable but it also gives you total freedom to roam the stage like the rock god you truly should be! Most of all, the tech behind wireless rigs has developed so much over the years that you won't notice any difference in sound, or experience any loss of quality. For us, it's a no brainer, so we thought we'd introduce you to one of our favourite systems, the Shure GLX-D16 Beta.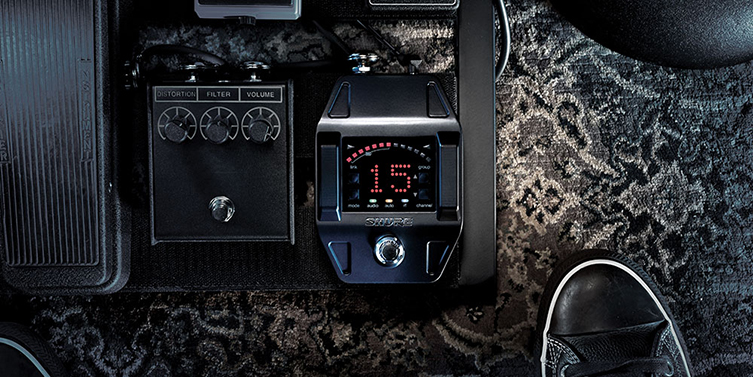 Shure have been at the top of the live sound game for as long as we can remember and their microphones set a standard worldwide for their outstanding quality. So, it's no surprise that their wireless systems for guitarists are just as exemplary. Our first choice tends to be the road ready and sleek GLX-D16 Beta, one of their flagship options for wireless playing which uses a handy floor receiver that fits right in next to your pedals. The floor unit is compact but seriously efficient, built with a heavy-duty metal chassis that's more than tough enough to tour with. It can be powered using a standard pedal board supply and even features a built-in strobe tuner so if you're short on space (we know how that goes) then don't fear, Shure have thought of everything!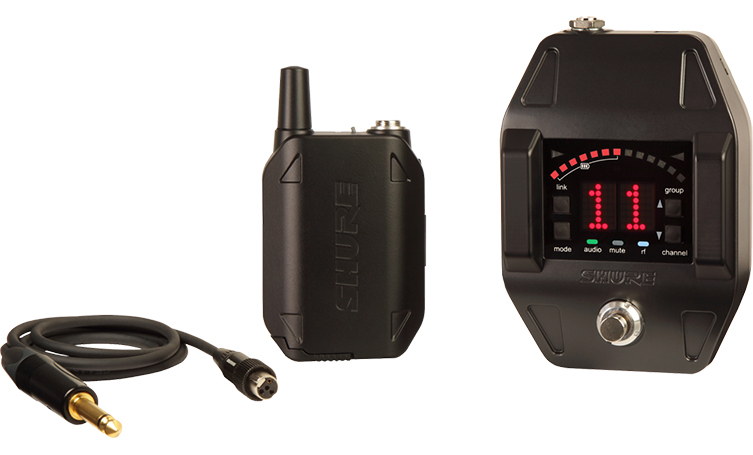 But what about the sound we hear you cry? Well, as we mentioned earlier, wireless guitar tech has really been fine-tuned over the years and the GLX-D16 Beta is quite possibly the most well-designed unit we've come across. A ton of our team members gig with it and so far, we've had nothing but glowing reports. The transmission is crystal clear with absolutely no dropouts no matter what size of venue you're playing in and on top of that, it's incredibly user friendly and easy to set up out of the box. The system uses Automatic Frequency Management, which means that the receiver analyses the available frequencies and tunes into the transmitter using the most suitable. Even more impressive than that though is how it copes with interference. If the unit experiences any, it will automatically move to an alternative frequency with no loss of audio or lag whatsoever. You literally don't even need to touch it.
On top of that, you can plug a full band into one of these beasts. The unit can run up to 5 musicians in parallel and up to 8 if you engage manual mode, as opposed to automatic. Value-wise, that's pretty astonishing but as with most Shure products, it punches way above its price. The GLX-D16 uses really high-quality rechargeable Shure batteries to ensure up to 16 hours of life and charges really quickly too. A 15-minute charge will see you through an hour and a half of playing so even if you turn up at a show and have forgotten to charge it, you're still going to have time to get set up.
We truly can't fault this unit which has been spec'd up and built to such a high standard. Using it, you genuinely feel like Shure have got you covered and it's just another thing you don't need to worry about when you're getting ready for a gig. Time and time again we've brought this on the road with us and it never lets us down. If wireless sound is on your wish list, look no further, this is exactly what you need.