Pensa Guitars
Published on 28 May 2021
Rudy's Music, 48th St, New York.
A famous shop, a famous player and a spectacular guitar. These were the beginnings of a legend. That legend continues today in Pensa custom guitars, and we are delighted to have stock available of this wonderful brand.
We are of course talking about Mark Knopfler and his famous 'Caramel' MK1 model Pensa-Suhr guitar, with the white EMG pickups and Floyd Rose tremolo. It's a modern classic for sure!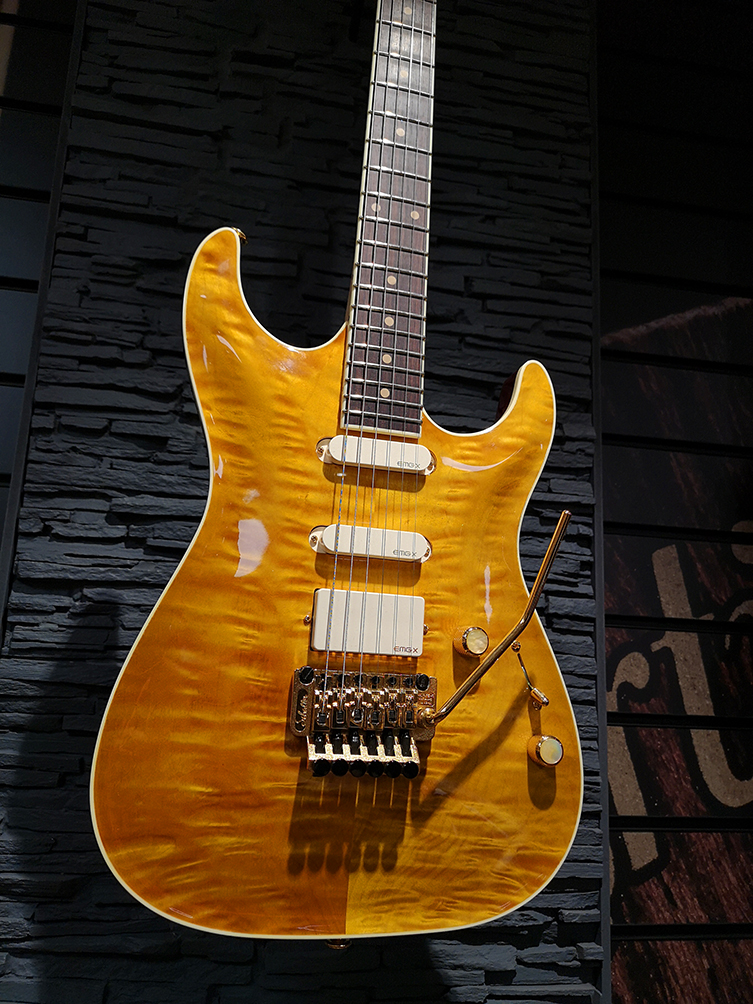 Today, we'd like to spend a brief second looking at the background to Pensa Custom guitars, and maybe show you a couple of the guitars we currently have in stock.
Rudy Pensa
Pensa guitars is centered around Rudy Pensa, the owner of Rudy's Music Shop in New York. Opened in 1978, Rudy's quickly became the place to go in NYC for quality gear and service. Famous players such as Lou Reed and Eric Clapton would frequent Rudy's whenever they were in town, lending the shop a credibility that remains today.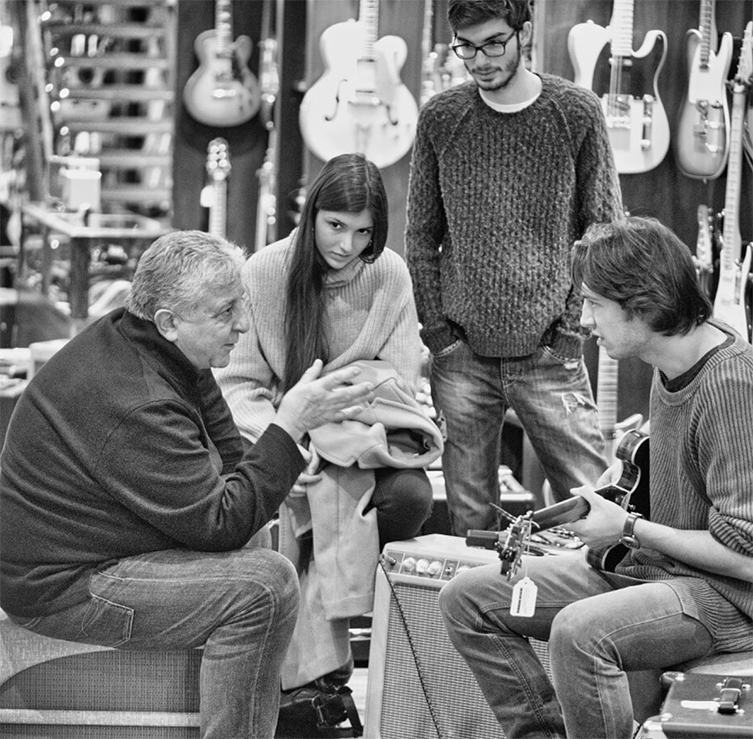 These guests became customers when Pensa set up business selling custom guitars, which started in the mid 80s. Back then, the guitars were built by none other than John Suhr, and at the time, the brand was known as Pensa-Suhr. John has, as we know very well, moved onto his own fantastic business with Suhr guitars, but Pensa continues today with guitars being assembled and set up in Rudy's Soho basement workshop.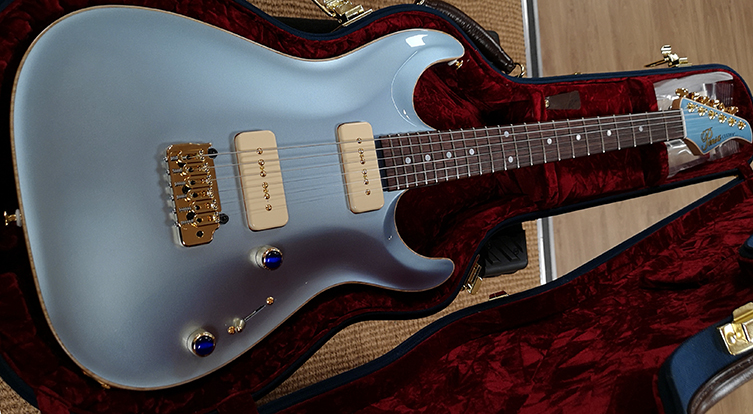 John Suhr and Mark Knopfler
And so, onto the tale of Mark Knopfler's famous Pensa-Suhr. At the height of Dire Straits' domination of the charts, he made friends with Rudi and John. Early on, he commissioned a guitar to solve a problem he was having. Drawing on napkins, Knopfler explained the situation. His main two guitars at that point were a 1961 Fender Stratocaster and a 1958 Gibson Les Paul Standard. He needed both for his diverse Dire Straits sets but found constantly changing between guitars to be a pain. Knopfler wanted one quality instrument that could deliver both types of tone, allowing him to stick to one main guitar for the majority of his performance.
Pensa-Suhr accepted the challenge, and the resulting instrument is without doubt the one that put them on the map as a company. More than any other player, Knopfler's early endorsement brought Pensa-Suhr to the world. No wonder: the MK1, as the guitar was called, was a stunningly beautiful guitar with a bold, yet upmarket look, quite removed from either the established classics or the Superstrats of the day.
There is a lot of mystique surrounding Pensa guitars, and a ton of commentary hovering around online regarding the original MK1 guitar, so we won't say too much other than it seems that John Suhr had already started making the body when the infamous coffee date happened, and the decision to mount the humbucker from the back of the guitar – at the time, a very unusual move – was down to Knopfler's disliking for mismatching pickup surrounds.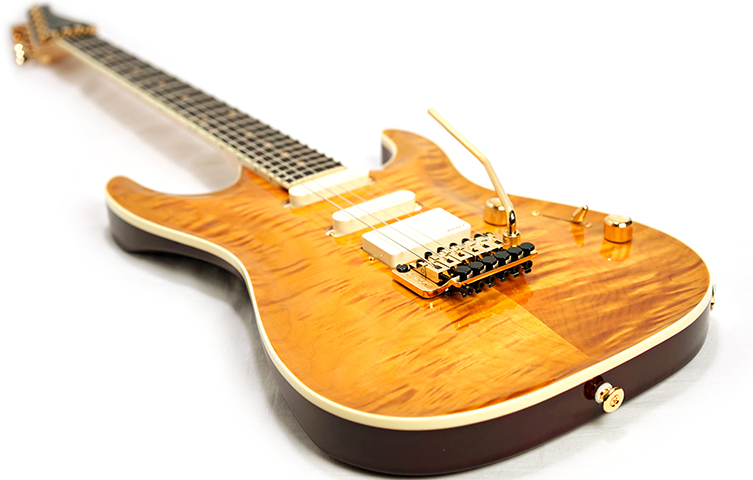 Whatever the genesis, the resulting guitar was a modern classic in every way. The example you can see on our site today is testament to the timeless appeal of the design: very little has changed at all! Back in the mid-80s, there weren't anything like the same amount of boutique guitar builders out there as there are now, and this enduring example carries with it the air of rarity.
Let's check it out.
Pensa MK1
Today's MK1 is a beautiful instrument indeed. Being that Pensa is a custom shop, it's conceivable that many options and choices can be swapped out, but due to Knopfler's legacy, many players want their own Pensa to follow closely to the fabled legend.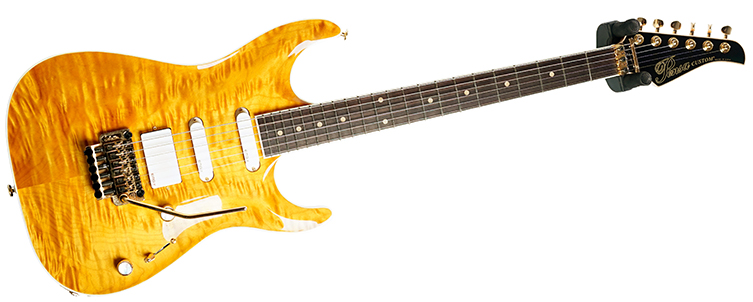 With that in mind, this stunning MK1 will be familiar looking to many guitar fans. But what do we have here? Well, it's top grade, chambered mahogany with a quilted maple top and a bolted-on maple neck. The top is deliciously carved and contoured, and both the body and neck (right up and around the headstock) are bound. Taking the neck first, we have a c profile here, with a beautiful East Indian Rosewood fingerboard. This is shaped into a 10-12" compound radius and is loaded with 6105 sized frets. For all of its beauty, this is a total player's neck, comfortable and ready to get to work!
The quilted top is dramatically figured and finished in that famous 'Caramel' colour, in keeping with the Knopfler vibe. Also in maintaining that look, we have those wonderful ivory coloured EMG active pickups and a gold Schaller Floyd Rose tremolo. Everything about this guitar suggests opulence and quality.
Sonically, you'll be able to cover a ton of ground with these active EMGs, particularly given the inclusion of a coil tap switch in the tone knob. Whether you are a Floyd Rose aficionado or not (certainly, Knopfler isn't known for divebombing!), you can be sure that the setup here will remain rock solid in terms of tuning stability. Plus, the look! The Pensa MK1 is simply gorgeous, and a big gold 'Floyd' only adds to the effect!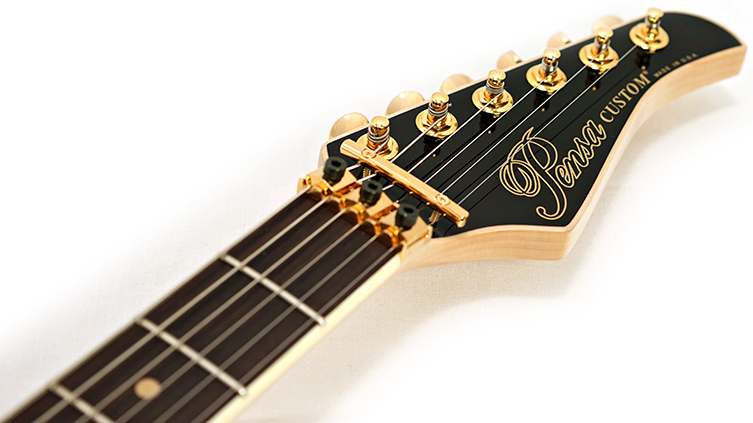 Pensa MK-90
Our next MK model is finished in a decidedly beautiful Blue Ice Metallic colour and sports a pair of Lindy Fralin soapbar P90s. Fralin pickups are amongst the best of the best and truly befit an instrument of this quality. This lovely Pensa MK-90 is made from Swamp Ash (a chambered piece for the body with another piece of swamp ash for the top), and such a combo – swamp ash and P90s – is a recipe for tonal nirvana.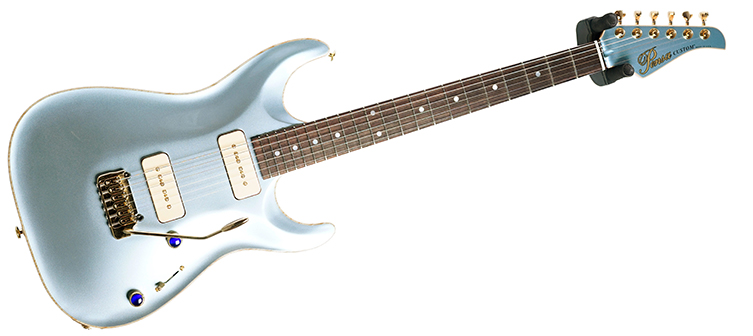 The body shape is the same as the MK1, though there are changes to the neck here. This Pensa has a '-54' neck profile, which to us feels substantial and quite brilliant, and the fingerboard has a flat 12" radius. A hipshot non-locking tremolo provides flexible levels of pitch-change without having to reach for allen keys, and the finish touch of 'cats eye' caps on the control knobs add that rarefied Pensa magnificence.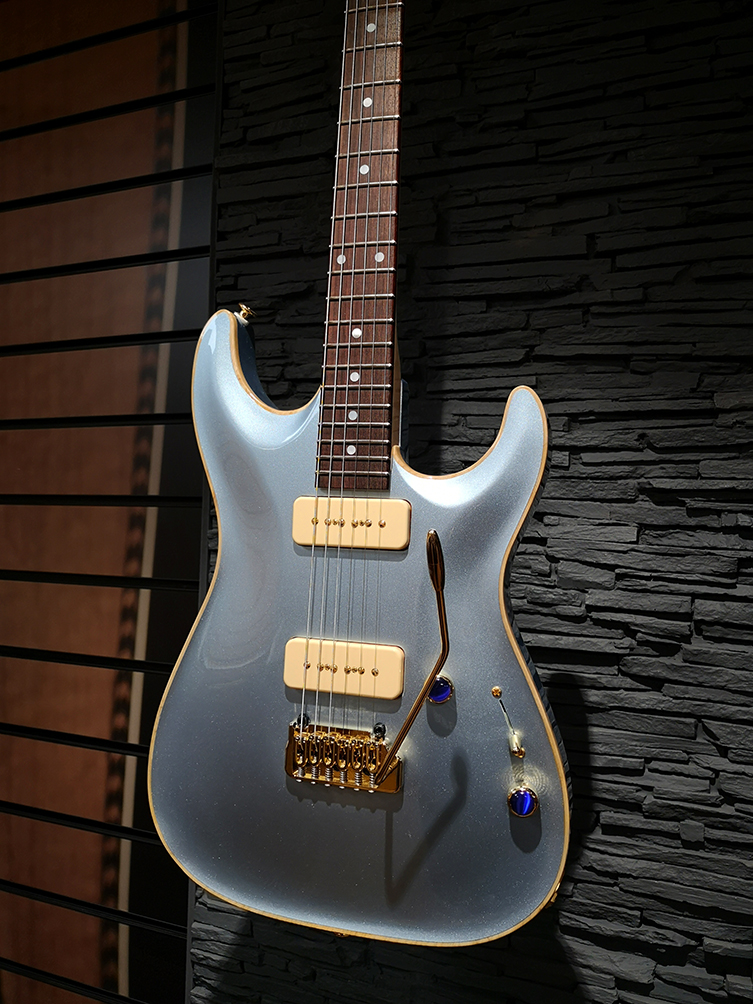 The Knopfler spec Pensa is the one everybody knows and loves, but we're kind of thinking that this MK-90 is our favourite...for today at least! It's a perfect blend of form, function and fantasy. We love it.
MK80
Those of a more vintage disposition may prefer to subtler joys of the Pensa MK80. Ours, in Candy Apple Red, sticks pretty close to the classic 'S-type' vision whilst delivering the expected Pensa quality in parts and construction.
Gemini pickups are handwound in Wales, and a trio of them have made it onto this Pensa, along with a Gotoh tremolo and Gotoh tuners. Gotoh make the highest quality, most reliable hardware in the business, so they certainly belong on here!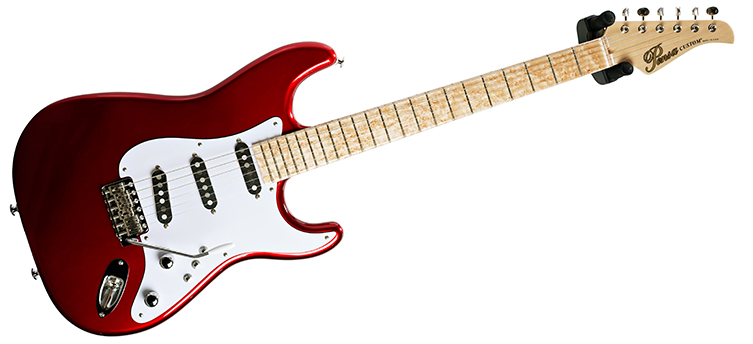 The Candy Apple Red finish has just the right amount of metallic sheen and the maple neck has a luxurious birdseye maple fingerboard, just to remind you that it's a Pensa you're playing!
Rare Pieces
Now, we know a lot of the guitars we highlight are limited edition, but these are true custom pieces from a company who make less than 200 guitars a year! Pensa are ultimate 'aspiration' guitars for many of us, and there is always a buzz when a shipment of them arrives from New York. There are never many, because they are so few in number. As of writing, these guitars are in stock, that's all we can really say. If you love exceptional guitars, you'll already love these. We invite you to try Pensa for yourself.