Staff Picks: Gear of the Week (July 2021)
Published on 02 July 2021
What's happening, rockers?
Welcome to our Gear of the Week segment where we catch up with some of our lovely team members across our stores to find out what gear bits they're lusting after right now. We've had lots of wonderful pieces come through out doors in the past few months and as you well may know, we are all self-confessed gear nerds and love nothing more than chatting to you guys about everything guitar related until we are blue in the face. So, without further ado, let's dive in...
Robin, Camden
Keeping it classy, Robin from our Camden store has picked an absolute cracker for his choice. Let's be honest, there are very few sights more breathtaking in the world than an Ebony Les Paul Custom. We know that is a rather large statement to make but… aren't we right?
A few months ago, we welcomed some of the most beautiful guitars into our stores from the Gibson Custom Shop Murphy Lab and the 1957 Les Paul Custom in particular stole Robin's heart. Aww.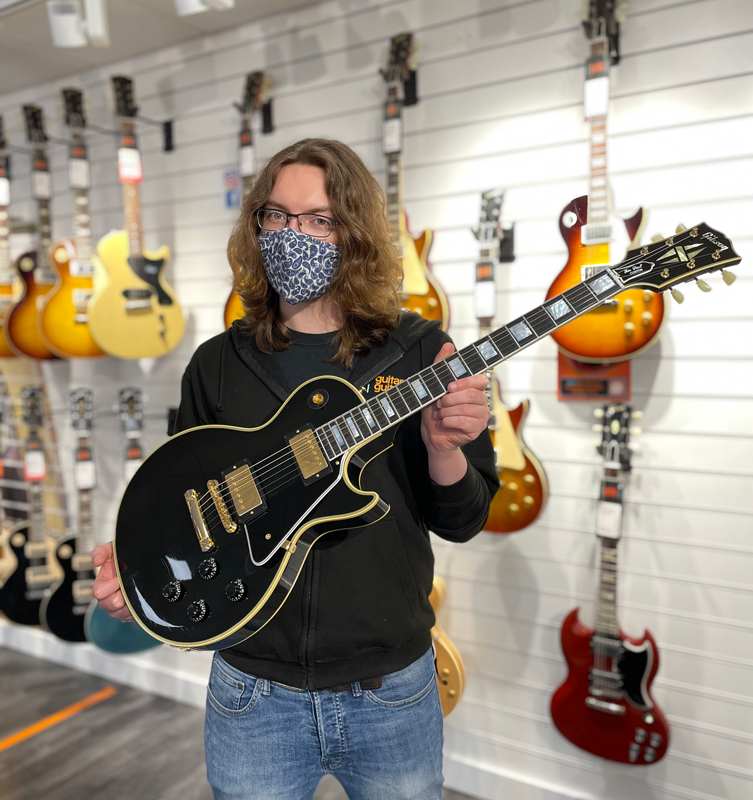 He says, "We know to expect top-shelf playability and tone from the Gibson Custom Shop, but that's not what drew me to this guitar in the first place. The star feature is the Murphy Lab relic job. To match the historical accuracy of the construction, the nitrocellulose finish has been intricately aged to represent wear and tear found on a guitar that has been played and cherished for years. The Lab offers various levels of ageing but the Ultra Light on display with this Custom is subtle and inoffensive, sporting some light checking in all the right places."
This Murphy Lab beauty has become a firm favourite in the Camden Store, and we hope it goes to a good home! You might need to wrestle Robin to get it off him though… just a warning!
Rafael, Camden
Next up, we have Rafael from our Camden store with his pick of the week, the Universal Audio OX Box. It's no secret that we're massive fans of Universal Audio here at guitarguitar and will sing their praises all day long. The OX Box is one of the most versatile attenuation boxes and cabinet emulation boxes out there, and stands out amongst the competition for Rafael due to its natural tone and mic and cab emulations.

He says, "Recording electric guitars can be a challenging process. Sometimes the best tone in the room is not the tone we need on the record, and it is difficult to choose the best combination of speakers and microphones. It's a process that takes time and is especially difficult to do at home. Amps record better at really loud volumes, something our neighbours might not be very happy with! With the OX box this is all sorted. It's very easy to use, and the UA patented Dynamic Speaker Technology stands out for its natural sound, a feature that many IR Based cab emulations lack."
With gigs and live music on the horizon, Rafael is already thinking about how he can use this away from his home studio and explore the OX Box's potential to be used for live recordings. We'll be sure to report back on his findings!
Dave, Birmingham
Who's ready to get slimed?
Not going to lie, since the Charvel Pro Mod So Cal arrived in stores, we've all had a hard time putting it down. Especially Dave from our Birmingham store! Drawn by its eye-catching aesthetics and fantastic build quality, this Slime Green monster is helping Dave live out all his shreddy '80s Metal dreams.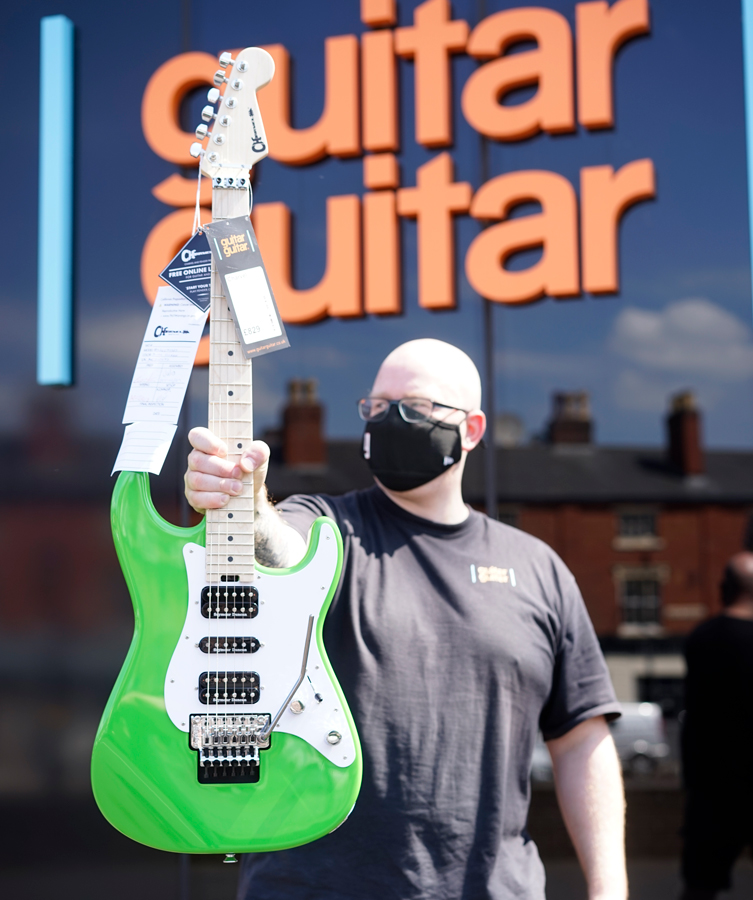 Dave would pair this axe with the Mesa Boogie JP2C with plenty of gain, complemented by the Line 6 HX. Nicely done, Dave. Sounds good to us!
Want to hear this Green machine in action? Of course you do. Head on over to our YouTube channel for the full demo!
Ali, Edinburgh
There must be something in the water here at guitarguitar as we've all went a little crazy for relics lately.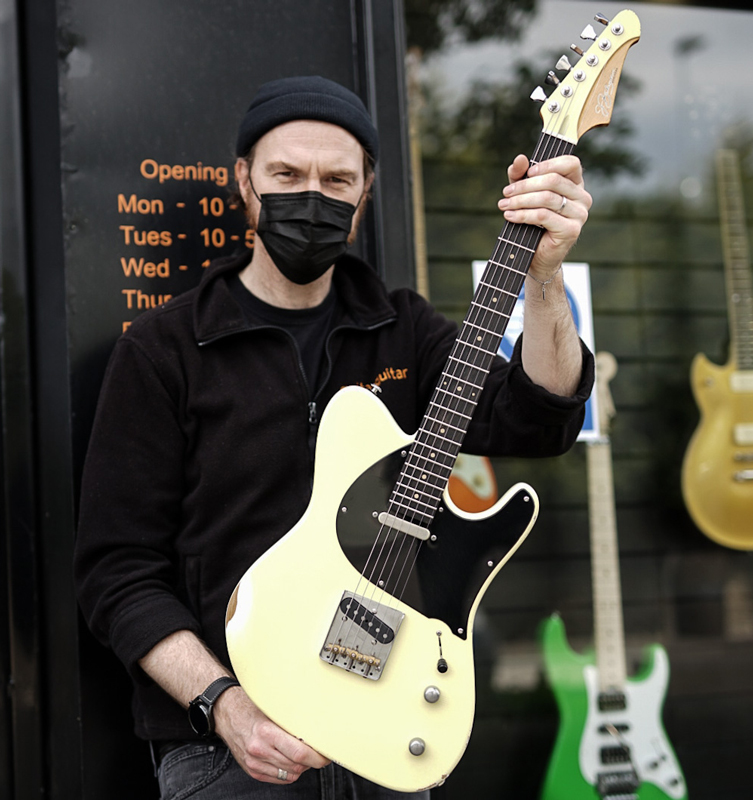 Edinburgh's Ali has chosen a real special one as his pick of the week, the one of a kind Balaguer Heritage Series Thicket in Aged Olympic White. All the way from Pennsylvania, Balaguer guitars have quickly built a name for themselves as a brand that not only builds great guitars but really cares about what they contribute to the guitar world. Our Ali just loves the worn-in feel of this guitar and it's tasteful relicing.
He says, "The level of craftsmanship that Joe Balaguer has put into this guitar really shines through, it's one of the nicest players we have in the shop right now!".
If you've never tried a Balaguer guitar before, take this as a sign to do so. You won't be disappointed!
James, Edinburgh
James wasn't messing around with his pick of the week and has chosen his ultimate desert island pedal, the EarthQuaker Devices Avalanche Run V2. James loves how practical this pedal is, and with features like the tap tempo button, subdivisions rotary switch and stereo ins and outs, this makes it super versatile and easy to play on the fly.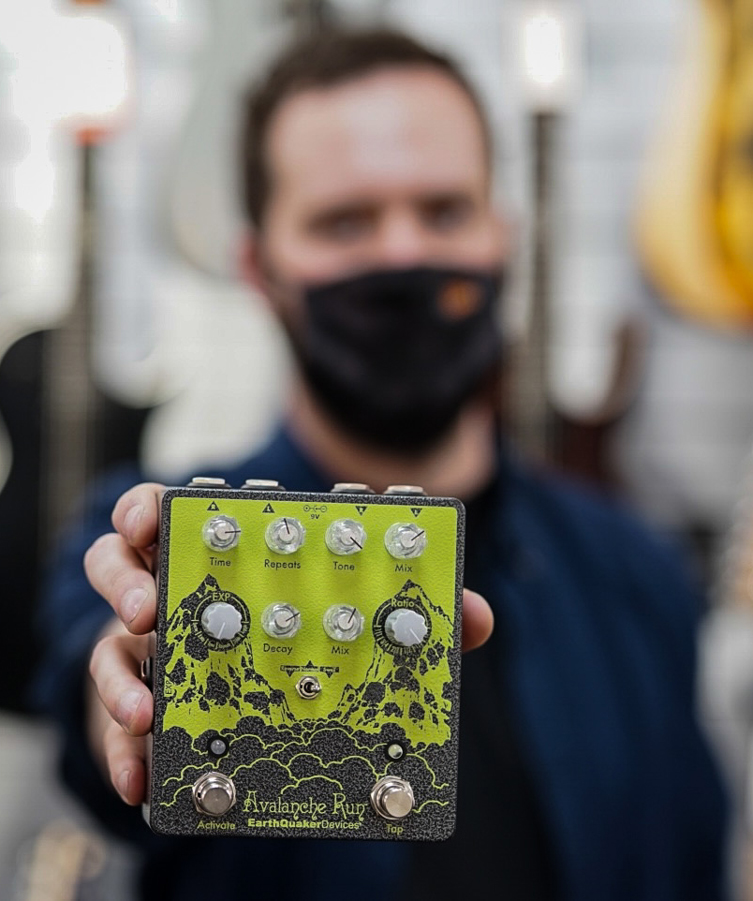 He says, "I usually use this at the end of my signal chain after some other noisemakers to take it well into feedback territory, but sometimes find if I need to strip down the pedalboard this is a really handy way to be able to cram reverb and delay sounds into one box. This is also a very cool limited edition colour too!"
Wanna learn more about these fantastic pedals? Go check out our recent interview with Julie Robbins of EarthQuaker Devices.
Final Thoughts
There you have it folks! Who else has just added some more items to their wish list? We hope you enjoyed reading, getting to know our fantastic team members and seeing the wonderful gear you can find instore.