Prog Rock's Greatest Guitarists
Published on 28 September 2021
Of all the genres that celebrate both musicality and unashamed technique, the canon of Progressive Rock must be grandest. Where else can you find epic guitar solos, effervescent drumming passages and expansive keyboard odysseys all sharing space within the same song?
Prog is a catch-all term for many types of 'rock' music, and debate always seems to rage about just what is and isn't 'Prog'. Some would argue that Prog is the realm of capes and classically inspired 'movements', with a classic period being the early 70s, when Yes and King Crimson ruled the pre-punk world.
Others might say that Prog is a constantly changing form, and that bands like Radiohead and Tool are as 'Prog' as early Genesis. We perhaps sit somewhere between these two sensibilities. We fully acknowledge the classic era of Prog, and feel that the early 70s was a particularly special and potent time for Progressive music. We also feel that the form has moved on into subsequent decades, and so today's blog, whilst not taking in the likes of Radiohead and Tool after all, will still include more recent examples of the genre. Prog, let's not forget, means progressive, and therefore it seems sensible to us that it has indeed progressed into other areas.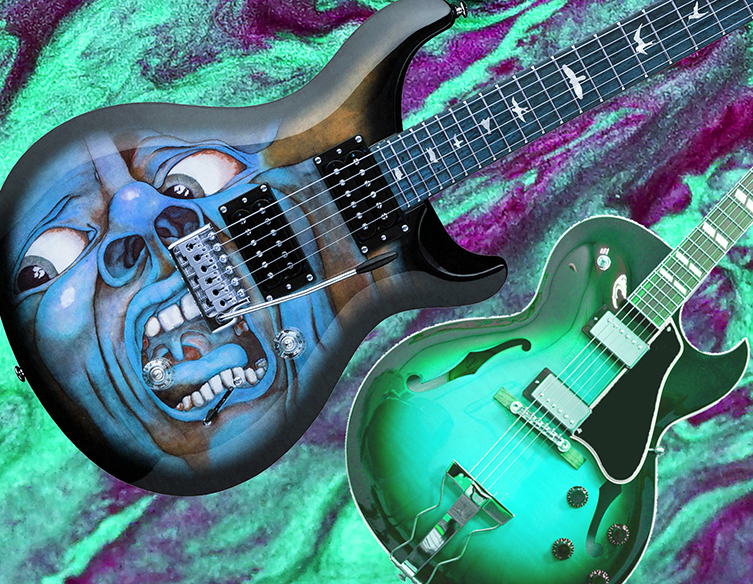 The Art of Prog Guitar
Now, being that we are guitarguitar, we want to show some love to Prog's greatest guitarists! It's true that some valid forms of Prog eschew the guitar altogether (Tangerine Dream are a good example), but this is about our love of guitars in Progressive Rock. It could be fair to say that, because Prog guitarists share the limelight with the other instrumentalist musicians in ways that don't happen so much in other genres, Prog guitarists are given more licence in what they play: it's not about just holding down a rhythm until it's time for a solo! This freedom has allowed Prog players to push the instrument further into space (both interior and exterior space) than most traditional forms. Though Prog takes from Rock, Blues, Classical and Jazz, there is a distinct difference in style and context, especially with the finest Prog players. As we'll see today, many of these players are both highly theoretical, technical players AND are more than willing to throw the rulebook away. This combination of knowledge and exploration gives us, the audience, some of the most creative and adventurous guitar parts in music.
Today, we've rounded up examples from ten of our favourite Prog players. We're going in roughly (though by no means strictly) chronological order, so that we may see an evolution of progressive guitar playing. Best of all, it's all great music and deserves to be appreciated and enjoyed. Join us, as we travel closer to the edge...
Steve Howe – Yes
More than any other band, Yes sum up the vast imagination and ambition evident in prog. It's there in the album titles ('Tales from Topographic Oceans' could never be the name of a punky protest record), the iconic Roger Dean cover art and the 20+ minute songs which seem to travel to exotic landscapes on different planets.
Yes have always had a more accessible sound than their reputation may suggest, and their fantasy worlds are always an inviting place to visit for those so inclined. Each member, from drummers Alan White and Bill Bruford, to bassist Chris Squire, to infamous keyboardist Rick Wakeman, all display stupendous ability and creativity. Having said that, guitarist and de facto bandleader Steve Howe is undoubtedly the star of the show. Preferring melody to histrionics (though he does let himself off the leash on that count, too), Howe brings a wide palette of diverse sonics to the music. Preferring cleaner sounds over distorted tones, Howe's playing is instantly recognisable, whether it's a spritely run on his Gibson ES-175 or an other-worldly sequence on lap steel, he always adds magic to the music.
Album to try: Yes – Close to the Edge
Click to Read our Interview with Steve Howe
Steve Hackett - Genesis
Before they were the epitome of 80s 'Dad-pop', Genesis were a thrilling, adventurous, avant-garde Prog band. Yes, back in the early 70s, Phil Collins was merely an incredible drummer, not the gargantuan superstar he later transmogrified into. Back then, accompanied by none other than a young Peter Gabriel on vocals (and flute, don't forget the flute!) and Steve Hackett on guitar, Genesis made a collective sound that was decades ahead of its time.
They don't make 'em like they used to!
Hackett's time with the band can generally be thought of as their most daring, blending classical influences with rock in ways that still aren't often attempted. Epic albums like Foxtrot and Selling England by the Pound displayed an understanding of composition and drama far beyond the ages of the musicians, and that ability was mixed with an artistic sensibility unafraid to delve into areas that brushed shoulders with literature and theatre as much as with rock music.
Steve Hackett's playing also suggests a strong preference for melody and harmony, but it's backed up by a monstrous technique. His successful 40+ year solo career has proven that he can accomplish plenty by himself, and that he somewhat carries the torch for classic Genesis in terms of the music's epic reach.
We've had the pleasure of interviewing Steve on a number of occasions, so for some exclusive insights into his musical journey, please do click the link below, which will take you to the most recent piece.
Album to try: Genesis – Selling England by the Pound
Click to Read our Exclusive Steve Hackett Interview
David Gilmour – Pink Floyd
If there is one guitarist on this list that everybody loves, regardless of their musical taste, it's big Dave. Pink Floyd are a band that reaches across every social and cultural structure. Serious music scholars love them as much as casual listeners who don't even think of them as prog, regardless of just how strange their music can be. Listen to Dark Side of the Moon and compare it to any other album in your collection. There's really nothing 'normal' about it, and yet it is one of the biggest selling albums in existence.
The difference between Pink Floyd's music and other prog bands could be many, but we'd suggest that their sound is much more accessible to the ears on initial listens. The odd time signatures and abstract sound design elements are maybe more insidious than with some bands, so they sink in easier with a casual listen.
This is followed by them having one of the world's greatest melodic guitarists who plays with the most beautiful tone, and who writes parts that astound with their emotion as much as with their hummability. Gilmour takes his time and draws you in with his story-like phrases and licks, piecing each part together like a narrative. He's the guy we can all agree on, and his playing is wedded to a catalogue of world-class songs that don't spare on the strangeness.
Album to try: Pink Floyd – The Wall
Robert Fripp – King Crimson
If David Gilmour is all about the heart, it would seem to us that King Crimson's Robert Fripp is all about the brain. Detached, cerebral and very intentionally considered, Fripp's playing with King Crimson is something of a codex for unorthodox playing. Having said that, there have been more than a few 'Fripps' out there of the years...
When we look into his early work, found on records such as In the Court of the Crimson King, we find an ensemble player whose supportive playing takes a backseat to wind instruments and keys for much of the proceedings. A few years on, much has changed. Red is a touchstone for many aggressive noise guitarists, and the title track goes some ways to explaining why. Fripp's guitar is not a pretty instrument here, but a very expressive one, and a whole attitude of playing is available here to those who want it. A few years on, Discipline finds Fripp inventing a completely new tuning (New Standard Tuning, which is C-G-D-A-E-G, low to high) and allowing the inspiration of the Indonesian Gamelan to radically re-asses his rhythm style.
Some may miss more traditional styles when they come to Fripp, but for those for are ready to hear other avenues of possibility on the guitar, his journey is one to study with relish.
Album to try: King Crimson - Discipline
Steve Rothery – Marillion
Taking the melodic nous of Pink Floyd and adding the off-kilter drama of Genesis, the Tolkien-referencing Marillion (the name is a take on The Silmarillion) brought prog into the 80s with a fresh sensibility. Their name may have come from Middle Earth, but their songs were awash with (mainly) real-life episodes and emotions, bringing prog back to earth somewhat, even if the music itself was as ethereal as anything from the genre's 70s high point.
If vocalist Fish could never be said to own a beautiful voice, it was at least distinctive, and anyway, they had the superlative playing of guitarist Steve Rothery to make up the deficit in beauty. His style certainly owes plenty to Gilmour, but his melodic sense is his own. Tasteful to the extreme, Rothery's 80s setup of humble Squier Strat and Roland Jazz Chorus amp taught the world that inspired application beat showboating equipment every time.
Now into their 5th decade together (now with Steve Hogarth on vocals), Marillion are one of those massive bands you never hear about. Perhaps that is this best way? Thousands of dedicated fans awaiting every release, with no pressure from a competitive market. Either way, Steve Rothery is one of Britain's finest, and deserves to be a household name.
Album to try: Marillion – Misplaced Childhood
Click to Read our Exclusive Interview with Steve Rothery
John Petrucci – Dream Theater
One area in which prog has made definite inroads is in metal. Bands like Dream Theater are perhaps considered 'classic rock' now, but that's more to do with the longevity of their career than the songs they play. Judging by the music, it's prog all the way!
John Petrucci has had a reputation for being a spectacular player for many decades, and is perhaps one of the most influential 'Post-Vai/Satch/Malmsteen' generation of technical players. His unbelievable technical ability is legendary, as is his way with a riff! A long association with Ernie Ball Music Man has also resulted in a veritable armada of signature guitars, each one as innovative as their namesake.
We were lucky enough to spend a little time with John to discuss his Majesty guitars, and you can see that right here!
Album to try: Dream Theater – Images and Words
Mikael Åkerfeldt & Fredrik Åkesson – Opeth
If you like your prog dark and infested with moments of operatic death metal, then Opeth are probably your favourite band ever. Though more overtly 'Prog' now than in early years, these Swedes certainly know how to do some sonic damage. They are gothic without being capital 'G' Goths, and technical whilst keeping one foot resolutely in the 70s. Their riffs sound apocalyptically heavy, and yet they almost always stay in standard tuning.
Opeth, it seems, are a lot of things.
Best of all, they are adventurous, supremely talented and are quite unafraid of being as grandiose and melodramatic as the moment may call for. Gone are the 'Death Growls' of before, but a uniquely sinister vibe permeates all of their work, as if they all live in Scandinavian castles that lie in permanent winter. The two guitarists, Fredrik Åkesson and frontman Mikael Åkerfeldt, are modern masters with an eye on the timeless, conjuring a heady mix of acoustic alchemy, roaring riffage and soaring leads. Opeth are guitar heaven for those with a taste for the hellish.
Album to try: Opeth – In Cauda Venenom
Click to Read our Exclusive interview with Fredrik Åkesson
Steven Wilson – Porcupine Tree
Steven Wilson, the iconoclastic singer-songwriter-guitarist-producer extraordinaire, has long been a major force in progressive music. Throughout his lengthy career, both with Porcupine Tree and as a solo artist, Wilson has sculpted a colourful, dynamic and eminently influential path for guitar bands who want more than the standard blueprint to draw from. Linked with Opeth through producing several of their records, Wilson shares the melancholic, symphonic grandeur of those Swedish titans, but brings a decidedly 'British' sensibility to his work. He often uses showstopping players like Guthrie Govan in his recordings, but his own playing is of a high calibre itself, full of invention and colour.
Equally adept with burbling electronics as he is with lacerating guitars, it's always a guess where his muse will take him next. Wherever it does, though, you can be assured that the quality levels will be high.
Album to try: Steven Wilson – Hand. Cannot. Erase.
Click here to Read our Exclusive Steven Wilson Interview
Devin Townsend
Another artist of kaleidoscopic talent, Devin Townsend's catalogue of music travels from some of the most impossibly heavy battering rams of songs, through to epic orchestral pieces and right down to blissed out 'new age' music, complete with running water samples and flutes. Sometimes, this can all happen within the space of a single album!
Achieving fame as the vocalist on Steve Vai's Sex & Religion album, Townsend has since carved an inspirational and quite preposterous route through modern progressive music. His years with the, shall we say 'uncompromising' Strapping Young Lad have won him over with the metal crowd, but his long list of solo releases have increasingly turned his art towards the celestial, the euphoric and the transcendent.
We've been lucky enough to speak with Devin on a number of occasions, so please click below for our most recent interview.
Album to try: Devin Townsend - Empath
Click to Read our Latest Interview with Devin Townsend
Omar Rodriguez Lopez
That creative inferno that is Omar Rodriguez Lopez has released dozens of solo albums, made a few movies and has also found time to play in his main band At the Drive-In, as well as Bosnian Rainbows. For us, though, his finest moments were with the extravagant, bonkers psychedelic proggers The Mars Volta.
When they burst onto the scene in 2002 with the Rick Rubin-produced (and Flea-starring) Deloused in the Comatorium, contemporary music was never quite the same. A world away from the New York poser scene of the time, The Mars Volta brought the violence of King Crimson to the swagger of Abraxas-era Santana, and wrapped it all in a thick layer of mythos and storytelling. Recovered diaries, dead friends and hazards with Ouija boards were all part of The Mars Volta's tale, all of which would be enough cause for interest. Their multi-coloured, super over-the-top, mind-blowing music was even greater cause.
Omar is a wonderful and quite idiosyncratic player. A lefty who prefers really heavy gauge flatwound strings and VERY specific guitars (for years, he'd only play Squier Supersonics, then Ibanez signature models, whilst today, Music Man make his gorgeous Mariposa guitar), Lopez is famous for his extensive use of effects pedals and his comprehensive approach towards guitar playing. His attitude is inspiring and encouraging.
It's nice to have At the Drive-In around again, but, hey, let's get back to this stuff, Omar!
Album to try: The Mars Volta - Deloused in the Comatorium
There are Always More
It was a Top Ten, so as always, we had to leave out some cracking players. Some of you prog fans out there would surely argue for Richard Thompson, Martin Barre and Tosin Abasi to be included. You'd be right! Of course there are more than ten great Prog Rock guitarists out there, but we think our list today displays the widening, developing journey of Prog, and those who pick up their axe to join the story. Who did we miss? Have your say in the comments and thank you for reading!