Win a TOURTECH Drum Kit!
Published on 03 November 2021
Back in the day, having a drum kit at home wasn't a feasible option for most musicians. The huge amount of space an acoustic kit takes up, combined with the equally HUGE amount of noise they make, meant that for many, it just wasn't remotely possible. Given how useful an instrument it is to learn, that's a damn shame. Drums give guitarists a better sense of timing and space, while also inspiring them to rethink their own playing and find new rhythms in their guitar work.
However, the shift towards digital kits is meaning that more and more musicians are finally able to have fully functioning kits at home. Now, not only does that mean the drummer in your band has no excuses for being sloppy (just kidding) but also that producers, guitarists and everyone in between are now in a much better position to experience what it's like being behind a kit. We thought that with Christmas just around the corner, it would be a great opportunity to give you the chance to win one. Read on for the details...
Win your own TOURTECH kit!
This month, we're giving away a fantastic TOURTECH TT-22M kit to help one lucky winner practice in peace. With fantastic feeling mesh pads and no less than 26 preset drum sounds onboard, this compact kit is the perfect option for you to hone your skills and get an authentic playing experience. Not only that, but we're giving away the full bundle which includes Roland RH-5 headphones and a high quality double braced drum stool. To enter, simply click the link below to head to our competition page then enter your email address in the box provided. We'll pick a winner at the start of next month... in the meantime, think lucky thoughts!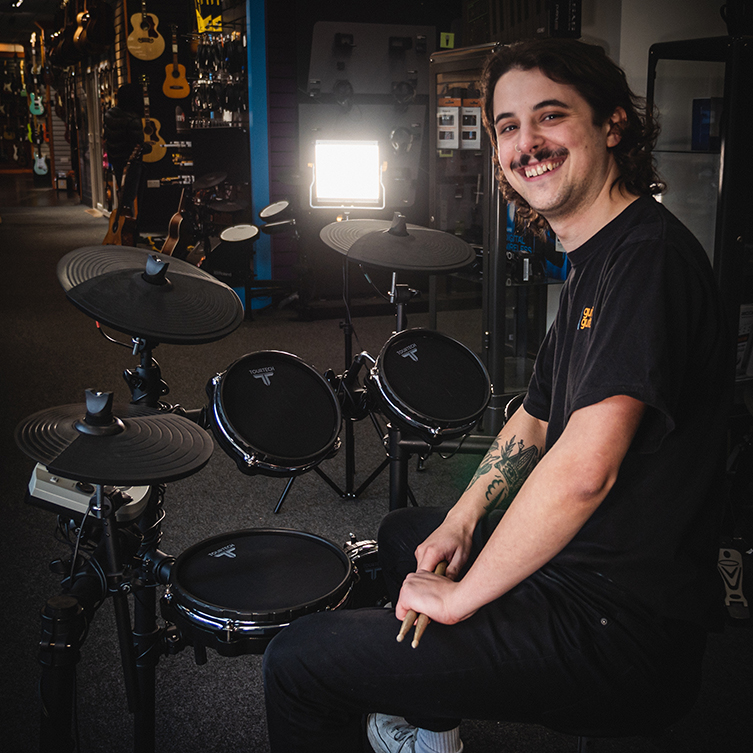 T&Cs
Only those who sign up between 02/11/21 and 30/11/21 will be entered into the draw. Winners will be selected at random and will be informed via email.
Competitions are open to all except employees of GUITARGUITAR Ltd, the companies or organisations with whom the competition is being run, their agents or anyone directly connected with the competition. Competition only open to entrants in the UK. Prizes are as stated only and no cash alternatives will be given; our standard liability Terms & Conditions will apply too.