Top Ten Les Paul Players of All Time
Published on 10 February 2022
Who is your favourite Les Paul player?
Since the dawn of rock, the Gibson Les Paul has been a consistent source of power to some of rock music's biggest legends. It is one of the three most iconic electric guitar designs in existence, and of those, is certainly the most powerful sounding.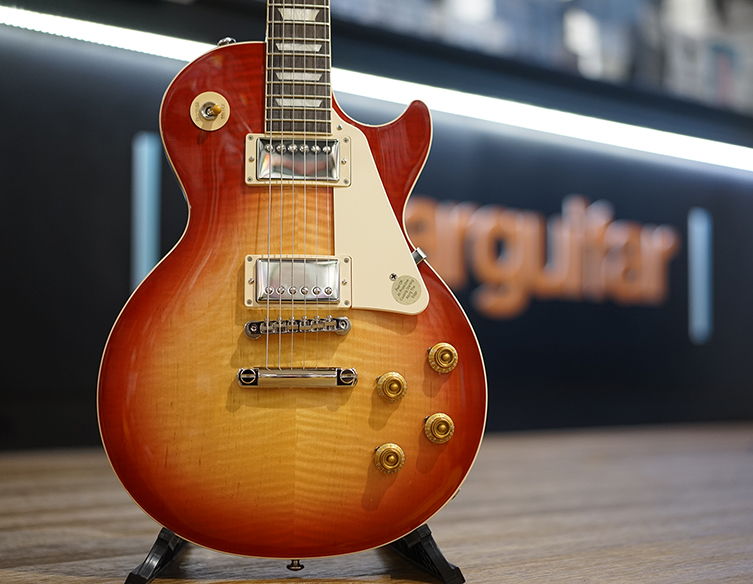 Throughout the ages or rock, every generation has seen hopefuls take to the stage, armed with this totem of mystical guitar wizardry, in the hopes that wielding one will elevate them to the pantheon of rock gods. Some succeed, and we've picked out ten of those shining stars today to celebrate in our list of the greatest Les Paul players ever. There is no order here: number one is no less great than number 10, since all have contributed to the greatness of music, and all have chosen the Gibson Les Paul as their Excalibur. Join us today, as we gather together these great Les Paul legends…
Billy Gibbons
Reverend Willy is a man of rare style and attitude. He sure talks the talk but he can also walk it better than most, and his most prized tool for preaching is of course Pearly Gates, his quite mythical '59 Sunburst Standard. A rule-breaker by nature, Gibbons gets his wholesome Texas tones by stringing up Pearly with a set of 7 gauge strings and then digging in with an old Mexican Peso. Respect.
Paul Kossoff
Fans of classic Seventies rock naturally get misty-eyed when Kossoff's name is mentioned. The tragic Free guitarist didn't have long to make his mark, but he certainly made the most of his 25 years, delivering a tone and vibrato that have forever put him on the map for guitar fans. Another '59 Standard fan, Kossoff bought his after seeing Eric Clapton performing in the mid 60s and never looked back.
Slash
The top-hatted one is possibly one of the most famous guitar players on the planet. As such, his unrelenting support for the Les Paul is probably the best advert for it that Gibson could ever hope for. Thoroughly classic in his approach, Slash is the traditional rock player that everyone can agree on, and his tunes with Guns n Roses are the blueprint for all hard rock writers nowadays. As for the man himself, it's an easy checklist: Les Paul, cranked Marshall, raunchy blues licks, top hat and cigarette: job done.
Jimmy Page
As inevitable an inclusion as Hendrix would be to a Fender Strat blog, Jimmy Page is the guy that everyone looks up to for Les Paul action, even other guitar heroes! Page did so much with Led Zep, and cut such an instantly iconic figure on stage, that it's quite impossible to overstate the man's influence on our guitar culture. His playing changed the rulebook, sure, but he also raised the bar for writing, producing and performing. A truly vintage rockstar of the old school mould, Page is about as 'real deal' as it gets.
Eric Clapton
Ol' Clappo has had many stages to his varied career, and though younger fans might associate him with expensive suits and Fender Strats, older fans will no doubt revere the Cream and Bluesbreakers era of Eric, when he dressed like Austin Powers and tapped into the hitherto unimagined power and energy of a Les Paul Standard paired with a roaring Marshall stack.
However you prefer your Eric, there can be no daunting the extraordinary and lasting impact his Les Paul years had, from Beano to Disraeli Gears.
Zakk Wylde
Perhaps Ozzy Osborne's most famous player outside of Sabbath, Zakk Wylde has carved a long and distinguished career in the guitar hero stakes. From his 'giant viking' look to his bullseye graphic Les Paul, Zakk knows how to be memorable. This extends to his frighteningly accomplished playing, which eschews wimpy hammering techniques in favour of picking every single note. Given that he plays faster than a Lamborghini, that's saying something!
Mick Ronson
David Bowie really knew how to pick guitarists. He had everyone from Adrian Belew to Stevie Ray Vaughan to Reeves Gabrels (and also someone who appears elsewhere on this very list) but his most famous guitar-brandishing foil must be Mick Ronson. Ronson joined Dave on many of his most notable early excursions and identities, including the Aladdin Sane and Ziggy Stardust personas. Always tasteful, always ready to rock a pose, Mick Ronson was just the coolest, and his stripped finish Les Paul only proved that even more.
Ace Frehley
Talking about the power of posing, no band understood this better than KISS. In a way, it doesn't really matter if their songs were good, bad or indifferent: when KISS donned the costumes, facepaint, theatrical blood and fire breathing back in the 1970s, rock music changed forever. Well, rock performances did, anyway. Many of the greatest guitarists ever (such as Dimebag Darrell) cite KISS guitarist Ace Frehley as being a primary motivator to them, and he did it all with a frankly stupendous 3-pickup Les Paul. And silver clothes.
Peter Green
Someone in no need of facepaint and spaceman outfits was Fleetwood Mac's Peter Green. Whilst his life was a chaotic and troubled affair, there can be no argument about his early career and its enduring influence. Green had the touch, the ear and the taste to bring a new vocabulary to blues-influenced rock music, and his tracks like 'Oh Well' (both parts) and Albatross are timeless classics.
His Les Paul gets a special mention since it is nearly as famous as him. It's yet another '59 Sunburst Standard (what was in the water that year near the Gibson factory?) and has a famously unusual 'nasal' tone to it, the cause of which has been debated back and forth forever. The 'Peter Green Lemon Drop' Les Paul, so called because the Cherry part of the Sunburst finish has long since faded off, was sold to Gary Moore (who almost made this list) and then on to Kirk Hammett, who takes it on tour with him to this day.
Robert Fripp
King Crimson head honcho Robert Fripp is maybe as far away from Peter Green as a popular guitarist can get, but his love for the Les Paul is no less. Like Ace Frehley, he was a fan of the 3-pickup Custom, but unlike Frehley, his playing is abstract, expressive and seemingly from an entirely non blues-related set of influences.
Outside of his King Crimson work, Fripp is best known for adding shards of 'stunt guitar' to some of David Bowie's most celebrated works. Fripp appears on the albums "Heroes" and Scary Monsters, and no, there is no E-bow on that immortal Heroes lead line: it's just the guitar signal feeding back from the studio monitors, where he'd DI'd his Les Paul! Unorthodox and effective, which seems to sum up his playing quite succinctly.
Other Classic LP Heroes
Of course, there are more than ten top Les Paul players out there, so we've added an additional hall of fame for those who definitely make it unto the upper stratosphere of greatness:
Joe Perry

Peter Frampton

Gary Moore

Duane Allman

Adam Jones

Neil Young
Did we get them all? Who did we miss? Thanks for checking out out list of top Les Paul Players, and be sure to read through more blogs, guides and interviews in our guitarguitar News Section.
Until next time
Ray McClelland