Gibson Custom Shop: New Delivery!
Published on 25 February 2022
It is with wide-eyed glee that we share this picture-heavy blog with you today.
You'll quickly notice for yourself, but we've just taken delivery of a number of quite exquisite instruments from the Gibson Custom Shop, and we are just plain-old excited about it!
This is dream guitar stuff indeed. From VOS (Vintage Original Spec) guitars to authentically aged Murphy Lab examples, this fresh shipment of one-off pieces is like a Gibson Hall of Fame!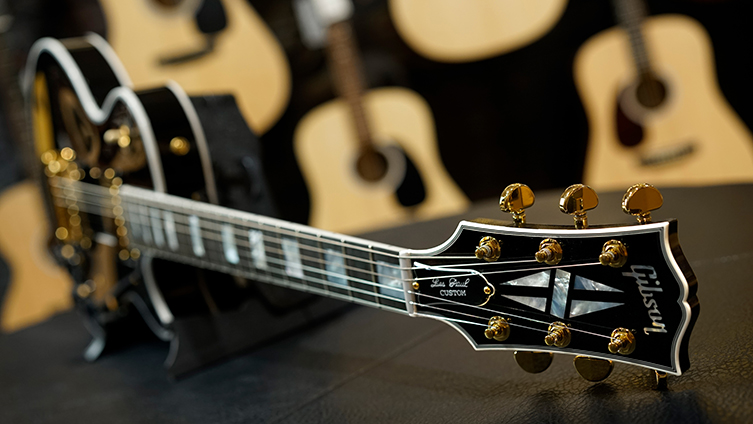 We asked some of our team members in various guitarguitar stores to pick out their favourites and take some juicy pics of them for us to share. The results are what we'll see here today, and it's quite a fantastic group of Gibsons! We had to put on our special 'guitar drool bibs' and fasten them around our necks before staring at these pics!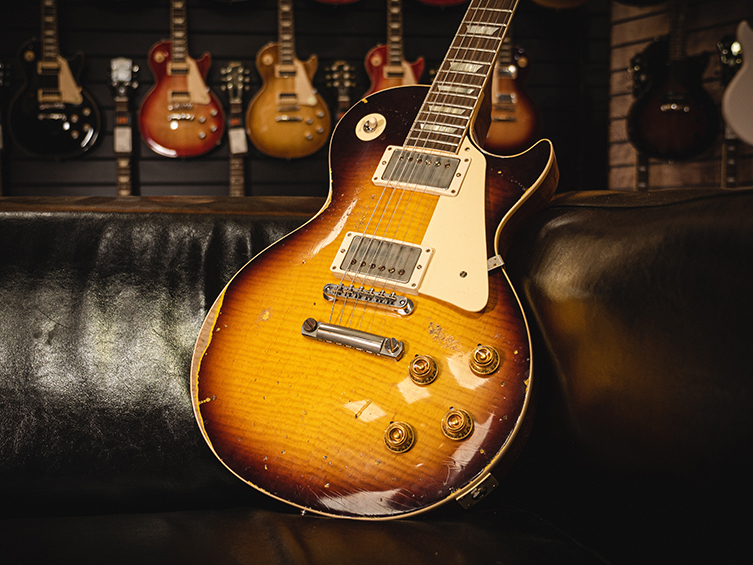 Join us as we take in this visual feast, taking liberal moments to sit down and catch our breath as we do so…
Gibson Custom Shop 59 Les Paul Lemon Burst Murphy Lab Ultra Heavy Aged
This stunning '59 Les Paul in Lemon Burst is the type of instrument that keeps us awake at night. It's a scandalously good looking example of the mythical '59 Sunburst Les Paul, aged masterfully by Tom Murphy's team to the heaviest level of distress they offer. Authenticity is a keyword here, and the investment of time and care by the Murphy Lab has paid off handsomely: even trained eyes would glance at this and take it for a 63 year old guitar!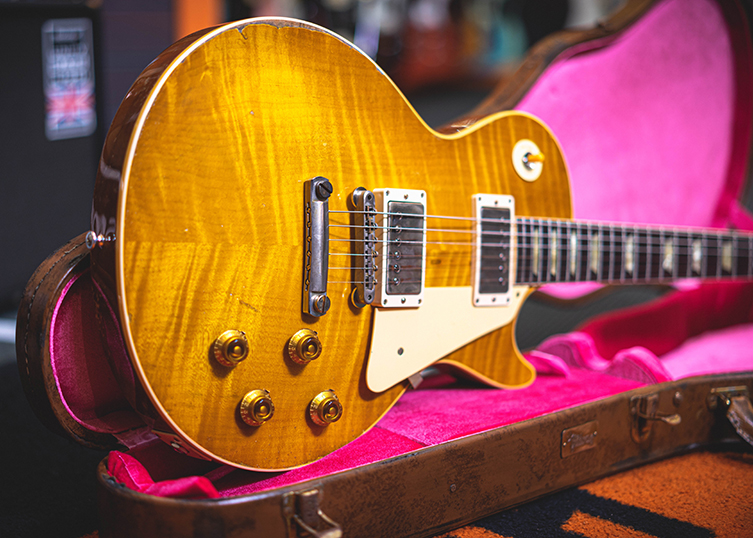 Lemon Burst is an excellent choice for a guitar that has lived a busy life, with the finish describing the gradual fading of the 'original' Cherry edges. As with other Custom Shop Les Pauls like this, we're looking at a 1 piece Mahogany body with a bookmatched 2-piece figured top. Important player details like the neck profile are given particular attention, too. This guitar nails that mythical '59 medium C carve perfectly and makes the guitar indecently playable! All necks aspire to the feel of a good '59, frankly.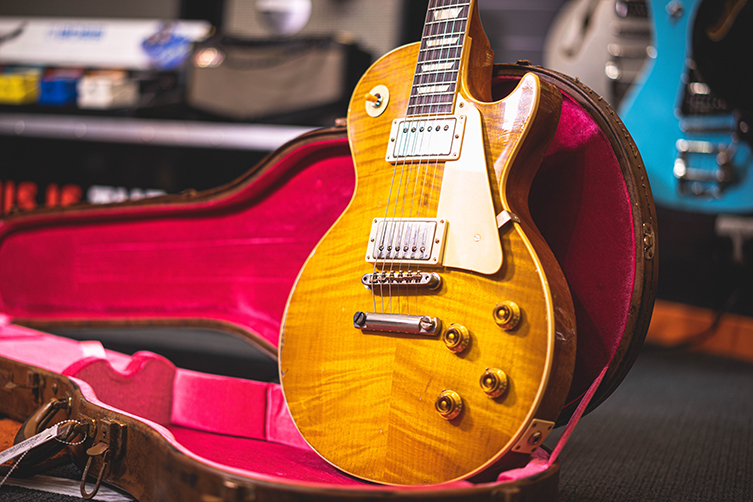 For fans of British Invasion-era instruments, heritage Gibson guitars and classic rockers, this is probably the gold at the end of a rainbow.
Gibson Custom Shop 1964 Trini Lopez
They may as well have just called this the 'Gibson Dave Grohl', given how visible his use of this model has been over the years. The head Foo Fighter has good taste in guitars, though: this reissue of the 1964 semi-acoustic classic is a well-balanced tone machine with looks that blend tradition with a pleasing quirk-factor.
All of the details you'd want are here, from the distinctive six-in-line headstock to the trapeze tailpiece. The pickups are Alnico III units and the neck shares a very similar (and excellent feeling) medium C profile to the 59 Les Paul above.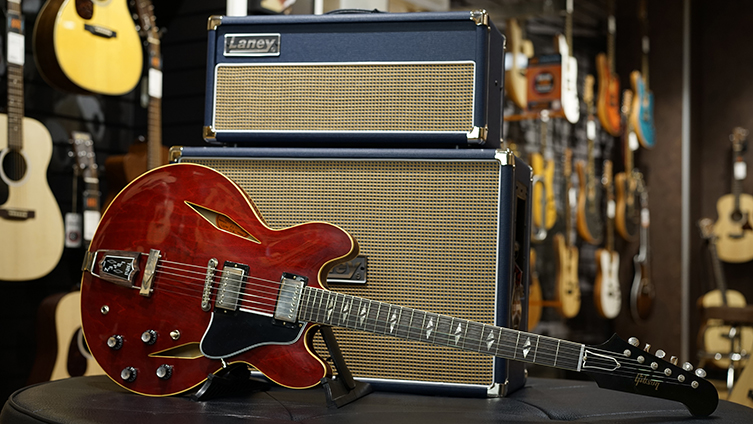 You'll notice the diamond f-holes (can we still call them that if they aren't f-shaped?) and the matching inlays, which residue on no less than an Indian Rosewood fingerboard! It's class all the way here, as it should be. If you play Blues, Rock, Indie or Jazz, this is a head turner of a guitar with plenty to offer, and it has a little of the unusual about it to boot.
Gibson Custom Shop Les Paul Custom
Coolest guitar ever? It's definitely high in the running, and it's wonderful to have a few Ebony Les Paul Customs back in stock! Nothing else has this guitar's authority and presence. There's no Murphy Lab distressing here, so it is a clean example of this most immortal of models.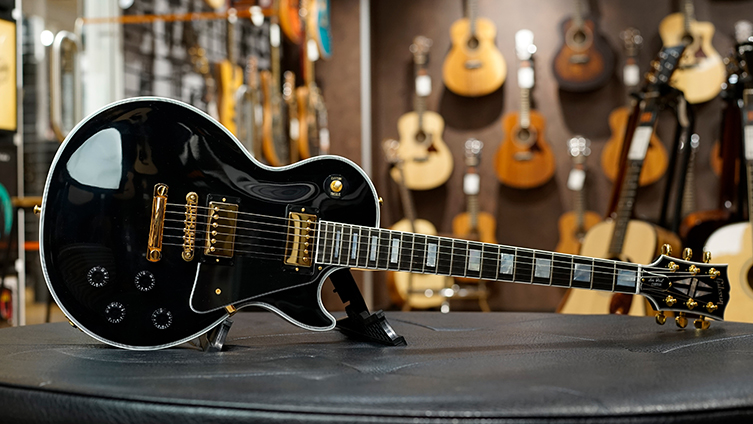 We're glad about a few details on this Custom: the pickups and the fingerboard. Gibson make a range of lovely humbuckers, but to our ears, Les Paul Customs should always be fitted out with the classic 490 & 498 set, and that is what is indeed present here. It's tradition, yes, but those pickups make the most of the dense Mahogany construction and add a smooth top to the sound, so we're glad that Gibson haven't brazenly decided to audition any 'otherbuckers' on here instead. It's a classic sound, and one not to be trifled with!
As for the fingerboard, this current edition of the Les Paul Custom sees a welcome return of Ebony in this area, just as historical models have had. It's the right feel, and the correct look for this handsome 'tuxedo' guitar.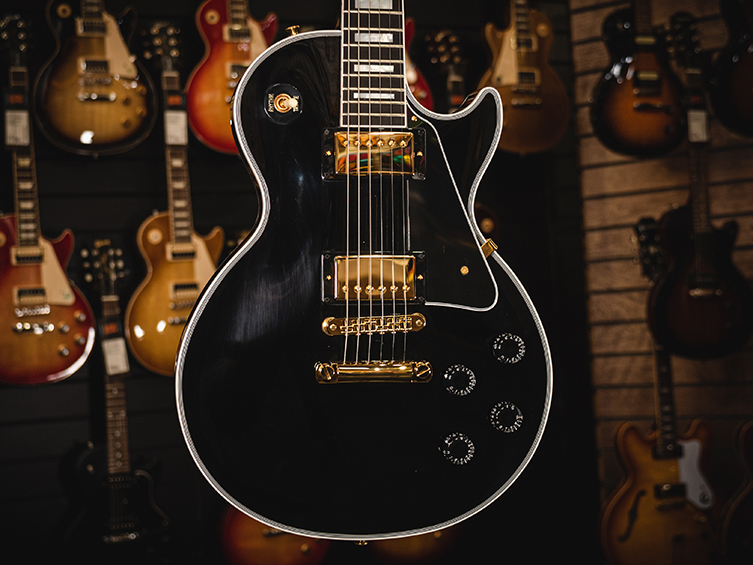 Gibson Custom Shop 1958 Flying V Korina
Still wild after more than 60 years, the Flying V is a statement guitar and a half. This lovely example uses the original Korina wood (also known as White Limba) for its body to ensure authentic tones and looks. All of the parts are carefully modelled on vintage originals, from the plastic of the pickguard to the windings of the Custombucker pickups.
We love details like the larger logo on the headstock (later V's had the Gibson logo etched on the truss rod cover) and the 500k control pots for a greater range of frequency responses. The neck shape closely follows the 1958 Flying V profile, too. This is as close as it gets to the counterculture legend itself.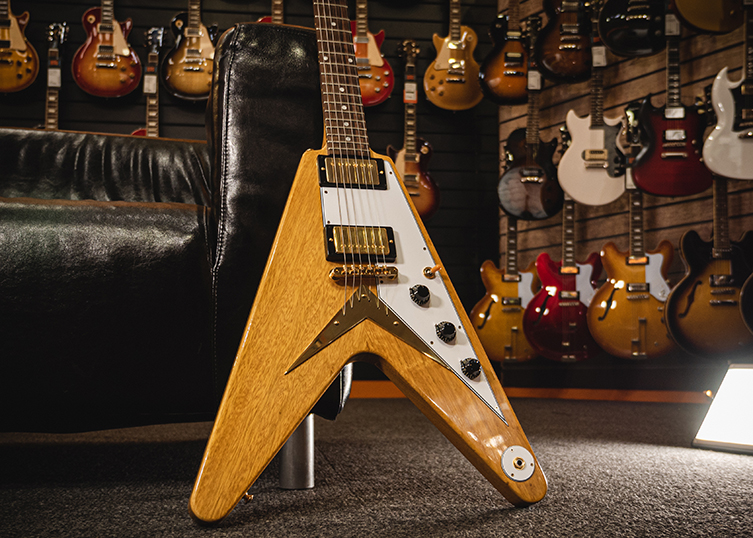 Gibson Custom Shop Les Paul '59 Standard in Kindred Burst, Murphy Lab Ultra Heavy Aged
Here's another wonderful '59 Les Paul with ageing from the Murphy Lab. We particularly love how much the deep cherry of the Kindred Burst finish shows up the 'wear', scratches and dings to the top here! It's a piece of art all right, and it has been thoroughly researched in order to look and feel as real and authentic as possible. No mark is out of pace, as it were.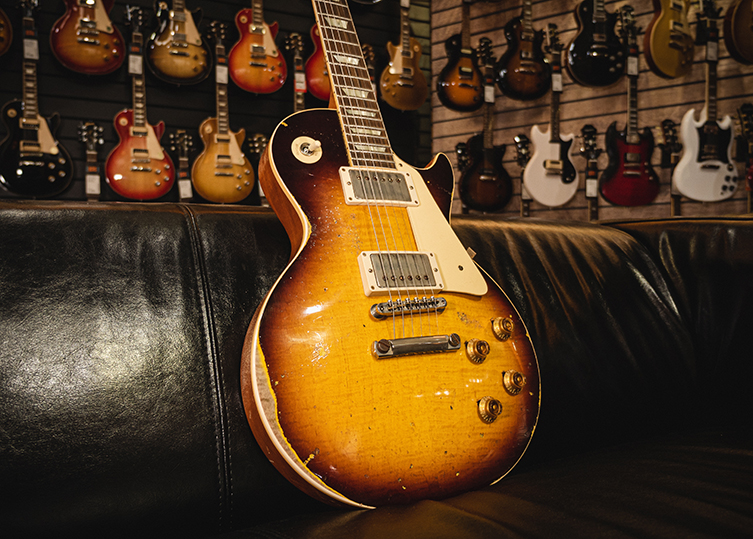 The build is similar in description to the Lemon Burst example we spoke about earlier, with its one piece body and two piece figured top. In addition, it's worth pointing out that the specially wound pickups are also unpotted. Original Gibson pickups were not potted either (potting is when the pickup is dipped in wax to seal the copper wire windings and reduce feedback) and recent research has led many to the conclusion that unpotted pickups allow for bolder harmonics and longer sustain. If it sounds as good as it looks, we're sold!
Gibson Custom Shop SG Custom
This could be our favourite choice from the whole shipment! How downright cool does this SG Custom in Ebony look? It has stolen the tuxedo vibe from the Les Paul Custom and it is wearing it rather nicely indeed!
As you may hope or even expect, this SG features the same Ebony fingerboard and 490/498 pickups as the Les Paul Custom. Gibson's Custom Shop have retained the slim neck favoured by many SG aficionados here, though, making this quite the soloing machine! This simple type of stylistic switcheroo is something we love seeing, especially when it remains true to the 'stable' of guitars to which it belongs. This is one very cool, very charismatic instrument indeed.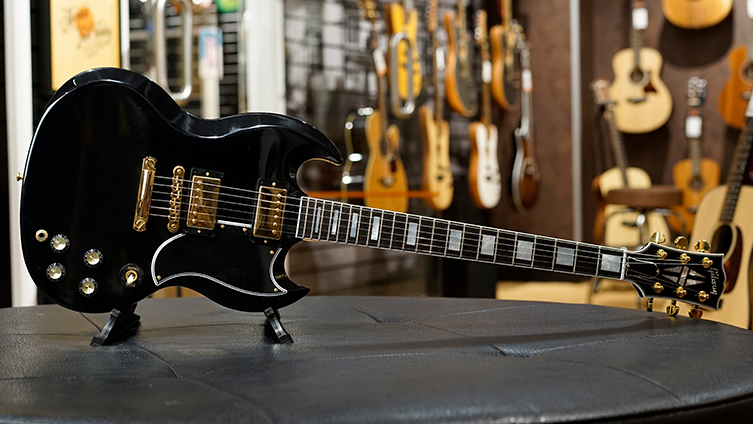 Gibson Custom Shop = Serious Wow
You can see for yourself, can't you? These are some of the most beautiful guitars bearing the Gibson logo that we've had in quite some time, and that's saying something! Gibsons are always handsome instruments, but these Custom Shop pieces show off just what's possible inside the framework of famous, historically significant design paradigms.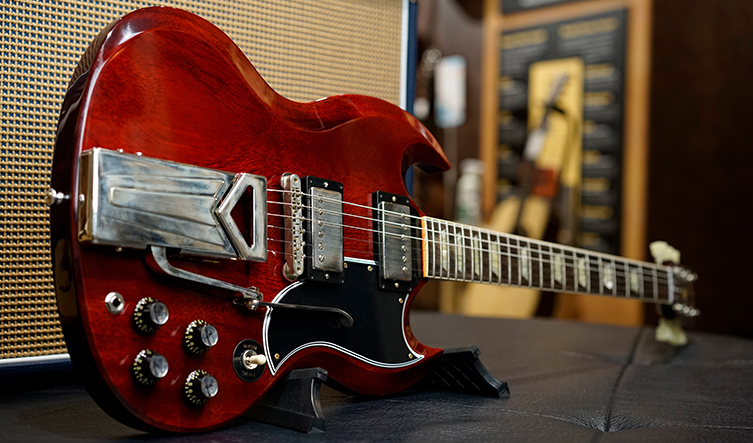 The real proof of puddings such as these will come in the handling and playing, and we're confident that these masterpieces will not disappoint. If you've been saving for an extra special electric guitar, and been holding off for the right time to choose, well… we think that day has come. Each Gibson Custom Shop guitar is a one-off. It is a top-level example of guitar craft and it is a worthy investment, not to mention an incredible performer. Put simply, these are some of the most desirable guitars on the planet. Get yours while you can.
Click to View our Latest Gibson Custom Shop Guitars
Ray McClelland