Squier: A Brief History and Guide
Published on 04 March 2022
If there's one brand that can unite almost all electric guitarists and bassists, it's Squier.
Who hasn't had one? As affordable guitars go, Squier has been the number one choice for 40 years now. Most of us have experienced a Squier instrument of some description during our initial playing and learning years, holding those formative times as cherished memories as we move up to 'proper' Fender and beyond.
Well, it certainly used to be like that, but these days, Squier are not only a legitimate choice for guitarists of any level, they're also bringing out some of the coolest guitars on the market! Visit any local venue and you're as likely to see the 'S' logo on the headstocks of the players onstage as you are the fabled 'F'. That's quite some journey, and perhaps worth looking at in slightly greater detail.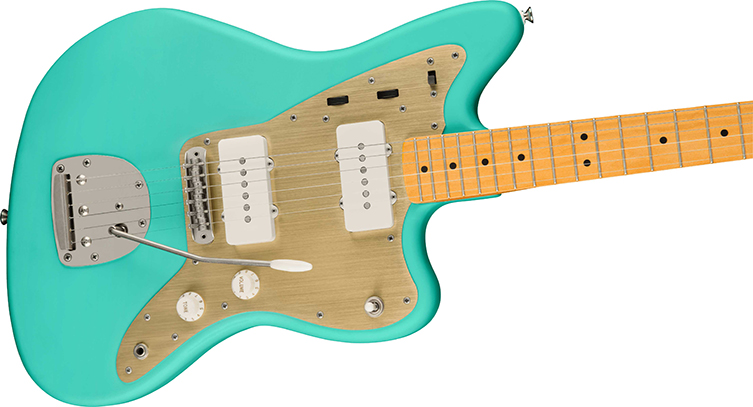 Today, we are doing just that. 2022 marks the 40th Anniversary of Squier. They've released some wonderful new models to mark the occasion, and we thought it was worthwhile also taking a very brief trip down memory lane to see the evolution of the brand. We'll start in the dusty Wild West, and take in Fender buying the brand (yes, it existed prior to Leo's baby), a few of the more celebrated ranges from across the years and generally enjoy some of the great guitars Squier have brought us.
Squier are the ultimate beginner's brand, but, as you'll see, they are a whole lot more on top of that…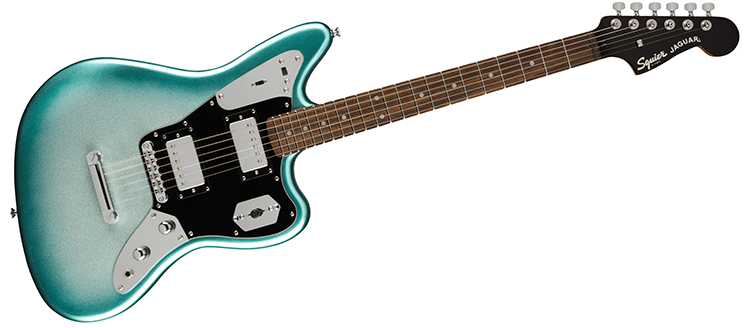 The Wild West and the American Stradivarius
Squier's story begins in America, not long after the days of notorious gunslingers Jesse James and William 'The Kid' Bonney. Step into the DeLorean with us as we hurtle into Battle Creek, Michigan. The year is 1890 and we've arrived just in time to see the beginnings of the Squier brand. Victor Carroll Squier, the son of the excellently-named Jerome Bonaparte Squier, an immigrant from England, started a violin making business.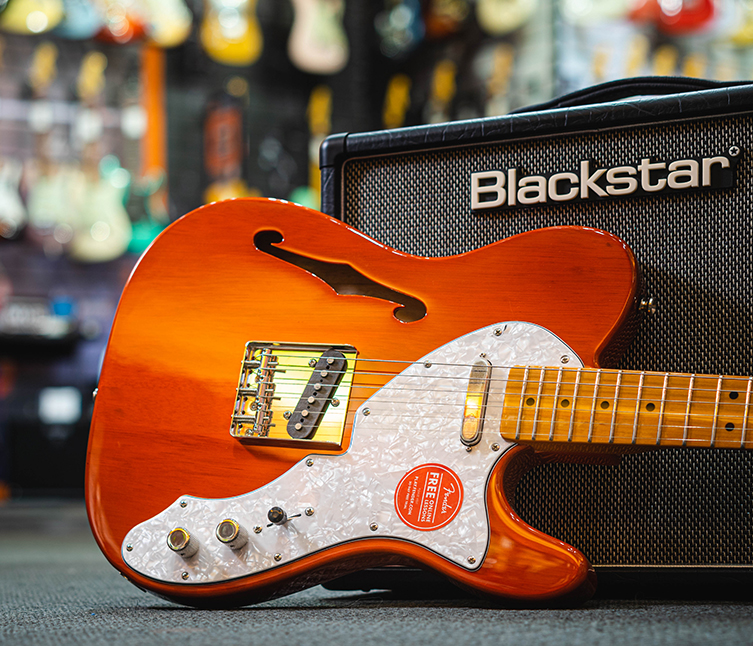 The quality of Victor's instruments earned him a reputation in the area with musicians and teachers, eventually earning Victor the title of 'The American Stradivarius'. Surviving examples of these violins now fetch mortgage-haemorrhaging prices in classical circles, where they are justly revered. Notably, his hand wound strings were the best in America, where European imported strings were hard to come by and extortionate when they were available.
The Jazz Age, Rock 'n' Roll, Fender Buyout
Enter the 1930s and the swinging Jazz age. Guitars were popular: brands like Epiphone and Gibson ruled, and they needed quality strings. Squier continued to make violin strings but added banjo and guitar strings to their roster of products. Initially, big band Jazz meant archtop acoustic guitars, but the world slowly moved towards electrified music. Squier no longer created instruments but were a success supplying strings.
A fledging company called Fender contracted Squier to produce strings for their nascent electric guitar designs in the early fifties, and eventually bought the company outright in 1965. As we know, 1965 also signalled Fender's sale to TV production giant CBS, an era which lasted until the early 80s. This period coincides roughly with the birth of Squier as we know it!
1982
Some sources online (including Squier product posters from 1991) indicate that Squier electric guitars were being built as far back as 1979, but we'll stick with the official date of Summer 1982. Fender needed a lower-priced Japanese sub brand to battle the likes of Fernandes and Greco, who were at that stage putting out copies of Strats and Teles that were arguably better than the notorious latter-period CBS Fender guitars. Prior to this, Fender had never offered cheap versions of their main Stratocaster and Telecaster designs at all: 'student' or budget guitars were always other designs like the Mustang or Duosonic. It was both the turning of a new leaf and a statement of intent for Fender to undercut its competitors with cheaper versions of their famous designs that were, crucially, official.
When Fender started producing Squier guitars from the now-famous Fujigen factory, part of the contract ensured that the factory woul dno longer build Greco copies, thus defeating one of their competitors in a deft stroke! These early 80s Japanese made instruments are the main reason for the mythos that surrounds what we suppose are now vintage Squiers! The quality matched that of those other East Asian copycat brands and players on a budget could get a taste of the real thing, rather than having to settle for a mere copy..
How good were these early Squier guitars? Well, just ask Marillion's Steve Rothery, who continues to gig with a pair of early 80s black Squier Strats to this day!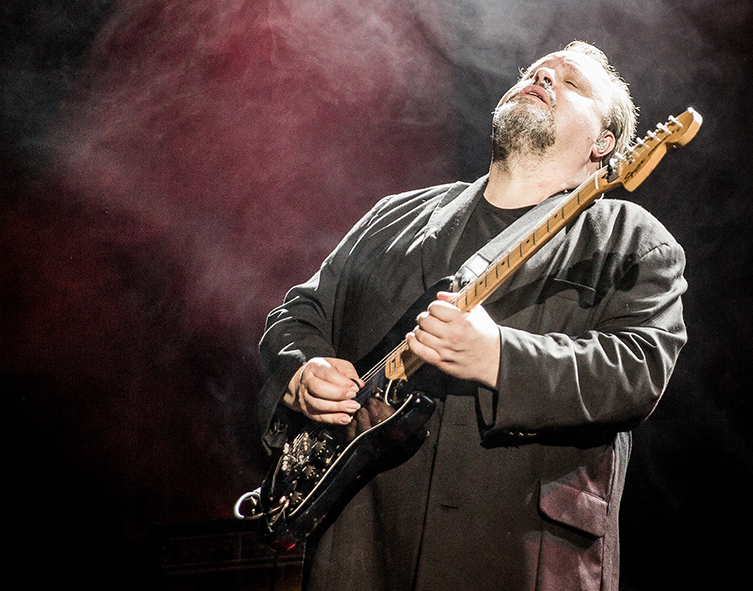 (Photo: AM Forker)
In 1987, Fender moved their production to Korea. Unfortunately, they also made some crazy decisions like allowing the guitar bodies to be made from plywood! Needless to say, these guitars are not the ones aficionados speak highly of…
Silver Series
Lesson learned, production moved back to Japan and the Squier Silver Series was born in 1990. With a huge increase in quality and a healthy respect for both history and competition, the Squier Silver Series range instantly elevated the brand. It's interesting to note that there are actually a few 'Fender' branded Silver Series Strats out there, made in the same Fujigen factory as these revered Squier models. Talk about a messy history?!

People today still talk about Squier Silver Series guitars with a misty-eyes, far-off gaze. When they turn up for sale these days, it's usually a scramble to get it before the prices resemble golden era vintage pieces! Extra special models to look out for include an early Hank Marvin signature model (there is no point at all in explaining what this one looks like, is there?) and an entirely appropriate tie-in model for the Wayne's World movie, based on the white 'Pre-CBS' Strat lusted after by Wayne and Cassandra. Rock on Wayne! Rock on, Garth!
Vista Series
By the mid 90s, most of the popular Squier models were the beginner/student Strats that many of today's guitar players started out on. Interesting things were afoot, though. The Vista Series, which emerged towards the end of the decade, brought forth a wonderful group of entirely new designs. Courtney Love was involved with the Squier Venus, and Omar Rodriquez Lopez insisted on playing nothing but left-handed Squier Super Sonic guitars with At The Drive-In. This model (and the Toronado, which is an awesomely chubby offset) is actually available today as part of Squier's Paranormal range. It's good news too, since there's a hefty collector's market for original Vista models!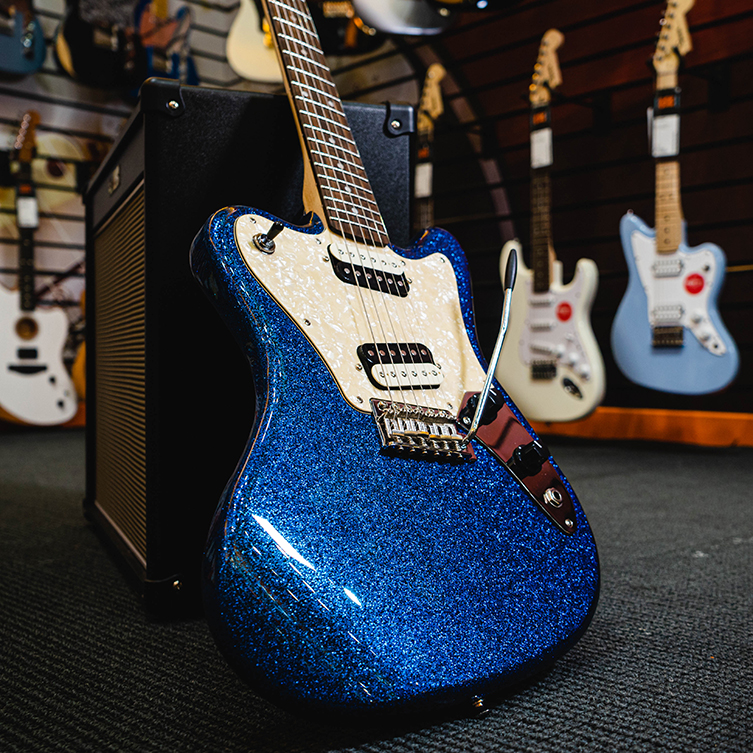 The Squier Renaissance - Vintage Modified and Classic Vibe
Squier really stepped into their own around twelve years ago with the launch of the Vintage Modified and Classic Vibe ranges. The Vintage Modified range has now been somewhat scooped up and dropped into the Classic Vibe range, but the gist of both was to offer ultra affordable guitars that stayed close to historical specs (within reason) and offered a very 'authentic' sound and experience for guitarists on a budget.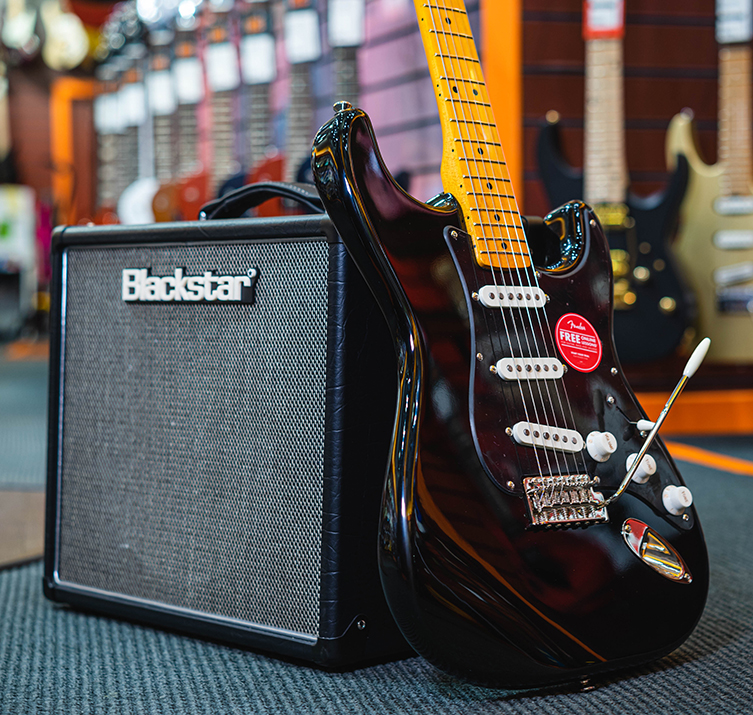 Never meant as 'replicas', the Classic Vibe guitars nevertheless have won an army of fans. This is partly due to their vintage verisimilitude (the 50s Tele is an impressive approximation of a proper old Butterscotch 'Blackguard' Tele, especially if you don't A/B them), and partly just good old fashioned value. They are great guitars which looks and sound the part, and for guitarists undaunted by the lack of a full-on 'Fender' logo on the headstock, a winning proposition indeed.

The Classic Vibe range takes in all of the usual 50 and 60s-referencing Strats and Teles, but also includes Jazzmasters, Jaguars and more. For players who may be on a budget but still want a stylish, classic instrument that delivers, the Squier Classic Vibe range is nearly always at the top of their list.
Other Contemporary Squier Ranges
Squier Classic Vibe is probably the most successful of today's Squier ranges, but there are other guitars to suit other tastes too. The Affinity range is the more budget friendly collection of instruments (above the 'Bullet' entry level guitars ) and has expanded this year to include cool 70s-style Tele Deluxe guitars and more. It's not just black and white Strats these days!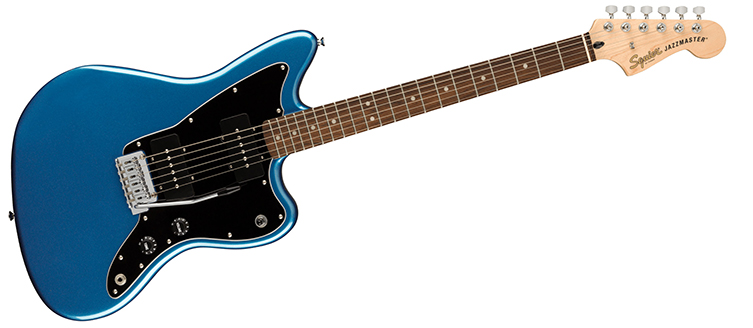 The Squier Contemporary range goes bold with eye-catching finishes, high output pickups and non-traditional styling, whilst still keeping within the 'house style' of Fender in general terms. These are for players who want a greater level of modernity without sacrificing those classic silhouettes.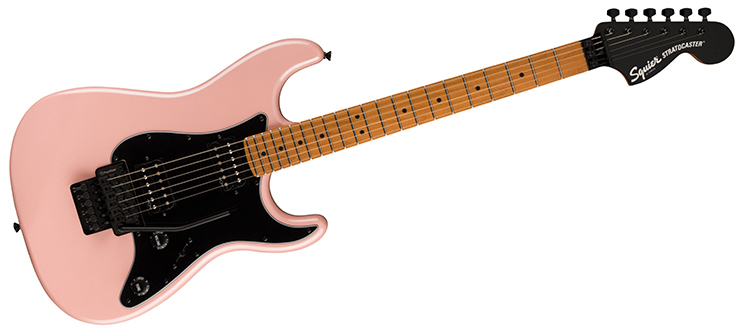 The Squier Paranormal Series takes a lead from Fender's 'Parallel Universe' range of instruments, where parts and shapes from various Fender instruments are reorganised into new models and given unusual finishes, evoking a kind of Twilight Zone of forgotten instruments. Here is where you'll find the reincarnation of the Super Sonic and Toronado models, along with a host of other randomised designs. We love the concept, and so do you, judging by how popular they are!

Artist Models
The last decade's upswing in Squier's output has also seen several high profile artist signature models being released. Some of these, like Jim Root of Slipknot's model, is a cost-effective version of his more expensive Mexican-made Fender model. Some others, such as the variety of Teles released for John 5, are different models entirely from his Fender offerings. Some again, such as the hugely popular (and recently discontinued) J Mascis Jazzmaster, are exclusively Squier: there is no corresponding model higher up the branches of the Fender tree, so to speak.
All of this speaks to the great confidence given to the brand by pro players. If they're happy to go out and play these guitars live (and they do, it's not a marketing thing), then everyone else should be too. The days of Squier snobbery are well and truly over.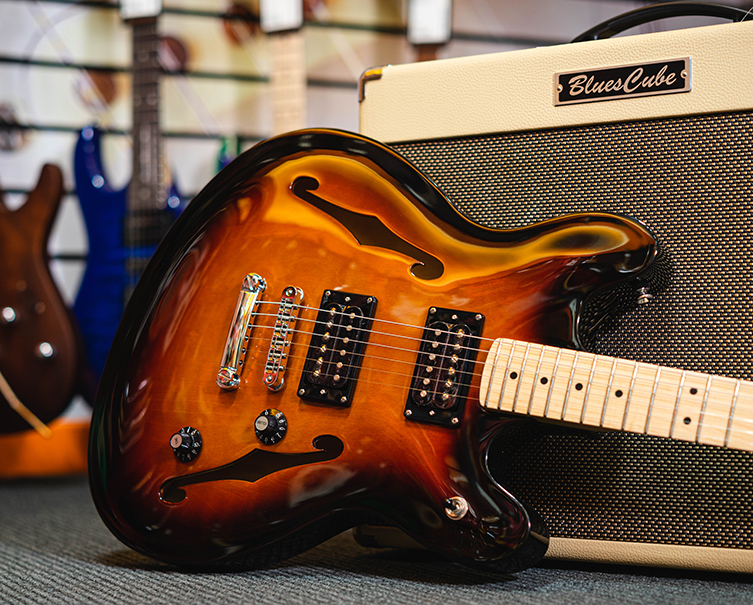 Today's Affordable Guitar
Squier guitars offer a huge amount to the player for a relatively humble cost. The designs are authentic, but then the brand is also inventive within those parameters, so there's a freshness and excitement to much of Squier's current output that is perhaps even taking the shine from some of Fender's more expensive stables.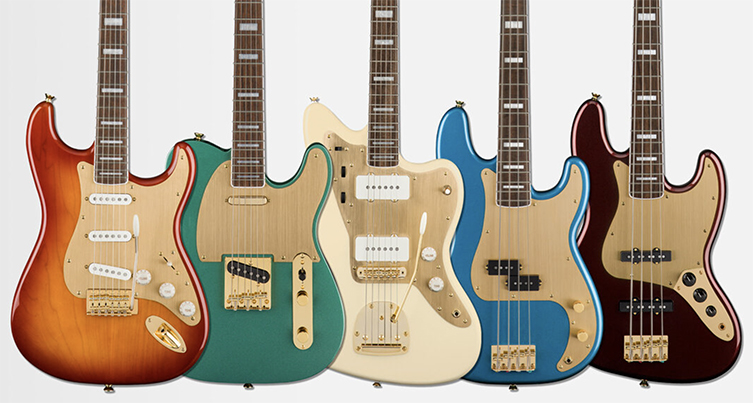 As we know, competition in the affordable guitar market has never been stiffer, so no company can rest on their laurels and rely on brand association. Squier are doing quite the opposite, in fact: they are showing the world just how much style, performance and tone you can get for your spend these days. With such a wide and diverse catalogue of instruments available, there is almost definitely a Squier guitar for you! As Squier hits the big four-oh, we say a fond Happy Birthday, and invite you to check out the secret that everyone already knows: Squier are real player's guitars.
Click to View our Full Range of Squier Instruments
Ray McClelland