BRAND NEW: Fender Player Plus METEORA HH
Published on 15 March 2022
There's more to Fender than just Strats and Teles.
Every few years, Fenders designers let themselves off their leash and cook up something special for us guitar fans. We've seen the Pawn Shop series, which swapped specs from guitar to guitar, and the limited edition Parallel Universe range, which took Fender design tropes but radically redrew the lines. One such glorious creation was the Meteora, and we're excited to tell you that its bold curves and space-age style are most definitely back, in a brand new model!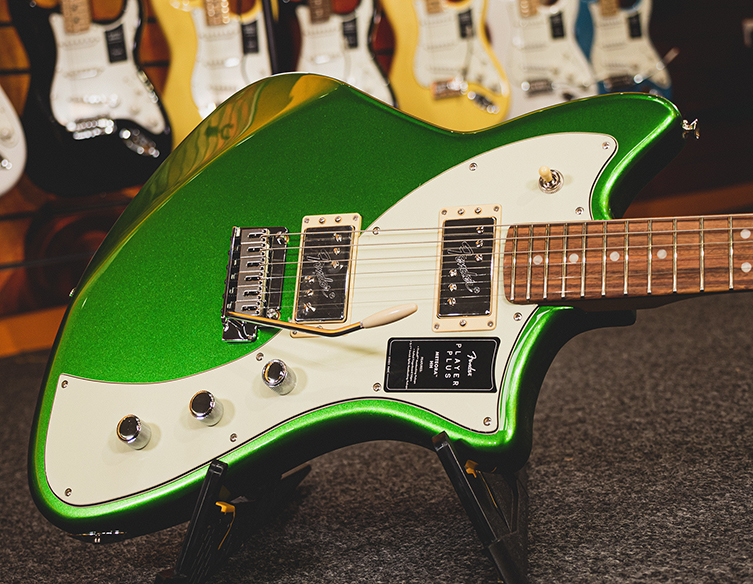 Player Plus Series Meteora HH
So, this new Meteora is part of Fender's Player Plus Series. This upgraded range of Mexican-made instruments hasn't been long out, and has already proven to be a sizeable hit with players! The Meteora is easily the most unusual model in the range - which otherwise comprises Strats, Teles, Jazz and Precision basses - but apart from its shape, it's a Player Plus guitar through-and-through.

What does this mean? Well, each Player Plus instrument offers several player-centric advantages over the (already great) Player range. Upgraded pickups, more complex switching, locking tuners, contemporary 12" radius fingerboards with rolled edges and more await you within the range. The idea is to trick the guitar out with the types of upgrades you'd maybe consider applying yourself anyway, along with a flatter radius fingerboard for more dextrous string bends. They're like modded Player Series guitars, with different finishes.
You get all of this on the new Player Plus Meteora HH, along with a body shape that's pretty unorthodox for Fender! Let's have a look…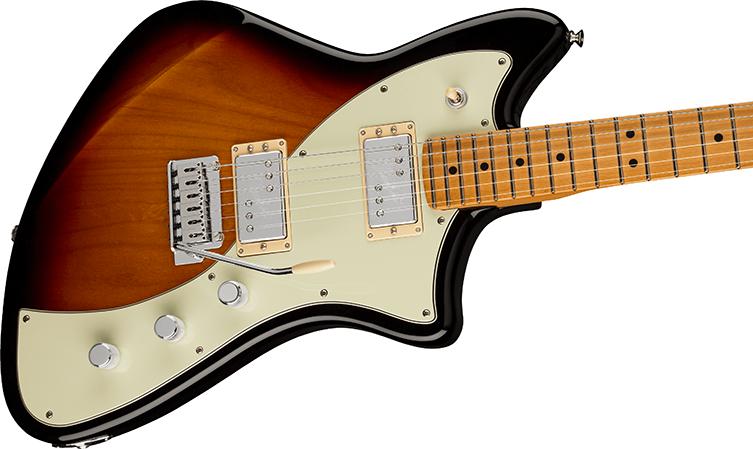 New Pickups, Eye-Catching Finishes
Obviously, the first thing you'll have noticed is how eye-catching these new Fenders are! As mentioned, we've previously seen the Meteora in a slightly different guise as part of Fender's limited Edition Parallel Universe range a few years back. Whilst the silhouette remains, the rest of this Meteora HH is a new design. This new model sports a pair of 'Fireball' humbuckers, which, according to Fender, 'blend the perfect amount of gain with great string-to-string note clarity'. They are relatively high in output, and there's a handy S1 switch acting as a coil split for single coil twang. Slightly higher output pickups generally work best for coil tapping or splitting, since a single coil pickup is not simply half the power of a standard humbucker (it's a little more). Keeping some heat in these Fireballs allows for more satisfying single coil tones. Good news!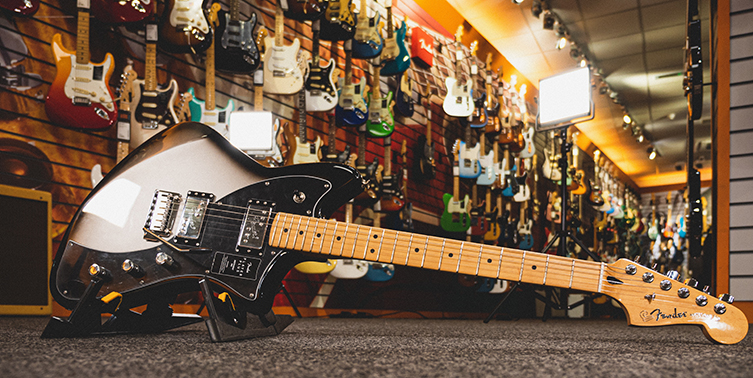 Fender have also opted for a 2-point tremolo, just like the ones on Player Series Strats. 2- point trems are a more modern take on the vintage 6-pin versions, and are somewhat easier to keep in tune! We think it's a great idea to have a tremolo on this guitar: players looking at the Meteora are arguably going to be interested in making more adventurous music with it (it's hardly for Shadows fans) and so a good tremolo encourages sonic experimentation.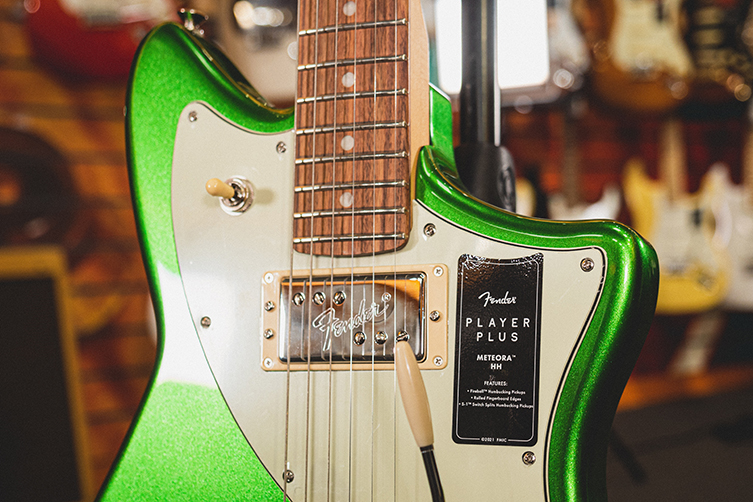 The Meteora bass also has 'Fireball' humbuckers, for a punchy and contemporary tone. An active 3-band EQ circuit brings all of the tone sculpting opportunities that modern bassists demand.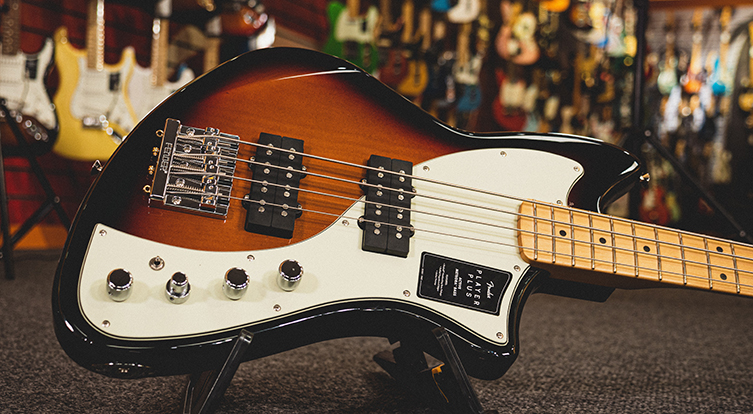 As for the finishes, these are as bold as the shape itself! If you're into the current fashion for 'gradient' colour schemes, you'll love the blue gradient on the guitar (Fender rather excellently calls it 'Belair Blue') and the red-into-orange 'Tequila Sunrise' gradient finish on the bass.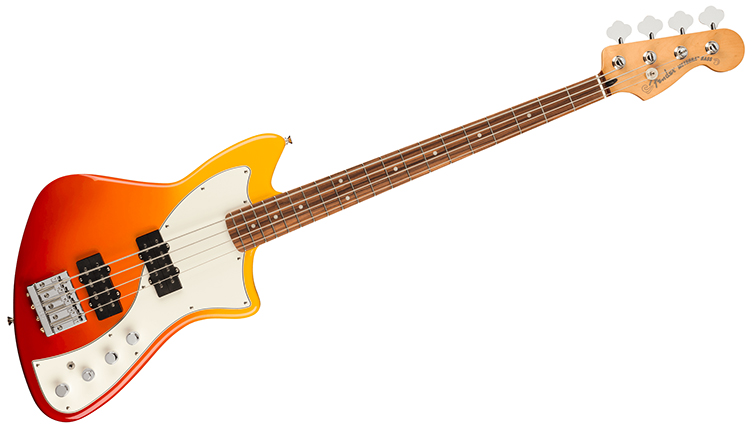 Also, there are great metallic finishes, from the uber-trendy Silverburst to bright greens (that'll be Cosmic Jade, thanks) and blues (Opal Spark, on the Meteora bass). It's a veritable cornucopia of brightness, which is such a breath of fresh air in a market dominated by black, white and sunburst guitars! To be fair, you can also go for a traditional Sunburst finish on both the Meteora guitar and bass, and it's actually pretty awesome looking since it follows the Meteora's bold shape. Beautiful!
Out Now
These latest additions to Fender's Player Plus range are bold, exciting and different. They offer a fantastic platform for players to perform with confidence, given the level of hardware and 'performance' spec, and they are a real break from the norm whilst still carrying the all-important Fender headstock and logo. Could the Meteora be the breakout guitar hit of this Summer? You decide!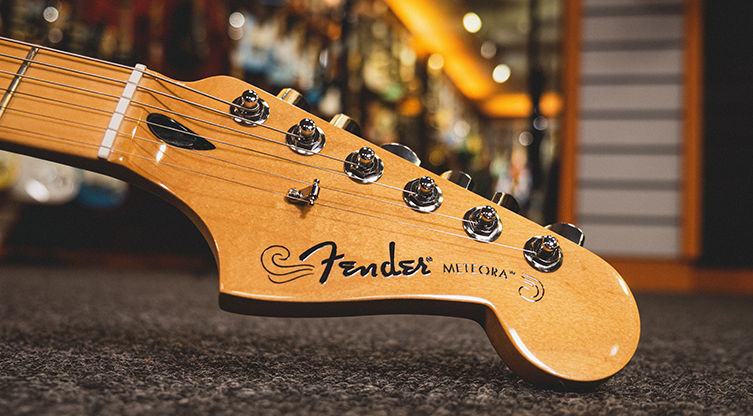 Click to View the New Fender Player Plus Meteora Range
Ray McClelland