PRS SE Series Explained
Published on 31 March 2022
When you think about it, PRS are one of the very few original design guitars who are accepted by the mainstream and don't use designs from the 50s.
It's quite a feat, in a market that is distinctly conservative in its tastes, to bring something new to the table and have it be so unanimously received. Many have tried, of course, but few have succeeded quite like Paul Reed Smith and his colleagues. Indeed, outside of 'the big two', only Ibanez can rival PRS for both sales and influence, and it's perhaps a fair comment that Ibanez are more niche in their output.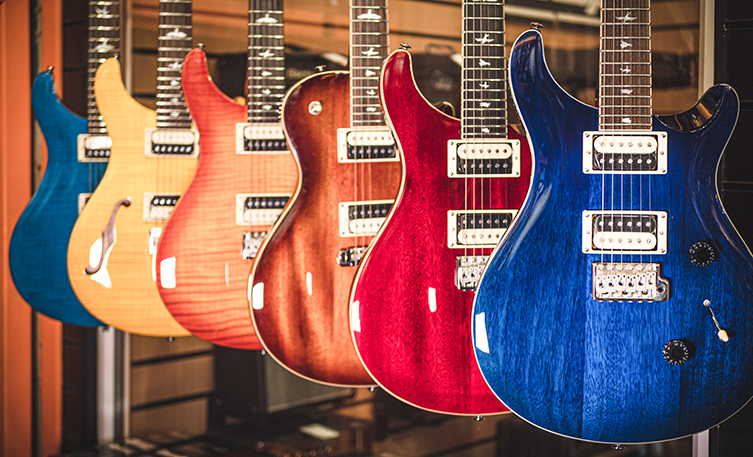 Nevertheless, Maryland's finest has put quite a dent into the world of guitars since the first Custom 24 was introduced to the world in 1985. Since then, PRS has become a byword for quality and sumptuous beauty, with the company making some of the most stunning and lusted after guitars in the world.
This level of quality and opulence doesn't come cheap, of course, and PRS' US made 'Core Series' are very much premium instruments. Because of this, and due to overwhelming demand for more affordable iterations of these guitars, PRS SE was born. Made in Cor-Tek's facilities (in either Indonesia or China, depending on the model) under direct and exclusive licence from PRS, the SE range (it used to stand for 'Student Edition', but the brand has far surpassed that initial scope) is an impressive range of more affordable PRS guitars that still manage to retain much of the look, feel, sound and appeal of their game-changing American siblings.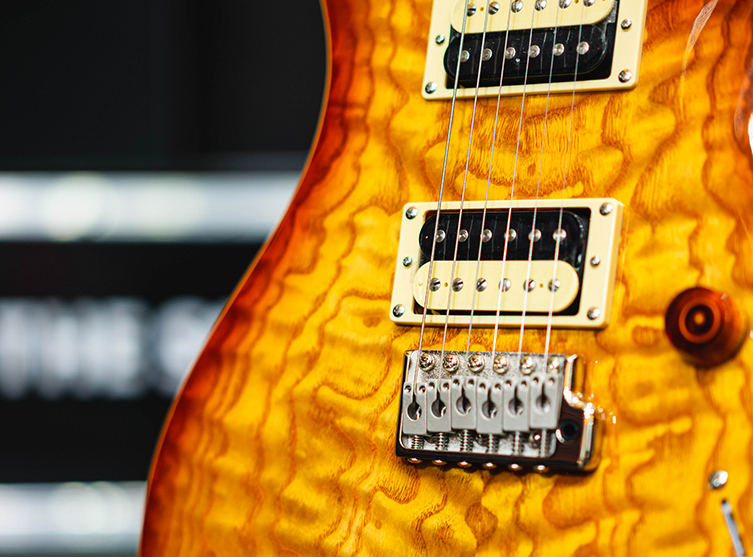 Today's blog is a chance for us to share some of our favourite PRS SE guitars with you, from the amazingly priced Standard 24 to the subtly innovative Hollowbody II Piezo, with a few stunning gems thrown in between!
PRS SE Standard 24
Our first choice today is also the most affordable, and is seen by many as a formidable 'do anything' guitar. The PRS SE Standard 24 is so-called due to its plain maple top (the striking figured maple veneers add to the cost and make them 'Custom') and double octave fret count. Otherwise, the design itself is very similar to the Custom 24, with the same distinctive double cutaway body, the famous bird inlays and the same versatile hardware setup.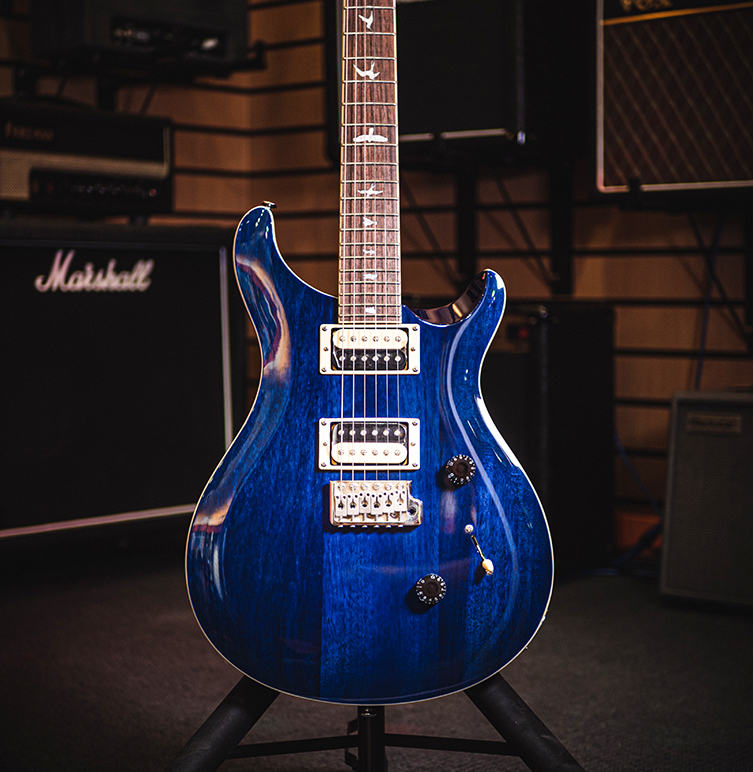 For those who don't require the flamed top, there is a ton of guitar here for the money! We're talking about a bound mahogany body with a maple cap here, with set neck construction to boot! You'll get power and sustain for sure, but what we noticed was the clarity. There's a responsive top end here that is a lot more 'present' than traditional mahogany set neck guitars. Part of this is down to the pickups, which will be a surprise for any players used to instantly upgrading stock pickups. The humbuckers here are based on the 85/15 units used on much of the US-made instruments. These units - called the 85/15 'S' to distinguish from the American ones - are designed to recreate the original high output, bright sounding pickups from Paul Reed Smith's original 1985 guitars, and boy do they have a bite! We love the extra top end available on these, especially when a brief touch of the tone knob brings that top end back a little and warms things up nicely!

Also, there is a push/pull coil tap on board which, as we know, always works more effectively on slightly hotter humbuckers. This way, you can enjoy a wealth of tones from glassy to molten, all by simply adjusting the controls directly on your guitar. All of this, plus a tremolo system that is both simple and effective, add up to make this guitar far more than the sum of its considerable parts.
PRS SE Custom 24-08
Moving up the line a little, we arrive at what is perhaps the definitive PRS in its SE form: the PRS SE Custom 24-08. As you can see from the images, this model sports a rather spectacular figured maple veneer on top of the maple cap, and it makes a dramatic difference to the guitar's beauty. Rather like a Lamborghini, guitars like this work well with bright coloured finishes in order to show them off properly, and this Eriza Verde finish is a stunner!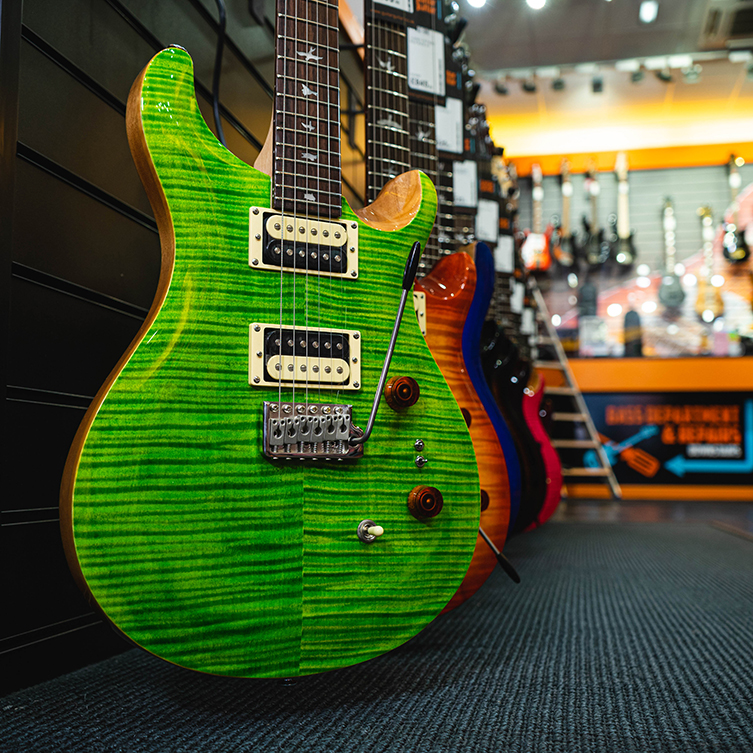 If the Standard 24 is the guitar that can do everything, then the PRS SE Custom 24-08 is the guitar that can do it all with extra style, flash and beauty. There's far more to this guitar than its eye-popping visuals too, which is saying a lot!
Both guitars so far share a 'Wide Thin' neck profile. This is part of PRS' naming conventions, which also includes Wide Fat. Core series guitars have an entirely different set of conventions, but these ones adhere to the original PRS templates and they feel great. Wide refers to the nut width, which on these guitars is 1 11/16, or roughly 42.86mm by our calculations. By comparison, Fender generally uses a 42mm nut width and Gibson uses 43.05, so the PRS width is actually somewhere in the middle. This is true of their preferred scale length too, which is 25", once again sandwiched in between Gibson's 24.75" and Fender's standard 25.5".

Is this important? Well, yes, if you are looking to figure out why the guitars feel so good! It is hopefully fair for us to comment that Fenders and Gibsons feel particularly different to each other in general terms, so the guitar which successfully bridges that divide without losing anything in playing terms is clearly a proposition worth considering for fans of both of the other parties, right? We think so.
Another major difference is the addition of those mini toggles on the guitar's front control area. This is the '08' part of the guitar's name: these are individual coil tap switches which give the guitar 8 distinct switching options. This is an improvement over the usual shared push/pull switch because you can be selective about which pickups are tapped. For example, if you like your bridge humbucker to remain a humbucker but favour a neck position single coil, you can have it set that way and enjoy the resulting 'in between' selector settings. Socially, it's a slightly bigger deal than it first seems, and we applaud PRS for following through on this detail, because in use, it's actually very rewarding.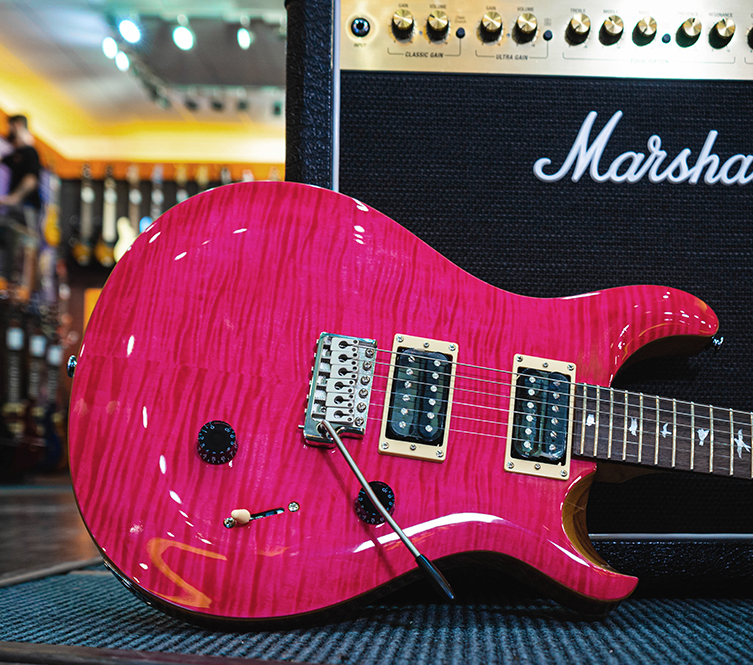 Another detail about this guitar that is perhaps less obvious is the violin-style contouring of the body's top, which is much more like the Core series guitars than previously. This does improve the ergonomics, not to mention the elegance of the guitar. It's a small detail, but as you may be seeing, PRS is all about small details!
We think this guitar is primed and ready to deliver the goods at any gig, with any style. More versatile than an HSS Strat? In a word, yes, and you'll make far more of an impression on stage, too!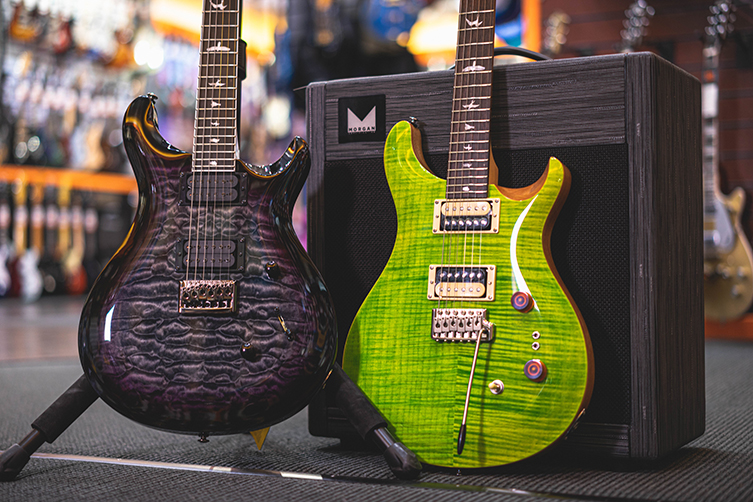 PRS SE Mark Holcomb signature
One area that PRS have really dominated is that of contemporary hard rock. It could be something about not wanting to play the instruments of an earlier generation, or it could be that today's players just appreciate the sound and aesthetic on offer, but lots of modern guitarists in Prog, Djent and Metal bands are picking PRS over the usual 'pointy' suspects.

One such player is Periphery's Mark Holcomb. For his band's hard-hitting and complex sound, he needs something that performs, reacts, stays in tune, handles lower notes and looks awesome under stage lights. We think his collaboration with PRS achieves all of this in a way that's handily anonymous enough to render it available to guitarists who aren't Periphery fans or who've never even heard of them!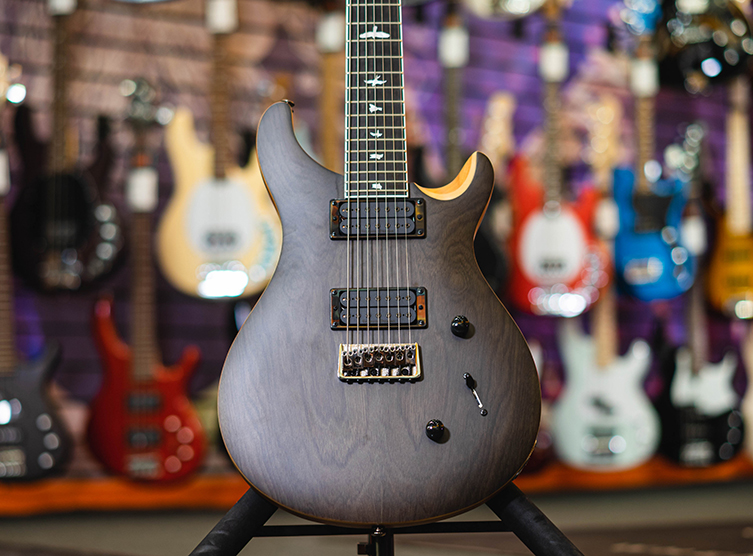 This modle is available as both a 6 and 7 string guitar, with the 7 string using a longer 26.5" scale length to help those gargantuan riffs stay nice and tight. Holcomb's own signature Seymour Duncan pickups - the Alpha and the Omega - are included as well, further defining the sound for its intended purpose. We're fans of both the Satin Walnut and the 'Holcomb Burst' finishes, and love the super-flat 20" radius Ebony fingerboard! Have we ever seen such a flat board before? We don't actually think we have! Consider us impressed.
PRS SE Hollowbody II
The PRS SE Hollowbody II is a beautiful guitar indeed, and offers something different for fans of hollow bodied tone. Slightly larger in size than both regular PRS guitars and US-made PRS Hollowbodies, this curvaceous model brings PRS' inimitable aesthetic (distinctive headstock shape, bird inlays, double cut body outline) to an altogether jazzier set of principles. This is an original design, not an affordable version of an existing US-made PRS model.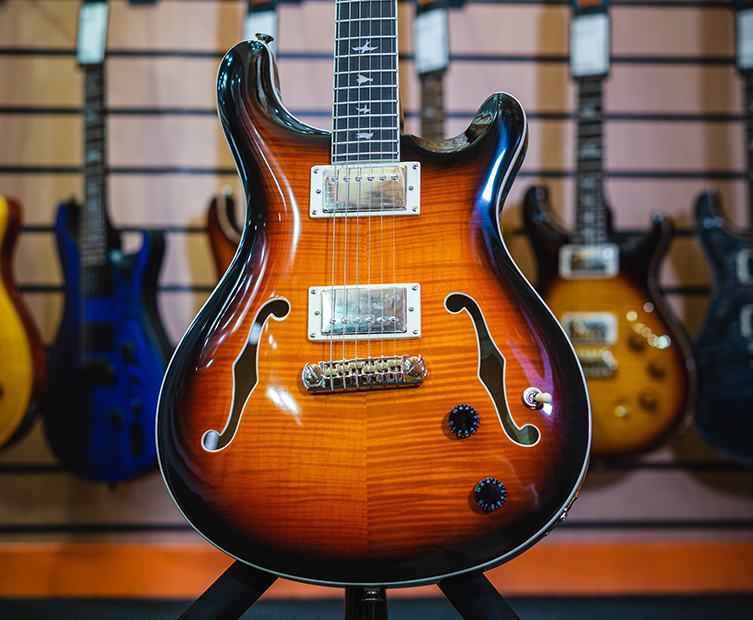 Anchored by a centre block of Mahogany, the body of the SE Hollowbody II is made from 5-ply Maple laminate, just like historical semi acoustic guitars, although this model has the trademark flame top for additional 'PRS vibe'! It's an obvious statement but this is a stunning looking instrument!

There's a wraparound bridge here and a set of 58/15 S pickups, which add focus to the airy bloom and sustain provided by the construction. There's a range of beautiful sounds on offer here: a 3-way toggle and straightforward pair of master volume & tone controls are all you need for a rich selection of deep tones that still offer cut and sparkle, just in a different manner to the established PRS sound. Jazz fans will undoubtedly love this, but so will a great many other players.
PRS SE Hollowbody II Piezo
Did you love the idea of the SE Hollowbody we just looked at, but wish it also had some beautiful acoustic tones to go with it? Well, wish no more, since PRS obviously thought that was a great idea too! Step forward the PRS SE Hollowbody II Piezo, complete with an LR Baggs-assisted piezo pickup system to deliver convincingly acoustic-like 'plugged' tones. This of course is in addition to the 58/15 'S' humbuckers we've already mentioned. You can use the dual outputs (piezo/mix and magnetic) to send each signal to dedicated amps, or use the combined mix output to one amp and adjust your piezo/magnetic mix via the independent volume controls. It's a very versatile mix and is capable of some beautifully expressive textures and tones.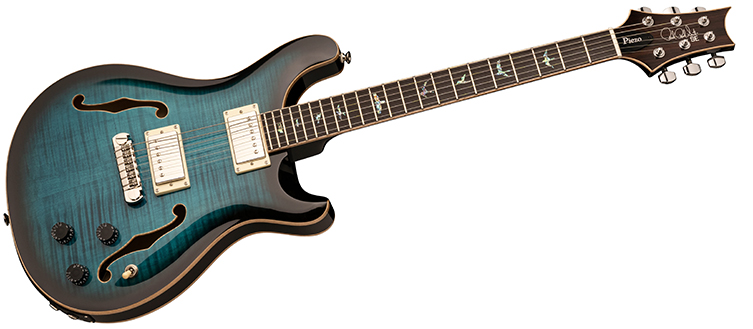 If you are a performing player who needs a selection of electric and acoustic tones, this beautiful specimen could be the one guitar you need for your entire gig! It's wonderfully playable and, as it's a PRS, great looking too.
PRS SE: The Do Anything Guitar
We hope this brief trip through some of our favourite PRS SE guitars has shown that the brand is much more than the home of £10k 'wildest dream' museum pieces. Indeed, the SE range is one of the most popular and vital in today's guitar market. They collectively offer versatility, great tones and stunning looks in a range that does not feel like a downgrade from the US models as much as they are shrewd buys for the busy player on a budget. They answer so many needs of the contemporary player at a price that's eminently reachable. Click the link below to find your next gigging, performing and touring warhorse!
Click to View our PRS SE Selection
Ray McClelland