How Much Does An Electric Guitar Cost?
Published on 24 May 2022
How much does an electric guitar cost?
This is a question we get asked a lot…
With an ever expanding repertoire of electric guitars on the market, it can be a little confusing why one is £100 and the other has considerably more zeros added to the price.
Finding the right guitar for you can be tough, which is why we are going to look at what goes into different calibres of guitar, and try to define what guitar could be right for whatever stage you are at in your musical journey.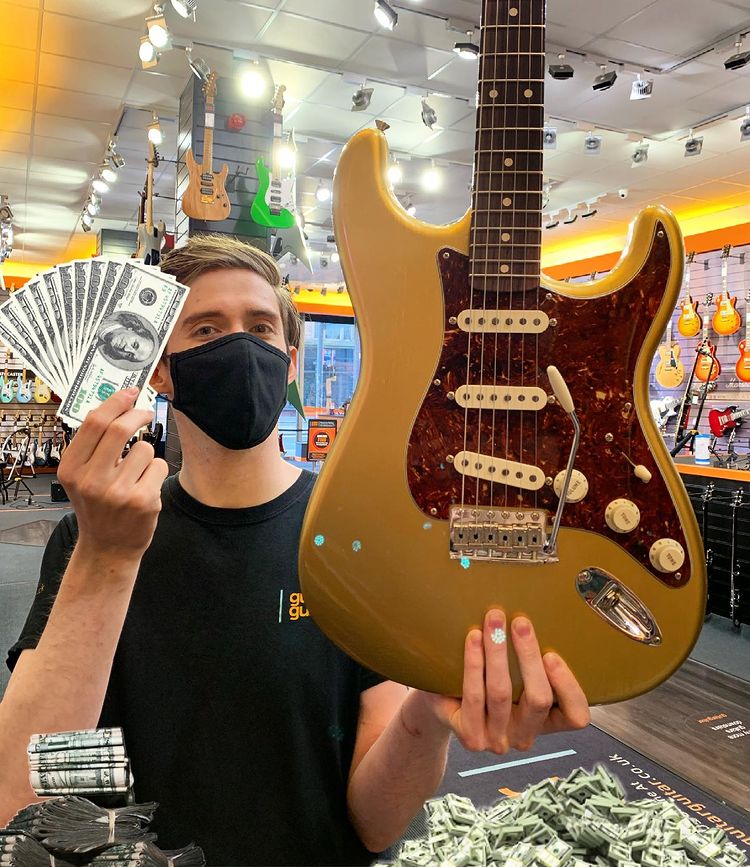 *small disclaimer: there isn't a set list, as every player will have their own preferences when it comes to styles, colours, brands etc. and of course, price doesn't determine if the guitar will be right for you. This blog aims to highlight the differences between different price ranges to help differentiate between them*
Why do electric guitars have different prices?
Let's use a particular guitar as an example - the Fender Stratocaster.
An icon, an innovator…with around 100+ variations!
When looking at a wall of strats it can be both intimidating and confusing with the overwhelming choice, never mind the fact that a few will no doubt look the same!
Let's take a look at a few examples that may look similar, but have very big differences.
Fender Player Series Strat
Considered the entry level model in the official Fender line, the Player Series carries the features we all love about a Strat, with a myriad of options to really find the perfect instrument for you. What makes these models different to more expensive counterparts is a few things -
The Fender Player Series are produced in Ensenada, Mexico which has been making Fender's more budget friendly models for over 2 decades.
Every part of a guitar comes in a variety of different qualities & levels:. The Player Series uses slightly more cost effective parts to keep the cost down when producing the guitars. Tis includes pickups, wood, hardware etc. etc.
Time is money, this means the Mexican made models don't have as much hands on time by the builders as the American guitars.
Fender Player Series tend not to come with any form or case or bag which is another way to keep cost down.
Other Mexican Models
The Player Series isn't the only model coming out of Ensenada. There is a hierarchy of ranges that all have their own unique points. Other models include:
Vintera - Era specific models with particular specs & colours. Utilises more vintage inspired pickups and configurations. Comes with a gig bag.
Player Plus - Modern take on a strat, with upgraded hardware, pickups and new colours. Comes with a gig bag.
Signature Series - Artist specific models are made while working with a particular guitarist and their specific specs. Often feature parts not seen on trational Fenders. Comes with a gig bag or hard case.
Each model has its own benefits to players. Just because a model is more expensive than one, doesn't mean that it will be better for you! The best way to find your perfect guitar, is to try a few different models back to back.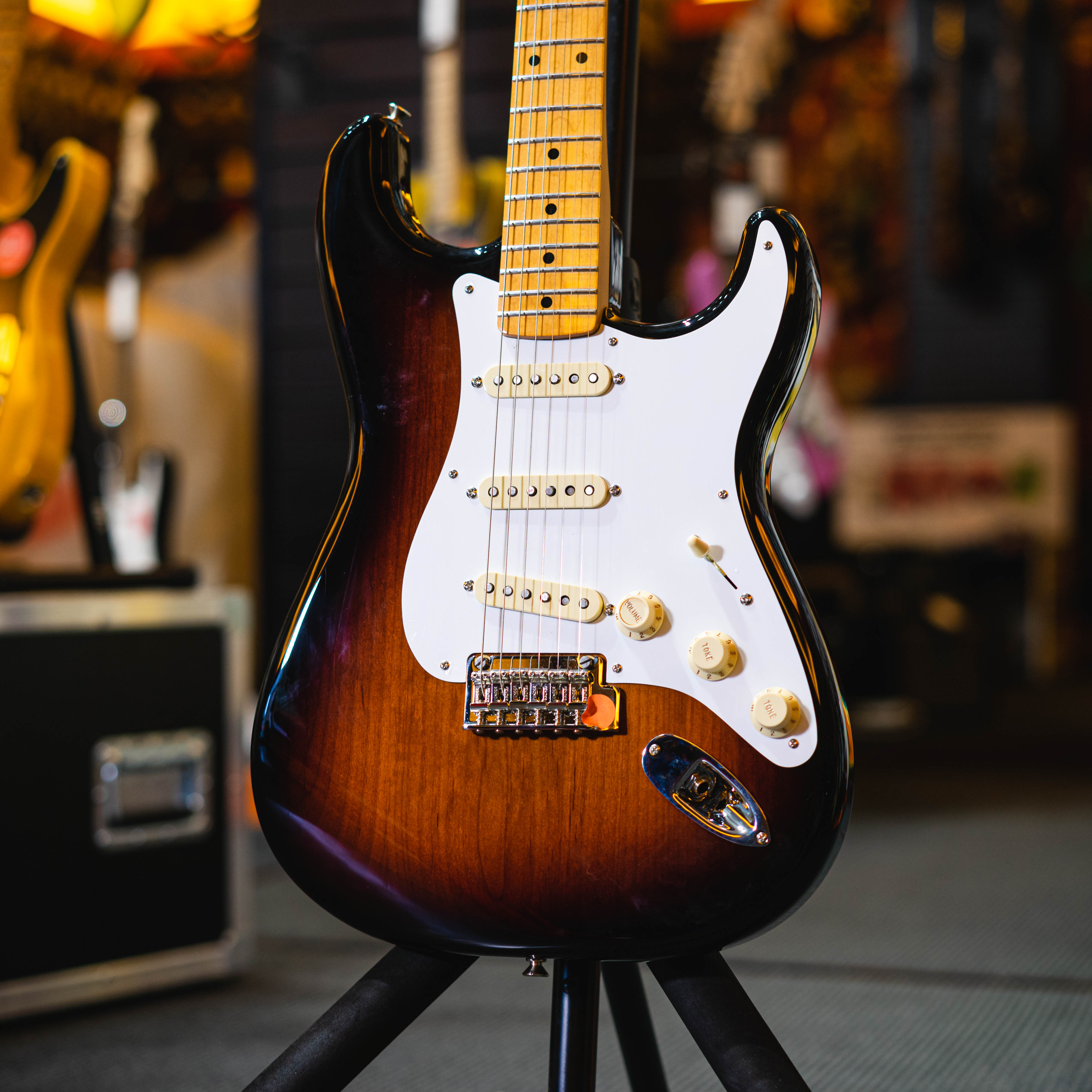 Fender American Pro II
Once known as the "Standard" of the U.S made Fenders is the American Pro II Series. Since 1985, Fender have been producing their American line of guitars from their factory in Corona, California. What you can expect with the American line of Fender guitars is a much higher build quality, better craftsmanship & a few extras like gig bags or hard cases.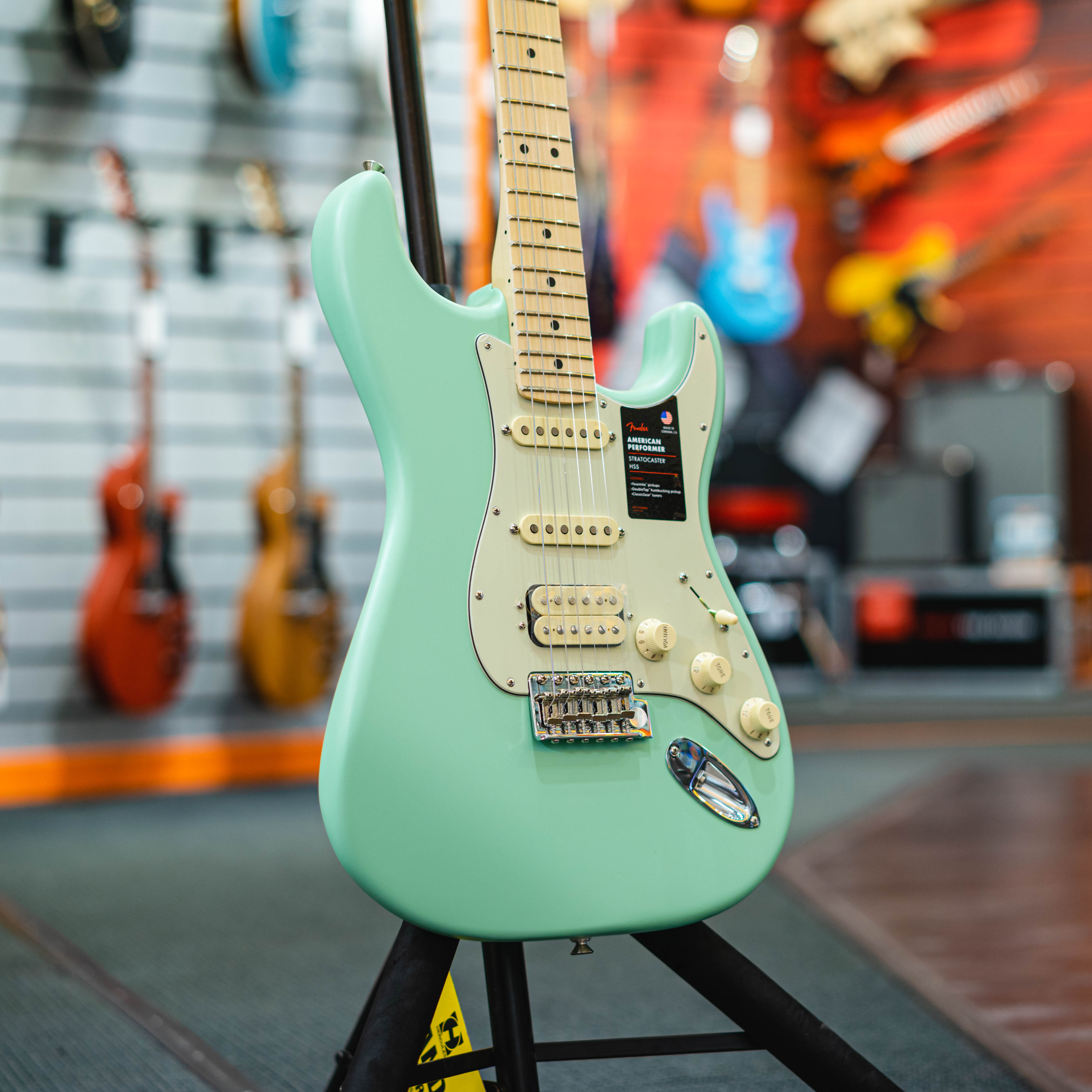 The American Pro II has a higher quality of pickup called the "V-Mod II" series which are wound by hand and made especially for the Pro II series. These pickups provide more of a punch & clarity than most of the Mexican made models, but still provide all the usual Strat vibe you'd expect.
As previously mentioned, these guitars are built in Fender's famous California factory where Fender have been creating their flagship models for years. More time is spent on each guitar by the builders giving them an extra seal of confidence.
All American made Fenders comes with a gig bag or hard case.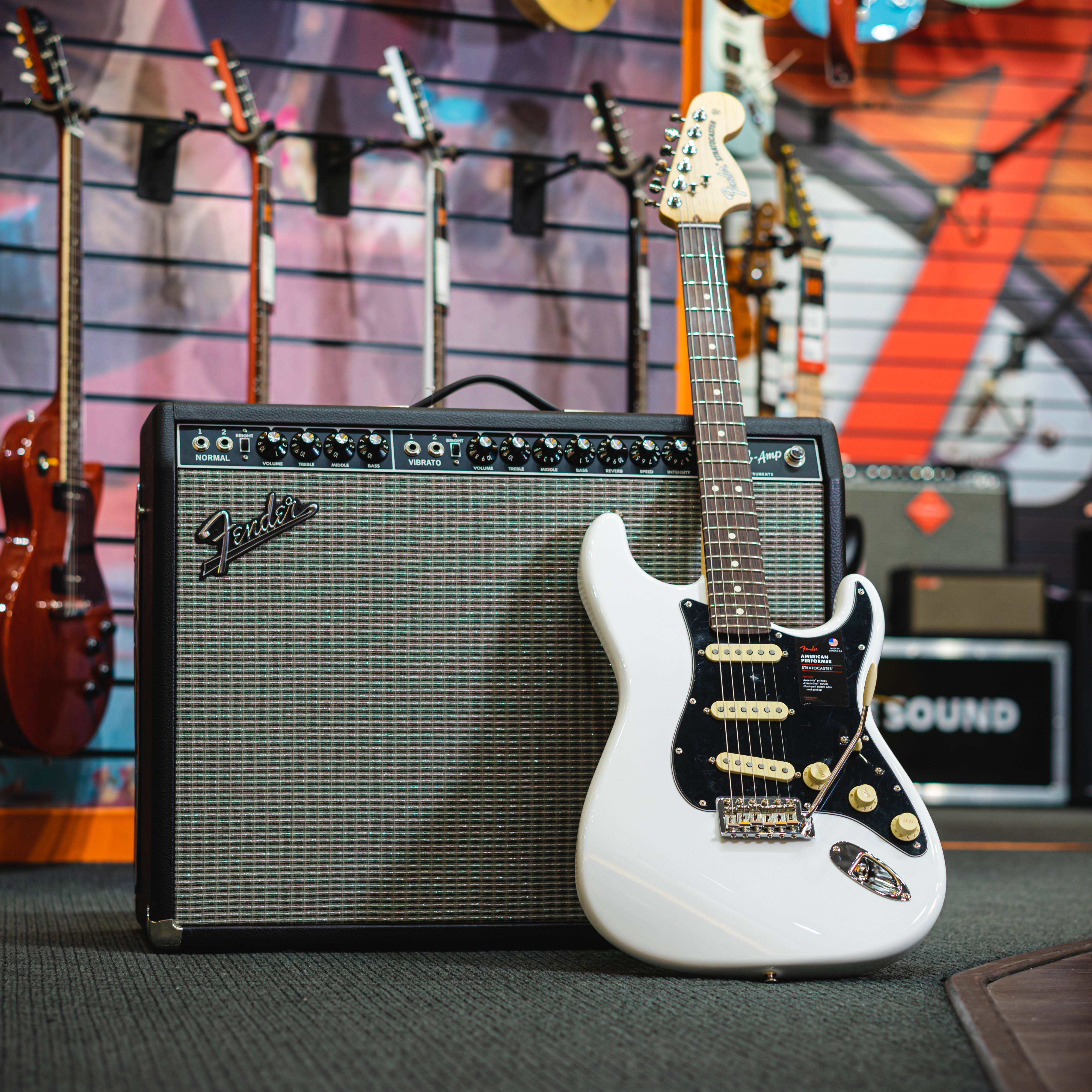 It is worth mentioning the long history of American built instruments and how this can be important to players. Import guitar quality has gotten so good over the years that you could realistically use a guitar built in Mexico, Indonesia or anywhere else for many years on the road, or even just for your own enjoyment in the house. For years the pinnacle of guitar manufacturers came out of America, and this fact still carries a lot of weight and prestigue.
Other American Models
Like the Mexican series, the American made guitars follow a similar hierarchy in terms of models which is not a million miles away from what you get with the full Mexican made range:
American Performer - Fender's most affordable model to come out of the Californian factory. Loaded with "Yosemite" pickups, exclusive to this line these guitars pack a little more punch than their Mexican counterparts. All Perfomer models come with a gig bag.
American Original - Made to replicate vintage style Fenders of the 50's, 60's & 70's. Made with higher spec features compared to their Vintera siblings - pickups, hardware & even the paint are all higher spec to give that real vintage feel. Comes with an old school tweed hard case.
American Ultra - Made to be a much more modern incarnation of the Fender line, these guitars feature a ton of specs that really take these guitars to the next level. Specs such as noiseless pickups that eliminate the "hum" experienced particularly with Fender guitars, locking tuners for pitch perfect tuning stability, a new neck shape and much much more. Comes with a moulded hard case. The Ultra Luxe line is very similar, albeit, with a few extra add ons like Floyd Rose locking trems.
The American factory also produces some of the higher spec artist models, which are the same models, if not extremely close to, the artists themselves play around the world.
Fender Custom Shop Strat
Last, but certainly not least, we have the top of the list and the pinnacle of Fender's quality, the Custom Shop. The Fender Custom Shop, also based in Corona, California is where guitar dreams become reality. Housing the very best of the best of their luthiers, if you want the highest grade instrument Fender can produce, look no further.
There isn't any real list of models to run down, as you can custom order pretty much anything Fender related from this group of master builders, but there are a few grades of build that you can get.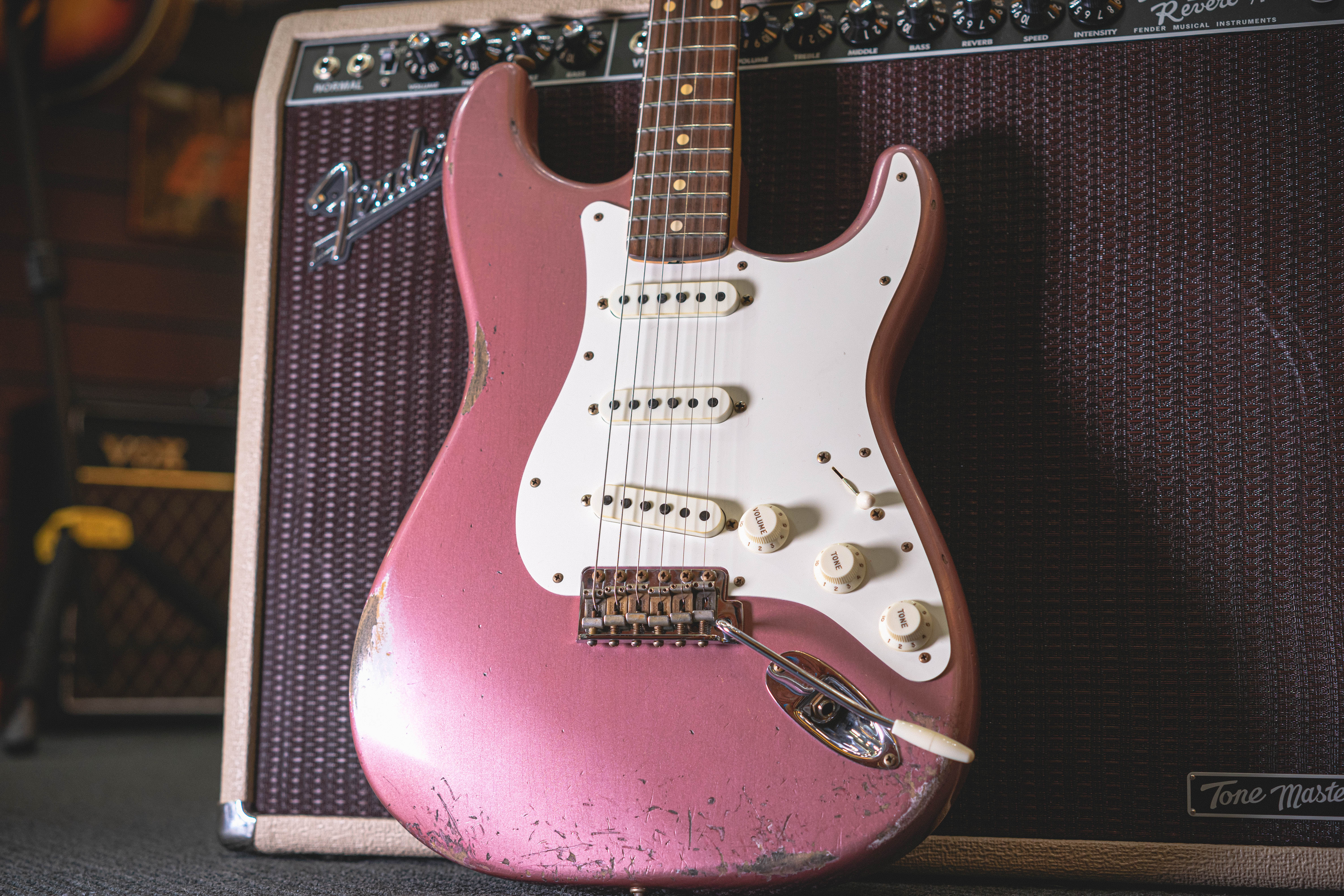 Master Built Designed By - Designed by the master builders themselves but instead of being built by one pair of hands, it is assembled by a small team of builders. These models are usually more "traditional" in the sense they will be incredibly well crafted guitars based on a specific year.
Master Built - A custom guitar created from start to finish by one person. Builders such as Dale Wilson, Greg Fessler,

Yuriy Shishkov & Dennis Galuszka have been producing some of the most jaw dropping recreations of vintage models and innovative redesigns on iconic models for decades. These are the builders making guitars for famous Fender artists, and with that pedigree, the waiting list can be many years!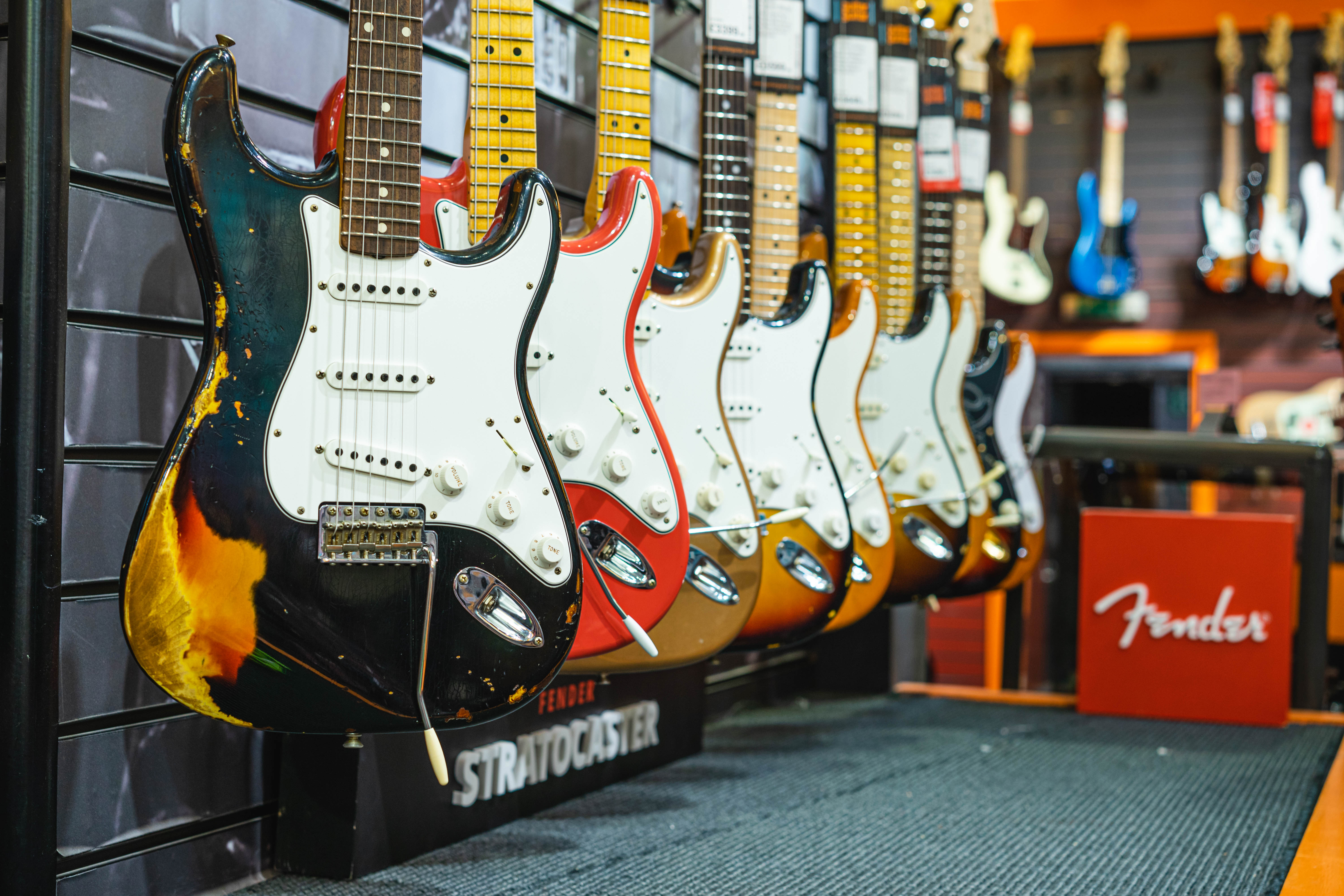 The time, effort and sheer build quality that goes into these guitars determine the cost, but be confident in knowing that you will be receiving the highest quality guitar with Fender on the headstock you've ever played!
If you want a little more information on the Fender Custom Shop check out our other blog here!
To wrap up this guide, there isn't really a hard set rule for what guitar is "better" than another. By all means, looking at spec, production quality and even just general feel of the instrument will help you make up your mind, but understanding what you get with higher price points compared to something cheaper will really help solidify your decision based on what is right for you. We used the Strat but this guide can apply to a huge amount to guitars across the guitar landscape