Hard Rock T-Styles
Published on 17 June 2022
What is today's most popular hard-rocking guitar shape?
V?
LP?
Nope. In today's harder musical circles, the shape that more players are gravitating to than any other is the T-style.
It's the oldest shape in the book, pretty much, and has long since shaken off its early country music associations to become the first choice for artists in a wide range of genres from indie to classic rock.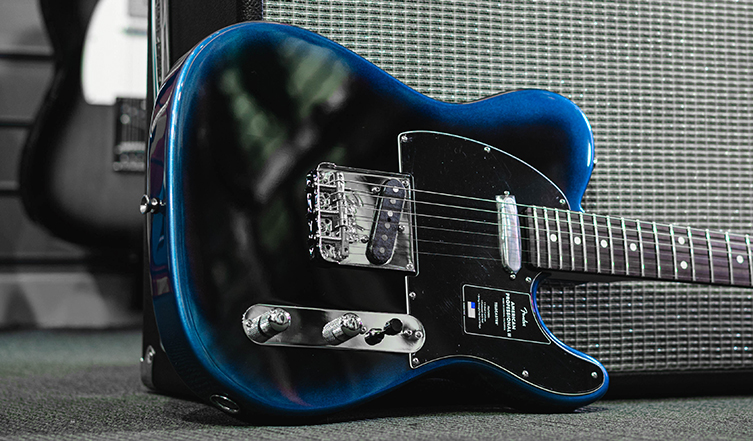 Today, we're looking at the guitars used by hard rockers: modern players and metal aficionados who prefer the no-nonsense utility of a high-powered T-style.
'High-powered' would be key here: these guitars may (more or less) share a physical silhouette with the famous 50s Telecaster from Leo Fender, but the accompanying hardware and pickups bely the rage within. Each of these instruments is built to destroy venues and take no prisoners! Let's check out this new breed of hard-rock T-style guitars…
Fender Jim Root Telecaster
Let us begin not only with the company who invented the shape in the first place, but the artist who arguably put the style on the map as a valid 'heavy' choice. It's Jim Root from the mighty Slipknot, or course, and this man knows a thing or two about stomping out a huge riff!
Jim is a longtime Fender endorsee (in fact, he has recently shifted sideways into also endorsing Charvel, who are owned by Fender) and the Jim Root Telecaster was the first of his signature models. He has since released a Stratocaster and a Jazzmaster but all of them adopt the same stripped back aesthetic as his Tele: namely, flat colour finishes, stupendously hot active EMG pickups and the bare minimum in terms of controls and switches.

When it's time to don the boiler suit and mask, accept no substitutes.
Solar Guitars T
Solar Guitars are a brand who make no bones about their heavy metal specificity. Owner Ola Englund is a face many will know from his popular YouTube channels, and over the years he has become an authority on high gain metal styles.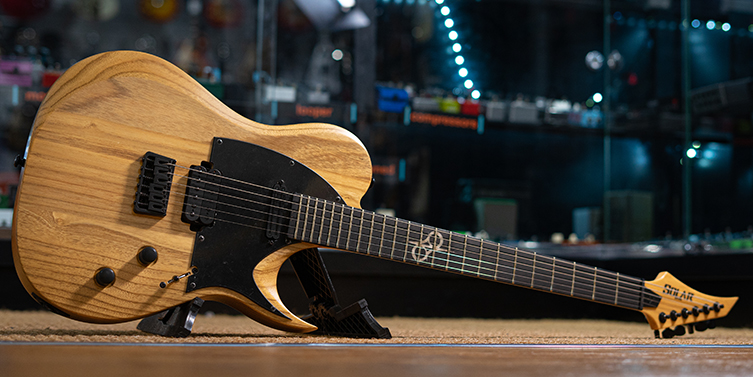 All Solar guitars have some degree of 'pointiness' in their design, so it comes as no surprise that, when the company released their new 'T' style models a year or two ago, even they would have sharp edges somewhere! Indeed, as much as it's obvious where the design has taken its inspiration, there is no way you'd ever confuse this guitar with any other T-style.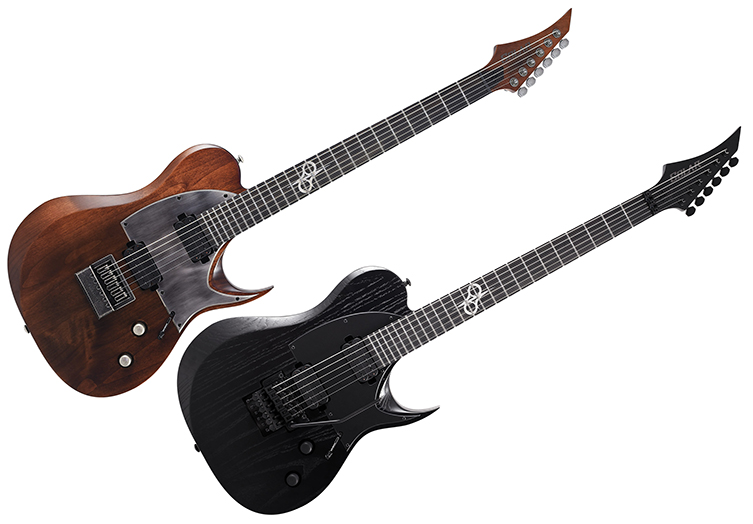 From the 'harpoon' headstock to the rather extreme cutaway, this is a t-style guitar born in some hostile alien environment! All models feature Solar's exclusive Seymour Duncan collaboration pickups, named Duncan Solars, and some models have extra features such as Evertune bridges or Floyd Rose tremolos. Cutting edge? Definitely: you can tell just by looking at them!
Suhr Ian Thornley Signature T
Big Wreck's Ian Thornley is a masterful player indeed, and his taste for Suhr guitars has now prompted no less than three signature guitars being made for him, all in a variety of finishes. We originally saw the roughly Jazzmaster-shaped offset model, followed by an aged-finish S-type. Now we have his newest Suhr Ian Thornely Signature T, and it's a beaut!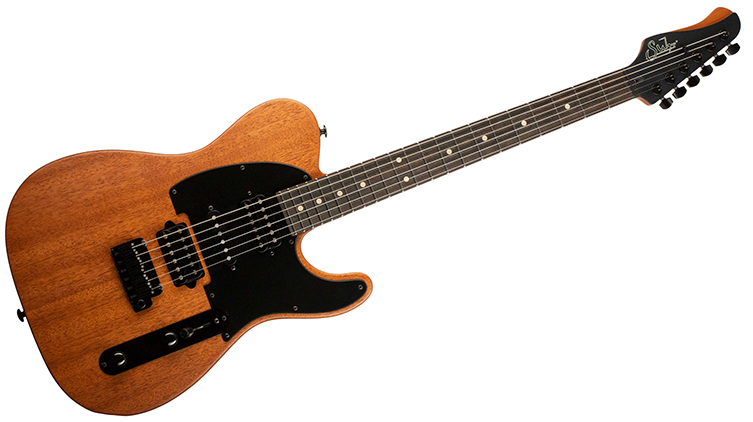 Thornley's new axe is filled with some of the best hardware and specs on the market: we're talking an African Okoume body, gotoh trem and stainless steel frets, all with cool details like a reverse headstock and a soft-V neck profile. Tasteful? Totally!
Charvel Joe Duplantier Signature
French metallers Gojira are absolutely crushing it on the world's stages right now, and frontman Joe Duplantier is another convert to the T-style cause. His Charvel model is interesting due to the TOM-style bridge and stud tailpiece, a combo we do not often see on guitars of this nature.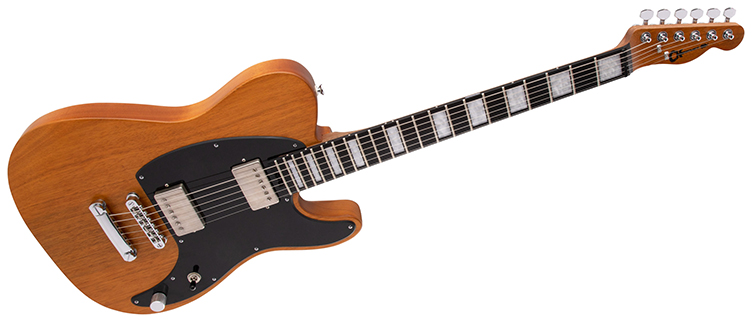 Joe has had a number of signature Charvels at different price points, and this newest Pro Mod San Dimas Style 2 uses a silhouette that's far closer to the telecaster 'source' than other Charvel T-styles. You also get a custom pickguard shape, big block inlays and a set of DiMarzio pickups.
Manson Meta Series Matt Bellamy Signature
If you want to get your signature models made exactly as you want them, it's not a bad idea to just buy the company that makes your guitars. That was the straightforward logic applied by Muse's Matt Bellamy at least, who purchased a controlling share in Manson guitars a few years ago.

Manson have long since been Bellamy's go-to builders for increasingly unusual sci-fi influenced custom guitars. We all remember the one with the built in Kaoss pad, and the other one with a Z-Vex Fuzz Factory squeezed in under the hood! Such are the tools required for Muse's epic, futuristic sound, but there's also room for instruments that have a more wide-ranging, general appeal, too.
Step forward the Manson Meta Series MBM Matt Bellamy signature guitars! These T-style beauties are based on Matt's own custom-shop creations, and are made in collaboration with Cort in Indonesia in order to ensure the best price to quality ratio.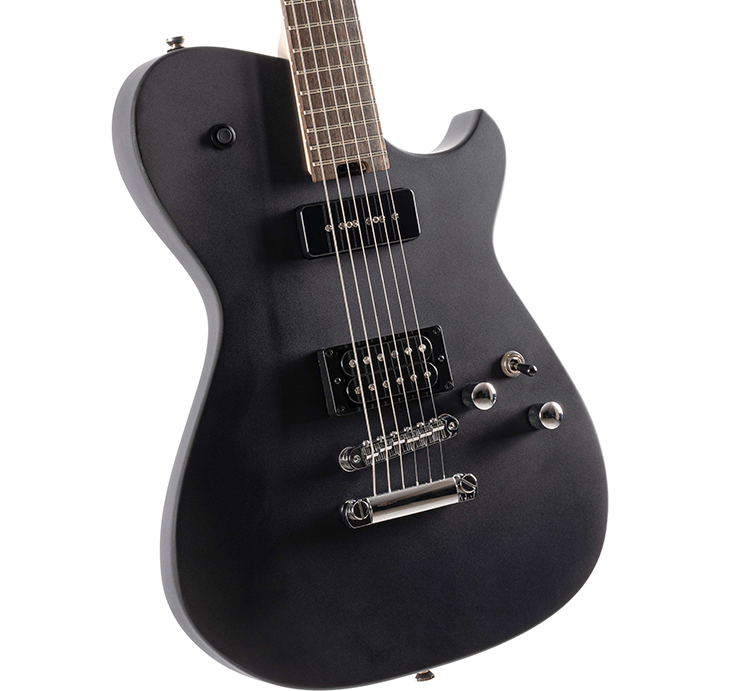 Current models include the Manson MBM-2P, which is armed with a humbucker and a P90, and the MBM-2H which incorporates a Sustainiac driver in the neck position for otherworldly, infinite sustain. You don't even have to be a Muse fan to enjoy this contemporary take on the T-style: all fans of modern playing styles can get on board with this elegant design.
More Hard-Rocking T-Styles
Tempted by that tasty tabernacle of T-styles? Want to see some more? Of course you do! Obviously, there are as many T-style guitars as the day is long, but since this roundup is focused on the heavier end of the spectrum, here are a few more morsels from some of our favourite guitar brands.
Balaguer Woodman BB Baritone Lightbringer
Balaguer are a brand who are quickly establishing themselves as a force to be reckoned with, and this gorgeous Lightbringer baritone axe serves up a banquet of tasty timbers and lower end sonics.

Chapman Rabea Massaad Signature
Popular YouTuber Rabea Massaad gets his own signature model from his chum Rob Chappers here, and it's a good 'un! Lovely woods, excellent pickups (from both Bare Knuckle AND Seymour Duncan) and the welcome addition of a tremolo all combine to make the Chapman ML3 Rabea Massaad Carthus Burst a serious statement of intent.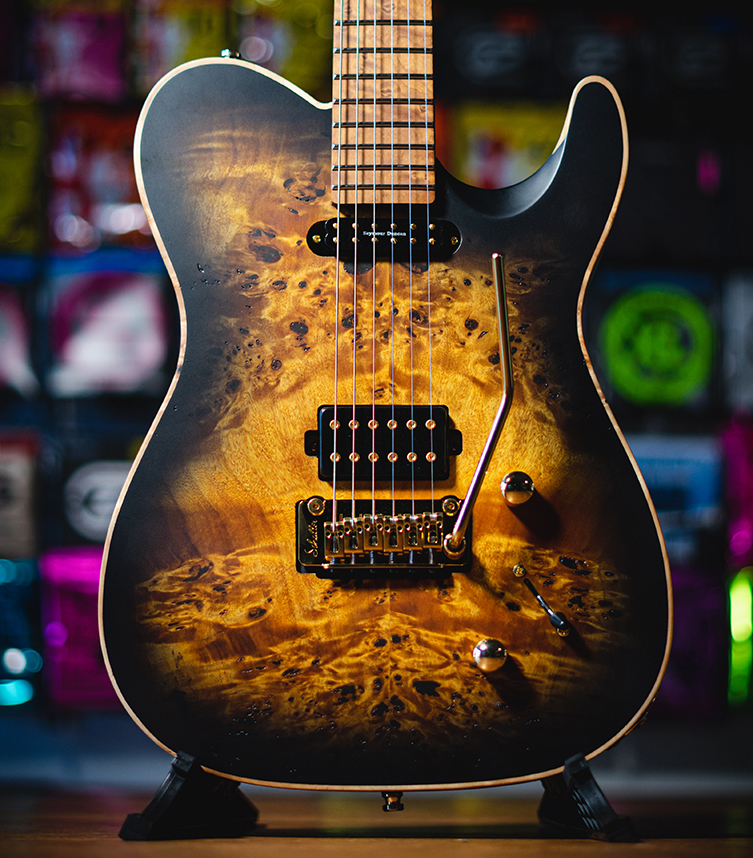 The Chapman brand actually have a whole range of high-powered T-styles if this one floats your boat.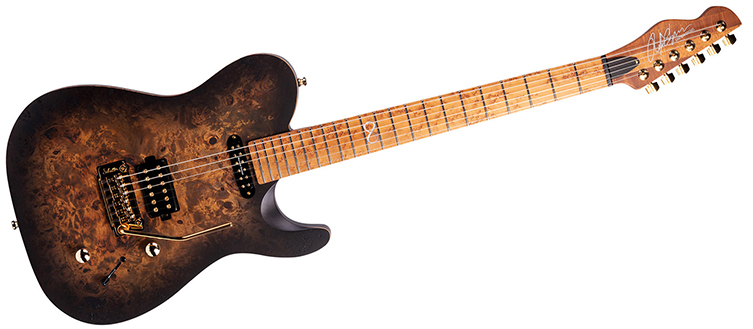 Schecter PT
We're always suckers for a T-style with a double bound body, and this super-cool model brings the heavy with understated swagger. The Schecter PT is one of those guitars that can fit into any scenario, thanks to a classic look and a set of high-output humbuckers that can be coaxed into jangle territory via a coil tap switch in the tone pot. An effective addition to any player's arsenal.

The People's Guitar
It seems that, from day one in the early fifties until right now in 2022, the single cutaway T-style has been the shape that players have gravitated to more than any other. As we've seen today, the style has been successfully incorporated into some of music's heaviest guitarists, which isn't bad for a 'Country & Western' guitar, right?
The T-style was always more than that, of course, and it's great to see it in so many permutations today. Whichever styles you like to play, it's obvious that there's a T-style out there for you!