Squier FSR Tribute Stratocasters
Published on 13 July 2022
Who is familiar with Fender's FSR guitars?
FSR: Fender Special Run. It's a term used for instruments specially designed and ordered in limited quantities, which are not available in Fender's standard catalogue. FSR instruments allow us at guitarguitar to offer guitar models you know and love in alternate finishes, or with changes made to the pickups or other parts of the guitar. These are meant to offer something just a little bit different from the norm, with a slightly more special 'limited' vibe to boot.
Well, we've been doing these FSR guitars for a couple of years now, and they've proven to be very successful, particularly with certain models we'd refer to as the 'tribute' guitars. These tributes are distinctly unofficial tips of the hat to certain famous Fender artist's guitars. We simply pick out finish colours and parts that make otherwise catalogue guitars look a little more like those hallowed artist models, without trying to become anything resembling replicas.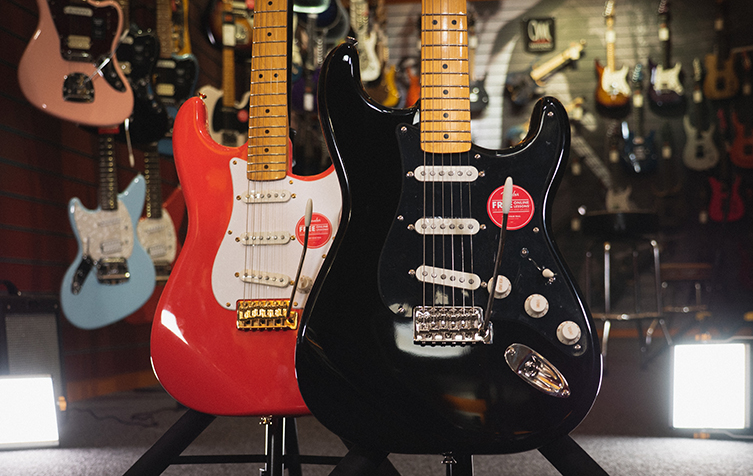 But wait! It's not all about Fender! We've also been lucky enough to be allowed to spec and order a few special FSR guitars from Squier, too! There are two in particular that have just landed in stock with us and we'd love to show them to you!
Squier FSR Stratocasters
As you can see from our photos, we have a pair of Squier FSR Stratocasters for you today. You'll no doubt be able to figure out the genesis of our inspiration without thinking for too long, right? We tried very similar designs with some Fender Player Strats and they went down a storm, so we figured there was scope to try these ideas out on more affordable canvases.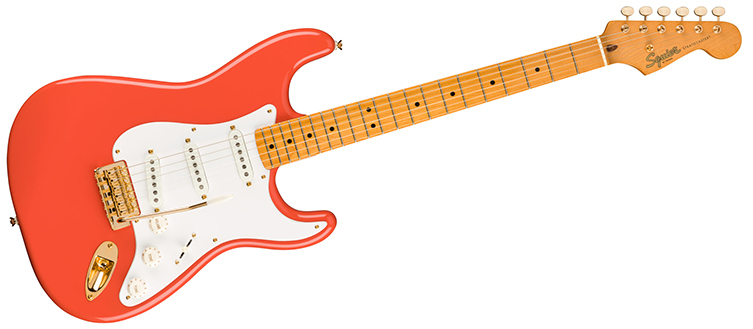 And what canvases they are! We're talking about the Squier Classic Vibe Strats in their 50s iteration! Classic Vibe Squiers are, in this crazy world, perhaps the closest thing you can get to a vintage Fender guitar without spending a grand and above, which has made them very popular with gigging players.
Whilst not slavishly 'authentic' to Strats from the 1950s (for example, these have 9.5" radius fingerboards rather than a more retro curvy 7.25" value), they do take broad brushstroke sketches of such guitars, and build reliable, modern guitars with strong flavours of the golden era about them.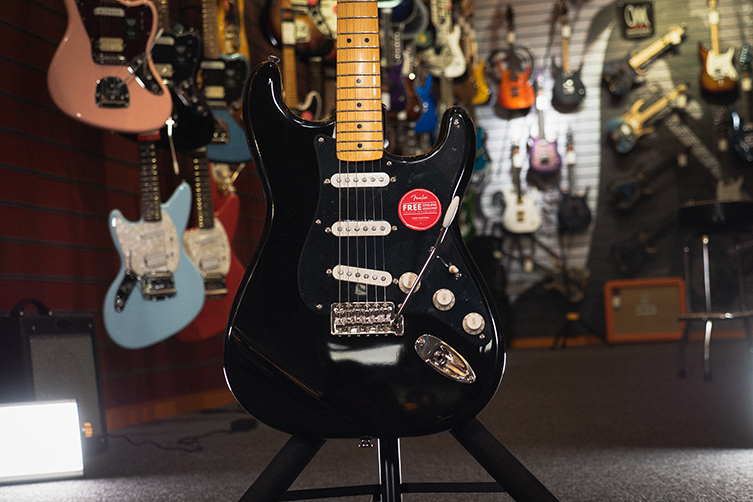 Vintage Appointments
These two Strats share the same in terms of specifications. Both have excellent alnico pickups for a clear, expressive twang. Alnico magnets are a huge step up from the usual ceramic magnetic pickups often found on more affordable Strat types. Whilst great for hot rock sounds, ceramic pickups don't have the cut or tone beloved of Strat aficionados, so these Classic Vibe pickup choices are very welcome indeed!
Classic Vibe models, whilst looking back in time, are not slavish recreations. Whilst these guitars display retro headstock logos, for example, they still sport c-shaped necks and 9.5" radius fingerboards for a more up to date feel. We find this helpful, as it makes the guitar a propositional for a wider number of players, not all of whom will actually appreciate the marmite nature of a V neck profile or a more curved radius.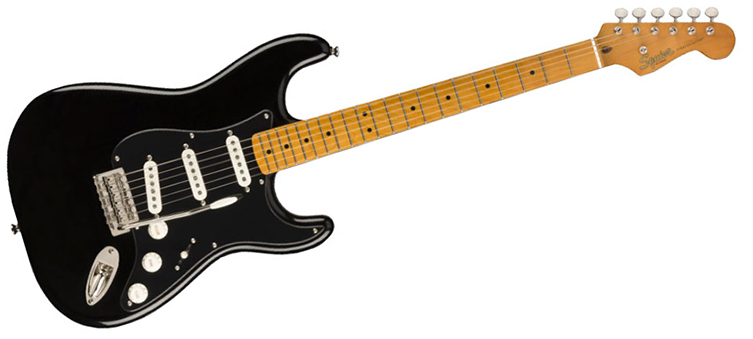 The guitars are not just Classic Vibe guitars, though. They are also subtly nodding towards famous artists' axes, so certain details have to be accounted for, where possible. It's a great thing, then, to see that the pickguards on these Strats are single ply, which is particularly important for the black one. It's a feature of the 50s anyway, but the black-on-black look is more fully achieved without the white inner play of a 60s-style guard.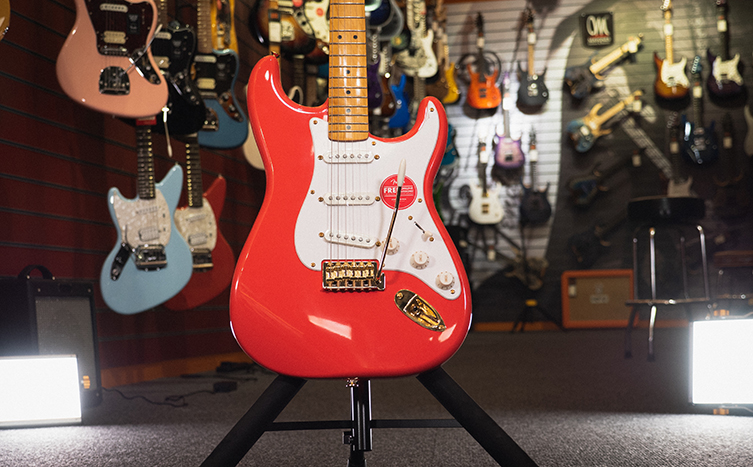 Colour is everything on the red model, and Squier have nailed that distinct shade of Fiesta Red that is sometimes referred to as 'Flamingo Pink'. Fans of this particular vibe will maybe remember a Squier signature model made many moons ago (we're talking the 1990s) and we humbly think this particular take on the guitar, whilst unofficial, is closer to the real 'Apache' Strat! The choice of gold hardware is an important part of the aesthetic too, so happily we were able to have that on this model, too.
Which is Your Favourite?
Stratocasters are the real chameleons of the guitar world. Whilst they are entirely distinctive, tonally, they are also the guitars employed in the widest number of genres, and one of the most malleable guitars in terms of sonic manipulation. With that in mind, these beautiful Strats can be seen simply as affordable and excellent guitars that can be picked up and used in most any situation.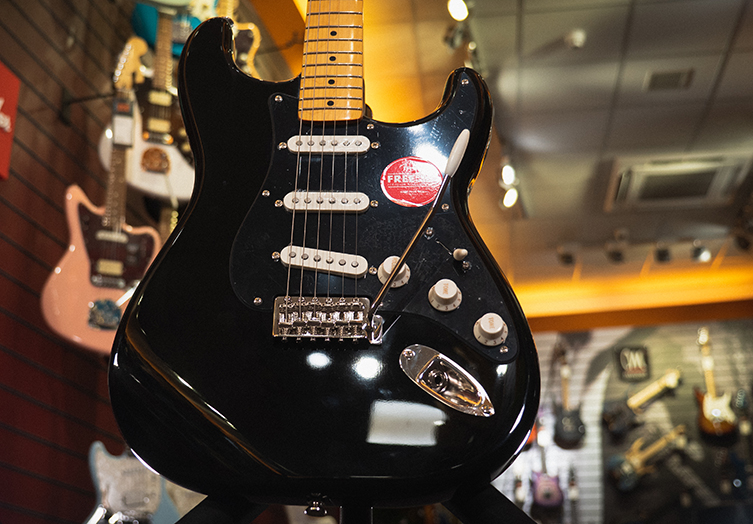 But, for those who have fond affection for either of the superstars hinted at by the models, they are a wonderful way to align yourself a little with that innate magic, without either spending too much or indeed announcing your fanship too overtly! They are blatant enough for the reference to be clear, and vague enough to be anonymous, whichever you prefer.
Each guitar punches well above its weight, and is a gig-worthy, studio-worthy addition to your instrument arsenal. The only question that remains is: which do you prefer?