Top Epiphone Guitar Players
Published on 17 October 2022
Epiphone have enjoyed quite the rollercoaster ride over the last hundred-and-something years they've existed as a company. Back in the roaring twenties, Epiphone actually had the upper hand on rival company Gibson, duelling with them to create ever bigger and more ornate hollowbody guitars.
The tide turned in the fifties, when Les Paul himself advised Gibson to buy the company. Gibson used Epiphone to make replicas of its own designs but also continued to build Epiphone's most popular original designs, too. Up until the last few years, Epiphone have been well known and respected as makers of 'cheaper Gibsons' - however inaccurate that might be - but the last decade has seen the company rise and reclaim its heritage as a legitimate brand in its own right.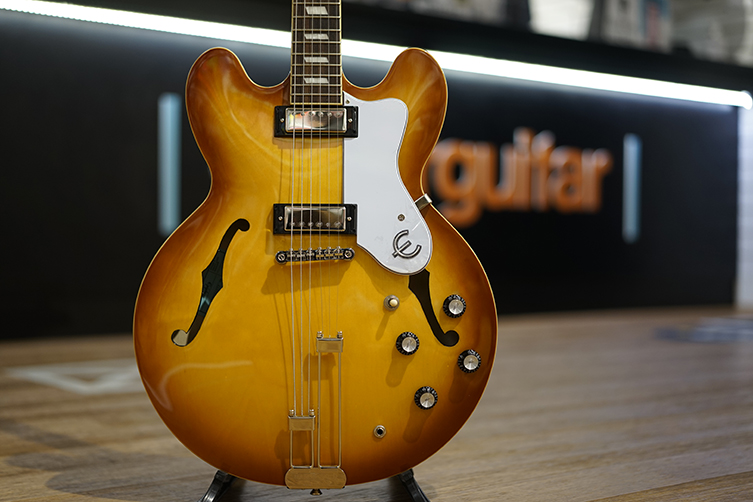 Even as the brand association becomes ever tighter (many Epiphone guitars are now part of an 'Inspired by Gibson' subtitle), it seems that more and more players both professional and otherwise are turning to the capital 'E' for their tools of trade. The value is there, of course, but so is a high degree of style and quality.
Of course, a look back into rock history proves that Epiphone have been there all along, so without further ado, or indeed any sense of hierarchy, let's see the top ten Epiphone guitarists, according to us on this particular day…
The Beatles
Given that The Fab Four are the most famous band who ever existed, it stands to reason that they are also the most influential guitar players. It's quite an endorsement, then, that not only did frontman John Lennon favour an Epiphone Casino for much of his career (with an excellently sanded-down DIY finish), but bassist/other-frontman Paul McCartney had one, too!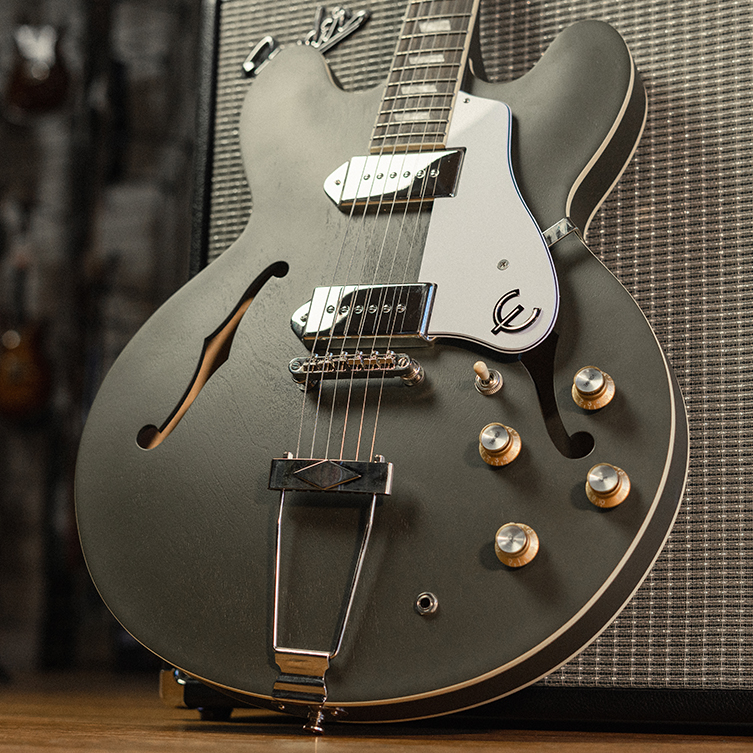 We reckon it's fair to state that nobody else put the brand on the map as much as the Beatles did. They were stratospherically huge 50-odd years ago, and they remain stratospherically huge today. Epiphone literally could not buy a better advert than having these Scouse geniuses choose to use them. Lennon and McCartney's Casinos would have been USA models, built in the same Kalamazoo factory as Gibson guitars.
Joe Bonamassa
Okay, our friend Joe may well be like a guitar playing equivalent of Noah - he owns two of every model ever made ever, and presumably has an ark to store them in - but he's still a very visible supporter of Epiphone guitars. Les Pauls, Firebirds, Les Pauls with Firebird headstocks…Joe's a fan and has put his name to an amazing selection of signature guitars, based at least partly on his own private collection. His latest is an lovely ES-335, complete with a Maestro vibrola and customised case.
Bonamassa is certainly an equal opportunities player, since we see him with Strats and Teles all the time, but his Epiphones do come up on stage with him, so they are not just a money-making 'whatever' for him. If they get Joe's seal of approval from the stage, then they are most definitely good enough for us!
Gary Clark, Jnr
Gary Clarke Jnr expertly straddles that line between rockstar cool and mainstream accessibility. His songs definitely share DNA with the Mississippi delta, but his deft writing broadens the appeal to the point where he's developed and extended blues rock guitar for another generation. His playing is great too: full of attitude and intention, but without overplaying. It's a tough trick to pull off!
Coming through the ranks, Gary played a too-cool blue Epiphone Casino. He's since made another sig guitar with Gibson (an SG this time), but we most often associate him with his iconic Casino.
Josh Homme
The Queens of the Stone Age frontman and part time Crooked Vulture/producer/camera-kicker is one of the most influential players of recent years. Eschewing most of the rock guitar hero cliches (expensive guitars, big amps, long solos, big hair), Homme instead plays affordable guitars and uses small valve combos to get his desert-fried tone.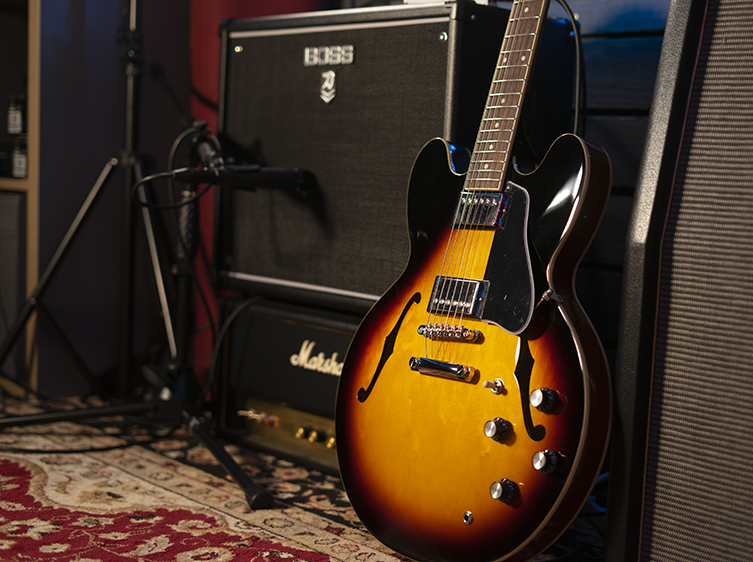 Although never an official endorsee (that would not be a very punk rock move for him), he has stated on more than one occasion his love for the humble Epiphone Dot, which was the precursor model to the current Epiphone Inspired by Gibson ES-335. Calling it 'the best hammer in my tool bag', he has played his Epiphone for the best part of two decades now. Another enormously successful player who reckons Epiphone is good enough for the world's biggest stages.
The Edge
Talking about enormously successful, you don't really get much bigger than U2. The Edge tends to have as many guitars on tour with him as there are songs to play, but he's never shied away from having a good blast on his trusty USA-made Epiphone Casino. Proving that it's the player who creates the sound more than any piece of gear, whichever guitar Edge plays, he always sounds like himself. Well, any guitar plus his 8000 effects pedals, but you know what we mean!
Matt Heafy
Trivium are proof, if any were needed, that Epiphone guitars can do monstrously heavy without breaking a sweat. Matt Heafy, the band's lead singer and principal songwriter, uses his own signature Epiphone Origins Les Paul Customs to provide the firepower for his music's flamethrowing intensity and dynamic charge.
Heafy uses both 6 and 7 string variants, and, carrying on a tradition started by Zakk Wylde in the 80s, has his Les Pauls armed with active pickups (Fishman Fluences here) for extra ferocity. Big noises without unduly breaking the bank? Start here!
Paul Weller
British institution Paul Weller is another advocate of the Epiphone Casino. He's had one slung around his shoulders since at least his Stanley Road renaissance back in the mid-90s, and it doesn't seem to have left him since.
A Rickenbacker player back in his Jam days, Weller obviously gets on with guitars that have percussive, rhythmic properties, perhaps since his style is so physical. Whatever the reason, he's definitely one of the first players who come to mind when we think of Epiphone Casinos.
Frank Iero
Perhaps not a household name for all guitar fans, Frank is nevertheless an influential and successful player as part of emo megaband My Chemical Romance. Blending punk rock influences with more than a dash of Queen and Smashing Pumpkins, Iero's music has a pleasingly Halloween-hued tone to it, and he does it all on his signature Epiphone Wilshire Phantomatic.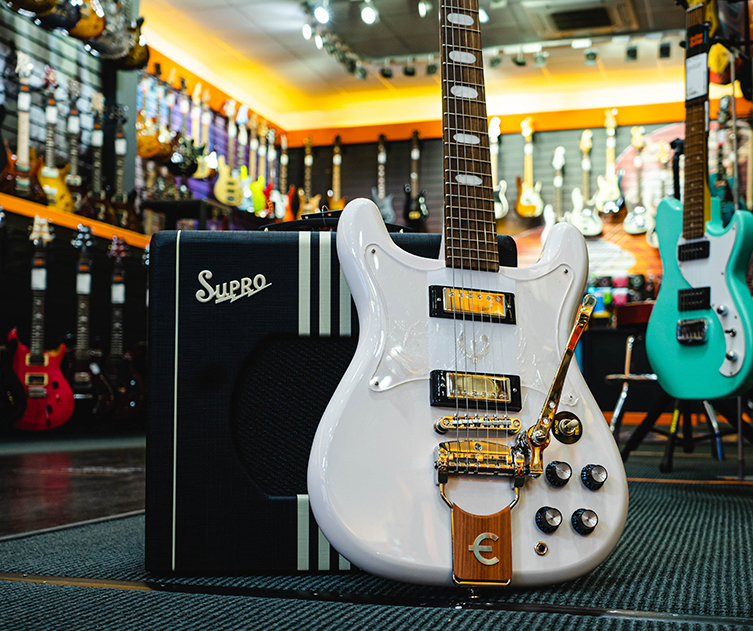 The Wilshire has been around since the 60s and is another great example of an original Epiphone design finding favour with a top artist. Most underrated Epiphone solid body? Could be!
Jared James Nichols
New-gen guitar hero Jared James Nichols is an avowed fan of Epiphone Les Paul Customs. Eschewing pesky things like guitar picks, the 'Thor of Blues' goes fully fingerstyle when he melts faces with his Blues Power guitar solos. Obviously a man with a streamlined attitude, big JJ also prefers a single pickup - a P90, no less - in his guitars, so there's absolutely nothing to hide behind. He's a mighty talent, and his infectious enthusiasm matches his supersonic skills.
Fans of Jared's music will be pleased to know that Epiphone have seen fit to bestow him with his own signature Les Paul, known as Gold Glory. One righteous P90 pickup on a gold LP Custom is all you need to preach the gospel of the blues!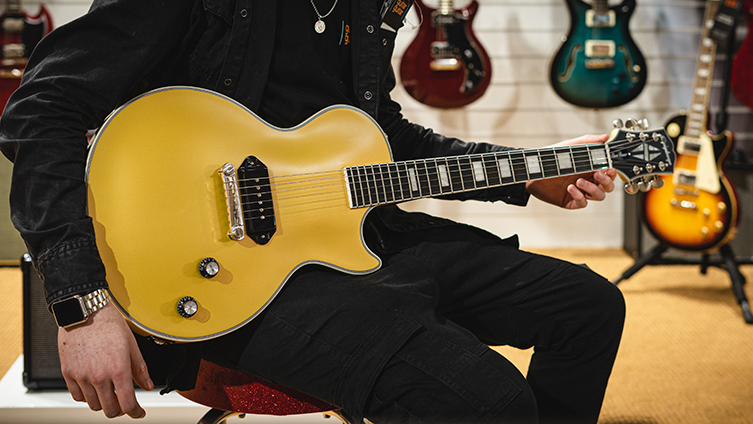 Thom Yorke
It's a versatile guitar indeed that can hop from the perfect pop of the Beatles to the avant-garde art rock of Radiohead, but that's exactly the case with the Epiphone Casino. Oxford's creative wizards actually have three guitarists in tow, each with their own designated area of sonic real estate to farm for sounds. Vocalist Thom Yorke is, somewhat unsurprisingly, given rhythm duties, and he is frequently seen with one of a number of Casino models.
Epiphones for All Styles
So, there is our list of top Epiphone players. There are household names, cult icons and megastars in that lineup, of which Epiphone should be suitably proud. There is no particular style or genre tendency in view either, which supports the idea that the brand are both versatile and of a professional standard, whether the instruments are US models or not (most aren't).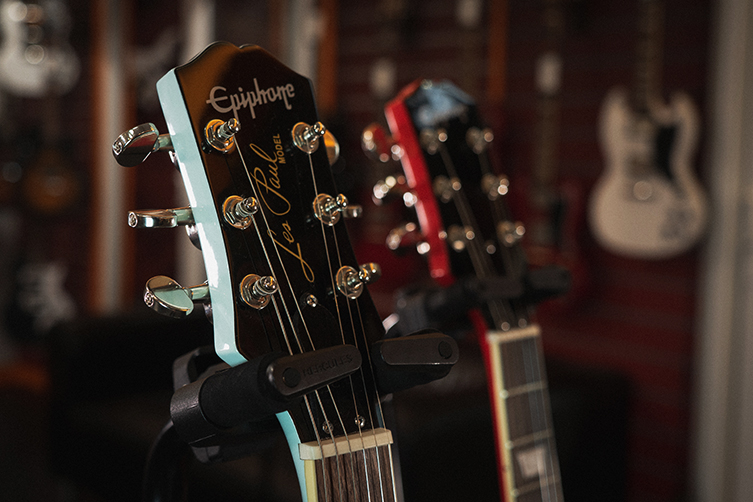 Who else is surprised at how often the Casino has shown up on today's list? Interestingly, it's not overly based on any particular Gibson model (though the ES-330 is similar), so perhaps its OG status makes it more attractive to ambitious players? Either that or it's encouragingly rhythmic sonic identity? Who knows, but it's certainly a classic Epiphone model.
Yes, Epiphone is Gibson's official replica brand, but as we've seen today, there is more than enough reason to seek them out for their own merits too, as these top artists have done.