Pedals of the Year 2022
Published on 29 December 2022
Stompboxes fill that special part of our lives as guitarists. Cheaper to buy than most guitars and more fun to buy than most amps, pedal purchasing is a joyful experience that can really change things up for our sound and playing. Every year brings with it a tidal wave of new pedal releases, from the biggest established names to the most obscure boutique builders.
As is customary for this time of year, it's time to reflect. We've looked at what has been released throughout 2022 and corralled a group of thoroughbred choices from the stable, from everything that made a splash with us and yourselves. In our end of year run down, you'll come across gain pedals (from transparent to entirely filthy), modulations, delays and one or two surprises, too.
Dive in with us as we revisit our favourite pedals from this year!
Soldano SLO
Squeezing a famous boutique amp into a little pedal? It's a well worn byline for many distortion pedals that base themselves on legendary amps, but we often find ourselves a little disappointed with such products when it comes to the crunch.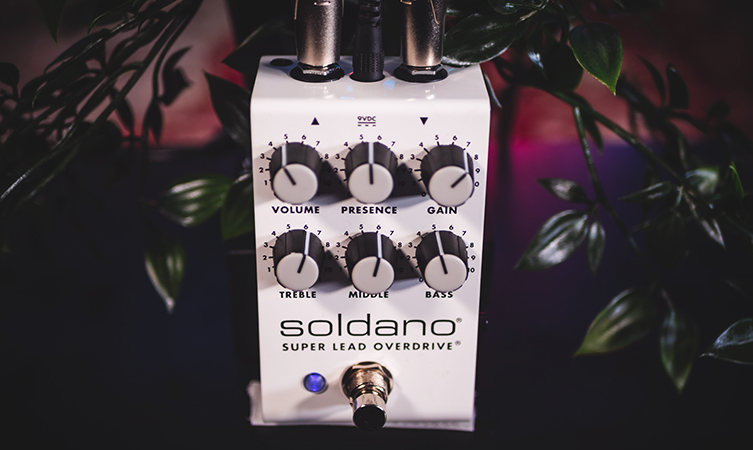 Excuse the pun!
This, however, was not the case with the Soldano SLO pedal. Whilst it would be an exaggeration to say that this pedal is the exact equal to the Soldano Super Lead Overdrive amplifier, it entirely does offer a versatile and responsive sound that carries a lot of that amp's famous tonal DNA. There's rich gain for days and a useful EQ section for sculpting out your preferred EQ curve.
Right off the bat, we'd suggest (somewhat obviously, perhaps) that the Soldano SLO will work best when used in front of a good quality tube amp or head with a nice speaker. Slamming it into a 15w solid state modelling amp with an 8" speaker will not do this pedal any justice at all, but if you have a pretty peachy rig already and just want some of that famously creamy, luxurious overdrive (which goes quite far into high gain territory), then this box will bring you encouragingly close to those world famous Soldano tones.
We found ourselves going back to this pedal over and over for a quick shot (it's research, ok?), a sure sign of a successful design and build! Basically, if you like distortion, you need to test drive this pedal: it's that simple.
Earthquaker Devices Life Pedal v3
From one gain pedal to perhaps the opposite of their kind! Ohio's Earthquaker Devices have collaborated with drone rock/noise-punishment group SUNNO))) on multiple (very) limited edition pedal releases, and now everyone can join in the fun with this standard issue, 3rd version.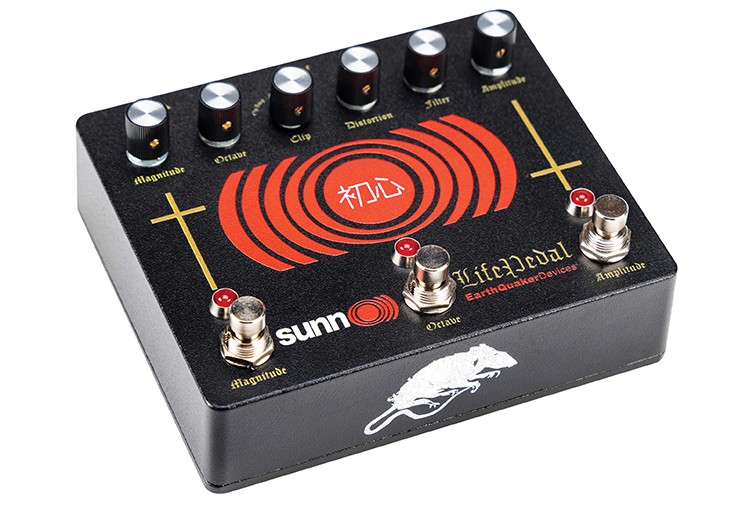 So, what is it? Put simply, it's a pretty gnarly distortion and boost effect (named amplitude and magnitude and accessible via separate footswitches) with an added octave up for extra sonic terror.
Anyone familiar with SUNNO)))'s sound will understand when we say this pedal is pretty devastating sounding. The distortion side of things may be based on a vintage Rat pedal, but with the boost and octave sections engaged, the Earthquaker Life pedal quickly moves into 'waking the dead' territory, with a sound that chews up all available frequencies in a manner that's somewhere between controllable and hazardous. None of this is a criticism: it's a joyful, OTT sound that's really quite something to behold, and can be used in a more sensible manner too, if you really insist.
If all of your pedals are tasteful and 'nice', why not add a little life to things by throwing in this sonic hand grenade?
Catalinbread FX40 Soft Focus Shoegaze Pedal
'Sonic Cathedrals' is how effusive journalists like to talk about the early 90s guitar tones from bands like Slowdive and My Bloody Valentine. This pedal from Catalinbread approaches the ever-popular shoegaze sound in a slightly different manner, by (somewhat) recreating the ambient effects presets from certain rack units of the day and pouring them into a single pedal. Is it successful?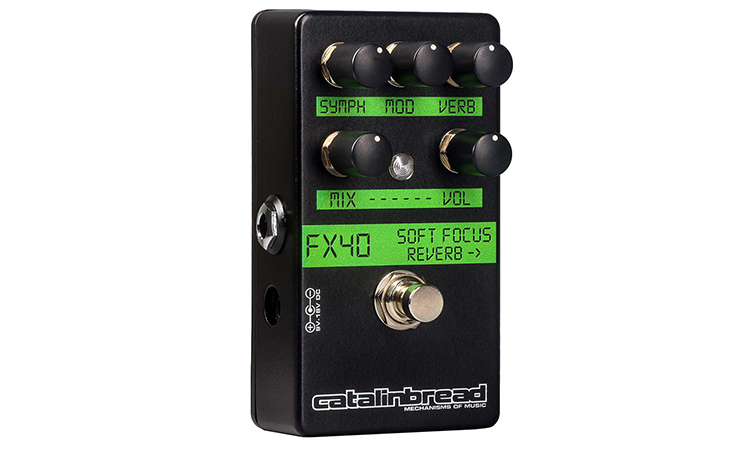 We'd say so, but maybe not entirely in the way we expected. Onboard the FX40 Soft Focus Shoegaze pedal are chorus and reverb effects, though both have a very particular sheen to them. We would recommend adding this pedal as an additional unit to your existing chorus and reverb pedals, rather than having just this one, since its sound has a 'special effect' quality to it that is not by any means everyday.
What it is, though, is gorgeous and very usable, particularly if you want to wash out your sound with layers of texture and 'wet' effects. We're not sure the 'symphonic' effect on here is quite the same as the one you'd find on a hallowed Yamaha SPX-90, but turn the control knob fully counter-clockwise and you'll get close to that ineffable wideness so beloved by connoisseurs of shoegaze tones. Add in a touch (well, loads) of reverb from the pedal and you'll be in texture-heaven. It's a very more-ish pedal and sounds beautiful in a very more-is-more way, so if you are a sculptor of vast washes of sound, then this pedal will make you squeal with glee.
Dunlop Kirk Hammett KH Crybaby
Nobody loves a wah pedal more than Metallica's Kirk Hammett. Indeed, this is his second signature KH Crybaby from industry leaders Dunlop, and it delivers his trademark aggressive tone in spades.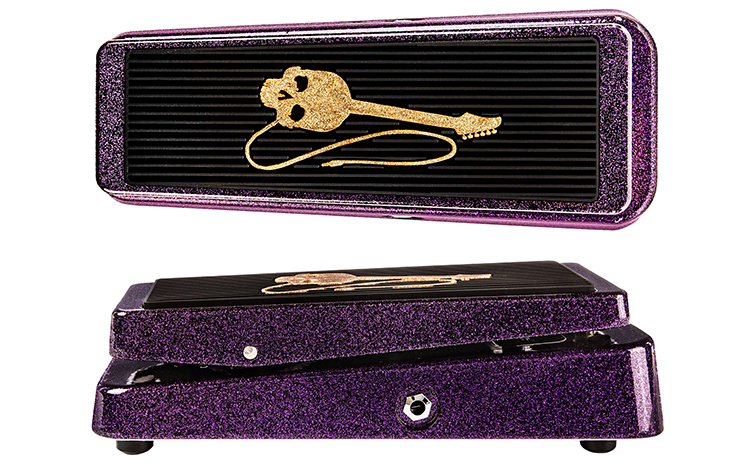 On top of that, this pedal is about as glamorous looking as it gets. Purple sparkle? Not normally the aesthetic for a po-faced metal band, but then Metallica have always been a little more subversive than their critics would admit (concept albums with Lou Reed, anyone?), plus Kirk already has a matching purple sparkle ESP guitar, so there's synergy there. Also, why not? It looks awesome! If you're in the market for a new wah, why not go 'full flash' and add some Hammett glitz to your pedalboard?
Valeton GP200
Digital modelling is a massive subject these days, and many of the major contenders are also a major investment. Value is undoubtedly built in, since these units recreate entire rooms full of gear, but the prices can still be above the means of some players. This is precisely why the Valeton GP200 is a great unit: it's full of functions, sounds really good and it does not cost the earth.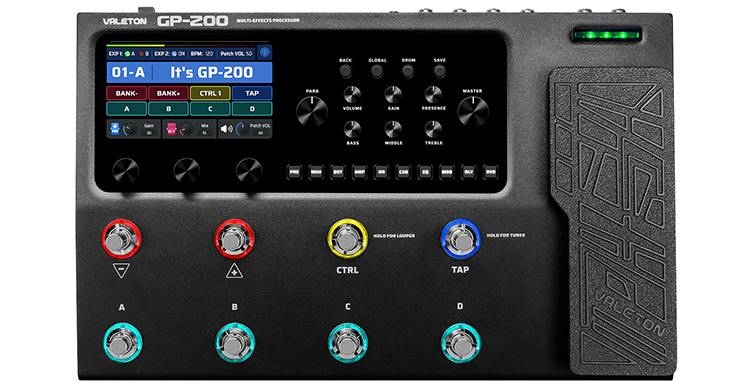 So, what's available here? Well, the stats are never as important as the sounds, so let's say that yes, there are 140 amps and cabs, over 100 effects and plenty of IRs, but the takeaway is that the tones themselves are very good indeed. From glassy clean to ultra distorted and all points in between, it's all included under the hood here, as well as every modulation and time-based algorithm you could require. There's 8 footswitches, a treadle for wah etc and a decent full colour LCD screen, a very impressive addition at this price!
On top of that, you have full MIDI and USB options, so the unit can function as an audio interface for connecting with your computer to record music. So, whether you want it for an effects device, a modelling unit, a recording resource or indeed all three, the Valeton GP200 is a fantastic buy.
Meris LVX Modular Delay
At the other end of the FX spectrum is this Meris LVX Modular Delay. This amount of signal processing would've been quite impossible back in the day without whole stack of rack units being involved, so we are living in a great age for pedal power! This delay pedal is like pure champagne for creative players: we'd say it's maybe overkill for the vintage tone freaks searching for some subtle ambience, but for all the madcap sonic architects out there, this thing is glorious! There's a looper, pitch effects and some very interesting algorithms built in that'll take your studio-quality delays waaaay beyond a standard delay or echo pedal.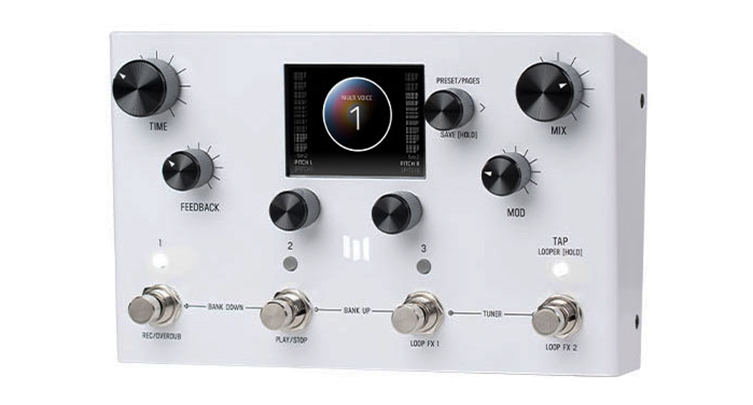 If you are already well versed in the likes of what Eventide have brought us over the years, your be in familiar terrain here. The sound quality is next level too, so you can use this with any instrument of vocal in your studio and expect astonishing results.
BOSS SL-2 Slicer
On the subject of next-gen effects, we're really happy to see BOSS bringing back the Slicer. Even though this effect has been on BOSS's GT effects units for over 20 years, it still remains on the fringes of everyday use, and we think it deserves more widespread use. Hopefully this more pedalboard-friendly compact form (the previous Slicer was a double pedal affair) will help it reach a bigger audience.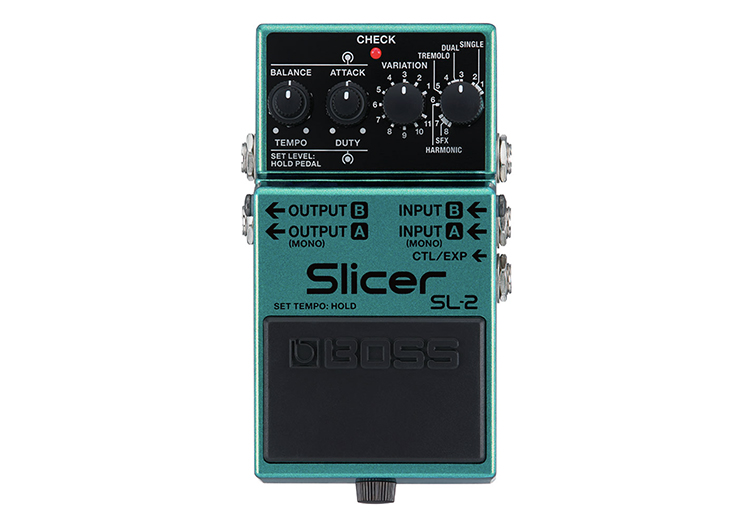 But what is it? Essentially, it's a syncopated tremolo effect with a large variety of rhythmic variations. It uses a repeating pattern rather than an equal signal on/off as with regular tremolo effects. This allows your guitar to produce some very sequencer-like rhythm figures into your songs in ways that are otherwise impossible. In the early 90s, such effects were achievable by MIDI triggering a guitar's output to, say, a hi-hat, but that level of faffing about is redundant now with this simple and effective device.
BOSS, being BOSS, have squeezed in some extra features, too. You can dial in regular tremolo sounds, and you can have certain patterns with extra FX added. It's a comprehensive unit and it'll open your playing in new, exciting ways.
MXR Duke of Tone
We always have time for a good, solid overdrive here at guitarguitar. It's a cornerstone of any FX setup and one of the most often-used sounds, so choosing an overdrive is important business!
MXR, who know a thing or two about crafting excellent pedals, have winningly collaborated with the much-revered Analogman, whose King of Tone overdrive is literally sold out years in advance every time a new batch becomes available. This collaboration has resulted in the Duke of Tone, an excellent transparent low-to-mid gain pedal which retains your guitar's personality.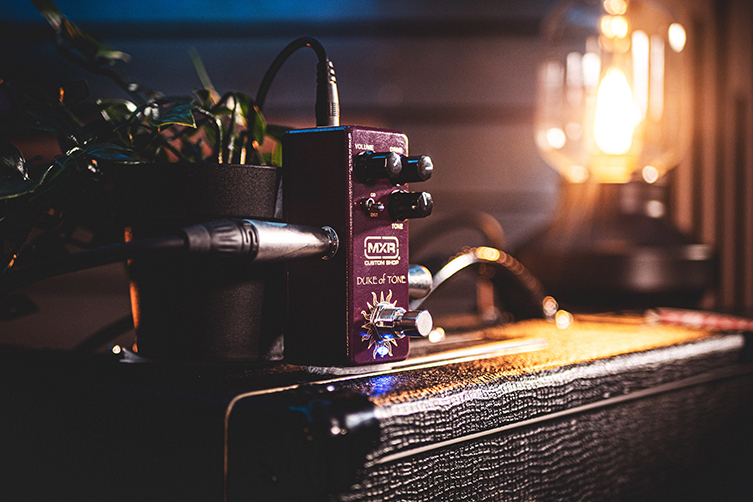 It's a simple pedal, but one of those ones that you'll always want to keep on since it sounds excellently expressive. Use your guitar's onboard volume knob to clean up your sound and upgrade your overall tone with one of the best, most playable overdrive sounds we've heard this year!
Keeley Andy Timmons Halo
Andy Timmons mentioned this pedal to us back in February when we spoke to him, and we've waited with baited breath ever since. The wait was entirely worth it: his signature Halo pedal bottles his exact sound - well, the ambient elements of it at least - to great effect.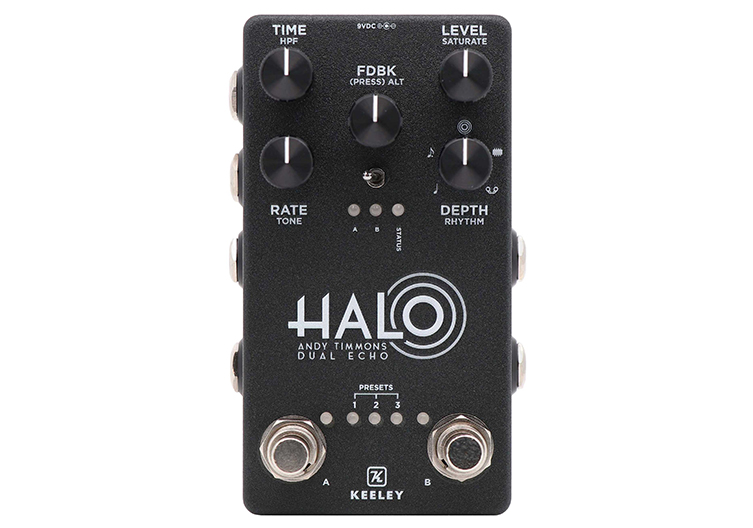 So, the Halo uses two modulated delays to create a very ambient atmosphere for your playing with plenty of diffusion in there to haze up the repeats. It's a pretty gorgeous sound, and one that inspires you to just play and play, which is always the sign of an excellent design!
Whilst the motivation is to dial up a Timmons-esque ambient atmospheric backdrop to your playing, the Halo is equally able to offer up Edge-like multi-delays for choppy rhythm work, too, with the level of tone quality you've come to expect from Robert Keeley. A rare example of a pedal that's highly specific and yet also a great general use effect, too.
Mooer Prime P1 Intelligent Pedal
Our final choice for our best pedals of 2022 is this innovative new concept from Mooer. The Prime P1 Intelligent pedal is a hybrid creation which blends a physical device with an app in order to simultaneously keep things simple and offer complex options.
Mooer call the P1 a 'pedal', but if you want to operate it from the floor, you really need to buy the additional F series foot pedal. This device, which looks like an old-school iPod, is much closer in design to the likes of the Fender Mustang Micro, but even that is only half the story.
Basically, you link it to the app via Bluetooth (which means you can also stream music to it) and select 4 sounds to load into the P1 unit. Scroll through these and control volume using the click wheel on the front, but use the app to edit tones, tune up, access the looper and get drum sounds going. It's a real Pandora's box!
Use headphones or connect it to any amp or speaker. The USB connection is used both as a charging point and a connection to a computer in order to use the P1 for recording. There's a ton of fun built into this tiny box, so if you are fine involving your phone in the process, this lil' gadget could open up your playing like nothing else.
2022: A Good Year for Gear
These pedal choices had to battle off some stiff competition from other hot releases this year. We were impressed by the new Line 6 DL4 MKII, the Origin Halcyon Green overdrive, and a great many more. We are also looking forward to what's just around the corner too, of course, but there have been more than enough pedals released in 2022 to keep us artfully occupied in the meantime!
Which pedals stood out for you this year? Has anything tempted you away from your trusty mainstays? We always like to hear, so do let us know in the socials! And have a wonderful end of 2022 from all of us at guitarguitar!
Click to Browse our Entire Pedal Selection