Best Acoustic Guitars 2023: 12 Options for All Budgets
Published on 27 January 2023
Every player needs an acoustic guitar. It's a fundamental: an essential part of the world we love as guitarists. It's the zero point from which all other elements spring, and they've remained relatively unchanged for over a century now.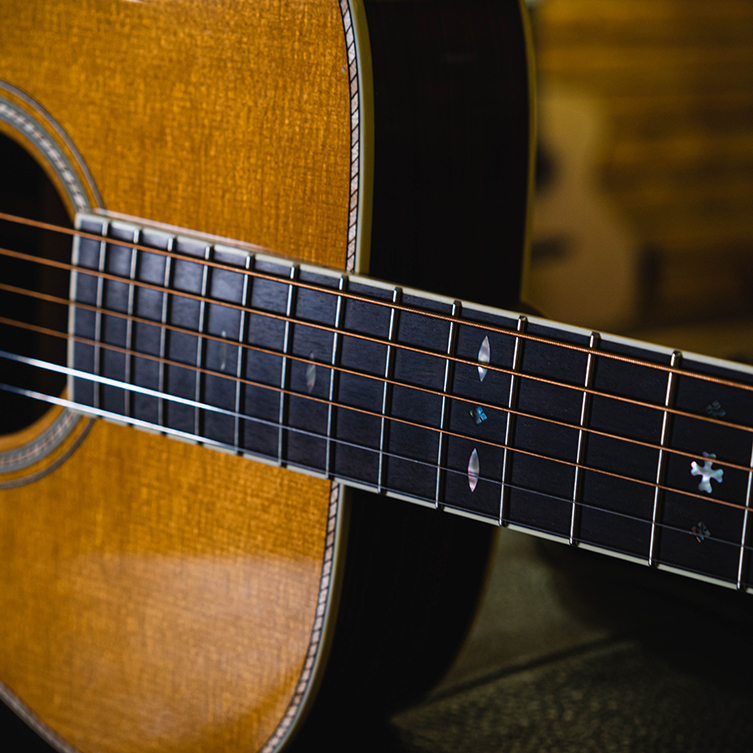 Acoustic guitars are superficially simple objects - a hollow wooden box strung with steel strings - but as with all things, there are almost innumerable variations on the theme. Most of the models you'll see today are based on guitar designs from a century or so ago, with differences in shape, size, construction and other features all contributing to a wide range of potential guitars to choose from.
Price is also a factor: modern construction facilities have meant that affordable guitars are better than ever, but there has always been a huge market for instruments that are handbuilt, using the best timbers. We'll look at all of this today as we run down twelve different guitar models that have impressed us recently.
Our Top Picks for 2023
We've divided these into three price points, which will hopefully serve to illustrate the overall marketplace and what to expect for certain prices. Our three delineations are under £500, under £1000 and over £1000. Typically, the higher the price, the better the grades of wood are used, and indeed solid timbers come into play. All solid (top, back and sides all made from solid wood) is the most expensive way to make a guitar, so less costly models use a solid top along with layered wood (or indeed plywood) for the back and sides. This allows for a more cost-effective build whilst still featuring a solid tonewood where it's most needed. Indeed, the guitar's top does more work in determining the sound than any other factor. Resonance is what's wanted, and layered wood resonates less effectively than solid timber.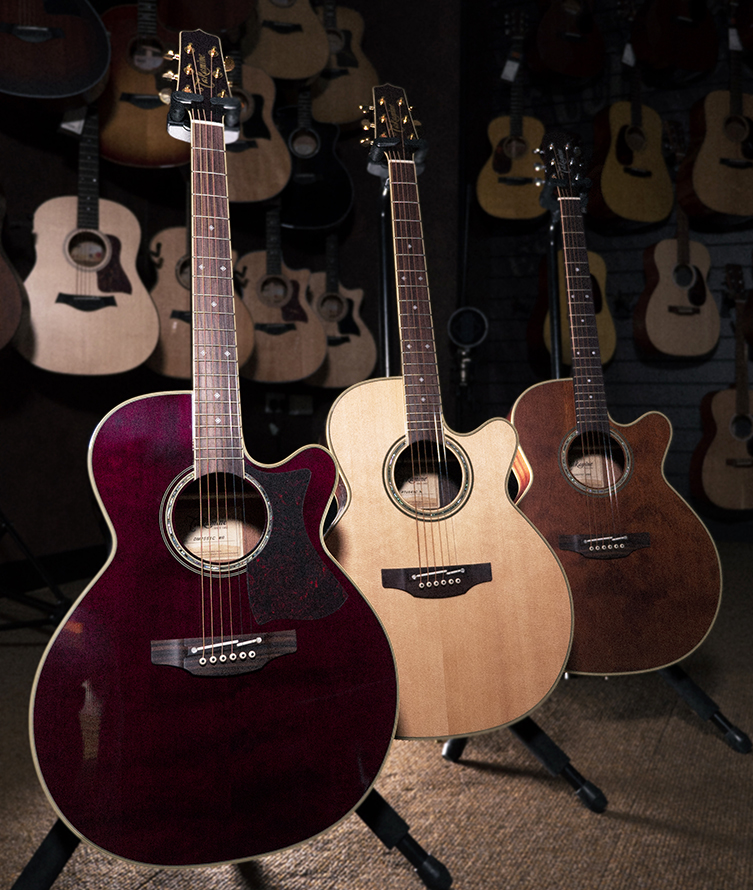 As well as timber (and other materials), fit & finish are big elements in determining the cost of a guitar, as are special onboard features such as pickups. Country of manufacture still plays a big part in price, but less to questions of quality. Needless to say, the guitars on our list today are more than up to the task of high performance on a daily basis.
So, with no focus other than what we believe to be great examples of guitar making at different price points, let us check out the selections! We've opted for a selection of body shapes and styles, based essentially on their own merits, so this is not so much a comparison as a set of suggestions, all of which have been personally picked by us.
Best Acoustic Guitars Under £500
Our first tier is for guitars that cost less than £500, but we purposefully have not included beginner models here. Today, £500 buys you a lot of guitar, and we wanted to reflect that. Our choices demonstrate that a relatively modest spend will still buy you an instrument capable of being gigged and recorded with excellent results.
Yamaha FS800
Our first selection is for those who simply want a well made, natural finish acoustic guitar with no pickup. Yamaha are a very respectable brand who offer instruments in all price points. This FS800 is far from their cheapest, but it's still very affordable. It's a concert sized guitar, which means the body is somewhat smaller than a typical dreadnought, which for most of us is the default 'normal' acoustic style.
This Yamaha FS800 has been well put together, and the addition of a solid Spruce top ensures that the tones will be lively and resonant. A matt finish neck adds to the playability, and the tinted finish adds an extra touch of class. For everyday playing, this is a superb choice.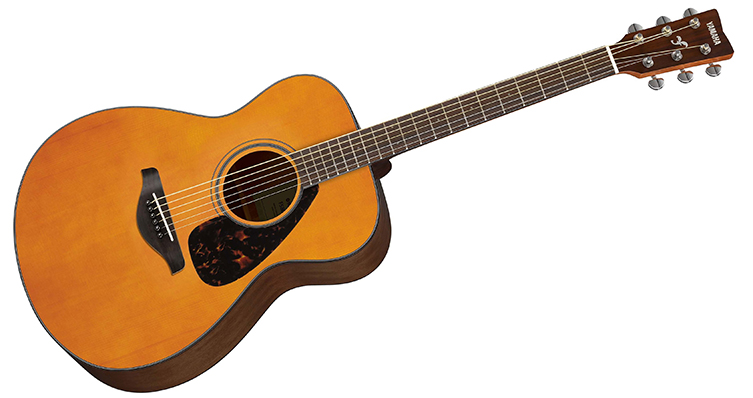 Alvarez AD66CE Shadowburst
Alvarez are currently aiming to take over the affordable market, judging by the quality of their last few years' output. Always a brand worth checking, in recent years Alvarez have doubled down on quality, choice and spec, meaning that anybody looking for a new acoustic will have a hard time saying 'no' to one of their models!
Today, we've gone for a good quality cutaway dreadnought, the Alvarez AD66CE. It's made from Mahogany (solid for the top, layered for the sides) which results in a warm tone. Dreadnoughts are great at projecting sound, so this one will suit singers looking to accompany themselves, and the more mid-centric sound will actually help the guitar sound mesh better with vocals.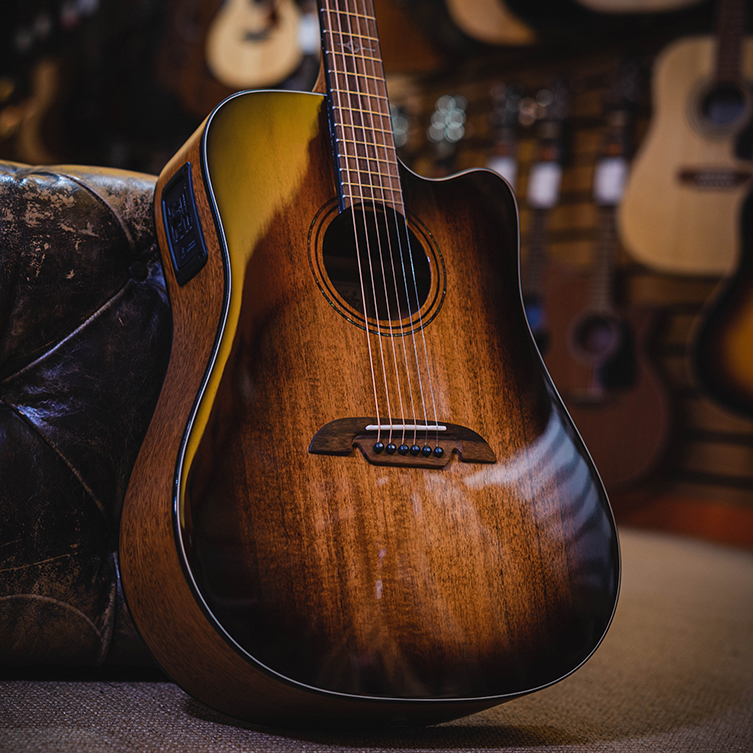 Specially designed tone bars within the inner bracing help focus the tone, and a high quality LR Baggs pickup system mean that this Alvarez is destined for the stage. If you are a performer and want an affordable, attractive, highly playable guitar with a quality tone, then look no further.
Takamine GN30CE
Takamine are a seasoned choice for the gigging player. Since the 70s, Takamine have expanded outside their native Japan to become an international proposition thanks to their great 'plugged' sound and easy playability. Today's model is from their massively popular G-Series, designed in Japan but made in China for a more cost-effective guitar.
This model, the GN30CE, uses Takamine's own NEX body design, which is somewhat akin to a slightly shrunken jumbo. Jumbo guitars sound large and impressive, and so does this thanks to intelligent design and well-placed inner bracing. A solid Spruce top and a good acoustic pickup system make this a sound choice for all strummers anticipating live performances.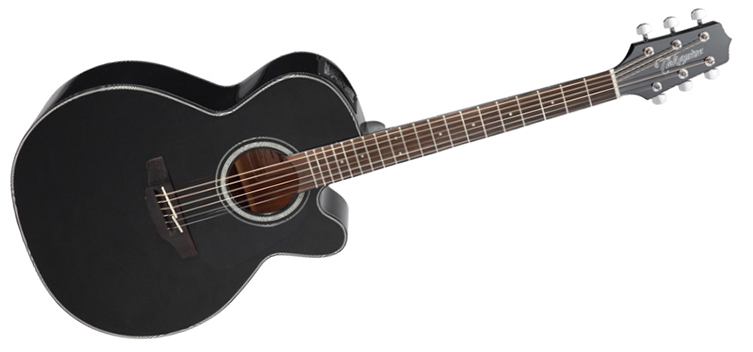 Sigma OMTC-1E
Sigma started life as an official overseas wing of Martin guitars, introduced in the 70s to counterattack the flood of imitations that were being built in the far east. Nowadays, the company has no direct links to Martin & Co, but the reputation for quality remains.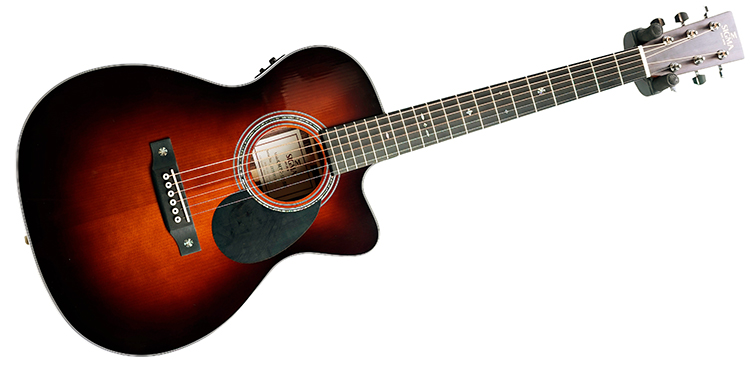 The Sigma OMTC-1E is a pretty gorgeous Orchestral model guitar (OM for short) and is another guitar designed with a cutaway and fitted with a pickup. This is a very normal site for acoustic guitars around this price: they are designed as well-priced guitars for gigging players, and fashion/habit has long since dictated that gigging players also require a cutaway to reach the top frets. Whether that's actually true or not is a matter of debate, but it has long since become tradition in the market. That said, cutaways always look nice and if you do use them, then they make a big difference. This Sigma has all you need to write, record and perform with class.
Acoustic Guitars Under £1000
This area focuses on a hotly contested area of the market. Between £500 and £1000 is where many guitarists look for their semi and fully pro instruments. These are the guitars for gigging players who want the benefits of upgraded woods and electronics, as well as those who are looking to begin buying onto one of the 'big brands' such as Taylor and Martin. At this price, there's still a lot of competition, so you can be assured that whatever you pick, it'll be of excellent quality and playability. Let's see which models have caught our eyes and ears…
Taylor GS Mini
Taylor's GS Mini guitar has swept through the acoustic guitar market like a delirious storm these past 8 or so years. The idea was simple: take Taylor's design and engineering nous, and pour that all into a smaller, more portable model, built in Mexico and ready to go anywhere. Travel guitars have existed before, but nobody took the concept as far - or as seriously - as Taylor. As a result, they totally cleaned up in the market: the Taylor GS Mini, in its various iterations, remains easily one of the most popular acoustic guitars in the world.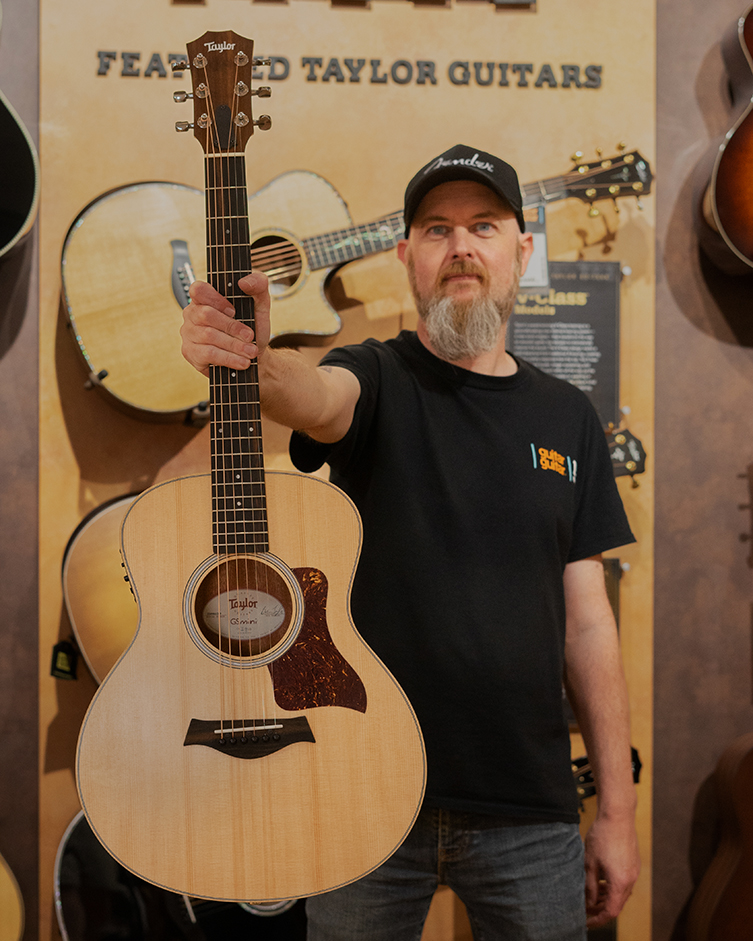 Why? Well, it's just an excellent design, made well. The guitar is small enough to be considered a travel instrument (and comes with a good quality gig bag to reinforce its mobile nature) but large enough to really shift some air, making this one resonant and sweet sounding guitar. The scale length is 23.5 inches, which sounds pretty short until you consider that it's only half an inch less than a Fender Jaguar! Players worried about the fingerboard size should just try one: one of the GS Mini's many strengths is that it feels instantly familiar and comfortable, and never like a 'child's guitar' in any respect.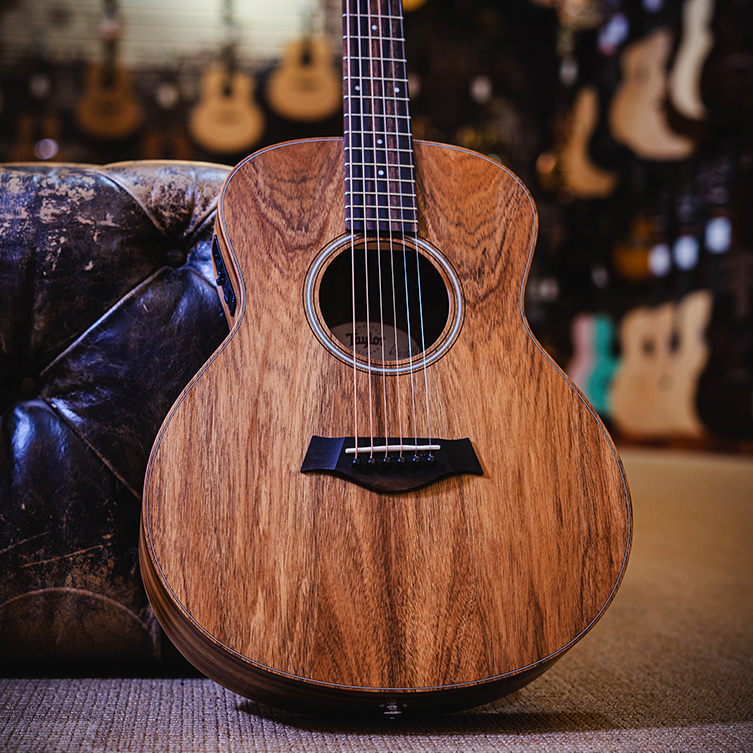 Whether you go for a Koa top, a Spruce and Rosewood model, a Mahogany one or any other iteration, you are making a great great decision.
Epiphone Inspired by Gibson J200
From a small popular guitar to pretty much the biggest popular guitar, we have included Epiphone's most recent take on Gibson's famous jumbo. The Epiphone Inspired by Gibson J200 is, like its American namesake, a big, curvy and beautiful instrument. The Gibson model is a stone cold classic, played by everyone from Elvis to Sheryl Crow, but its high-end price puts it beyond the reach of many players. This affordable Epiphone levels the playing field to quite a degree.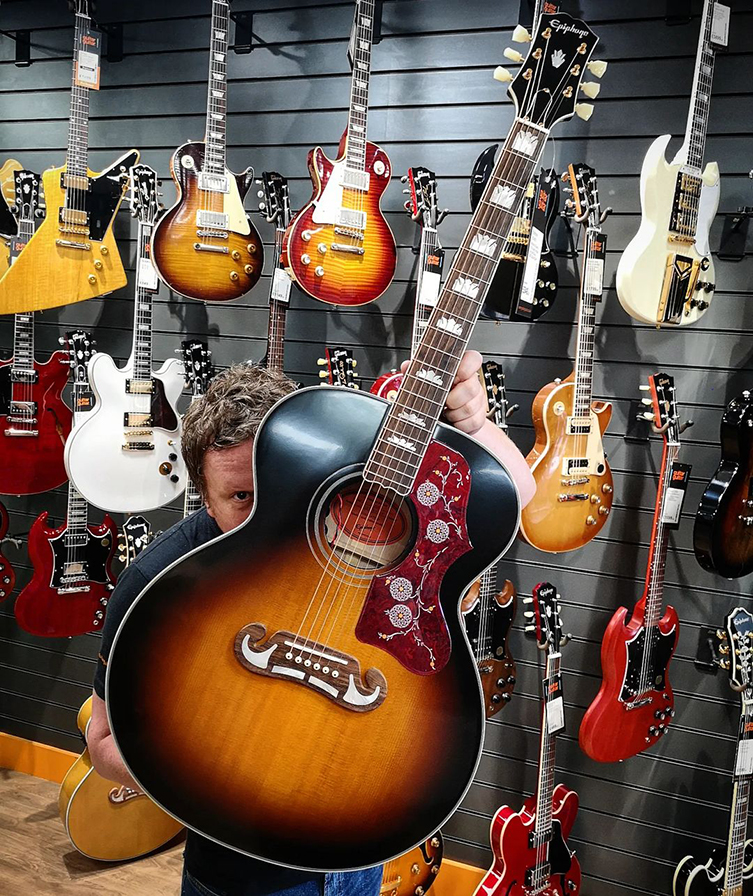 You get all of the recognisable visual flair here, from the flower pickguard to the moustache bridge: it's a very faithful replica, within the limits set by the brands (the headstock shapes will never be exactly the same, but this one is as close as it's ever been), which is understandable. More significantly, that signature sonic boom of a sound is there entirely, with the all-solid construction of Spruce and Maple adding focus and zing to the characteristically loud voice. All solid construction is a wonderful thing for resonance and tonal depth, particularly at this price.
For players who also sing and want to gain maximum stage presence, the Epiphone J200 should be one of your first ports of call.
Yamaha A1RII
Yamaha, as we've seen already, are a potent force in the acoustic guitar world. At any level, their instruments provide an equivalently high build quality, which translates in lateral terms to a better tone.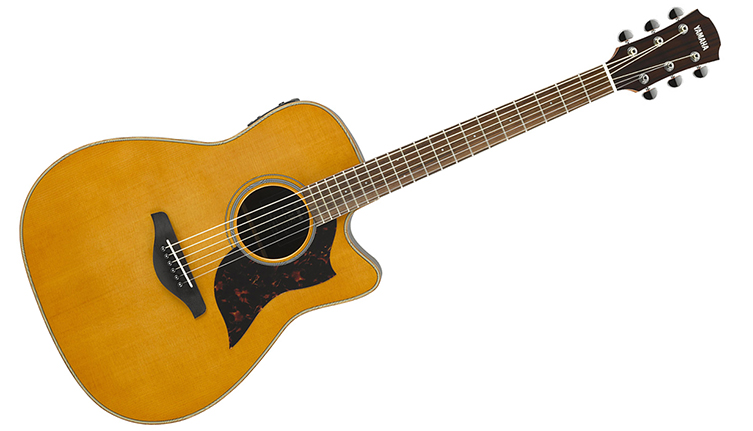 This model, the Yamaha A1RII, is a classic Yamaha acoustic: versatile, solidly built and quietly confident. It's a good looker, too, in that mostly underrated way that Yamahas often are. This guitar is a great tool for the performer, with a tapered neck proving comfortable for long playing periods and newly designed inner bracing making the most of that solid Spruce top. This is a guitar that will fit around what you want to do, without dictating to you how it should be played.
Breedlove Rainforest Concert Orchid CE
Straying most excellently away from tradition now, Breedlove presents us with a very cool and original looking guitar. The Breedlove Rainforest Concert is a bold instrument with a sweet sound. Apart from its cool looks - the finish here is called Orchid and there are a few more equally pleasant variations - the main selling point here is the use of 'Ecotonewood' for the back and sides.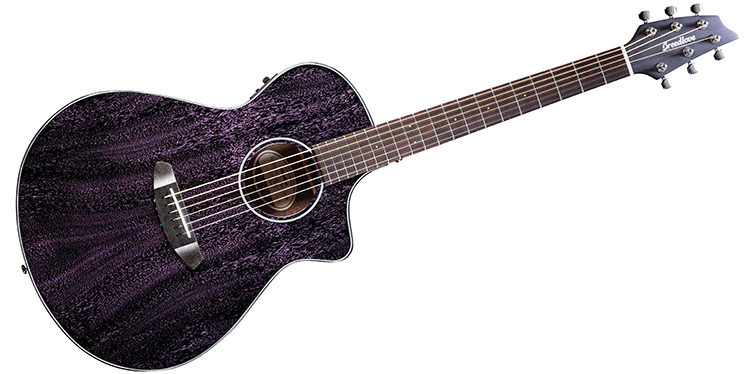 Now, this is no freaky new species but a collective term for the use of three layers of sustainably sourced wood, instead of settling for tonally inferior plywood. This responsible building decision still allows for a durable and resonant body, so the guitar's tonal palette shines through. With an African mahogany top, those tones are as deeply appealing as we'd hope, built into a concert sized body that projects well.
A Fishman Presys pickup system completes the vibe for a guitar that's as head-turning as it is forward thinking.
Acoustic Guitars Over £1000
For this top level of tiers, we've chosen a selection of guitars that may vary quite widely in price, since there's no ceiling. It may seem unfair to compare a £3000 instrument to a £9000 instrument, and we'd say you're right to think that, but within the limits of the guitar-buying market, they represent the collective land of dreams. That is, they are neither affordable guitars nor are they mid-priced models. These are the high end, and the offering can vary quite wildly depending on factors like decoration and scarcity. So, we've allowed ourselves to just dream out loud a little and select the top-end guitars that have sung their song straight into our hearts, really. We're not so much comparing them as celebrating them, as we've been doing all along.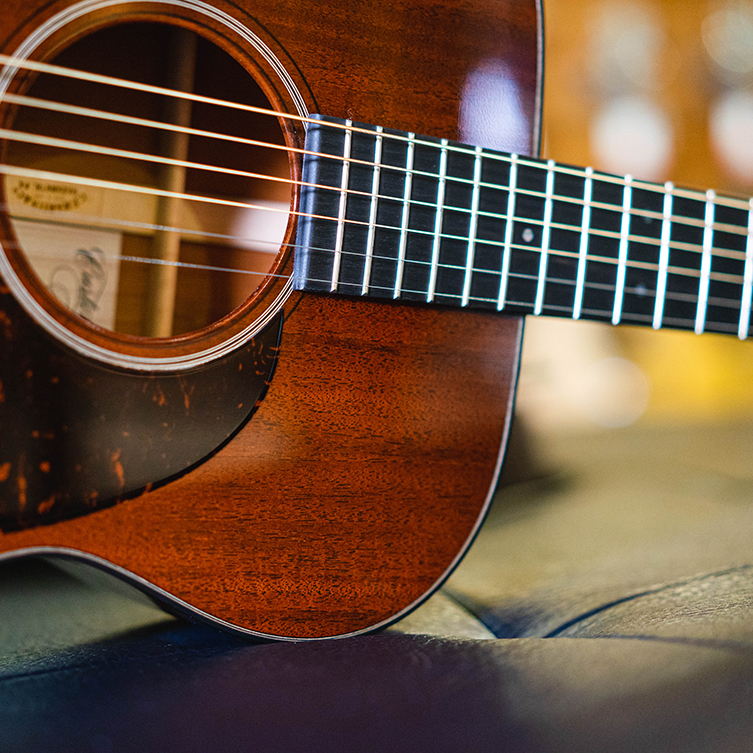 Martin D18
Were you wondering when Martin were going to show up in our list? Truth be told, the process of narrowing down a huge selection of great guitars into four examples each from three price points is a tricky business indeed, and many more affordable Martin models narrowly missed inclusion earlier.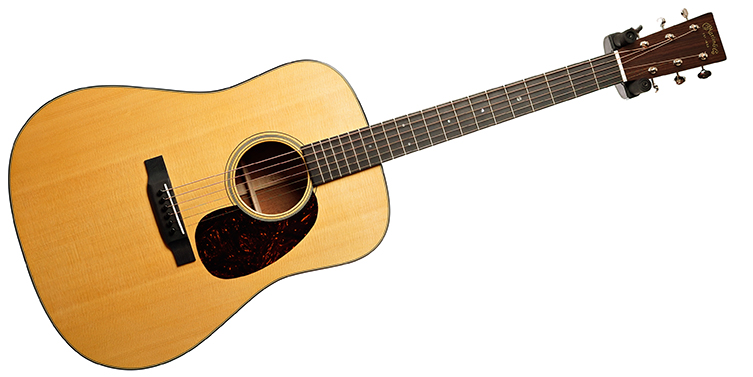 However, there's no debating the inclusion of the Martin D18. It's a flat out, stone-cold classic, and it's still made brilliantly. So, so many acoustic guitars that exist in the world owe their existence to this potent combination of Spruce, Rosewood and timeless design. We could say tons about the Martin D18 and the countless players who've used one to historic effect, but suffice to say that this is the wellspring; the OG; the numero uno; the blueprint. It's an exceptional guitar today, just as it was a century ago. No serious acoustic guitar investment can be completed without sizable consideration made to the one that started it all.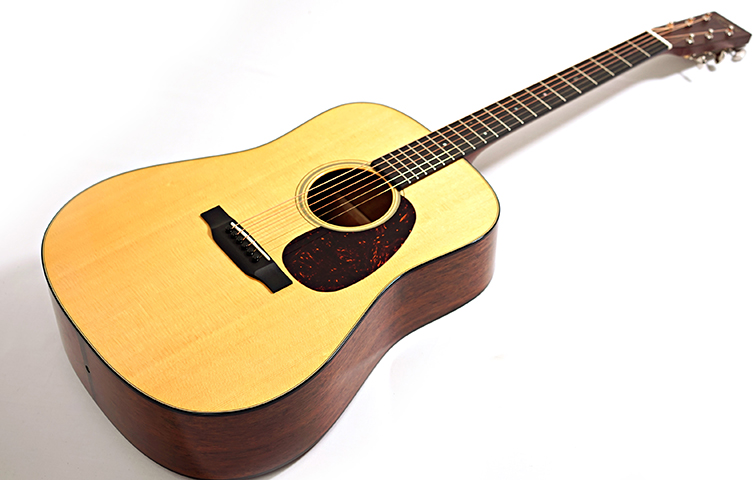 Gibson 1960 Hummingbird Fixed Bridge
Gibson's reputation for lush acoustic models springs mainly from the J200 we looked at earlier (in its Epiphone form, at least) and this, the Hummingbird. It's one of the brand's most recognisable and well-loved guitar designs, and this particular model has some extra fun onboard.
The Gibson Hummingbird is a dreadnought with, in Gibson's terms, 'square shoulders' as opposed to the round-shouldered likes of the J-45. For players looking to play a variety of styles - strumming, fingerpicking and hybrid picking - a dreadnought is perhaps the style that will most successfully meet those demands.
Gibson's heritage is beyond doubt, and their top end guitars are revered by players, producers and collectors equally. The Hummingbird is a relatively ostentatious looking guitar, but it's in such a classic, recognised way that even guitar fans who prefer more subtle instruments still find they fall for its handsome style.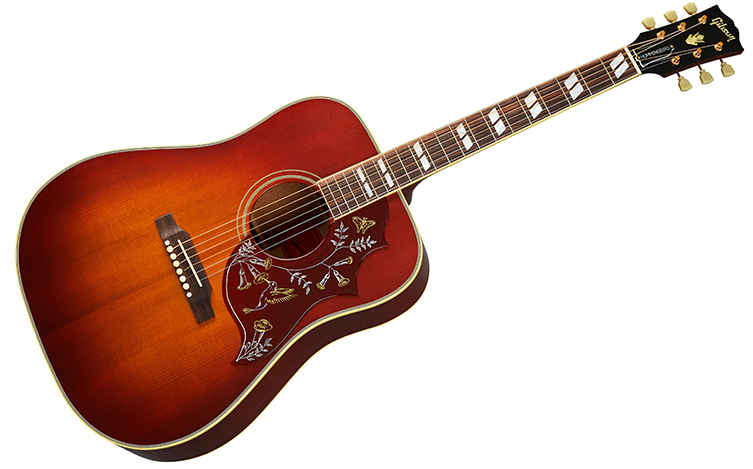 This model, the Gibson 1960 Hummingbird, is as you'd perhaps guess, based on a historical model. Gibson currently offers a few Hummingbird models including a Studio and Deluxe version, so do check out the range and see what fits you the best. We chose this one mainly for the addition of the 'thermally treated' spruce top. What is this? Essentially, the timber has been baked - subjected to high temperatures in an oxygen-free environment - to get rid of all moisture and increase the resonance. This is something that's been in guitar culture for the last few years, and it came about as a result of experimentation in trying to make new guitars sound as incredible as very old ones. Why wait 50-100 years to get the best sound when you can help it along?
This Hummingbird sounds predictably excellent, with the mahogany back & sides providing a strong, strident match for the torrefied (another term for the same process) top. Make an impression with this great looking guitar, and then make a second impression with it's spectacular tone.
Lowden 025
George Lowden makes some incredible guitars. There's something about the first time you play a Lowden guitar: the harp-like note clarity, the piano-like sustain and resonance…it's just a beautiful moment to experience. Imagine having that experience every time you pick up your guitar for a strum?
Lowden are a rare brand in the sense that they don't simply echo standard acoustic guitar designs. They have their own aesthetic, their own take on what's required for great tone, and they have done this all super successfully. From the Northern Irish countryside, each Lowden guitar is its own masterpiece.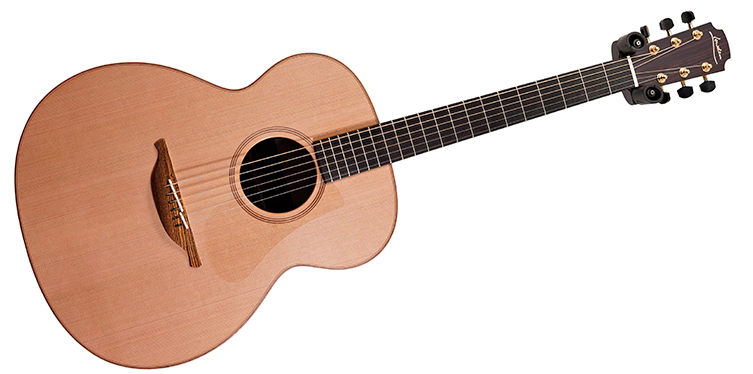 We've picked the Lowden 025 today, because we love how that larger body size fills a room with sound in a way that's very present but never overpoweringly so. This example is made with Indian rosewood and cedar, a combination we want to see more of! Cedar's warmth is an excellent match to the strength and focus of rosewood, and the timbers here are about the best you can find.
When shopping for a Lowden, we definitely advise you to compare a few, since you can really hear the difference in timber choice and body styles, but our money is firmly on this quite excellent model.
Santa Cruz OM
Our final choice today is from the almost-mystical workshop of Santa Cruz guitars. These Californian builders are world renowned for good reason; it is very difficult to find a better acoustic guitar on the planet. There's no particular trick, either: Santa Cruz guitars are just extremely well made guitars, built with the best quality timbers available anywhere. They feel excellent, play amazingly and sound like a three dimensional orchestra.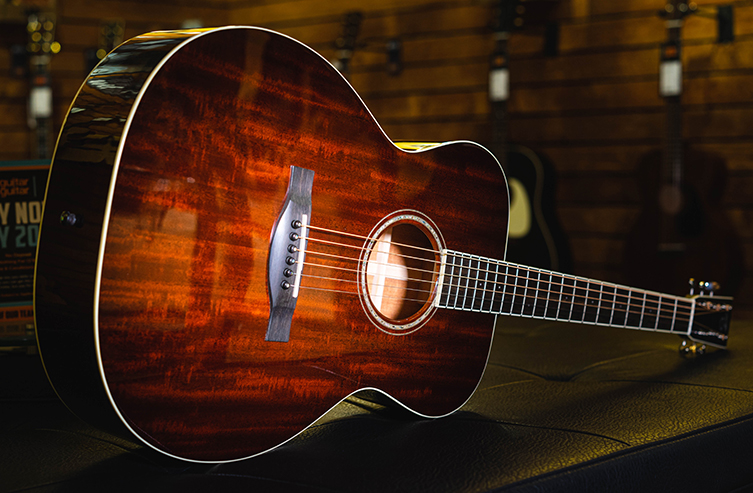 In short, they're marvellous.
We've picked the Santa Cruz OM for the purposes of this article because the slightly smaller, shallower body (smaller and shallower than a dreadnought, that is) promotes more contemplative, personal playing to us. You can certainly sturm away like a protest singer if you want, but there's something massively enjoyable about letting this guitar lead you somewhat. It's one of those situations where hours pass and you hardly notice, which is what is' all about, really!

Santa Cruz have used redwood and cocobolo for this instrument, which carries warmth, depth and definition as a pair. This guitar is a real companion for life, so if you have the means to consider such an instrument, you really, really should give it some deep consideration. It'll be money well spent.
The Best Acoustic Guitars of 2023
So, those were our considered choices for what we consider to be some of the best acoustic guitars available right now. There are more than 12 great acoustics, obviously, but these are all good indicators of what your money can buy in 2023.
The best acoustic guitar is whatever meets your own needs. Your hands, ears, eyes and, let's be straight - your wallet - will all have opinions on what's good for you, and these are all valid considerations. As always, we recommend playing as many guitars as you can, and being objective about them as you progress. That said, if your heart pulls you in a certain direction, there may well be a good reason for that, too!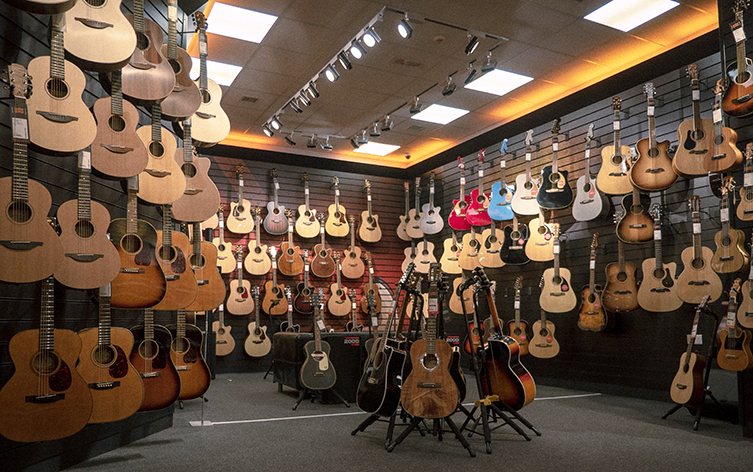 A £5k acoustic guitar may be the best thing you've ever played, but if you need to tour with it every week and insure it, you may be better off with an instrument that's less obviously valuable. The reverse of that coin is, if you buy something you're only half-excited by because it's cheap, you may find you never really take to it and don't get excited about playing. If you stretch to get the best guitar you can afford, it may well pay for itself in joy, inspiration and new songs! That's all for you to decide, but as always, we'll be here to help you reach your decision.
Good luck and get playing!