Best of EVH: Guitars, Amps and More!
Published on 15 March 2023
EVH are turning into a real powerhouse of a brand. If you appreciate hard rock in any of its guises, you'll be aware of the company created by the late, great Eddie Van Halen. Recently, we looked at how to tap (excuse the pun) into his tone via various playing techniques and gear choices, so please click through to the How to Sound like Eddie Van Halen blog if you want to catch up on that! Over here today, we're going to sift through the entirety of the current EVH line and pick out the pieces that really excite us! You'll find stripes aplenty, whammy bar madness and more as we share our current highlights of EVH!
EVH 5150 Iconic 15w Amplifier
This amp has really messed things up for us. Seriously, we were comfortable understanding that the monstrous tones of the legendary 5150 were only attaining at high volumes, through a full on stack or at least a big 50 watt 2x12 combo. The world made sense. That was until the 5150 Iconic range showed up and now we don't know what to do with ourselves!
Firstly, there was a 40w 5150 combo that held a single 12" speaker and didn't actually break our back lifting it! Then, a short while later, we were introduced to the 15w model, bearing a humble 10" speaker! How on earth was this diminutive box ever going to give us the tone we wanted?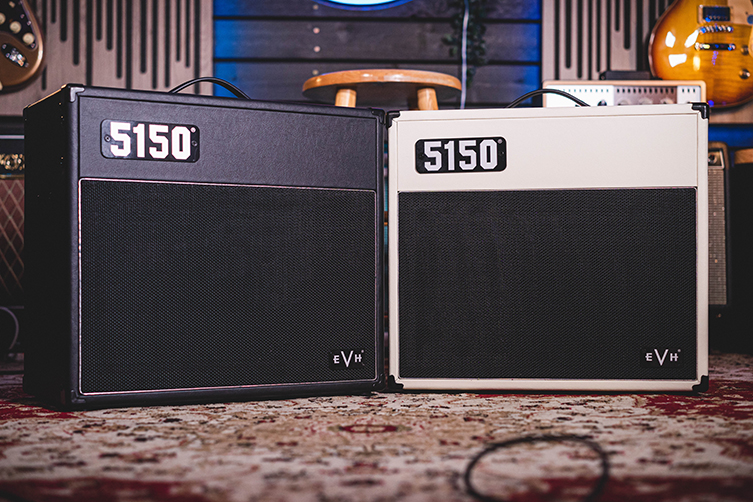 Well, whatever bizarre arcane technology lives within the veins of these amps (it's just valves but go with us), the EVH 5150 Iconic 15w amps most certainly deliver. Wow! Two channels, with a genuinely good clean tone, which is not something we've always been able to report with 5150 amps. We were amazed at the quality of cleans, but the prize is still mainly due to that world-ending crunch and burn of the gain channel. It's unreal, and very versatile, given how powerful the onboard EQ is.
We'd take this amp to every gig, but the temptation to just blast it on max gain would be something we'd have to learn to curb!
EVH Striped Series Frankie
It's an obvious inclusion, but how is anyone supposed to not love this artfully bashed up take on Eddie's most famous guitar? Especially when it's priced within the reach of us mere mortals?
The EVH Striped Series Frankie does a tremendous job of distilling what is a particularly eccentric guitar into a very reasonably priced replica. It's a 'Roadworn' guitar, so there are relic marks in all the appropriate places, and a very 'seasoned' neck too! The main details are all here, such as the broken pickguard and the dummy pickup, making this one of those instantly recognisable guitars that improves the closer you look at it!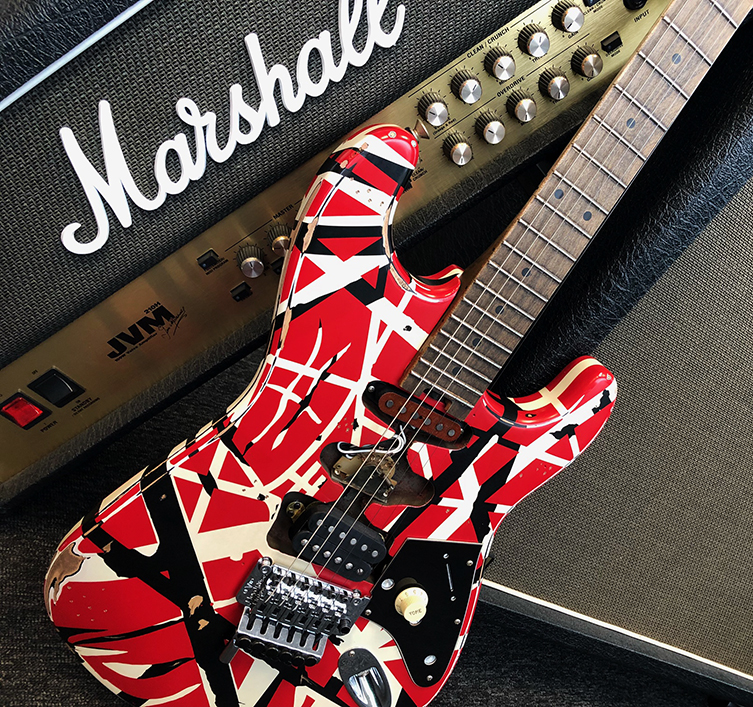 It's not a minutely exhaustive copy, so there is no dime under the bridge or bicycle reflector plates on the back, but those are minor trivialities: what's right here is the look, the sound, the feel and the sheer vibe! From the fully 'broken in' neck to the strong sounding humbucker that crunches and squeals with wild abandon, these tribute to the Frankenstein does so many things right.
EVH Wolfgang Standard
Keeping with the budget-conscious success we've had with the Frankie, let's go even further, to EVH's so-called entry level Wolfgang Standard. Fans will know the Wolfgang to be the third and final take on Ed's trademark post-Superstrat guitar design, with its distinctive offset body morphing through the years of Music Man and Peavey patronage to finally arrive in its present EVH form.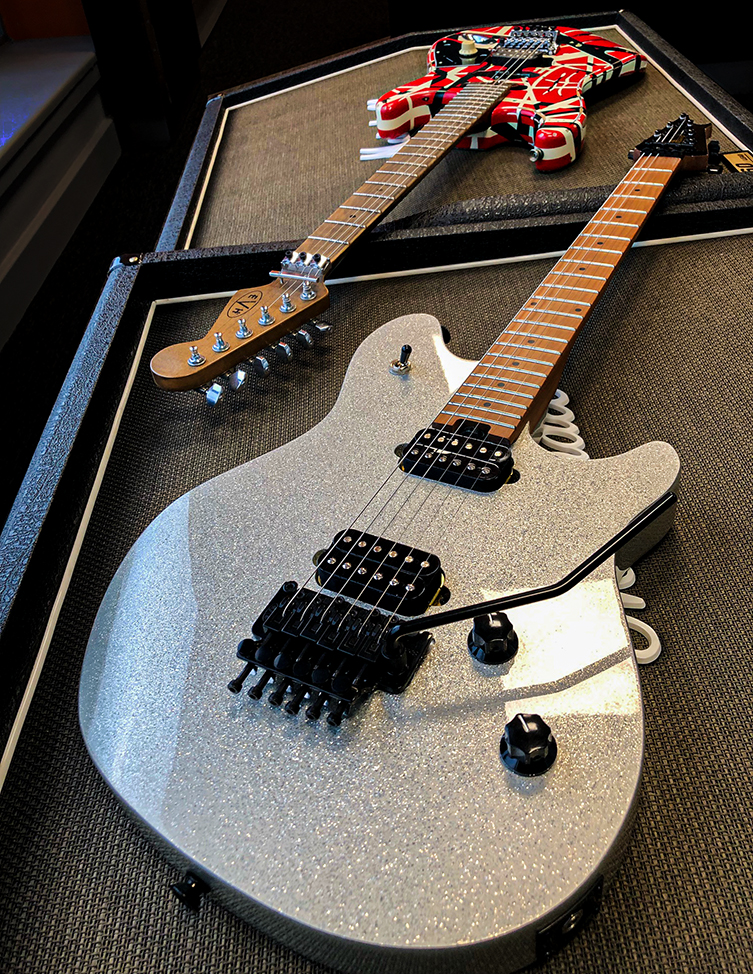 This affordable take cuts sensible corners in order to keep the price attainable for most players: the body is a slab (no arched top and only minimal contours) of basswood, the fret markers are simple dots and the hardware is good stuff but not top-drawer. This is sensible enough for us, since most of the important Wolfgang details come from the design itself. The neck shape, for example, is supremely comfortable and very similar to what you'll find on the more expensive examples we'll look at later.
The bridge is a Floyd Rose Special unit, which will do an admirable job - certainly if you stick to a particular setup and don't keep changing it - and is set, like all Wolfgang models, to depress only. There is no upwards bend available, and in fact the body has no routing to accommodate such a technique at all. This is how Eddie liked it, so EVH have stuck to his plan.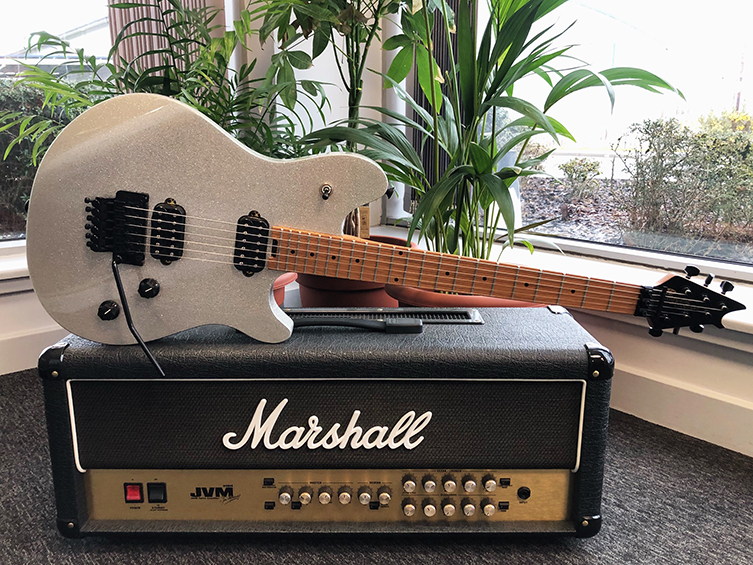 One thing that impresses us, and something that's very much worth noting, is that the pickups on here are the same EVH Wolfgang humbuckers used on the more expensive Wolfgang Special models, a well as the Frankie guitar we looked at. It's a confident move, but one we hoped for, from such an exacting set of ears as Mr Van Halen! The EVH Wolfgang humbucker uses an alnico II magnet, measures around 14k ohms DC resistance and is direct mounted to the body, since Ed felt that more tone would transfer through the body and therefore add resonance to his tone. Given that he had one of history's most sought-after guitar sounds, we're thinking we'll pay attention to what he said on this!
EVH Striped Series Eruption
Before the Frankenstein, there was the 'Eruption'. Except not really, since they were the exact same guitar, and nobody actually called this guitar 'Eruption' until recently! Yes, the iconic black and white superstrat you see on the cover of Van Halen's debut record later became the even more iconic red, white and black Frankenstein model that we've already covered with the Frankie.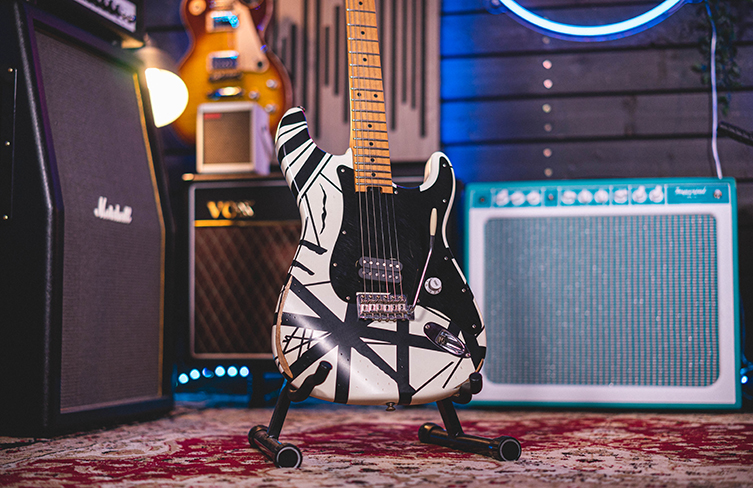 So why is this one different? Why does it have a different bridge and headstock shape? Well, as you probably know, Ed was an inveterate tinkerer, who just couldn't leave his gear well alone. The Frankenstein had a ton of necks in its day, and Eddie added the Floyd Rose bridge to it as soon as such a thing was available. He was an early adopter of the technology, actually, which will surprise exactly no one who knows his divebomb-friendly playing!
So the EVH Striped Series '78 Eruption is a recreation of the guitar before he broke the pickguard, added the Floyd Rose and dug out his masking tape and spray cans. It's obviously close to the Frankie in many ways, since they are based off the same original guitar, but this earlier iteration features a large 'CBS Fender' headstock, a brass nut and a brass block in the tremolo system. Another sympathetic relic-job is found here, and the Wolfgang humbucker is slightly slanted for a very slightly different sound. Van Halen collectors will want both of course, but the main difference for players will be the bridge.
EVH Wolfgang USA
Eddie's intention was for the wolfgang to become a classic shape alongside the Strat, Tele, Les Paul and (arguably) the Custom 24. It's definitely on its way, with decades of production covering three brands. We guitarists are quite a conservative lot when it comes to our tool of trade, so for the Wolfgang to have weathered so many seasons of largely uninterrupted production speaks volumes for the success of the design.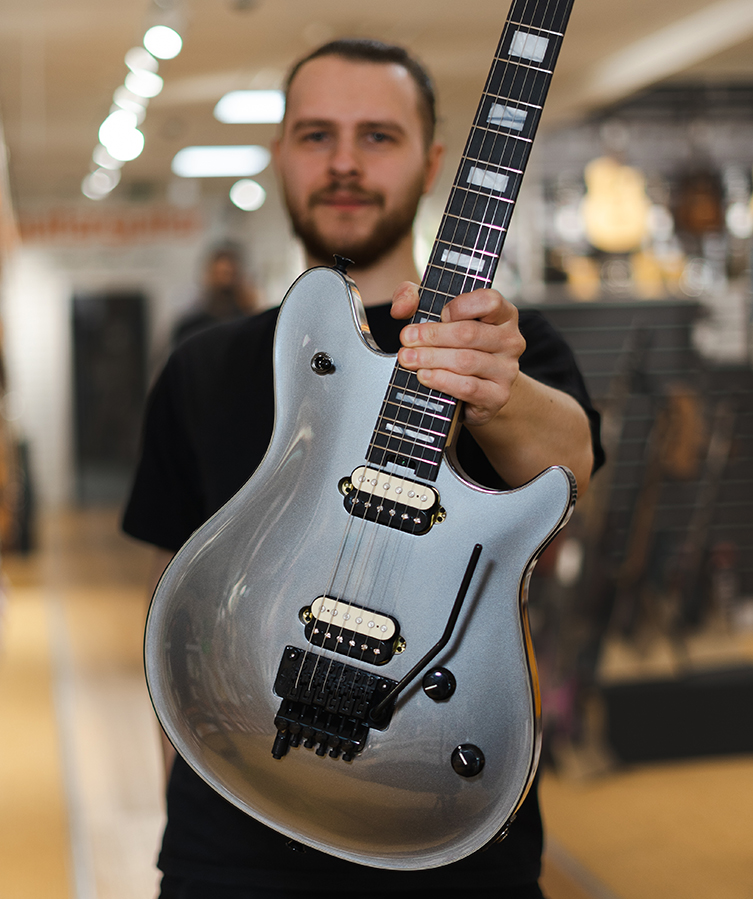 We've already looked at the affordable Wolfgang Standard, which is made in Mexico. Now it's time to check out what's happening with the US equivalents. The EVH Wolfgang USA is a top quality rock guitar, and is the model that Ed actually played himself on stage, until the Edward Van Halen signature model was released. Here's what the man himself says about the USA-made Wolfgang:

"Everything that I've built, destroyed, stumbled onto, learned and experienced is in this guitar," Eddie Van Halen said. "Every aspect and component of this guitar has been examined and upgraded to the highest standards possible: stainless steel frets, double-potted custom-wound pickups, five-piece binding on the matching body and headstock, custom-made signature tuning machines and Floyd Rose bridge, new low-friction pots, and the list keeps going. We left no stone unturned."
It's a stylish beast, with block inlays and binding, and some models also have jaw-dropping 5A flame maple tops, too. If you are in the market for a top quality American-made rock guitar, this is one of the best around.
MXR EVH Phase 90
If there's one dynamic, dramatic effect Eddie Van Halen used more than anything else, it was his Phase 90 pedal. It's all over the first album, from the glorious Aint Talkin' Bout Love riff to the intro to Atomic Punk and left on all the way through his game-changing Eruption solo masterpiece.
Knowing how important this little box of tricks was to his career, EVH teamed up with original builders MXR to create the MXR EVH Phase 90. It comes complete with the iconic striped finish, a single knob for Speed (set it to 9 o'clock for instant Ed) and a mini switch for the 'Script' setting. The script sound is the slightly softer sound of a vintage 'script logo' Phase 90 pedal, as opposed to the default 'block logo' sound which has a little more attitude.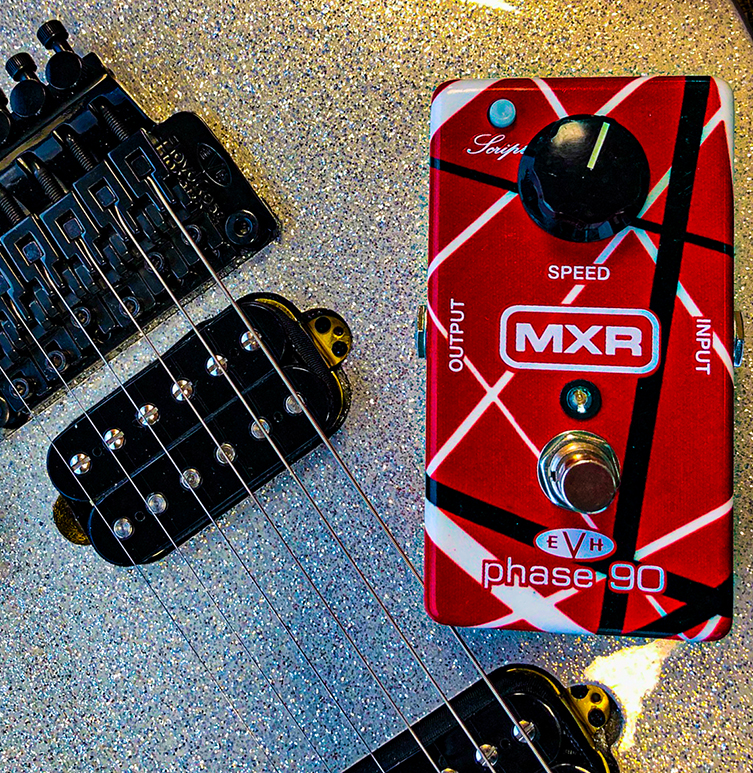 If you don't already have a phaser pedal, this is a great one to get. If you do, this is still a really cool addition to your pedal board! Irresistible.
Unchain Your Playing
These are our favourite pieces of gear that bear the initials of the great man. It obviously helps if you are a Van Halen fan, but even if you are not, these designs have been uncompromisingly tested, refined and tested again. From the mind of a master to the stages and studios of the real world, EVH gear is becoming one of the most exciting and capable brands in the industry.