BRAND NEW Fender Tone Master Pro: Digital Modelling Perfected
Published on 03 October 2023
Are you ready for Fender's latest sonic innovation? They've been on a roll recently, with Acoustasonics, Vintera II updates and all sorts, and this latest creation is one of their most exciting announcements in a while, which is saying something!
Behold, the Fender Tone Master Pro!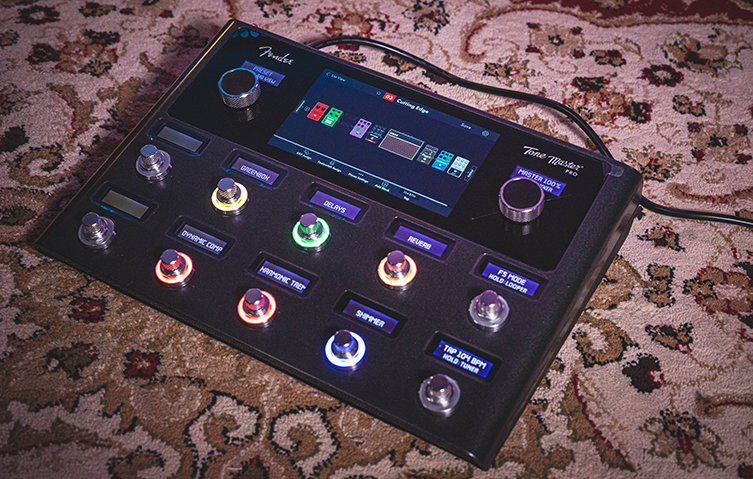 Fender Tone Master Pro
In a world that is finally now comfortable with the idea of digital modelling, Fender have entered the fray with a top-end take of digital tone. The Fender Tone Master Pro is a digital multi-FX workstation, filled with a whole studio's worth of world-class amps and FX, with comprehensive editing and I/O for every practical situation you can think of.
Now, okay, this is Fender, but we have seen this sort of thing before, so what makes this one different?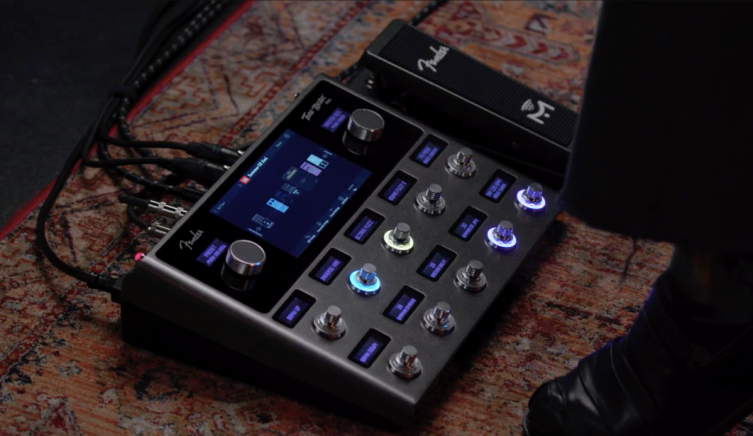 Perfect Replicas
Over two years of exhaustive R&D has been carried out to get the amp and effect models as spectacularly perfect as is possible. That's the whole modus operandi of the project: to perfectly replicate the world's most revered amps and effects.
Mighty works indeed, but Fender are actually in a position to back this up. Anyone who has tried their incredible Tone Master Deluxe Reverb and Princeton amps will already know that this is indistinguishable stuff we're talking about. The sounds ARE the same, and that same technology and process is applied here in the Tone Master Pro.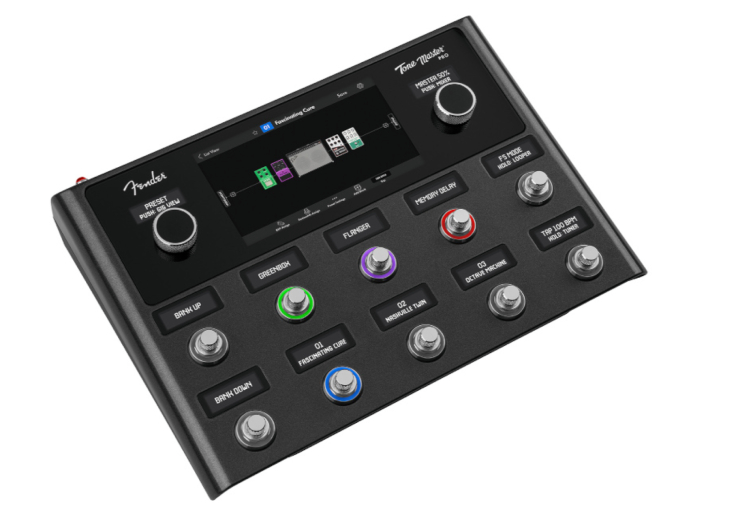 There are 8 core processors onboard, all working efficient;y to get the most responsive and reactive tones in the world, no matter how you choose and set up your sound.
Of course, you get those Fender amps (and more besides), but it's not all own-brand modelling here, since guitarists are not used to having more at their fingertips. Indeed, you'll find over 100 amps and FX on here, from vintage Marshalls to modern Boutique heads. And, there's one pretty special one in particular…
EVH 5150 III Stealth Head: First Ever Official Replica
Yes, Fender have managed to fully harness the mega gain power and tone from one of the most prized high-gain amps in existence: the EVH 5150 III Stealth. This is brutality mixed with finesse, and it's rightfully one of the most used amps in the world for today's high gain and metal tones. And it's right here, ready to be used, right next to your Twins, Voxes and everything else. What a triumph! Have you dreamed of having pristine Fender clean tone one minute, and then the ferocity of a snarling 5150 the next? The Tone Master Pro does this as a matter of course.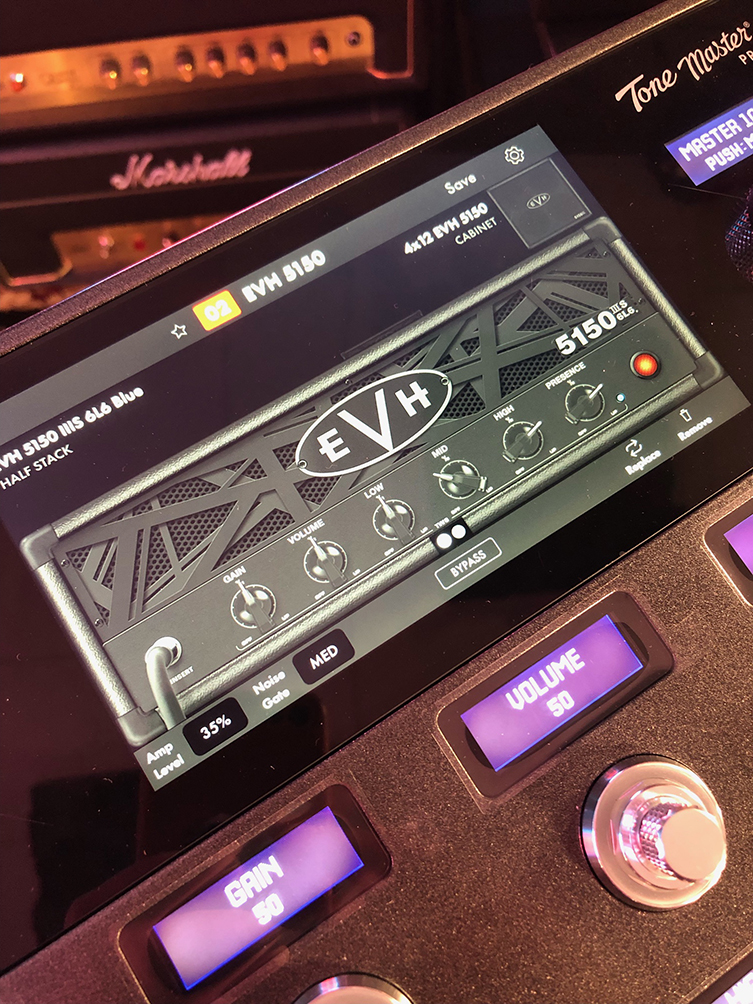 Big Screen, Easy to Navigate
Central to the Fender Tone Master Pro is a large, full colour touchscreen. This is where you'll interact with your rigs, dropping and arranging amps and effects to your heart's content, all instantly ready to audition and edit, of course.
In addition to the touch screen, there are also 10 custom foot switches that double as encoders, so in other words, they are context-specific control knobs that coordinate with what's happening on screen. 'Scribble strips' above each footswitch carry text and are colour coded to help you navigate your sounds on the fly.
Comprehensive I/O
The inputs and outputs on the Fender Tone Master Pro have obviously been designed by someone who is no stranger to live work and studio situations. There's some pretty comprehensive stuff on the back, from a phantom-powered XLR mic input and ¼" TRS line in, to a stereo pair of XLR outs, a pair of balanced TRS outputs and a headphone out for practice.
In addition, there is USB connectivity for using the Tone Master Pro Control app (deep editing and preset downloading), Bluetooth for tunes to jam along to and full MIDI in, out and through. There are four FX loops and two jacks for adding expression pedals.Phew!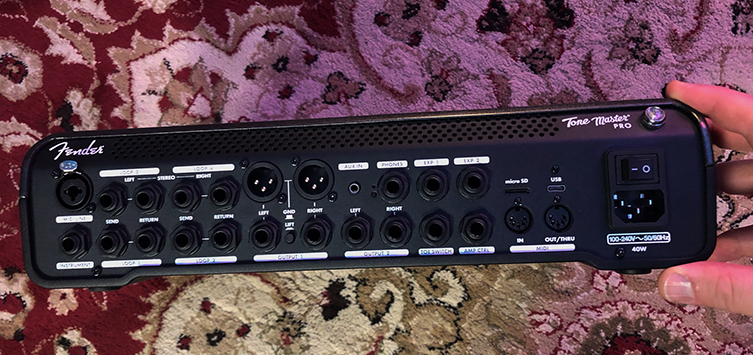 Road Ready
The Tone Master Pro is definitely designed to survive life on and off the road. The chassis is tough and vigorous, the encoders are heavy duty, and the whole package just feels solid and dependable. It weighs 4kg, which is enough to stop it skidding around on stage whilst not being a burden to carry. Add an expression pedal or two if you like - Mission Engineering are offering a great one that's purpose built for this, or go for a Fender option.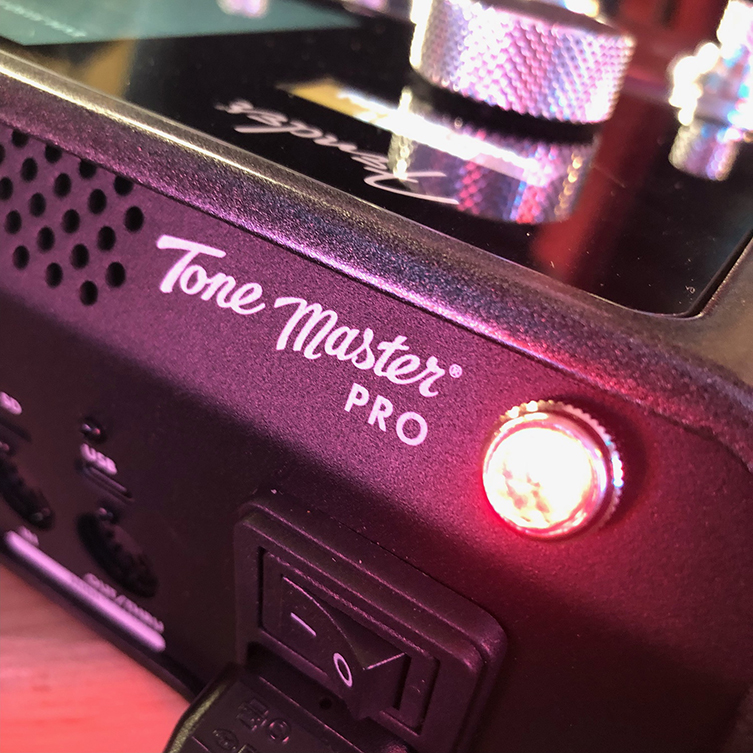 It's a tight design, a tough package and it's ready to make some serious noise.
The Fender Tone Master Pro is available now, and you do not want to miss it!
Click to View the Fender Tone Master Pro