£149.00
Order before 1PM for Delivery Tomorrow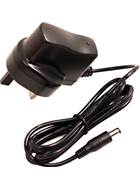 Make 3 payments of £49.67

No fees.
Learn more
Frequently Bought Together
Hot Deals
Manufacturer's ID: RV-6
What we say:
BOSS's colourful stomp boxes are the most recognisable pedal range in existence. For over 40 years, guitarists from bedrooms to stadiums have put their boot down on a BOSS effect to transform their sound. Several models have passed into guitar legend and early examples can fetch extremely high prices. Happily, BOSS have maintained their stellar reputation for world-class effects in bomb-proof casing with their current range and have fended off the imitators for decades to remain the pre-eminent single pedal effects manufacturer in the business. If there's an effect for guitar (or bass, vocals, keys…be creative!) then you can bet BOSS have a pedal of it in their range or even invented it outright! Every guitar player should get to experience the joy of selecting a pedal from BOSS's exhaustive roster, plugging it in and unleashing their wildest sonic dreams.
Reverb is an effect that pretty much every guitarist will use at some point: it's ability to create atmosphere, drama and context to your guitar parts is unequalled in the world of guitar effects. Reverb can can a very subtle shade or a large, long sound that wraps up your notes in a special ambient texture that can really alter your playing and note choices.
BOSS's RV-6 packs a great deal into this dark silver box: there are 7 separate reverb algorithms, all freshly updated, and an option to have a reverb and a delay together. The modes are Modulate, Spring, Plate, Hall, Room, Dynamic, Shimmer and the +Delay. These can all be tweaked with the Tone, Time and Level knobs to get exactly the amount of reverb you require.
An interesting and thoughtful feature is the Input 2 function: plug your instrument into Input 2 and the pedal will pass out a 100% wet signal to the outputs for using the pedal as an effect with a mixer or for using in more complicated rigs that employ parallel processing. Or indeed if you want a massively over the top ghostly reverb that has zero original guitar signal!
This is a high quality effect with a lot of versatility and power.
Specification
Compact and versatile reverb pedal with rich, expansive sound
Dial in sophisticated, top-level reverb tones quickly with simple controls
Newly developed studio-grade algorithms powered by cutting-edge BOSS technology
Eight sound modes provide a diverse range of ready-to-play reverb effects
Shimmer, Dynamic, and Delay+Reverb modes deliver lush, immersive textures sought by modern players
Input for controlling reverb level with an optional expression pedal
Supports mono or stereo operation
Simply Great-Sounding Reverbs
Packing the latest BOSS DSP and updated algorithms, the RV-6 gives you eight highly musical reverb effects in one compact pedal. Add body and depth to your core tone with standards like Room, Hall, and Plate, dial up swirling richness with the Modulate setting, or surf it up with a vintage-style Spring reverb. Dynamic mode automatically adjusts the effect depth to your playing touch, providing deep, immersive reverb that won't turn your tone to mud. And modern players will love the new Shimmer and Reverb+Delay modes.
Dialed-In Sounds at Your Command
The RV-6 makes getting high-quality reverb sounds with your guitar quick and easy—just select a sound mode, tweak the knobs to taste, and play. But while its operation is simple, the RV-6's sound is rich and sophisticated. Under the hood, each mode includes a huge array of detailed reverb parameters, all perfectly tuned for guitar by the BOSS engineers with direct input from many pro players and sound engineers. Even as you adjust the selected mode with the Time and Tone knobs, many parameters are simultaneously adjusted inside to create the ideal voicing for every setting.
Analog Dry Tone and Versatile I/O
While the RV-6's reverb effects are high-tech digital, you can rest assured that your straight guitar tone always remains pure analog as the effect is blended in. Convenient auto-switching jacks let you integrate with any pedal chain, with support for mono, mono-to-stereo, and stereo-to-stereo operation. And by plugging into the B input only, the RV-6 outputs a 100-percent wet sound, great for working with more complex rigs that employ parallel processing chains and mixers. There's also a jack for connecting an optional expression pedal, allowing you to control the effect level in real time as you play.