BOSS KTN-50 Katana 50W 1x12 Combo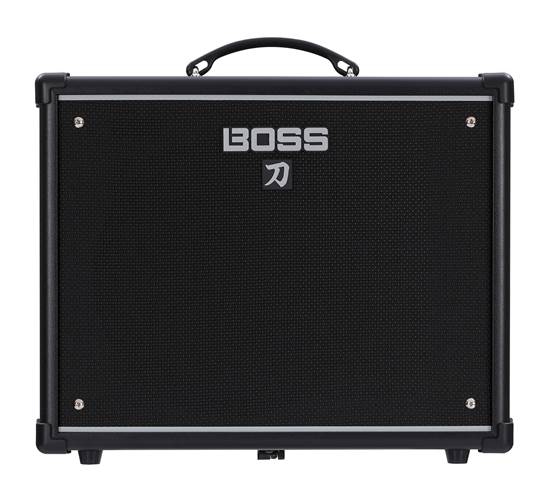 Image Gallery

This product is currently not available.
Customer reviews
Overall Rating 4.9 (

35

reviews)
Good, versatile amp. Explained well by the Guitar Guitar staff member during our visit.
Great amp, fantastic features
The built in tuner is a pain to use.
it's a Katana 50, I think all the superlatives about this amp have already been written. :) I'm pleased with it.
Perfect for my needs. I am able to practice at home, either with headphones on or on the 0.5watt setting, and also use it with full band in practice on 50watts.
Great sound, suprisingly loud when you need it to be. Tone studio is great for getting a unique tone.
You get so much for under £200. The built in effects sound great and you can connect to a laptop to get more. Being able to drop the watts to 0.5 is such a great feature without losing any quality.
For the size and price of this amp you can?t go wrong. This small mighty box packs a punch. From the volume to the built in effects. You get a lot for the money. The channel selections suit the am very well for light bluesy crunch right up to face melting metal this amps does it all
great amp with awesome sound and power
Had checked amp out previously using my own guitar so pay and collect was straight forward.
Great sound, value and easy to use.
Awesome! Best buy this year
Probably the best value for money you can get! Great little home-use amp that can still get cranked up nice and loud.
Great product, hopefully sounds great. Christmas present
Versatile guitar amplifier will allow both electric and acoustic guitars to be played through it. Lots of effects some are better than others. Excellent sound from the amp and the amplifier modelling sound settings are good. You need to use the settings and experiment to find your favourite sound.
Brawsy baws. Fine n dandy.
Sick amp. Great tones at low volume.
I?ve used for a year prior to purchase. Great pub gig amp.
It performed exactly as described
Great sound for a good price, lots of flexibility in output for quiet practise or loud thrashing!
Excellent equipment which has surpassed my expectations!
Absolute dream of an amp, good for bedroom use 0.5w or stage 50w
Great tones which are easy to dial in. Loud for a 50w amp also simple to use.
Haven't had time to fully evaluate the product but I am amazed that anything this good can be so cheap. Have updated the version software and played around with some of the downloadable settings. Very easy to do and surprising how the sounds can be changed with the click of a mouse and then set as a pre-set.
It's a beast of a practice amp.
Great sounding amp from BOSS
Punchy and excellent value!
best solid state amp for under £300
Show more reviews
You might also be interested in...
Keep up with our latest offers, news & events